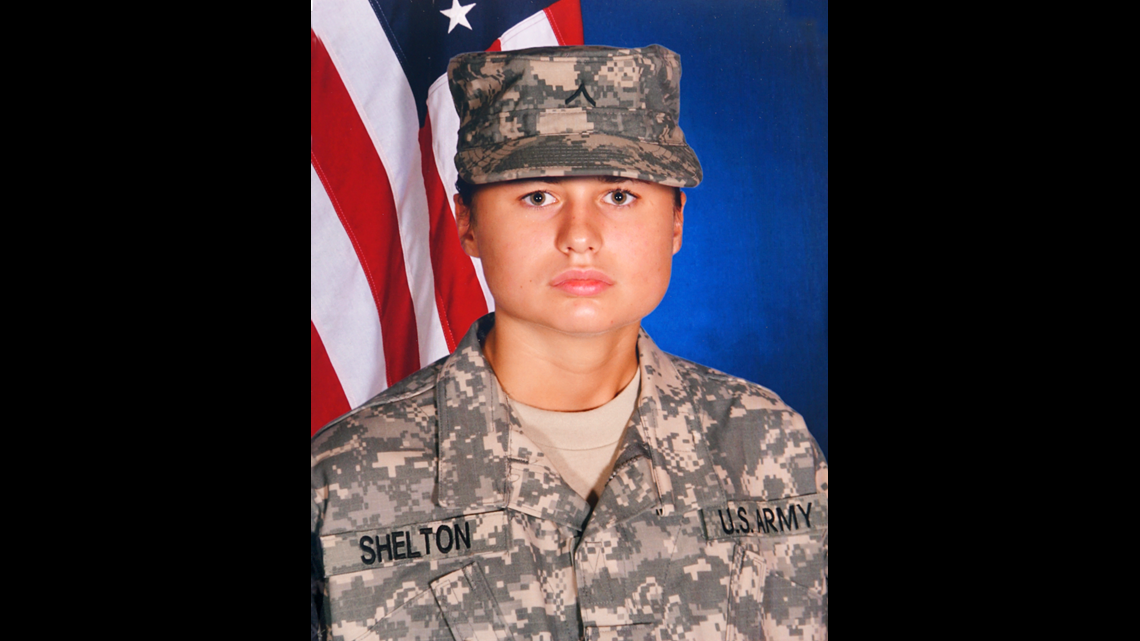 INDIANAPOLIS (WTHR) — An Indiana soldier sent to Afghanistan lived through a harrowing experience most troops will never encounter.
It wasn't a surprise enemy attack that threatened her life but the unexpected birth of a child in combat.
For the first time, she's speaking out about a deployment mistake that put two lives in jeopardy.
Life as a soldier was a dream come true for Pvt. Ashley Shelton.
In 2012, after basic training and ammunition school, orders came for the then 20-year-old to deploy to Afghanistan.
She was assigned to the 12th Combat Aviation Brigade, a Blackhawk helicopter unit. Her goal was to work as a door gunner.
But 30-days before she was to ship out there was an unexpected twist.
Conflicting Pregnancy Tests
"Females are supposed to have a pregnancy test done prior to deployment," Shelton told 13 Investigates. "Mine showed up positive, one showed up negative, and then one was indecisive. So that's when they took my blood and they sent it off to London."
The blood test was supposed to determine if Shelton would deploy or stay home.
U.S. Army's "Guide to Female Soldier Readiness" (June 2010)

Soldiers are "not available" for deployment in the following circumstances:

During pregnancy
Mother of newborn, for 6 months after delivery, unless Soldier waives

Except under unusual circumstances and approval by exception, pregnant Soldiers will not be assigned to overseas commands. If assigned overseas when she becomes pregnant, the Soldier will usually remain overseas, but she may be reassigned within the continental U.S. (CONUS). Medical clearance must be obtained prior to any reassignment. Soldiers will be considered available for worldwide deployment 6 months after giving birth. Soldier may request waiver to deploy with the unit during the 6-month nondeployable period. Soldiers found pregnant after deployment will be removed from area of responsibility when cleared by medical authority.
"I had no signs of being pregnant," she told 13 Investigates. "By the time they got the blood test back, I was already deployed to Afghanistan."
Shelton said her pregnancy tests were eventually deemed false-positives, and she had no reason to doubt it.
She received the standard medical preparation for deployment which included taking malaria pills along with anthrax and typhoid vaccinations.
When word came to for her to pack her bags, she did.
Three Months in Combat Zone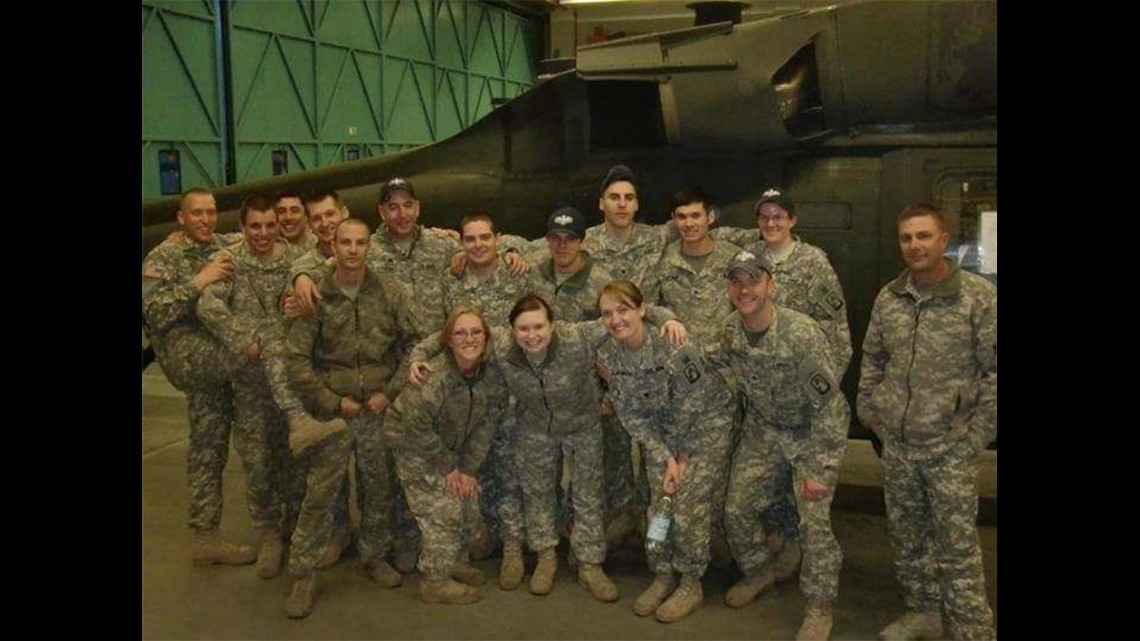 For three months she worked in the combat zone in Shindand, Afghanistan.
Physical training and restrictive wear were a normal part of Shelton's routine. There was no weight gain and no physical signs that she was carrying a child.
"I got sick there in Afghanistan, but I blamed it on the food," she said.
Then came the morning of August 15, 2012.
A Baby Born in Combat
"They told me to stand up. My son just came out."
"I kept cramping and cramping and cramping," Shelton said, describing the start of that day in Afghanistan.
She went to the aid station to see a doctor and was given fluids and orders for bed rest. But she never made it back to her tent.
"Walking back to my tent, my water broke," she said. "I've never been in labor; I've never had a kid before so I literally thought I kind of urinated on myself," she said acknowledging her confusion.
She made it to the restroom with the help of a female "battle buddy."
What happened next shocked Shelton and the United States Army.
"I thought that I was dying. I could not physically move because I was in dire pain." she recalled. "I won't ever forget this: they told me to stand up. My son just came out."1
Shelton said she blacked out at some point during the ordeal. She was also hemorrhaging and in need of serious care.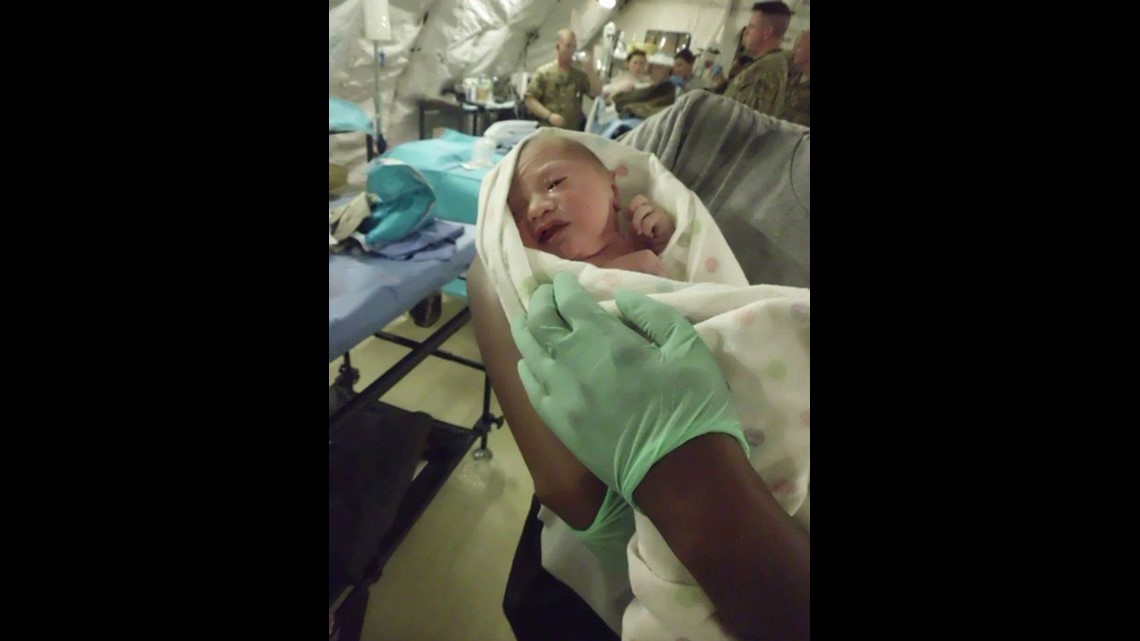 "I could have easily lost my life that day. My son could have lost his life," she told 13 Investigates.
She had not received any pre-natal care, not to mention the vaccines and combat conditions she was exposed to.
It turns out Shelton had been 8-months pregnant without knowing it.
"Did you realize at that point that you had given birth?," asked 13 Investigates.
Shelton sat for a moment shaking her head no.
"I was in Afghanistan in the middle of a combat zone," she finally responded. "My body was not recognizing that I just gave birth."
Shelton and her son were loaded on a medical helicopter and flown to Germany where they remained hospitalized for seven days.
She says that's when the shock of her birth in combat became very secretive.
An Army Secret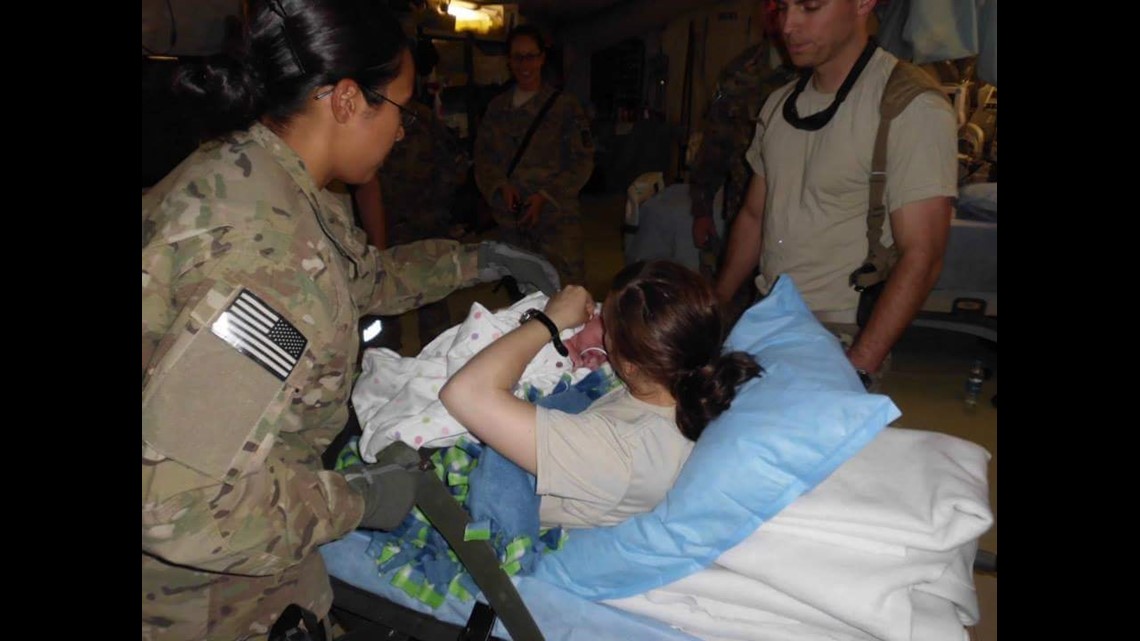 "Everyone had to keep it quiet and then finally Stars and Stripes came out with something," she said.
There was nothing in the mainstream media about Shelton and the birth of her son, Benjamin.
For the last five years, the Army has not publicly addressed what went wrong.
Searching for Answers
Shelton moved back to Indiana to raise Benjamin with the help of family.
"I just want answers," Shelton said, explaining why she decided to speak out now about the mistake that lead her to give birth in combat.
"They clearly had the blood test to show that I was pregnant, but they did not pull me back," she said, still puzzled by the critical oversight.
Shelton said the Army conducted an internal investigation, but it's still unclear how she and Benjamin ended up in Afghanistan.
For now all she has is Benjamin's birth certificate and his medical records to prove it happened. The birth certificate was issued by the United States State Department.
Shelton hopes the U.S. Army will recognize Benjamin and the critical mistake that led to a soldier giving birth in combat.
Army Response
13 Investigates reached out to the Army and the Pentagon to find out what went wrong. Our request for information is still pending.
Beth Clemons, an Army spokeswoman in Europe, said there is nothing on file in the press office regarding Benjamin's birth except for the Stars and Stripes article.
The Stars and Stripes article quotes Joe Garvey, another spokesman from that same Army office, who confirmed a soldier in Afghanistan had given birth to a baby boy.
According to Garvey, the pre-deployment clinic involved in the oversight underwent a review. He also said appropriate actions were taken, but the article does not spell out what those actions were.
13 Investigates asked what the Army was doing to help care for Benjamin.
"Nothing," she said without hesitation.
It's unclear what if any care the Army has offered Benjamin. Shelton was sent home after his birth and has retained just a few medical records.
Army representatives warn they can not talk about personal health issues due to federal health privacy law.
Living With Aftermath of Birth in Combat
The rambunctious five-year-old lives with birth defects.
"He doesn't walk normally," she said as she sat and watched Benjamin on a playground. His medical records show he had a small knot in his lower left leg at birth and was exposed to anthrax and other vaccinations. Doctors warned then that Ben could suffer from congenital birth defects.
"He does struggle with walking," the 26-year old mother said as she watched watched Benjamin play. "He does have a lower speech level than normal."
He appears to have a club foot. It's his most noticeable disability but that doesn't seem to slow him down. What he lacks physically, he makes up in determination. His fun-loving spirit is without limits.
Shelton knows her baby born in combat will need help combating adverse health issues that threaten the quality of his life.
Shelton told 13 Investigates she's anxious about the future. Like so many other soldiers, she has bouts with Post Traumatic Stress Disorder and depression.
"I'm not going to say I'm the best," she said. "I'm not really how I used to be. I am stressed out a lot. I'm trying to slowly move forward."
For the last month, while Shelton has been addressing her own personal challenges, Benjamin has been in the care of family and getting the attention he needs for his foot as Shelton works to get on her feet..
A soldier and her son — failed once by a military deployment mistake — are now both fighting health battles of their own.
13 Investigates is still awaiting reports from the Army's investigation into Benjamin's birth.
---
1 According to medical reports about the delivery, "infant male was born via spontaneous vaginal delivery...in latrine in Shindand, FOB." (Forward Operating Base) The report also notes that officials in Shindand confirm details of Shelton's story with the exception of saying she delivered the baby in the "Role 2 Medical facility."