Tuesday afternoon, Jim Trietsch did something that hasn't happened in Indiana for more than 80 years.
Equipped with garden shears and his two sons by his side, Trietsch is now commercially harvesting a large field full of hemp in Owen County, and he's been waiting for this moment for a long time.
"We're excited to get in here and finally start harvesting," he told WTHR. "It's been a really long year."
The farmer jumped at the opportunity to convert 60 acres of fields previously used to grow soybeans and blue corn into a new home for hemp. Trietsch planted 130,000 hemp plants in four separate fields this spring and will spend several weeks harvesting the green, bushy crop. It is part of the first commercially hemp crop now spreading across Indiana as Hoosier farmers join a booming hemp industry that offers huge reward and risk.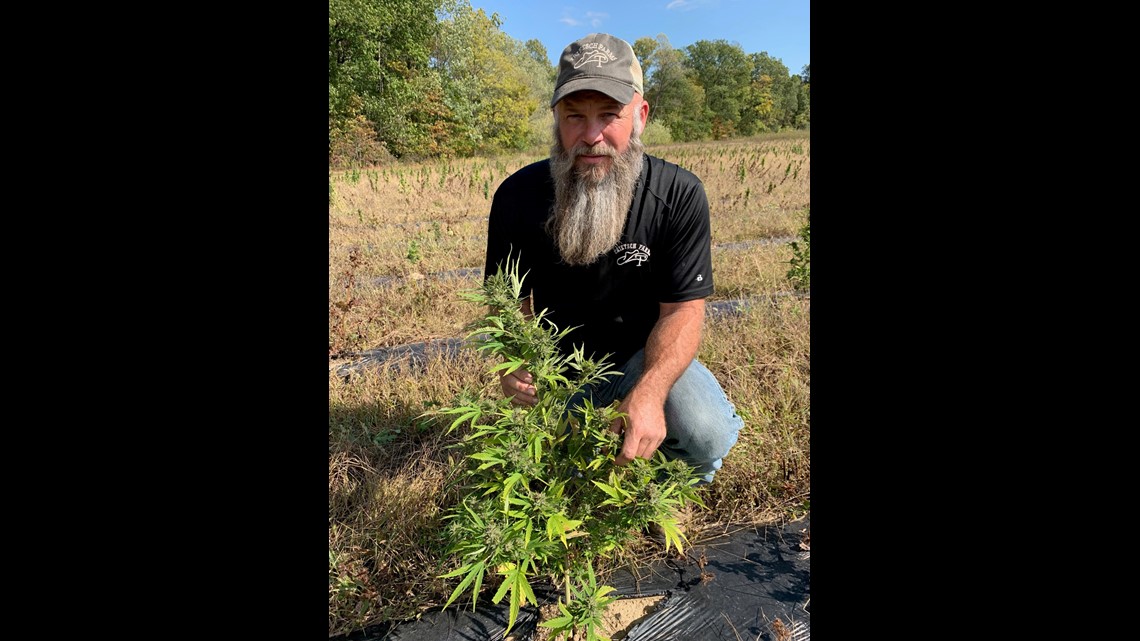 Trietsch is a recently-retired Noblesville firefighter with a background in agriculture. His father left farming years ago for construction, but always kept a few cows around. Trietsch now raises a large herd of beef cattle in Hamilton County and passed his knack for farming to his sons.
Together, they are now in the hemp business. Their first year has not been easy.
An initial order of hemp plants did not survive the Indiana spring and a second round of plants struggled, as well.
"As we started planting, they did not take off right away. But eventually they got going," Trietsch recalls.
The late start combined with a shortage of quality seeds -- Trietsch was able to plant only 45 acres this spring instead of the 60 acres he had planned -- resulted in a much smaller harvest than expected. Instead of an anticipated 100,000 pounds of hemp, Trietsch expects to harvest only 35,000 pounds of hemp material that will be processed into CBD.
Plants are cut by hand, loaded onto a flat-bed trailer and dried in a nearby barn. The bottom of each hemp plant will be pressed and extracted for CBD oil, and that material is worth about $20 to $40 per pound. At the very top of each plant is a prized bud that can be turned into a smokable form of CBD. Those buds fetch $250 to $400 per pound. Trietsch's plants have large, well-developed top buds, which should compensate for his smaller-than-expected yields.
"We don't know about the money side yet, but I'm thinking we should get somewhere around one to two million," he said. The market will determine whether the first year of hemp production proves to be profitable for the Trietsch family, which has spent nearly $1 million to invest in seeds, irrigation and other supplies.
"Hemp is just a lot of time. Hoping we make some money off it," Trietsch said walking behind a large trailer full of harvested hemp plants.
Thousands of acres planted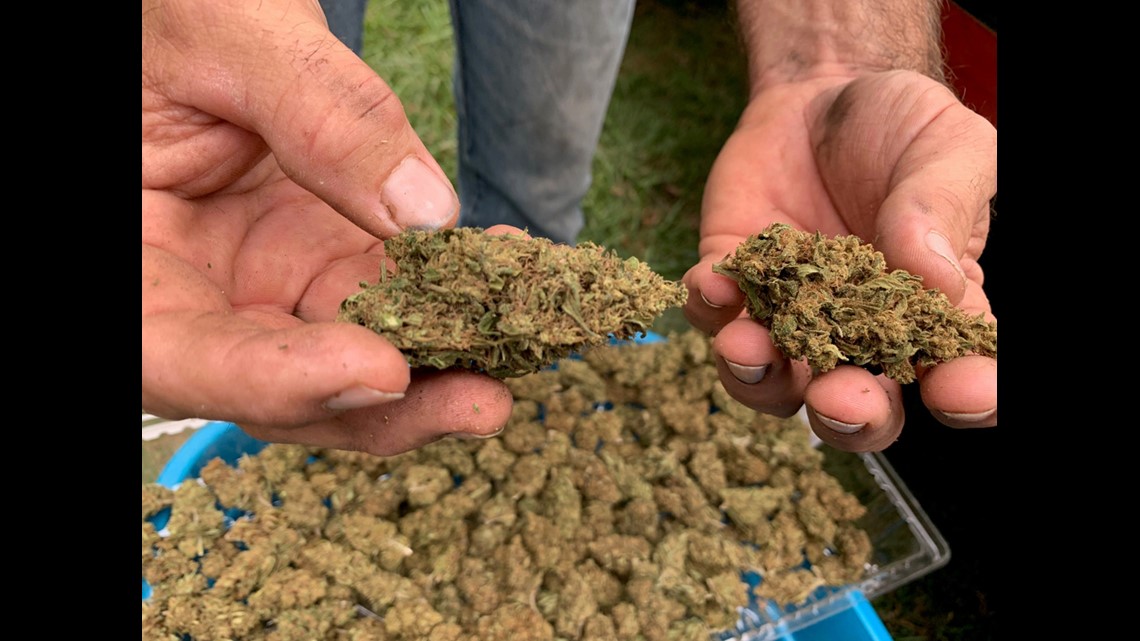 In 2019, the Office of the Indiana State Chemist granted 140 licenses to grow roughly 5,300 acres of industrial hemp across Indiana. Those licenses include about 15 different varieties of industrial hemp that is being grown for grain, fiber and CBD. While most of the crop is outdoors, about 515,000 square feet of hemp is now growing inside greenhouses and warehouses.
"It's exciting. We're really building a new industry here," said Jamie Petty, executive director of the Midwest Hemp Council who has spent years lobbying for industrial hemp in Indiana. " It's a big deal because what we've been asking for is a crop alternative for our farmers. We know the challenges facing corn and soybean farmers, so this gives our farmers a diversified income stream."
The current crop of Indiana hemp that will be turned into CBD products is valued at more than $20 million, according to Petty. The hemp plants that will be processed into food and fiber products will bring in millions more.
It was all made possible when Congress passed the 2018 Farm Bill last December, requiring the U.S. Drug Enforcement Administration to remove industrial hemp from its list of Schedule I drugs. Indiana State lawmakers responded a few months later by passing Senate Bill 516, clearing the way for legal hemp farming in Indiana for cannabis plants that have a THC level of .3 percent or less. The crops are technically considered "research" under a state program that has permitted closely-monitored hemp farming for several years. But with the recent changes in state and federal law, the research now clearly permits Hoosier farmers to commercially sell their hemp for the first time since the 1930s.
Critics worried that opening the door to industrial hemp would result in plants high in THC, the psychoactive chemical in cannabis plants that can cause users to experience a high. About 10 to 15 percent of Indiana's current crop has tested "hot" (above the .3 percent THC limit), according to Petty, who said high temperatures and dry weather can result in higher than expected THC concentrations. But she said none of the crop has tested above 1 percent THC – well below the 5 percent level that is considered to have psychoactive qualities – and industrial hemp crops that do test hot must be destroyed.
"We've had some farmers destroy their crop because they realized the type of hemp they were growing was simply inappropriate for our state. This is all pretty new and a learning process," Petty said. "It's imperative that we have testing and regulation in place to protect the consumer. The testing program has been working really well."
At the same time, Petty acknowledges this growing season has been challenging for many of the Indiana farmers growing hemp for the first time, and she warned that growing hemp is not for everyone.
"The processing, I think, was a lot more difficult than some farmers anticipated. It can be very labor intensive. There still are not enough quality seeds. It's a new crop, it's research and you still need to be risk tolerant," Petty told WTHR.
Trietsch said he and other hemp farmers learned valuable lessons this season which will help them in the future.
"I've got so much more to learn and pick up," he said. "It's been fun and we're going to continue on for the next few years and hopefully it will get better."
Industrial hemp has brought both manufacturing and processing jobs to Kentucky, Colorado and other states, and the same is expected for Indiana. According to the Midwest Hemp Council, hemp processing plants are already in development in northeastern and southwestern Indiana. Those facilities would process hemp fiber or CBD and could be built as soon as next year.