FRANKLIN, Ind. (WTHR) — A Johnson County School Board is considering possible air studies in two of its schools following a 13 Investigates report confirming dangerous vapors seeping into homes in Franklin.
Leaders at Franklin Community Schools put out a statement Wednesday telling parents the district is aware of the environmental tests performed by the Edison Wetlands Association and the environmental engineering firm Mundell & Associates. The test results revealed dangerous levels of Tetrachloroethylene (PCE) and Trichloroethylene (TCE) seeping into homes. The test also revealed high levels of radon in six of 14 homes. Just as concerning, ambient air samples taken outside of a home near the former Amphenol and Franklin Power Products site on Hurricane Road revealed high levels of PCE and TCE. According to the Agency for Toxic Substances and Disease Registry (ATSDR), TCE is a known carcinogen. PCE is a likely carcinogen.
Schools Located Between Contaminated Industrial Site and Contaminated Wellfield
Those vapors were discovered near Needham and Webb Elementary schools. The schools are across the street from the Webb Wellfield where contaminated wells were shut down in 2012. The schools sit just blocks from the old industrial site where environmentalist fear toxins are being spewed into the air from the pump and treat systems installed back in 1995 to treat groundwater contamination.
Franklin Community Schools Statement:
"Needham and Webb will receive special attention in the coming days to ensure a safe learning environment...We have retained the services of a company that specializes in environmental investigations including air studies. We are also in communication with IDEM and the city of Franklin regarding their response to the study."
Classes are set to begin August 8. Teacher training starts a week prior on August 1.
13 Investigates is also awaiting a response from the Indiana Department of Environmental Management about the test results.
In its report, Mundell and Associates said vapor intrusion near the site and the risk to nearby homes has never been adequately addressed.
Contamination First Uncovered by 13 Investigates Report on High Pediatric Cancer Rates
Contamination at the sites were first brought into question in 2015 by a 13 Investigates report, "Desperate for Answers." Stacie Davidson and Kari Finley Rhinehart came forward about the high number of pediatric cancer cases in Johnson County. Davidson's stepson Zane had been diagnosed with Leukemia a year earlier, while Rhinehart's daughter Emma Grace Finley died from Glioblastoma, a rare brain cancer. In addition childhood cancer rates in Johnson county were higher than the state and national averages according to data from the National Cancer Institute.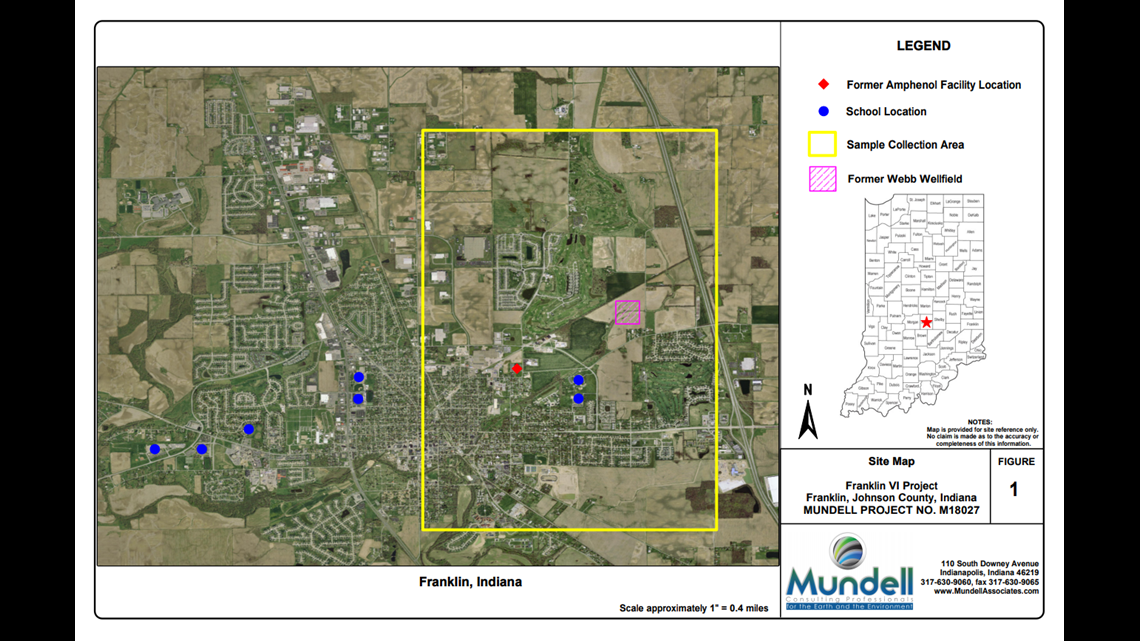 Research Revealed Nearly Half of Children Diagnosed With Cancer Connected to Franklin
13 Investigates sat down with a group of families representing over 20 children diagnosed with cancer between 2009 and 2014. Our research revealed nearly half of the children diagnosed either lived in Franklin or spent a significant amount of time there. It was the first connection to Franklin.
We also uncovered contamination at the Webb Wellfield that prompted the Indiana American Water Company to shut down three wells used for drinking water for the city of Franklin. The water company confirmed cancer-causing toxins were discovered, but maintained the amount of toxins never exceeded the maximum contaminate level, and that the "finished" water pumped into homes was treated and safe to drink under safe drinking water standards.
The discovery prompted a community meeting and a short investigation by the Indiana State Department of Health. ISDH ruled there was no cancer cluster and called the number of children diagnosed "statistically insignificant." But the data ISDH used were two years behind the data 13 Investigates discovered through questionnaires.
State Department of Health Maintains Childhood Cancer Rates in Johnson County Insignificant
In January of this year, ISDH put out another report showing childhood cancer rates in Johnson County were slightly higher than state health officials expected, but said the numbers were not significant for alarm.
Based on data through 2015, ISDH reported Johnson County had 123 childhood cancer cases overall, compared to 113 that would be considered within normal range. And among the most common childhood cancers, ISDH reported 88 cases in Johnson County, which is eight more cases then what is considered normal.
Series Captures Attention Nationally; Johnson County Mothers Help Pass "Trevor's Law"
Since then Davidson and Rhinehart have established a group called "If It Was Your Child."
In 2017, they were invited to join environmental groups at the nation's capitol to testify about cancer investigations. Their stories with WTHR have been instrumental in helping to get federal legislation passed called "Trevor's Law," which sets up guidelines for cancer cluster investigations nationwide.
The Edison Wetlands Association Takes on Vapor Testing in Franklin
Last fall, "If It Was Your Child" captured the attention of the Edison Wetlands Association in New Jersey.
On June 20th a team from Edison Wetlands visited Johnson County to do the first round of vapor testing, after discovering indoor air evaluations performed two decades ago were never validated with field data and that a groundwater plume that migrated from the old Amphenol / Franklin Power Products site had never been "fully characterized."