This story has been updated with a response from coach Rick Wimmer.
FISHERS, Ind. (WTHR) - A former student and his mother have sued Hamilton Southeastern Schools and the head football coach at Fishers High School, claiming they violated the student's civil rights by subjecting him to discrimination and bullying.
The lawsuit, filed last month in Marion County Superior Court and now transferred to federal court, stems from a classroom incident that took place two years ago.
Joniece Brooks says her son, Jayden Bond, was one minute late for his physical education class when Fishers football coach Rick Wimmer aggressively rushed at her son and pushed him backwards. Minutes later, Wimmer informed Bond that he was removing the 16-year-old from the football team, according to his mother.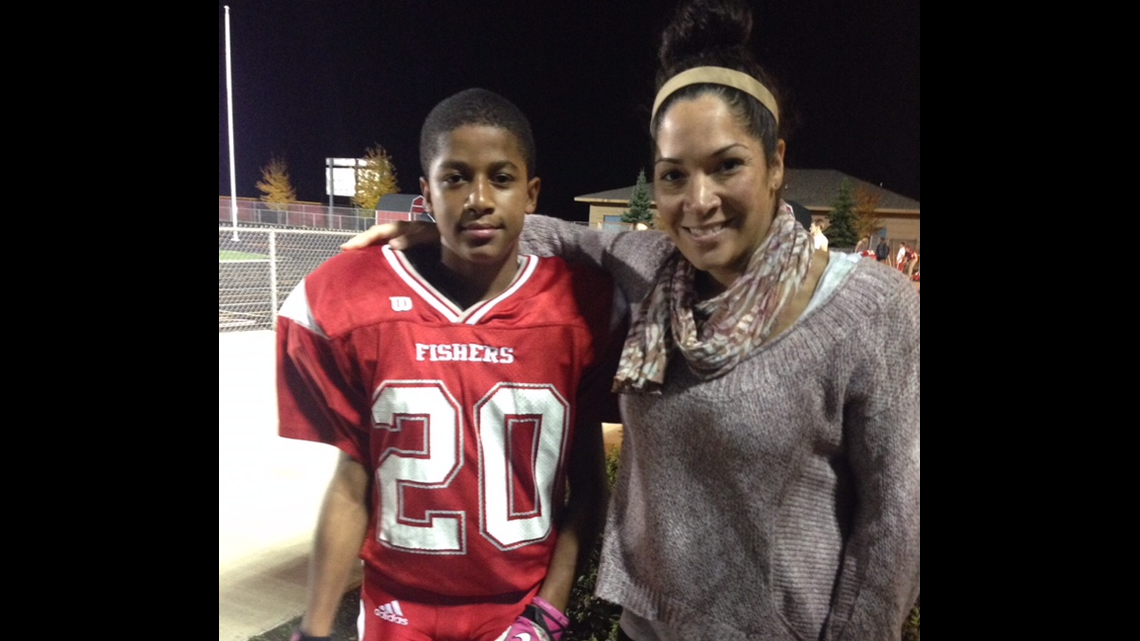 "My son was 16 years old and the coach is a grown man," Brooks told WTHR Thursday afternoon. "You should have enough life skills, you should have enough patience and enough professionalism to be able to prevent yourself from charging a child, and that's exactly what he did."
Following the September 2016 incident, HSE placed Wimmer on paid administrative leave and asked Fishers Police to investigate the case. After the school district learned no criminal charges would be issued, the longtime coach returned to both the classroom and sideline.
Bond was also offered the chance to return to the football field, but his family says other players and students were bullying, intimidating and threatening him because of the investigation - eventually forcing Jayden to withdraw from school.
"Everyone treated him as the person that started the whole situation," his mother said. "He was simply late to class. I don't feel like he asked for any of this, and he definitely didn't deserve it."
Bonds said she decided to file the lawsuit because she and her son believe Jayden was physically attacked by the coach and that Wimmer's actions were racially motivated.
"Black athletes aren't treated the same way as the booster club kids ... they are not given the same opportunity and not treated the same way as the white students," she said.
The lawsuit claims the school district was negligent for failing to properly train and supervise Wimmer and for not stepping in to stop bullying after it was reported. According to Brooks, the incident has left the family with lots of expenses, requiring medical treatment for her son's clinically-diagnosed depression and emotional trauma that were triggered by the altercation with the coach."

"You're dealing with a child whose life has been turned upside down," said attorney Rick Jones, who filed the lawsuit on the family's behalf. "He suffered emotionally, left school, experienced medical bills for his trauma. So we're asking for compensation monetarily and we're also asking the school district to provide sensitivity training to that coach, as well as to other students and teachers. They have not done anything to address and correct the problems."

Jones says a videotape showing the whole incident inside the school weight room could be critical to the case.

"We want to get our hands on that video as soon as possible, and I think it's going to show a coach out of control and violating my clients' constitutional rights."
13 Investigates requested to view that videotape last year but was repeatedly denied access by the Fishers Police Department and by the school district. Both claimed they were not legally required to release it.
HSE has also refused to say why the coach was given a secret weeklong suspension three months after the 2016 incident involving Bond. A factual basis for the suspension must be released under state law but, so far, the school district won't give details -- despite several critical opinions filed by the Indiana Public Access Counselor indicating that the school district is not meeting its legal obligation under the Indiana Access to Public Records Act. Unable to obtain the documents any other way, Eyewitness News recently filed a lawsuit against Hamilton Southeastern Schools, asking a judge to require HSE to comply with sate law.
Eyewitness News contacted Wimmer about the allegations in the lawsuit filed by his former student and player. Friday morning, the coach told WTHR "I look forward to the opportunity to discuss in detail the ridiculous accusations in this lawsuit regarding my character in a court of law should I be given that chance."
School officials at HSE would not meet with 13 Investigates to discuss the matter, but did send the following statement:
"We are aware of a civil complaint regarding allegations from 2016 involving a teacher and a former student. The allegations were thoroughly investigated by HSE as well as law enforcement. We addressed the allegations. Law enforcement did not pursue any action. We are reviewing the civil complaint with legal counsel and do not plan to discuss the pending litigation outside of the court process."