NILES, Mich. (WTHR) — The line is long – more than an hour long – and no one is complaining. In fact, just the opposite. Most of the people waiting outside on this sub-freezing February morning are talking and laughing. There is a sense of anticipation.
Among more than two dozen people in line is a college professor and a real estate agent, a mechanic and a human resources director, a nurse and a highway construction worker, a high school football coach and a restaurant manager. All of them are lined up at the ReLEAF Center in Niles, Mich., to buy the same thing: marijuana.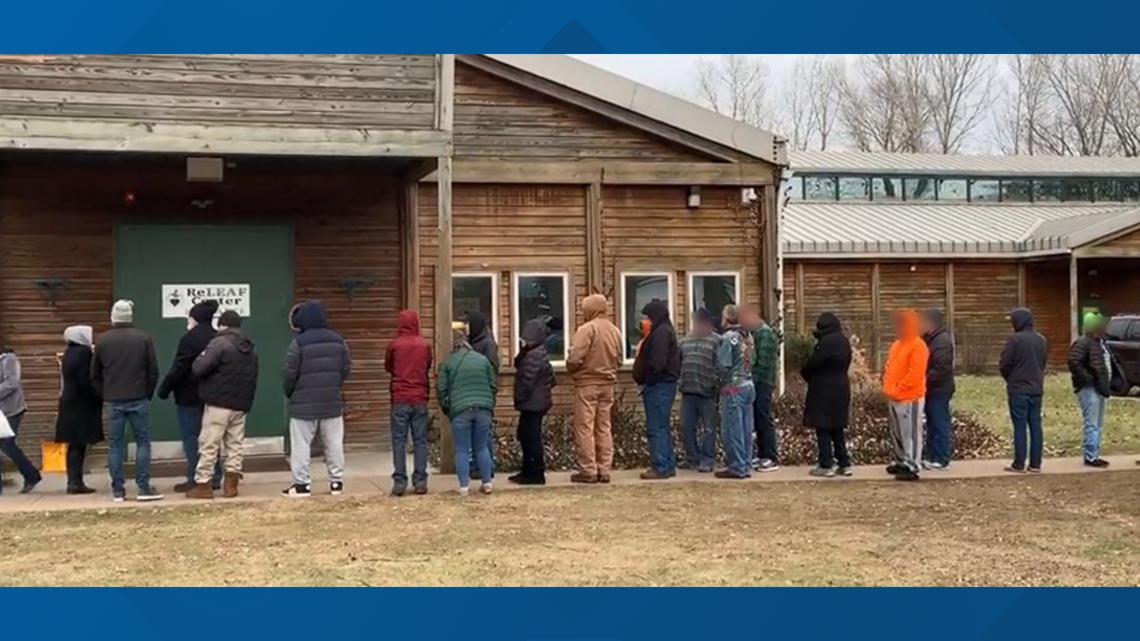 "It's been pretty crazy. Keeping product on the shelf has been a challenge," said Nicholas Ghezzi, manager at the marijuana dispensary located about 14 miles north of South Bend. "Business has been booming … because I think people have been waiting for this their entire lives, and it's finally here."
You've probably heard marijuana is a big deal right now in Michigan, where state law recently allowed licensed dispensaries to start selling recreational marijuana to adults.
What you might not have heard is where most of the customers lined up at the ReLEAF Center are coming from.
On the morning 13 Investigates visited the dispensary, 19 of the 26 cars in the parking lot had Indiana license plates.
"I'm buying it for recreational purposes but [benefit from] its medicinal qualities," said Jeff, a resident of Laporte County, Ind. "Anywhere from pain management to general anxiety, it helps me a lot. It's worth the drive."
Jeff asked WTHR not to reveal his identity because, like many other customers now buying legal marijuana in Michigan, he planned to quickly return to Indiana to use it in a state where cannabis is not legal. "I'm using it in the safety of my own home," he said. "Indiana is really behind the times. People shouldn't have to feel like they have to sneak around with it. It's safer than alcohol."

Marijuana dispensaries as far away as Ann Arbor told WTHR they are shocked at the number of customers willing to drive more than 100 miles from Indiana.
"Indiana is 100 percent our number one out-of-state customer … and they cross the border with it," said Summer Ransom, president of SkyMint. The company currently operates six marijuana retail stores in Michigan, including an Ann Arbor location where 13 Investigates met Ransom earlier this month.
"I mean, who doesn't want to come and buy legal -- legal – marijuana?" Ransom asked.
Despite long lines of Hoosiers waiting to buy cannabis in neighboring states and polls showing a large percentage of Hoosiers now support legalized marijuana, Indiana state leaders are not yet ready to follow the lead of Michigan, Ohio and Illinois, where millions of people can now use marijuana legally. But new laws in those states – and the blueprints that detail how those laws were implemented – may help shift the political climate in Indiana, forcing Hoosier lawmakers to eventually recognize increased public demand and shifting public views towards marijuana.
Indiana lawmakers "looking the other way"
Support for marijuana has been rising in Indiana.
A 2016 poll conducted by WTHR and Howey Politics Indiana showed 73 percent of Hoosiers supported legalizing medical marijuana. That support cut across party lines, with about 60 percent of Republican respondents and more than 80 percent of Democrats voicing approval for medical cannabis.
Two years later, that number jumped to 81 percent, according to a statewide poll by Ball State University. (42 percent of Hoosiers polled said marijuana should be legal for medical use only and an additional 39 percent said it should be legal for all personal use, including medical). In that same 2018 poll, a vast majority of Hoosiers – 78 percent -- said there should be no jail time for individuals who possess small amounts of marijuana. Only 16 percent of Hoosiers thought marijuana use should remain illegal.
But the mood of state leaders does not match the strong preference of state residents.
No one knows that better than Sen. Karen Tallian (D – Portage), who has introduced marijuana decriminalization bills in the state legislature each of the past nine years. None of those bills passed, and none of them received serious consideration.
"We have to change this in Indiana," Tallian said. "The majority of people in Indiana do not believe anybody should go to jail for possessing a small amount of marijuana, and there's no poll that's going to show otherwise. I just don't know how all the [lawmakers] here just ignore that. They're looking the other way."
Ignoring poll numbers is exactly what's been happening in the state's Republican-controlled General Assembly, where marijuana-related legislation rarely gets a public hearing. Bills that seem to show signs of life were derailed when legislative leaders instead assigned them to summer study committees.
This month, three marijuana bills were killed in the Senate Corrections and Criminal Law committee when chairman Michael Young (R – Indianapolis) chose not to give any of them a public hearing.
Asked why he did not place any of the marijuana-related bills on his committee's agenda, Young told 13 Investigates he did not think any of them had a chance to pass.
"The legislature is not at the point where I'm going to get support to get it out of my committee, and I'm not going to waste time when I've got important bills that need to be heard," he explained.
Young said he would actually support passage of a medical marijuana bill because he has a brother suffering from cancer, and he thinks terminally-ill patients could benefit greatly from cannabis.
"If it's the last thing they can use, why shouldn't they be able to use it?" Young said. "But right now I don't even have the votes for that, and I'm the chairman of the committee and my brother is dying."
Pressure from the top
The lack of votes can be traced, in large part, to the governor's mansion, where recent occupants have been outspoken against legalizing marijuana.
"If you want young people to do more of something, legalize it."
- Gov. Eric Holcomb
"If you want young people to do more of something, legalize it. And we simply cannot afford that for any age group for that matter," Gov. Eric Holcomb told WTHR in December. He pointed out that marijuana is still considered an illegal Schedule I substance under federal law.
His predecessor, former Indiana governor and current Vice President Mike Pence, also opposed efforts to legalize marijuana, referring to cannabis as a "gateway drug" that leads users down a road to addiction with other illegal substances.
Pressure from the governor's office has been strong enough to render marijuana-related legislation introduced at the Statehouse as essentially dead-on-arrival. According to Tallian, Republican leaders know their position on marijuana is not popular with most Indiana voters; so they have carefully navigated the legislative process to kill all bills and amendments related to the legalization of pot – a strategy specifically designed to ensure that Republican lawmakers do not have to publicly vote on the issue.
"She is not incorrect," said Rep. Jim Lucas (R – Seymour), who has tried to lead a Republican charge to legalize marijuana in Indiana. "Leadership just keeps burying their heads in the sand, and it's getting harder and harder to defend why we won't even have the discussion about this – especially about medical [marijuana]. Our leadership has a responsibility to Hoosier citizens, not the federal government, and we could be helping God knows how many Hoosiers. It's really frustrating we're not helping the people we need to be helping."

Lucas points to state legislatures in neighboring states, which have all engaged in substantive discussions about marijuana. Those dialogues recently led Michigan and Illinois to legalize both medical and recreational marijuana. Last week, Kentucky's House of Representatives approved medical marijuana legislation, which will now be considered by the state Senate. Ohio residents can legally use medical marijuana, and the state's lawmakers voted to decriminalize marijuana 45 years ago.
"Yes, Ohio has been decrim since the 1970s, and as far as I know, it hasn't turned into reefer madness in our nextdoor neighbor," Tallian told WTHR.
Conventional wisdom might suggest that Indiana, a conservative state with a conservative governor and a conservative Republican-controlled supermajority in both the House and Senate, is in no position to legalize marijuana anytime soon. But some of Indiana's neighbors had the exact same political makeup when they legalized marijuana – giving cannabis supporters hope that political obstacles can be overcome here, too.
Illinois will collect billions
Illinois became the 11th state in the nation to legalize recreational marijuana when the state legislature passed the Illinois Cannabis Regulation and Tax Act last May. Despite extremely high tax rates on recreational pot, Illinois dispensaries are experiencing long lines and product shortages since they started selling retail marijuana a few weeks ago. Eventually, Illinois expects to generate between $2 and $4 billion annually from recreational sales.

But Hoosiers looking to learn lessons from Illinois' legalization of marijuana cannot overlook a glaring reality: while the states share a border, their politics are worlds apart.
The Illinois General Assembly was dominated by Democrats when it first approved medical marijuana in 2013 and when it later expanded the state's medical cannabis program in 2018. The same was true when Illinois legalized recreational marijuana in 2019. And during most of that time, Illinois also had a Democratic governor.
Historically, politically conservative states with Republican leadership (like Indiana) have been much more hesitant to welcome weed.
Michigan and Ohio bucked that trend, legalizing marijuana with Republicans in control of both the State House and the governor's mansion.
Those states provide the most interesting political parallels when assessing whether Indiana can succeed in legalizing any forms of marijuana.
Michigan bypassed state lawmakers
Michigan and Indiana have many similarities in their political makeup. Both have heavily liberal urban areas and college towns. Both have vast rural and suburban swaths of each state that skew heavily conservative. And both have spent most of the past decade under Republican governors and legislatures.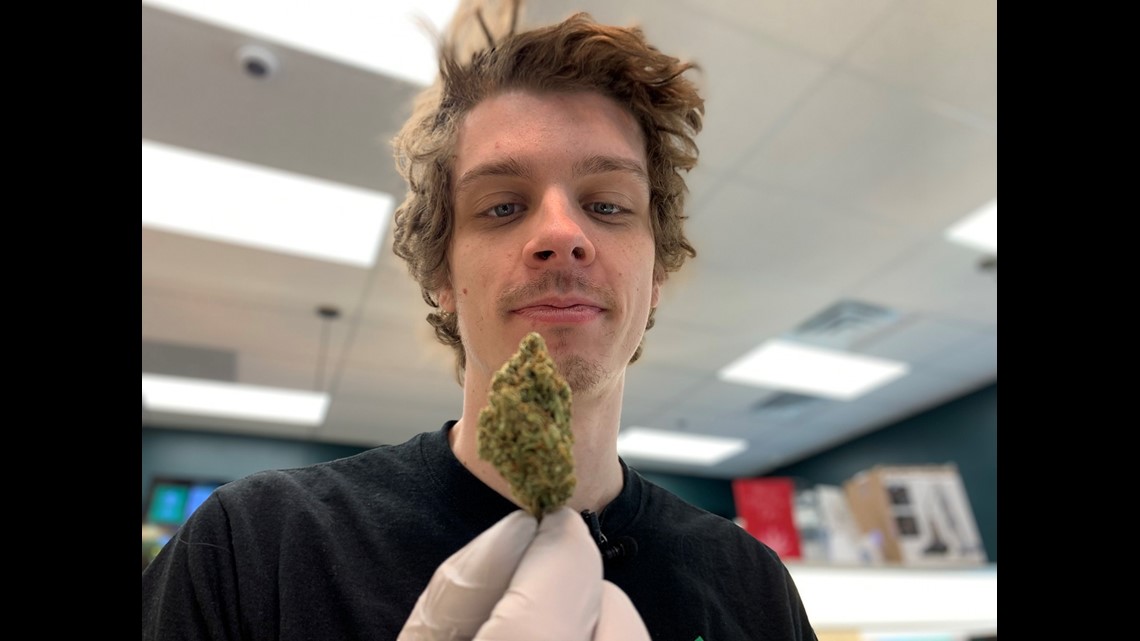 While Michigan first approved medical marijuana in 2008, it wasn't until 2016 when Republican Gov. Rick Snyder signed a group of bills that, for the first time, allowed medical cannabis dispensaries to operate legally in Michigan. And two years later, the state became the first in the Midwest to allow adults to legally use recreational marijuana.
Michigan residents were able to legalize pot not by working with their state lawmakers, but instead by working around them.
Rather than relying on the state's Republican-controlled legislature and GOP governor to approve recreational marijuana, Michiganders collected 365,000 signatures to put cannabis legalization on the 2018 ballot, bypassing the Statehouse and sending Proposal 1 directly to voters.
Michigan residents decisively voted to legalize cannabis for recreational use, and the first retail dispensaries opened to the public just a few months ago.
Hoosiers cannot do that. Indiana is one of two dozen states whose constitution does not permit ballot initiatives.
Had Michigan's constitution not allowed ballot initiatives, it is unlikely Michigan's conservative legislature would have approved recreational use marijuana – despite 56 percent of Michigan voters who support it.
Ohio Republicans listened, took action
Ohio's road to legalization took a very different path.
As previously discussed, that state decriminalized possession of small amounts of marijuana decades ago. Republican Gov. James Rhodes signed the bill in 1975, which makes possession of up to 100 grams of cannabis a "minor misdemeanor" punishable by a maximum fine of $150.
Like Michigan, Ohio residents can also utilize ballot initiatives, and they did so in 2015 when marijuana supporters collected enough signatures to force a statewide vote on recreational cannabis. The ballot measure, known as Issue 3, failed despite widespread support for legalization. Many Ohio residents worried it would create a marijuana monopoly for a small group of investors who sponsored the initiative.

The following year, the state's Republican leadership decided to tackle the issue anyway, introducing their own proposal to legalize marijuana.
Steve Huffman, a doctor and state representative from a small, picturesque, conservative town near Dayton, introduced House Bill 523 and accomplished what's been impossible in Indiana. He passed a medical marijuana bill through a conservative legislature dominated by a Republican supermajority.
"The speaker came to me and asked me if I'd sponsor it," Huffman told WTHR. "There was a lot of momentum to carry recreational with medical, and we wanted to separate the two because many of us were concerned that together they'd pass, so separating the two has certainly delayed [recreational] by five or six years, and that was the goal."
In other words, Ohio's Republican leadership understood their constituents strongly supported medical marijuana. Responding to that message, they figured out a way to give residents what they wanted while, at the same time, postponing the issue of recreational marijuana for another time.
"Ohio is rather conservative, and I don't think it was the proper time for recreational," Huffman said. "I believe sometime in the next five or 10 years, more than likely we'll be like other states, like Michigan and Illinois, and we'll have recreational marijuana. But not now."
The longtime physician supports medical marijuana, although Huffman admits much more research is needed to determine its actual benefits.

"I don't know if it works, but I think people should have the opportunity to use it," he said. "I understand the argument some people make about it being a gateway drug, and for some it probably is. But I also think it goes the other direction. I've had a lot of people tell me they were addicted to Percocet and prescription narcotics, and they started using medical marijuana and they were able to get themselves off other drugs. Overall, I think it's been very good, and I think the vast majority have been happy with what has happened in Ohio."
Big selection. Big regulations.
As Midwest consumers pay top dollar for access to legal marijuana, their purchases are controlled by an elaborate set of regulations established by each state.
In Michigan, for example, cannabis dispensaries must adhere to strict sale limits. Adults who are at least 21 years of age may purchase no more than 2.5 ounces of marijuana (15 grams of cannabis concentrate) daily and not more than 10 ounces of cannabis each month. Each customer must show valid identification to gain access to a retail dispensary.

Once inside, there are plenty of choices. SkyMint sells pre-rolls (joints), vapes, concentrates, cannabis accessories, marijuana-themed apparel, and cannabis-infused edibles such as brownies, chocolate and gummies. It also offers more than a dozen different strains of marijuana flower – featuring names such as lava cake, meat breath, watermelon sangria and Wonka bars – and soon plans to expand that selection to 22 varieties. The buds are showcased inside clear display containers with magnifying glass lids, allowing customers to closely examine each strain.
"We're trying to make it as interactive as possible," Ransom told WTHR during a recent tour of SkyMint's Ann Arbor dispensary, which has the feel of a high-end jewelry store. Company executives said they want to create a memorable "lifestyle retail experience" for customers while, at the same time, complying with the state's long list of legal mandates that address nearly every aspect of a cannabis retailer's operations.
"It is sooooo regulated," Ransom said. "Just so many regulations."
Illinois' marijuana industry is tightly regulated, as well. Customers age 21 and over can purchase up to 30 grams of marijuana flower, 500 mg of THC in cannabis-infused products (edibles), and 5 grams of cannabis concentrate if they are state residents. Customers showing an out-of-state ID may purchase half that amount.
Illinois and Michigan also allow residents to grow their own marijuana. In Michigan, any adult can grow up to a dozen cannabis plants per household. Illinois allows residents who possess a state medical cannabis card to grow up to five plants.
Ohio's medical marijuana law is much more strict. Only patients with one of 21 specific medical conditions qualify to use medical cannabis in Ohio – those who have other medical conditions can request permission – and in Ohio, you can't smoke cannabis or grow it on your own. That makes the Ohio law very different from laws in Michigan, Illinois and some Western states that are known for their more liberal cannabis regulations.
"I think that's one of the reasons we got so many [Ohio lawmakers] to agree," Huffman told WTHR. "The vast majority came along and understood this was very strict, and it was about the patient and the medical industry – had nothing to do with recreational. Ohio is not Colorado, and it's not California when it comes to medical marijuana. We did our research, and I think whenever Indiana is ready, they'll be a lot closer to Ohio than Colorado."
Asked what year Indiana will be ready to legalize marijuana, Tallian simply shook her head.
"Ahhhhh," the state senator said, laughing. "I don't know that I'm going to be here then. I don't have a clue."