INDIANAPOLIS (WTHR) — If the idea of ditching your regular laundry detergent for an environmentally friendly product that can tackle hundreds of loads of dirty clothes sounds appealing, the Ecoegg may have already caught your attention.
The Ecoegg has been advertised extensively through on-line ads targeting social media users, and it claims to clean as effectively as traditional detergent with a lot more convenience and less cost.
To determine whether the product lives up to its bold claims, 13 Investigates put the Ecoegg to the test with the help of two busy moms who know a thing or two about laundry.
What is it?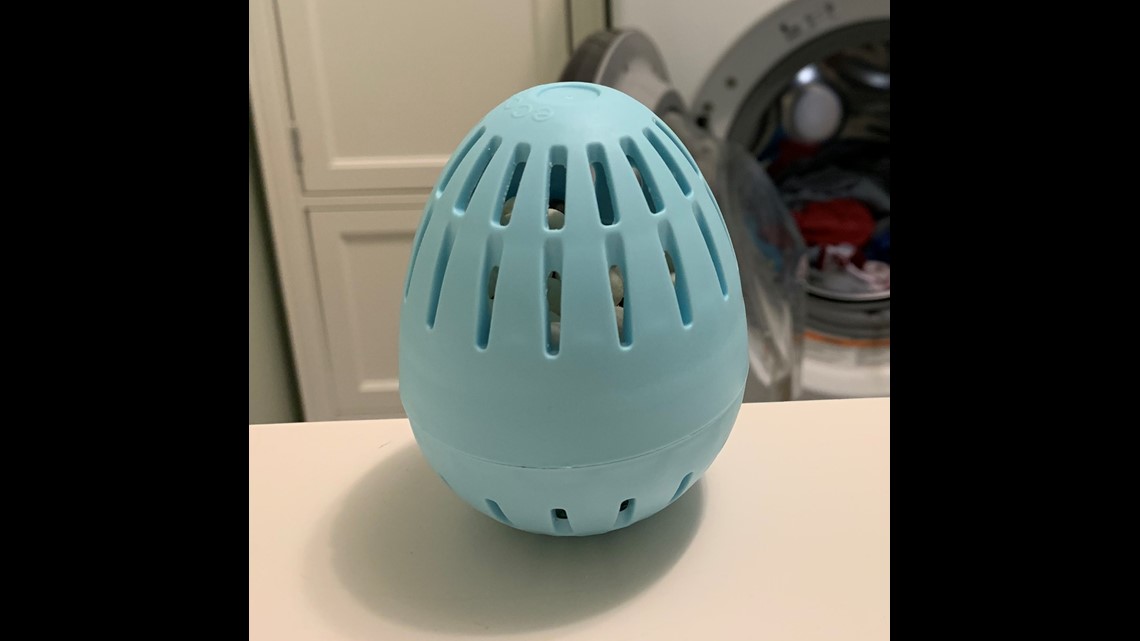 The Ecoegg is a plastic, hollow, egg-shaped container that houses tiny cleaning pellets. According to its British manufacturer, those pellets are "non-toxic and do not contain any harsh chemicals, petrochemicals, enzymes, optical brighteners or phosphates."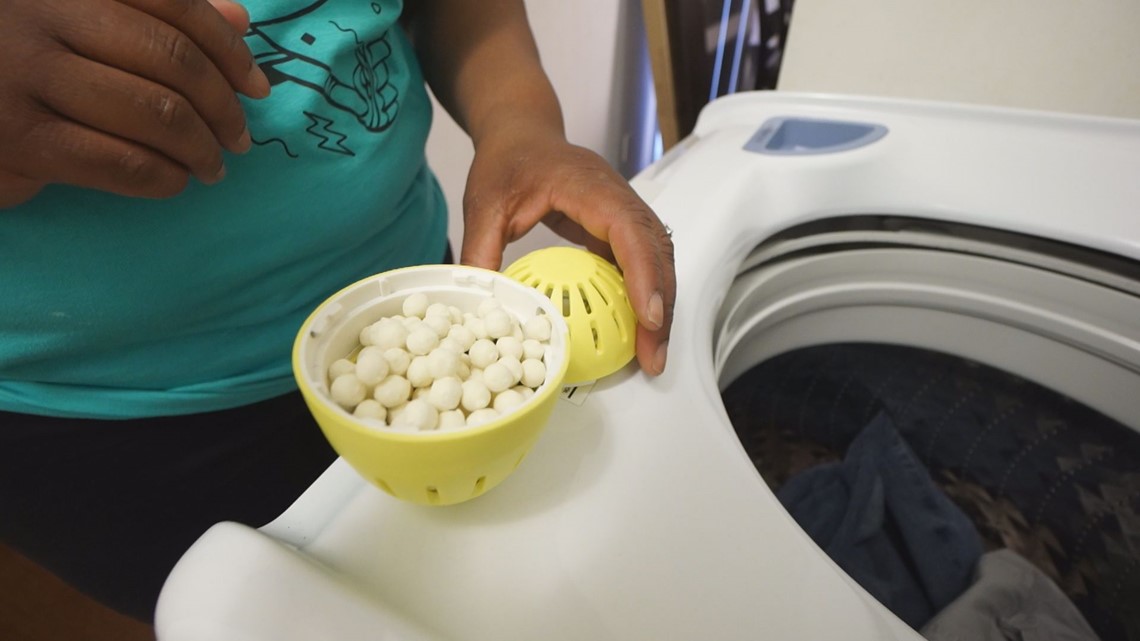 The product comes with enough pellets to supposedly clean 720 loads of laundry, about three years worth of dirty duds if you wash an average of four or five loads each week. It also comes in smaller 210-load and 54-load sizes.
Ecoegg says it is hypoallergenic, keeps colors looking bright and is eco-friendly due to its "natural" ingredients, testing methods, sustainability and manufacturing practices, and because one small plastic egg replaces up to a dozen 100-ounce plastic jugs of laundry detergent. The laundry egg is available in several different scents that are "gently fragranced with natural essential oils" and in a fragrance-free option.
The Ecoeggs purchased by WTHR each came with two plastic eggs – one for washing white laundry and one for colored laundry – and separate pellets for each. Once the egg is filled with the appropriate mineral pellets, consumers are instructed to place it inside their washing machine on top of dirty laundry and to then run their wash cycle as normal. Suitable for both top-loading and front-loading washing machines, the Ecoegg should last approximately 72 loads before it needs to be re-filled with additional pellets, according to instructions.
The convenience of the Ecoegg is one of its selling points, offering busy consumers the ability to toss the product into their washing machines and eliminating the need to purchase and pour detergent for months. The cost is attractive, as well. The 720-load version of the product costs about $35 which, for 720 loads of laundry, is considerably less expensive than many other detergents.
The Testers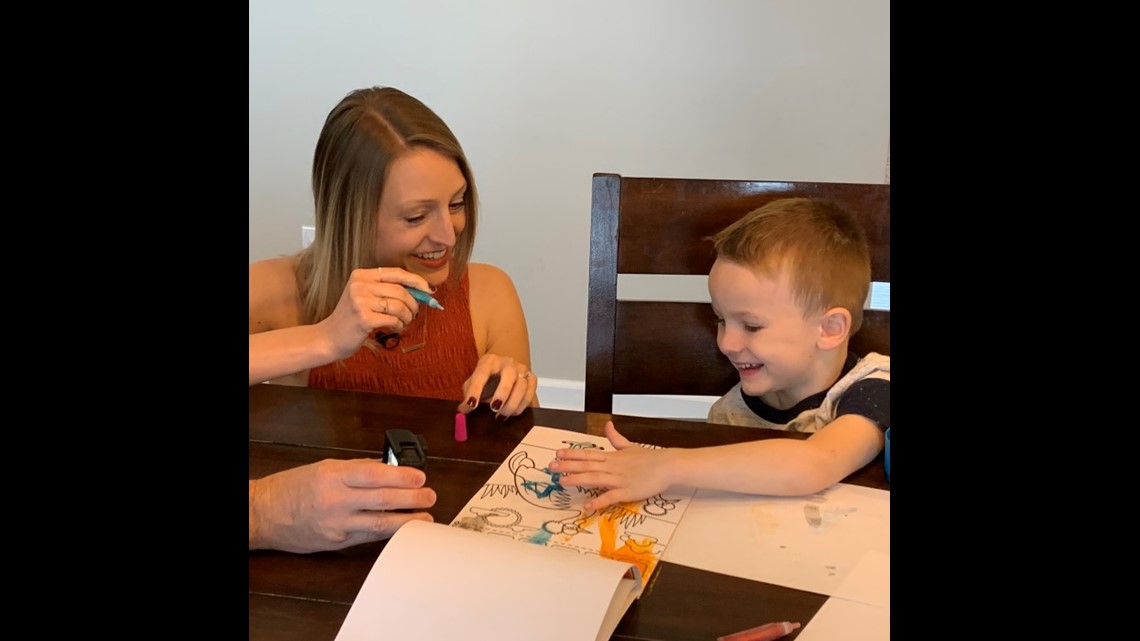 Bailey Streicher has a 2-year-old daughter and a 4-year-old son who are very active.
"Constant motion," said the Brownsburg mother, playing tag with the kids in their backyard.
That motion results in lots of laundry. Streicher washes four or five loads each week. On the day WTHR came to visit, the laundry reflected a busy morning of art projects, outdoor play and lunch.
"We have some chocolate ice cream mixed with glitter mixed with wet grass and dirt," Streicher said, pointing to stains on her son's shirt. "These clothes are in pretty rough shape."
Our second tester, Toiya Smith, lives on the west side of Indianapolis and has five children. This time of year, you'll likely find her in the dugout or stands at one of the kids' many baseball or softball games – or in her laundry room.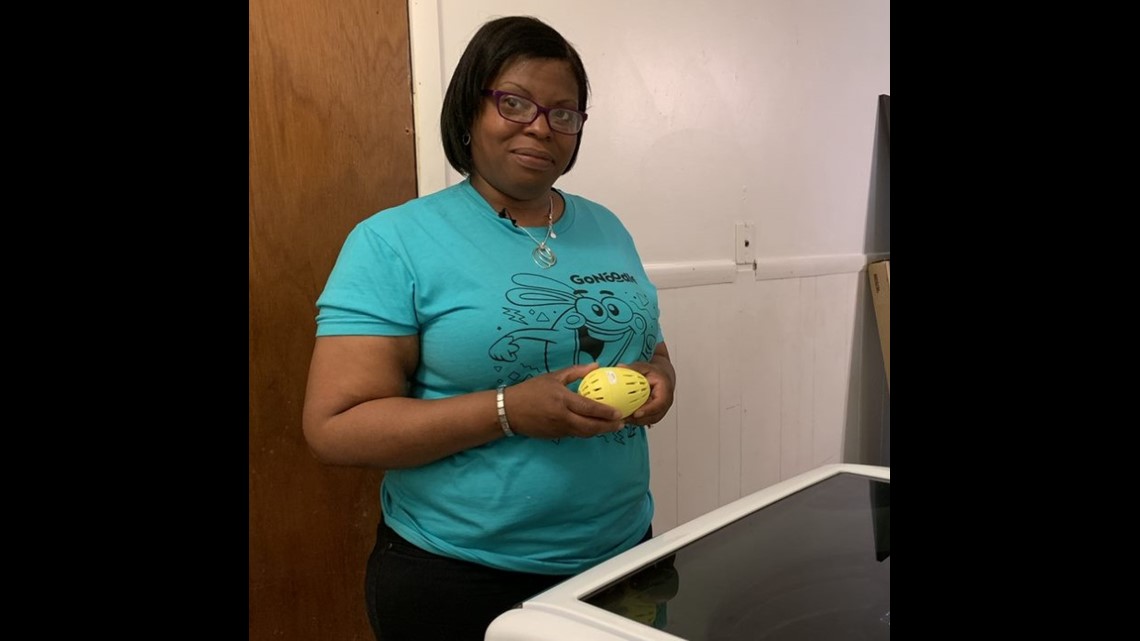 "We do laundry every day. Usually two loads a day," Smith said as she loaded dirty uniforms into the washer. "Mud, brick dust, grass. That's a lot of stains to get out."
Smith and Streicher agreed to replace their regular detergent for a few days to test the Ecoegg. Both were intrigued after reading the directions.
"The thought of being just good to go for 720 washes would be really ideal because I'm constantly running out of detergent," Streicher said in her laundry room as she loaded pellets into the plastic egg. "And it smells good. I love that because nothing smells good on laundry day in here."
"This is something I'd absolutely be interested in, especially if it lasts 720 loads. That's like 'Wow!'" Smith said as she prepared the Ecoegg for its first load. But she was also skeptical, admitting that she had a hard time believing the product could live up to its claims of overall convenience, cost and cleaning ability. "You never know until you try it, so we'll see."
Loading Up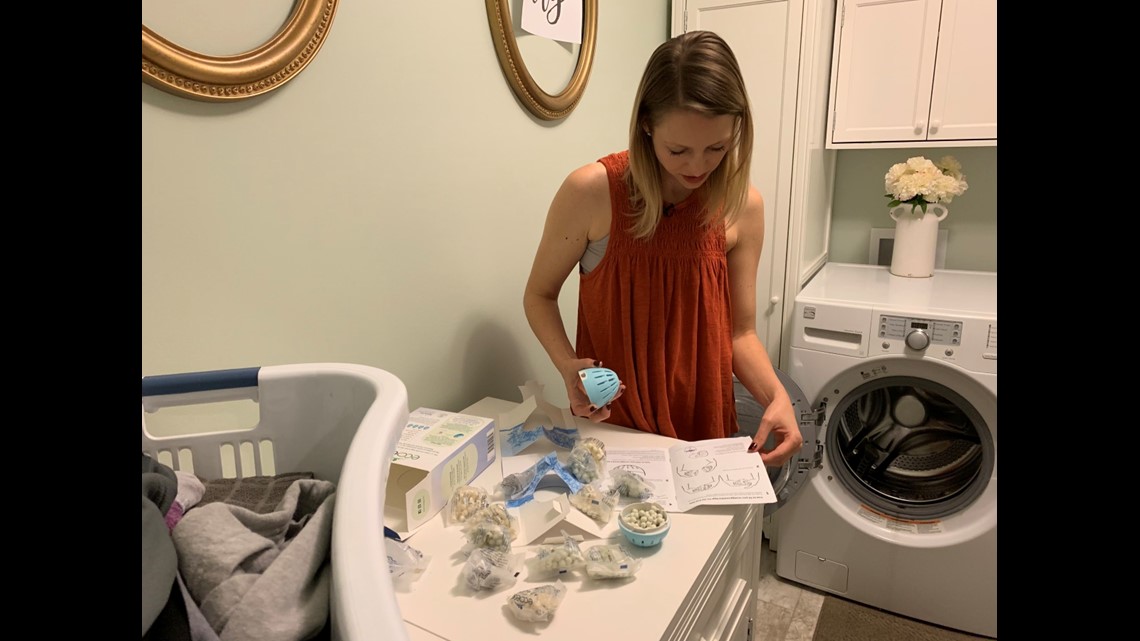 Reading the directions and loading mineral pellets into the Ecoegg took less than five minutes for both Smith and Streicher. The most challenging part was figuring out which pellets to use because of the subtle difference between those needed for white and color loads. (The pellets for white loads have tiny blue specks on them.) Both ladies thought the instructions were clear and easy to follow.
Preferring to get in and out of the laundry room as quickly as possible, Streicher did not pre-treat her kids' clothes with stain remover prior to washing them. She selected a 20-minute express wash cycle that uses warm water.
"You never know until you try it, so we'll see..."
"Realistically, we do express wash most of the time," she said. "I'm in a hurry. I'm a mom. I've got a million things going on. So if that'll do the trick, 20 minutes is so much better than 50 for me."
Smith did pre-treat her children's uniforms with stain remover. But she was curious to see if the Ecoegg would remove some of the toughest stains without any spraying, so she chose not to pre-treat two pairs of baseball pants with dirt stains. All of the clothes were washed in cold water for a 56-minute wash cycle.
As instructed, the Ecoegg was placed on top of the clothes. It quickly disappeared as the wash cycle began, but could be heard bouncing around the drum throughout the cycle.
Streicher chose the "fresh linen" scented Ecoegg while Smith opted for the fragrance-free product.
The Results
"I'm super impressed with how it came out"
Streicher was thrilled when the clothes came out of the washer.
"Wow, this looks great!" she said, thoroughly inspecting her son's shirt. There were no signs of the dirt and grass stains on the front and back, nor the multiple stains from chocolate ice cream. "I'm impressed because I wasn't stain treating. I just threw it in and it really lifted all of the damage we did this afternoon. So for how easy it was, I'm super impressed with how it came out."
After the clothes took a short tumble in the dryer, Streicher commented they felt soft and smelled fresh, even though she did not use a dryer sheet like she normally does.
"I would give it an A," she said. "It lifted all the stains, and the fact this could get me through so many loads is worth the money for sure."
She continued to use the Ecoegg to wash several more loads of laundry and saw similar results. "I really love it. It's just so easy," Streicher said.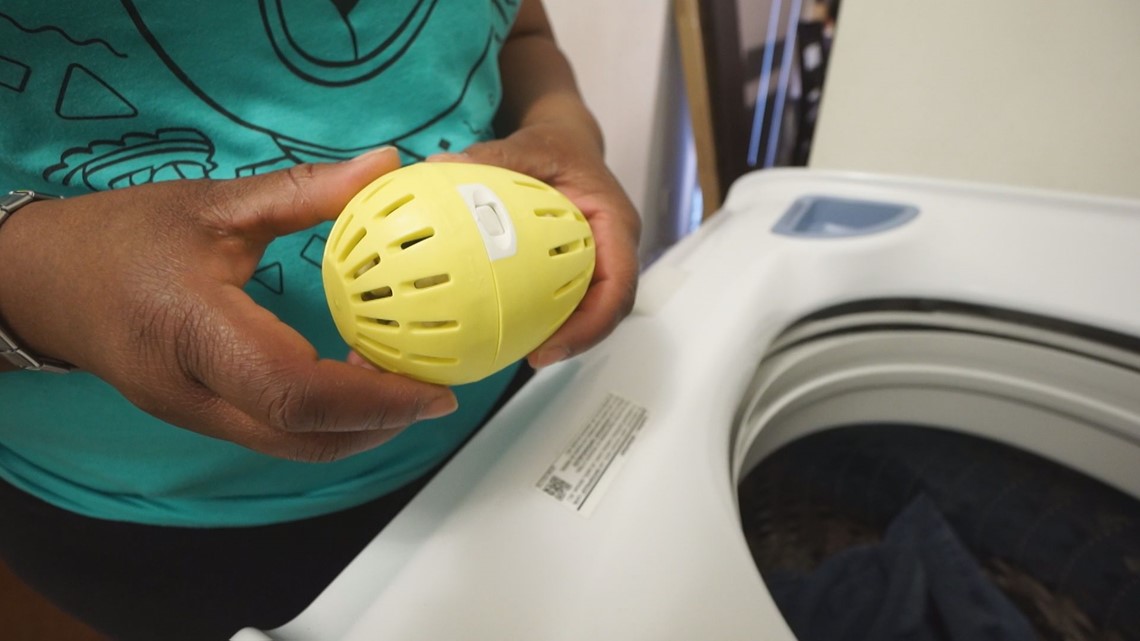 Overall, Smith was pleased with her load of laundry, pointing out that it thoroughly cleaned her everyday clothes and helped remove all of the stains on the clothes that had been pre-treated with stain removed.
She also expressed some initial disappointment to see the un-treated clothes still had visible dirt stains after an hour-long wash cycle.
"I was really hoping they'd be gone," Smith said, chuckling. "That would have been really nice, but there's some stains still there. The deeper ones you can still see. I'll rewash those and I'll be happier."
It would actually take two more washes with the Ecoegg and stain remover before the baseball pants were stain-free. (Smith said her normal detergent usually got the stains out in one or two washes.) But after using the product for another six loads of laundry, Smith said she was won over.
"My clothes really came out excellent. I had some doubts, but it did a great job," she said. "It didn't leave any residue. The clothes smell clean and they still look bright. They don't look faded. There's no liquid to pour and no spillage. Just put it and you're done. I love that. That was quick."
Smith said she would continue to pre-treat stains when using the Ecoegg, but she was able to give up her dryer sheets, which she relied on for an extra boost of fragrance and to prevent static. She said she plans to buy an Ecoegg for her two oldest children who are in college because of the ease and efficiency it offers on laundry day.
"I give it a strong B-plus, A-minus," Smith said. "Definitely something I'd keep using."
The Cost Savings
WTHR's product test has not yet determined whether the Ecoegg will last 720 washes as the manufacturer claims. (We'll update this story later.) If it does, the Ecoegg would last a full year for the Smith family and three years for the Streichers. At $35, the product costs just under 5 cents per load.
Streicher normally uses Gain liquid washing detergent, sold at local retailers in a 100-ounce (64 load) jug for $10.99. That's equivalent to about 17 cents per load of laundry. For the Streichers, switching to the Ecoegg would save about $29 per year.
Smith uses a 5-gallon bucket of liquid detergent that she purchases for $35 through a charitable fundraiser. On average, the bucket lasts the Smiths five months at a cost of approximately 11.5 cents per load. Compared to that detergent, the Smith family would save about $50 per year if they use the Ecoegg instead.
"That is not bad at all. That's a great cost savings," Smith said.
The Ecoegg can be purchased from several different online sites (try typing Ecoegg into any search engine) and some of them offer free shipping.
If there is another product you'd like 13 Investigates to test, e-mail us your suggestion at 13investigates@wthr.com.