INDIANAPOLIS (WTHR) — As schools across Indiana struggle to find teachers amid a statewide teacher shortage, some young educators don't want to stick around.
"I would have been happy teaching in Indiana, and I thought that's where I'd get my start, but now I feel it makes more sense to look somewhere else," Alyssa Nobbe told WTHR.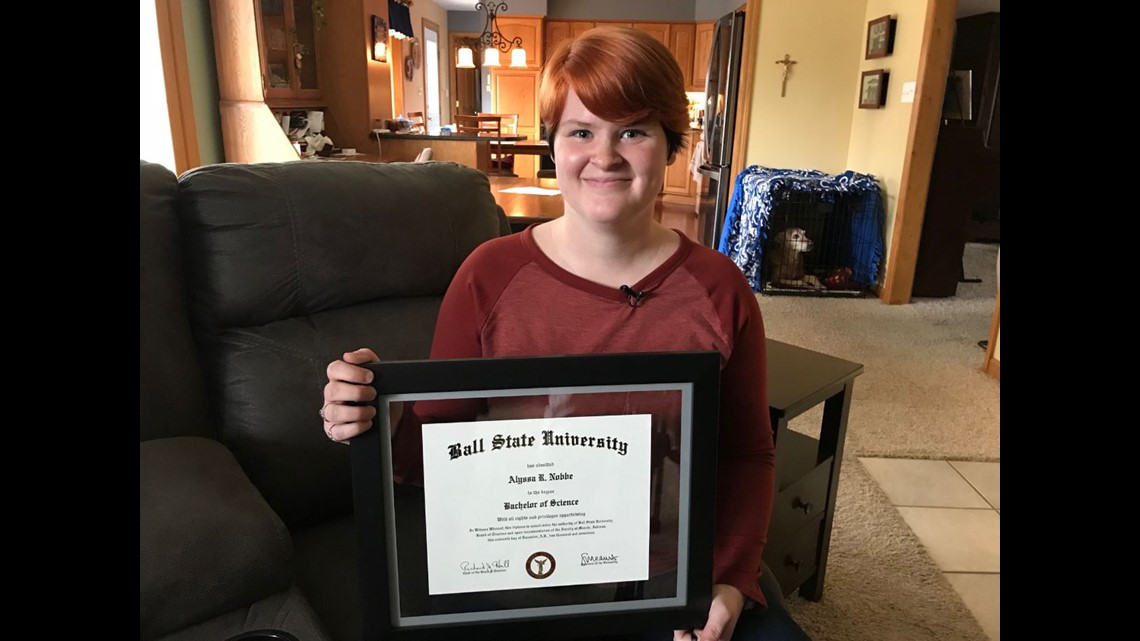 Nobbe just graduated with a teaching degree from Ball State University with a major in elementary education. She received distinguished honors for her student teaching at Floro Torrence School 83 in Indianapolis.
"Great school, great teachers, I loved the students," Nobbe said of her time in the Indianapolis Public Schools classroom. "I know I want to make a difference in kids' lives."
But her impact on kids will likely take place in Ohio – not Indiana – because Nobbe does not want to deal with Indiana's CORE assessment exams for new teachers. The testing program has terribly low pass rates in several of its 60 content areas.
State data shows the Indiana CORE social studies exam has a pass rate of 58%. The mathematics test has a 19% pass rate. And the pass rate is 30% for elementary education -- a subject area Nobbe would be required to pass to receive a state license to teach third graders. Thousands of teaching candidates have failed the exams, and some have yet to pass despite taking the tests multiple times.
"You hear horror stories and it got me thinking. I just spent 4 ½ years going through college and heard no one can pass the licensing test, and I was like, would I even be able to get a job?" Nobbe explained. "I don't have the money to take the test a bunch of times, so I just decided to skip all that and go to Ohio where I'd only have to take it once."
She recently passed Ohio's Assessment of Professional Knowledge Early Childhood exam (on her first attempt) and has applied for jobs with several Ohio school districts.
"It definitely comes down to the test. I'd probably be taking the Indiana exam and teaching here if it hadn't been for the passage rate difference," Nobbe said.
Other teachers tell WTHR they also have decided to teach outside of Indiana because of the state's teacher licensing exams, and 13 Investigates has discovered Indiana plans to stick with the troubled testing program despite continued questions and fears about its reliability.
Months of analysis and frustration
The Indiana State Board of Education (SBOE) added CORE exams to its mandated teacher licensing protocol in 2013 to help ensure new teachers could demonstrate mastery of subject areas they would be teaching.
But the tests showed signs of trouble soon after they were implemented.
Aspiring teachers – including some college graduates who graduated at the top of their classes with 4.0 grade point averages – reported failing the exams in massive numbers. 13 Investigates showed several of the content areas has passage rates below 25%, causing students to re-take the exams three, five, even ten times without passing. Longtime teachers and professors told WTHR they tried taking the exams and found them to be far too difficult and confusing even for veteran educators.
"We have people who want to teach, who love teaching, and the one thing that is stopping them is this test. To me, that's a problem," Dr. James Beeby, dean of the University of Southern Indiana's College of Liberal Arts, told WTHR last spring.
The state board of education tried making adjustments – including reducing the minimum score needed to pass the tests. It helped in some content areas, but in others, pass rates dropped even further. The state also issued thousands of emergency permits, allowing teachers who struggled to pass their CORE exams to teach on a temporary basis while they continued to take the tests.
Following WTHR's investigation, the Indiana SBOE ordered its Technical Advisory Committee (TAC) to conduct a thorough review the CORE assessment program. The group of five independent consultants obtained information from Pearson Education, the company that created and implemented the CORE exams, and analyzed the tests and to determine if the exams are valid and reliable. The review took nearly a full year to complete, prompting some board members to express frustration.
"I'm not going to sugarcoat it or try to pretend it's something it's not," Indiana Superintendent of Public Instruction Jennifer McCormick said last August. "It is frustrating for those who are trying to pass the darn test and can't get it passed. It's frustrating for administrators who are needing to hire teachers. It's frustrating for parents and for students who are waiting in the classroom for a licensed teacher. There's a lot of frustration. We are well aware of it, and I'm sure we'll continue to hear that frustration until we have some answers."
The state board of education hoped a comprehensive study by the TAC would reassure teachers and schools about the validity of the state's CORE exams. But while answers have arrived, lingering questions and doubts remain.
Short questions. Long answers.
In January, the TAC sent a memo to the state school board, detailing some of the results from its 10-month review. The committee followed up that memo by making a presentation at the SBOE's monthly board meeting in February. Chad Buckendahl represented the TAC and spoke to board members by phone.
"We believe there is sufficient information to support continued use of the assessments," Buckendahl told the board early in the presentation, emphasizing the main conclusion of the TAC review. "At the same time, we have identified what we believe to be opportunities for the program to kind of continually improve, and in doing so, have identified a few sources of evidence that we believe that the program can both in the short- and long-term kind of add to the evidence to … ultimately strengthen the claims about the program."
Buckendahl went on to explain the committee's review focused on the CORE program's validity, reliability, fairness, and standards for setting thresholds for passing scores. He said more studies and reviews are needed to support improved validity, reliability and oversight of Indiana's CORE assessment exams.
Board vice chairman B.J. Watts pressed Buckendahl to clarify the advisory committee's conclusion.
"Do you consider our current CORE content test valid and reliable?" Watts asked.
"Because you have 60 -- more than 60 different examinations -- it's not a generic, you can't say generically yes or no for the program," Buckendahl replied. "Each of these examinations has to stand on its own, and so I would say, for the program, the TAC does believe that, yes, you have information to support the use and the decisions that are currently being made by individuals for those programs."
Not satisfied with a response that failed to answer his question, Watts again asked for clarification.
"Do you consider every test, all 60, valid and reliable?" he asked, trying to determine if the CORE exams are effective in measuring teacher competence.
"Each of the examinations has to be able to stand on it's own, and I I think it is fair to say that the TAC identified opportunities for additional evidence to be gathered for the program and then, you know, how to go about doing that," Buckendahl said. "I would not be truthful is saying that every one of those programs has reliability evidence that meets industry standards."
He blamed some of tests' reliability problems on small sample size (few students who take a specific test yield few results and less reliable data), but admitted even exams in some of the most popular content areas have reliability problems, too.
"For some of the larger programs, some of the reliability indicators are not as strong as we'd like to see," Buckendahl said.
"That's a little shocking," said Nobbe. "One of the first things they teach us as teachers is when we create a test for our students, it has to be reliable. It's got to be fair. I don't know why they'd give teachers a test if they can't be sure how reliable it is."
SBOE members who attended the meeting had different reactions to the TAC presentation.
"It was an overly politically correct answer to 'yes' or 'no' questions, and that's disheartening," said Cari Whicker, a board member who also serves as principal at Southern Wells Elementary School. "I have teachers in my building who are waiting to pass that test and they want some closure. These kids deserve a 'yes' or 'no' answer and they do deserve to know is that test valid and reliable."
"The reliability of the test is still a big concern for me. I still have questions," Watt told WTHR. "I like simple answers and I don't feel we ever got 'yes' or 'no' answers. I know there are still concerns from us and from legislators, as well, with the CORE content area pass rates. In my opinion, where there are lots of things that you have to fix immediately, I'm not sure how valid that test is. I'm not sure how that can not be a concern."
The superintendent feels more reassured by the TAC report, and she is pleased the review committee found the CORE tests are good enough for the state to continue using them.
"I'm comfortable with that. If they would have said you cannot continue, we have such concerns about the reliability and validity that do not continue, we wouldn't have continued," McCormick said. "The whole process is very complex, but Indiana is moving in the direction to try to make it better."
Go drive a truck instead
How to make the exams better is not clear.
The TAC recommended more reviews and said those should begin immediately. But Buckendahl pointed out the focus of those studies will be to make the CORE exams more legally defensible – not more passable – and he said students who have repeated difficulty in passing the CORE exams should look for a different job.
"If somebody has failed a minimum competency exam ten times already, I would encourage them to perhaps seek a different profession," Buckendahl told the state board of education.
Surprised board members challenged the consultant.
"You would tell that person to go find another career?" asked board member Byron Ernest, a school administrator who was formerly voted Indiana Teacher of the Year. "I want to make sure I understand correctly."
"Yeah, I think what I'm saying is if somebody has failed the exam ten times and they haven't been provided good guidance about what it takes to succeed on the examination … I'm being a bit facetious in saying find a new career but, yeah, I would probably maybe question career path."
Lexi Stewart doesn't want a new career path.
Her parents both spent decades as teachers and Stewart wants to follow in their footsteps. When she graduated from Ball State with a degree in elementary education in 2103 – the same year Indiana implemented the CORE assessment exams – Stewart had already been hired as a first grade teacher by Warren Township Schools. She lost the full-time position when she failed to pass several CORE exams.
Stewart has since passed three of four CORE content areas needed to get her Indiana state teaching license, but for the past five years, she has been unable to pass the Social Studies CORE exam.
"I've lost count how many times I've taken it," she told WTHR. "I know it's been at least ten, and it's been at least $1,000 to take the tests so many times."
Despite not having a state license, Stewart has been a Title I reading teacher for Warren Township and, more recently, she's been teaching at a private preschool – positions that pay less than her original job offer but do not require a state license. She has consistently received high marks and outstanding reviews for her work in the classroom.
"To hear that teachers like me should just get another job, wow, that's very disheartening," Stewart said. "I'm not a great test taker, but I'm a great teacher, and I have the proof to support that. I've excelled in every classroom I've been in. That has nothing to do with my ability to pass a test."
She continues to take the CORE Social Studies exam in the hopes of getting a state teaching license, and she hopes the state will make changes to the exam so other teachers will not face the same hurdles.
"Fearful what happens next"
The TAC memo outlines several areas for further investigation and follow-up, including periodic and ongoing review of each test's pass rates and appropriate passing scores. The SBOE has decided to study six exams during each review, meaning the process will take several years to review all of the CORE tests.
But following a lengthy state investigation, there are no major overhauls expected to the current teacher assessment program.
The SBOE will soon begin examining the possibility of switching to a national exam for licensing Indiana teachers. It is also exploring how to allow schools to hire unlicensed teachers to fill up to 10% of their staff teaching positions. (A proposal backed by the superintendent and governor to allow more unlicensed teachers in Indiana classrooms recently failed to win enough support in the General Assembly to become law.)
In the meantime, the superintendent wants prospective teachers to have better access to study materials to prepare for the embattled CORE exams.
"They're not getting good information about even where are the study resources and what's the best way to go about this," she said. "We are concerned. I don't want students who are coming into that situation to be put in an unfair or bad spot."
Buckendahl suggested Indiana's universities also need to do a better job preparing students to succeed on the CORE exams, telling board members that colleges often don't want to take full responsibility for their role when students fail a standardized exam.
"If the training program has not aligned its curriculum and instruction directly to the expectations of the actual assessment, then the probability of success declines rapidly," he said.
Whicker, who sees the impact of CORE exam failures both as a state school board member and as a principal, is concerned there is still no resolution to a longstanding problem that affects thousands of teachers and hundreds of schools across the state.
"I don't know what comes next. Everybody's afraid to touch on it because it's a hot topic and nobody wants to get burned, but it impacts a lot of people," Whicker told 13 Investigates. "We need closure for all these kids. I don't think there's closure on it, and so I'm fearful what happens next because we need good teachers in Indiana."
Pearson Education sent WTHR the following statement for this story:
"Pearson supports the efforts of the Indiana Department of Education (IDOE) to have high-quality, valid educator licensure assessments. We have been working with the IDOE and Indiana educators to implement the exams the State requested to help Indiana achieve its education goals. As part of ongoing program reviews, a Technical Advisory Committee comprised of outside technical experts reviewed the Indiana CORE Assessments. We were please [sic] that in their presentation to the Indiana State Board of Education on January 22, 2018, the experts noted that 'there is sufficient validity evidence to support continuation of the CORE assessment program.' We also appreciated the constructive feedback and recommendations the experts made to advance the program. As part of our continuous improvement work, we have begun to implement the recommendations. These recommendations will enhance the demonstrated validity and reliability of the program. We are excited that these processes will provide even greater opportunities for Indiana's educators to be involved in the program and are currently working closely with the IDOE to determine a timeline for implementing other suggested enhancements."