INDIANAPOLIS (WTHR) — They are three letters that seem to be everywhere in Indiana. CBD specialty shops are popping up all over the state. Major grocery stores and pharmacies are selling it. Gas stations and pet shops stock CBD. You can even find it on the menu at some local restaurants and coffee shops.
But an Eyewitness News investigation has found many cannabidiol products sold in Indiana do not contain the amount of CBD advertised on the label, and consumers have little recourse or protection because local and state agencies are not enforcing Indiana's CBD labeling law.
CBD in water, chocolate and toothpaste
CBD, or cannabidiol, is found in cannabis plants. Because it is considered to have medicinal qualities that can ease pain, anxiety, seizures and other medical issues in some of its users – claims not yet approved or recognized by the U.S. Food & Drug Administration for the vast majority of CBD products – CBD has skyrocketed in popularity. But it wasn't long ago that CBD was considered illegal in Indiana.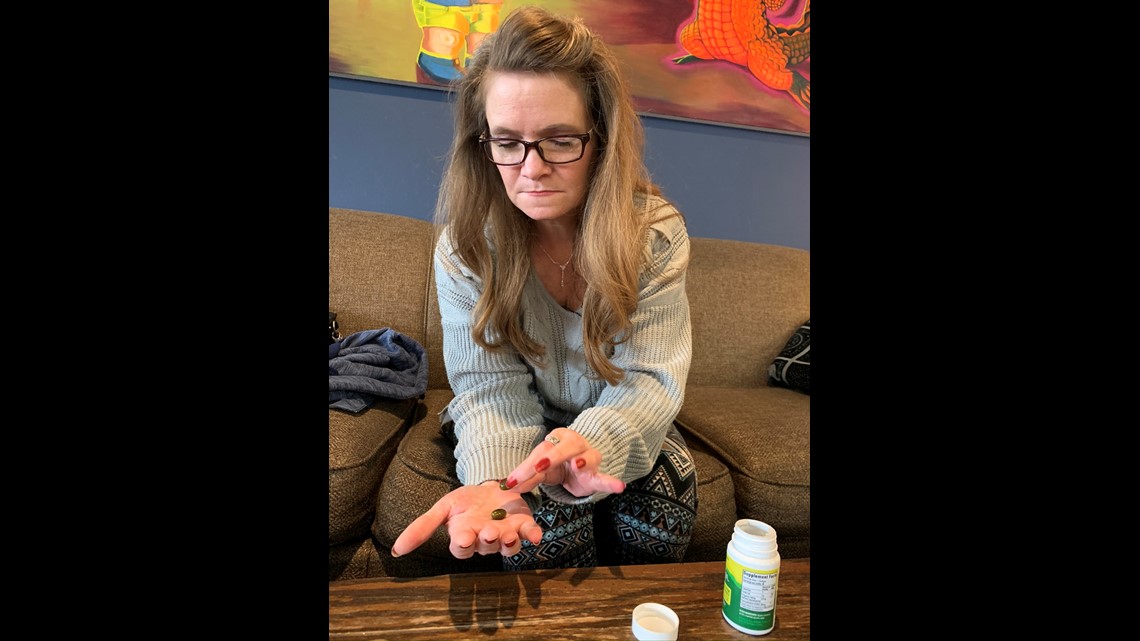 Edie Billhimer called 13 Investigates in summer 2017 to report Indiana State Excise Police had raided a Fresh Thyme Farmers Market and removed all of the store's CBD products.
"I can't believe it's been almost three years," Billhimer told WTHR this month. "There are so many CBD shops and places that sell CBD now, and it's exciting!"
The CBD craze comes not only with high hopes but also with a high cost.
Depending on its potency, CBD oil extract can cost more than $150 per ounce. The price tag for a bottle of CBD-infused water (now available at some health food stores) can be ten times higher than the price of regular bottled water. Local gas stations charge $19.99 for a small bag of CBD-infused gummies, compared to a bag of traditional gummy bears that costs $1 at a grocery store.
But what are you getting for your money?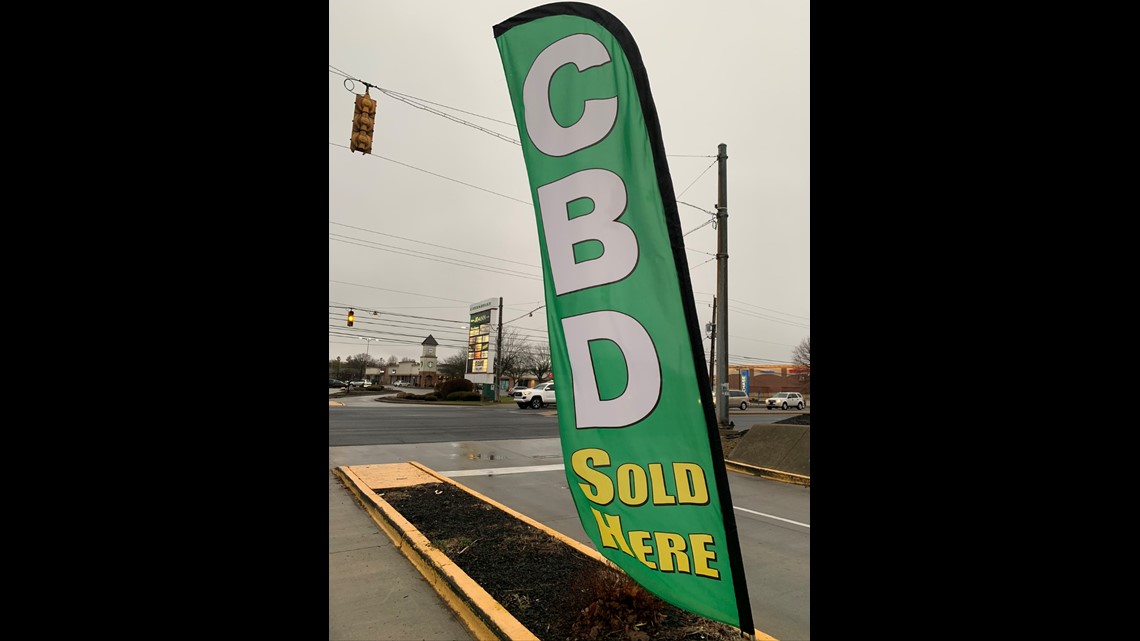 To find out, 13 Investigates purchased CBD products from a variety of local and online retailers. We bought CBD creams and capsules, several drinks and waters, oils, sprays and vaping liquid.
WTHR also purchased many popular CBD-infused edibles, such as gummy bears, a lollipop, taffy and some chocolates. Intrigued by a tube of CBD toothpaste, we got that too.
WTHR then sent all of the products to PSI Labs, an accredited cannabis testing laboratory in Ann Arbor, Michigan. Inside the lab, trained scientists and high-tech machines subjected each product to a cannabinoid profile — a potency test that determines the amount of CBD and other cannabinoids in each sample.
Lab technicians carefully extracted CBD from each product using a process called liquid chromatography to separate, identify and measure each component of the items purchased by WTHR. That process reveals whether the quantity of CBD in each product matches what's on the label.
"It's complex stuff, but at its core, it's very simple. It's kind of like chemical accounting," said lab director Lev Spivek-Birndorf, who opened PSI Labs five years ago to serve licensed cannabis growers and processors. "Thousands upon thousands of these tests are performed here every month."
The good news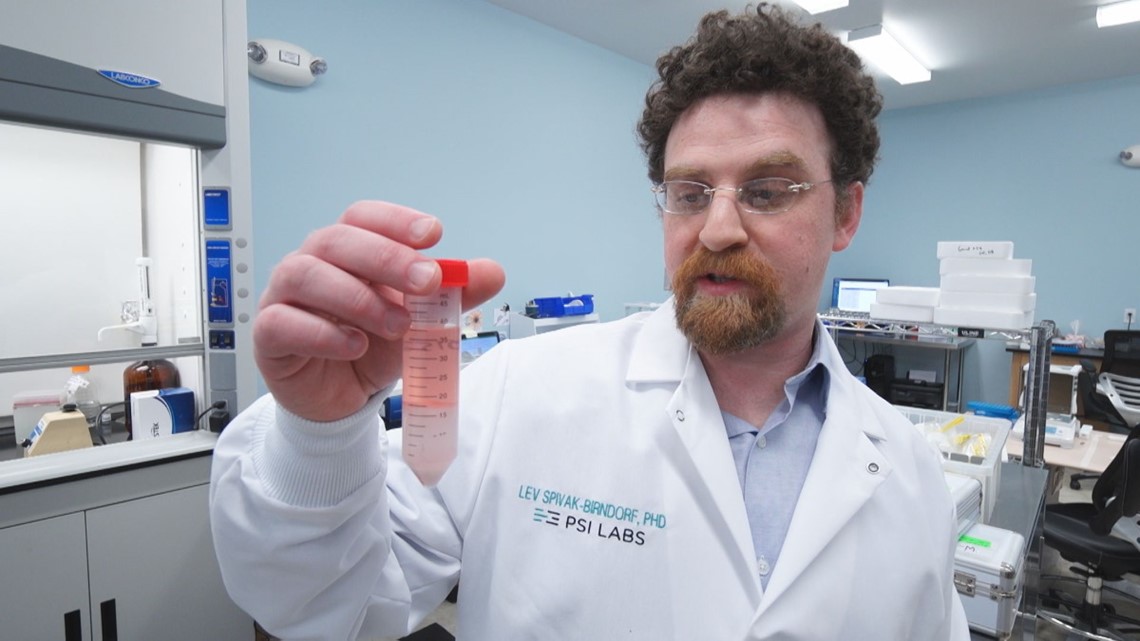 Several of the products tested by PSI Labs for WTHR actually contained more CBD than promised on the label.
A CBD oil purchased at a small specialty shop claimed to have 135 mg of CBD, but testing showed it contained 145 mg.
A muscle rub from CVS that was supposed to have 250 mg of CBD instead tested at 268 mg.
The CBD massage oil that WTHR bought at Kroger had 519 mg of CBD -- more than the 500 mg it advertised.
A peppermint chocolate from a local health food store had 27 mg of CBD rather than the 25 mg listed on the label.
"We do see that quite a bit," said Spivak-Birndorf. "They may put in a little extra just to make sure they're always on the plus side of the error margin because they think their consumers prefer that. They don't want to be seen as short-changing the consumer by leaving out a little bit of CBD."
While generally considered safe, too much CBD can pose a dosing problem for consumers who do not know how much they are actually ingesting. But Spivak-Birndorf says the additional CBD detected in several products purchased by WTHR should not trigger safety concerns because the levels all ranged within 10% of the expected dosage.
The full results of 13 Investigates CBD product testing:
---
1 CBD Living Water says it reformulated its product so third-party tests can detect the CBD. The company could not tell WTHR where to purchase it, so it sent samples to PSI Labs. Tests of two bottles found 18.63mg and 18.29mg - about 85% more than on the label.
2 Results for second test on Elope Chocolate Meltaway. First test was on a full-spectrum product. Elope reformulated and no longer offers that version. First test found 5.99mg of CBD in chocolate labeled for 25mg.
3 The Native CBD Water label says "5 million nanograms as formulated" and "30mg equivalent true nano." It does not specify if either is a measurement for the amount of CBD.
---
"For CBD, somewhere in that 10 to 20% range is safe and pretty ideal for a tolerance range to tell someone you're getting what you paid for," he explained. "Less than 10% over, that's really within the margin of error of our analysis, so effectively that's just a properly labeled and dosed product."
Lots of missing CBD
[view:swiper_image_slideshow=panel_pane_swiper_image_slideshow=2039465/loopslides]
But many of the products that WTHR sent to the lab did not fall within the accepted tolerance range.
Test results revealed the CBD toothpaste, which cost $35 at a local CBD specialty shop, contained only 45 mg of CBD instead of 60 mg – about 25% less than labeled.
Melon-flavored CBD oil that 13 Investigates found at a Greenwood smoke shop tested at 83 mg of CBD instead of 150 mg – 45% below the label.
A lollipop that was supposedly infused with 300 mg of CBD contained only 150 mg – half the amount advertised when purchased at a CBD boutique store in Indianapolis.
A CBD chocolate meltaway found at local grocery and health food stores contained 6 mg of CBD, about 76% less than the 25 mg listed on the package.
"In my opinion, you're starting to slip down that slope of not getting your money's worth at that point," said Spivak-Birndorf. "Whether it's variations in production techniques and poor manufacturing processes or intentional deception, we can't tell that in the lab. But in those situations where you're getting half the CBD on the label, that's not what I'd consider to be acceptable."

Some products tested even worse. Much worse.
A packet of raspberry CBD gummies, sold and distributed under the name Platinum X CBD and purchased at a south side gas station for $19.99, claimed it contained 1,000 mg of CBD. Scientists at PSI Labs discovered something quite different.
"We found no detectable CBD. There was absolutely none detected," said Spivak-Birndorf, clarifying that the lab results showed effectively zero mg of CBD in the product.
Asked if he was confident in the test results, the lab director did not hesitate in his response. "Absolutely. That product, we've actually encountered before, consistently shows it lacks any CBD whatsoever," he said. "If you're getting zero, that's a complete rip-off. Basically, there's no other way to put that. You're being deceived."
Two bottles of CBD water purchased at a CBD specialty shop and at a video store also showed no signs of CBD during testing. WTHR's partner TV station in Portland, Oregon tested CBD water last fall, and its lab found identical results.
Overall, 13 Investigates' testing of 20 CBD products revealed half of them had far less CBD than what the label claimed.
"Sadly, that's not uncommon. We've seen it all before," Spivak-Birndorf said. "And with nobody in place to regulate that and no one in place to test it, that is a risk."
Nobody's watching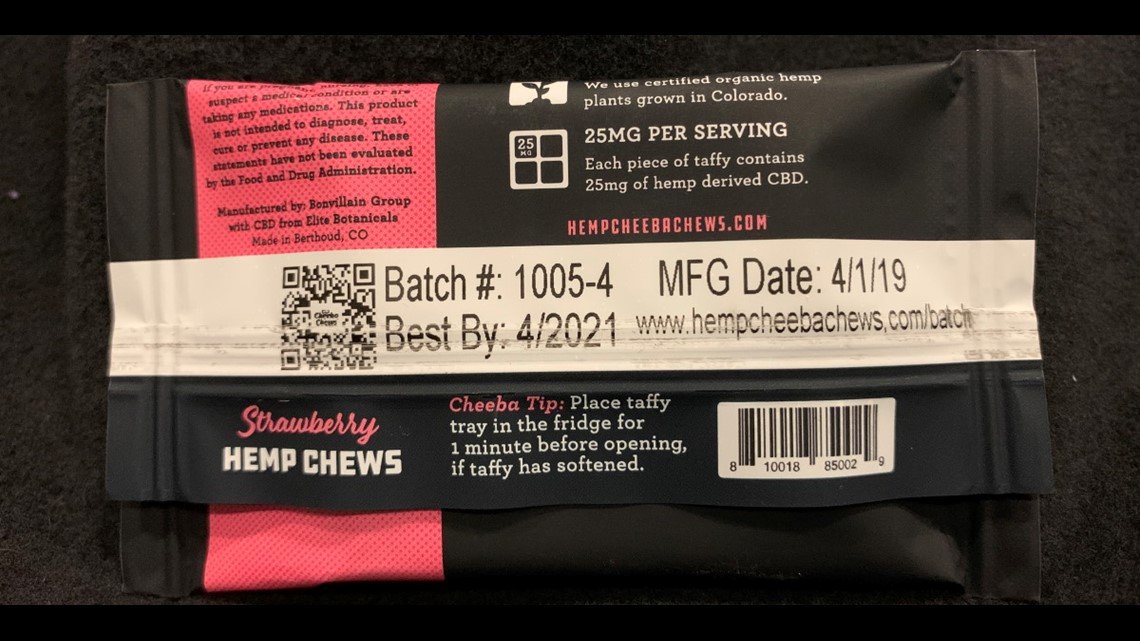 The risk for Indiana consumers is higher than it should be. While regulations are in place, enforcement is not.
Under state law, every CBD item sold in Indiana is supposed to meet strict labeling guidelines and must have a QR code that links directly to independent lab results. Those lab results must show the product was tested and list the amount of CBD present. They must also verify that the product contains less than 0.3% THC. (All of the products tested by WTHR did fall below the 0.3% THC requirement.)
The labeling requirements also mandate that each CBD product sold in Indiana detail the item's batch identification number, batch date and size, expiration date, and ingredient list.
13 Investigates found not all companies are following Indiana's labeling law. Some of the products purchased by WTHR have no QR code on their packaging. For those that do, some link to test results for the wrong batch or for a different product all together.
The raspberry gummies, for example, prominently display a "Lab Tested" label on the front and back of each package. But the product's QR code links to a lab analysis report showing the tested batch tested contains 507.039 mg of cannabidiol – far less than the 1000 mg marked on the label – and the lab results do not identify the actual product that was tested. Furthermore, the date of the testing is not consistent with the expiration date on the product's packaging since Indiana allows CBD products to be sold for only two years following the manufacture date.
Hemp Bombs does not provide a link to test results for the exotic watermelon flavored CBD e-liquid purchased by WTHR. Instead, it provides only a link to its fruity bedrock flavored e-liquid. And 13 Investigates could not locate any test results for the specific batch of Hemp Bombs CBD capsules purchased from an Indianapolis smoke shop.
Eyewitness News discovered companies failing to adhere to the state's CBD labeling law currently face no consequences because no one is enforcing it.
Indiana State Excise Police and the state's Alcohol and Tobacco Commission led the charge in 2017 to raid and fine retailers caught selling CBD products. Three years later, the agency says it is not enforcing any CBD-related laws passed by state lawmakers.
"Since the ATC is not authorized to enforce the statutes … any violations observed by [Indiana State Excise Police] would be referred to local law enforcement or local prosecutors," said ATC communications director Lindsay Hyer. She did not clarify why her agency is not authorized to enforce Indiana's CBD laws.
Contacted by 13 Investigates, multiple central Indiana police departments reported they are not enforcing the state's CBD labeling law either. In fact, none of the local police agencies were aware that ATC and Indiana State Excise Police are no longer responsible for enforcing the state's CBD regulations. The lack of enforcement might help explain why so many of the CBD products now sold in Indiana do not contain the amount of CBD they claim.
"This lack of regulation leads to situations where consumers are faced with no one having their back to make sure they're getting what they paid for," said Spivak-Birndorf. "It's a really crucial aspect of anyone self-medicating with CBD to be aware of the potency of their product … and with no one monitoring that potency, I'd say buyer beware."
CBD companies respond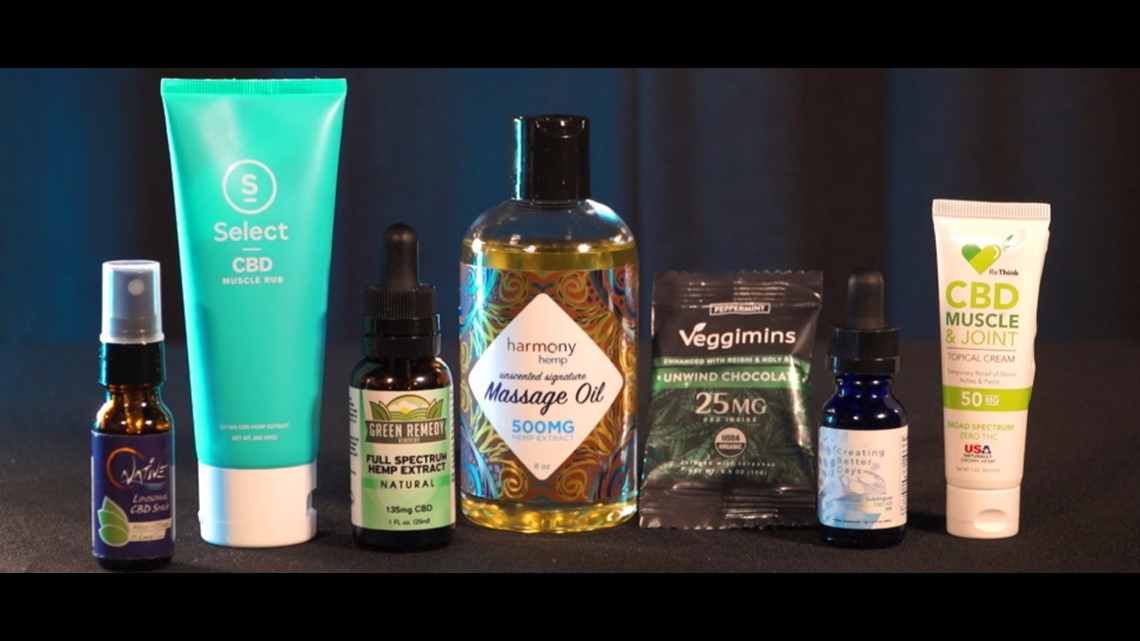 WTHR contacted each of the companies whose products tested significantly below the potency listed on their product label.
Several of the companies, including CBDFx, Platinum X CBD and Hemp Bombs, did not respond to 13 Investigates' questions. Others provided information to explain why the potency on their product label differed from WTHR's test results.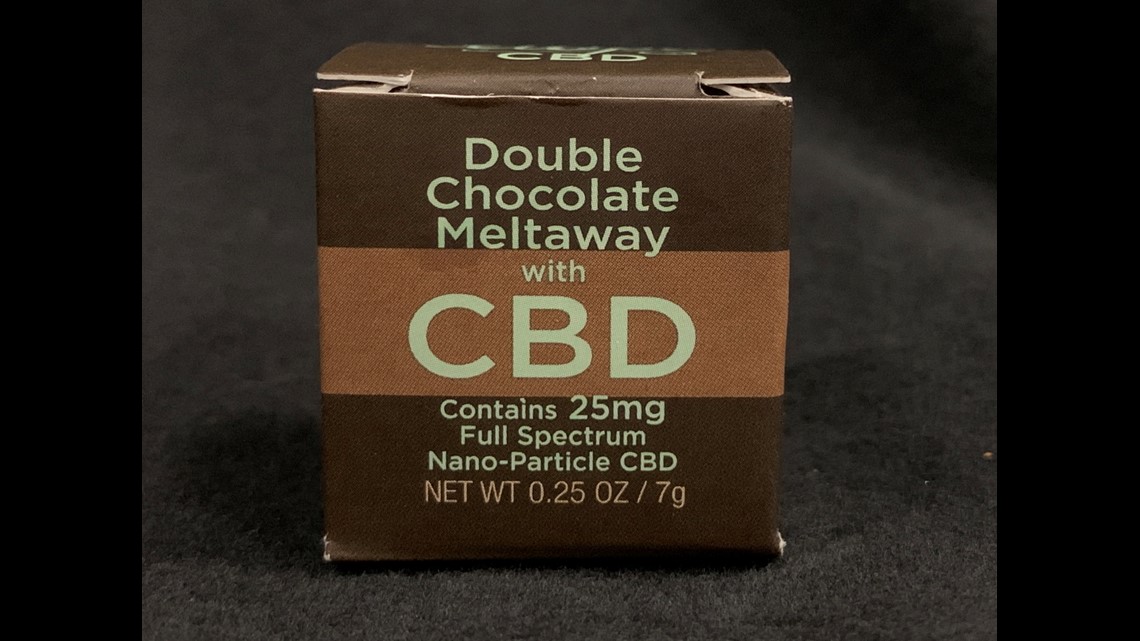 Elope CBD chocolate meltaway
The manufacturer of the Elope Double Chocolate CBD Meltaway told WTHR his Illinois-based company had sourcing issues that resulted in low CBD levels in some of his chocolate produced in early 2019. "It was a bad batch, and so I thought I pulled most of that," explained Elope owner Valentine Gelata, who said his company tests its product regularly at an independent lab. "If you were to purchase what we've been doing for the last eight months, I can assure you it would come out tested correctly."
13 Investigates did purchase a piece from the new batch of Elope meltaways to re-test the chocolate. The newer sample did have a much higher level of CBD – 11 mg instead of 6 mg – but still far below the 25 mg of CBD promised on the label.
After learning of WTHR's test results, a corporate spokeswoman at Fresh Thyme Farmers Market (where 13 Investigates purchased the second Elope Double Chocolate CBD Meltaway) said her grocery store chain is discontinuing the product. "It is the responsibility of each manufacturer to ensure that their labeling is accurate and meets all regulatory compliance requirements," said Fresh Thyme vice president of marketing Amy Parker.
This week, Gelata provided an additional update. "We decided to update our standard operating procedures to further ensure the integrity and tractability for every batch. Previously, we relied on a specific formula and random batch testing. Moving forward, all batches will be tested and confirmed to be within a 8% deviation from the amount stated on the packaging," he wrote. "Hopefully, the extra steps that we are taking will ensure confidence from our customers that no batch has gone untested therefore there will be no doubt that all of our customers are getting the product they paid for. Our commitment to providing a safe, effective, trusted product stands firm."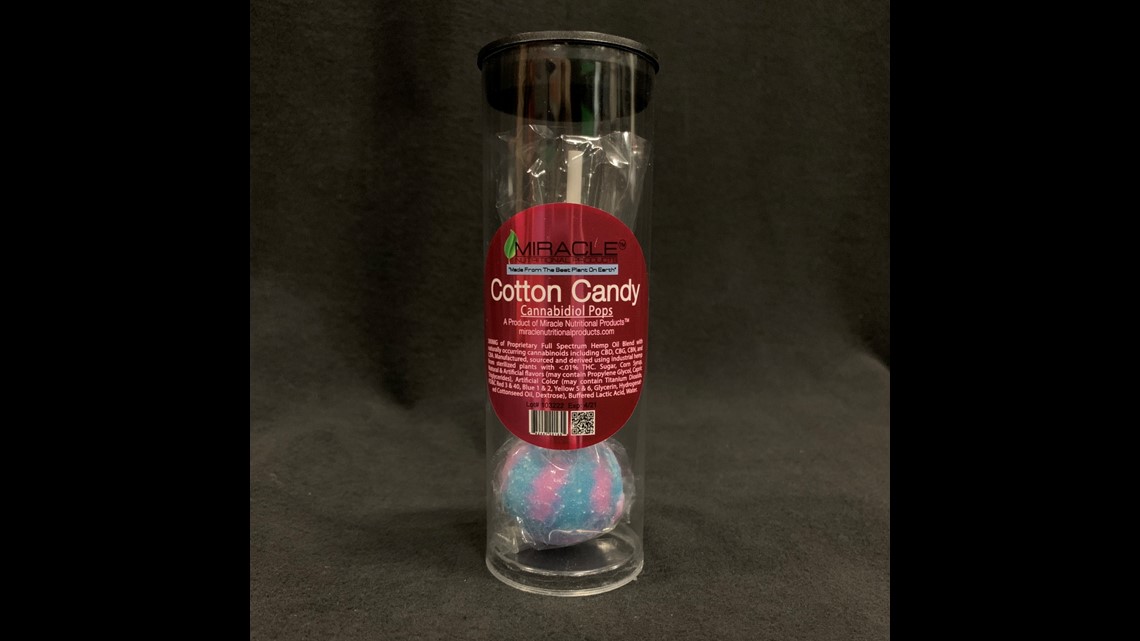 Miracle Nutritional Products lollipop
David Zuener, CEO of Miracle Nutritional Products, addressed WTHR's test results showing the company's cotton candy CBD lollipop contained only half of the 300 mg of CBD listed on the label. Zuener said the company uses four separate labs to test its products, each batch is tested twice to ensure accurate results, and batches that test low are destroyed. He raised concerns that high heat levels in transportation, warehousing or during the testing process could reduce CBD potency in the lollipops.
"Long distance shipping in hot trucks and the vibration of the product can also cause the sugar solution which has the CBD in it to fall off the product. The testing facilities we have communicated with and the experience we have in the industry all lead me to believe these test are not representative of the product we sell," Zuener said. "[O]ur products leave our facility with the proper amount of CBD in them. [W]e have third party testing in house that confirms this."
He also said the age of the product can impact its CBD potency, and red dye used to color the lollipop can sometimes give a false reading during testing.
PSI Labs told WTHR it does not use high enough temperatures during testing to break down CBD, and different colored dyes would not impact its liquid chromatography testing process.
"That's not a great explanation for where your CBD went," Spivak-Birndorf told WTHR. "I have no evidence of red dye affecting any tests nor have I ever heard of this. Even if the chemistry of the red dye caused it to elute as a peak on the same chromatogram that we run for cannabinoids … the test result would appear higher as an artifact of measurement, not lower."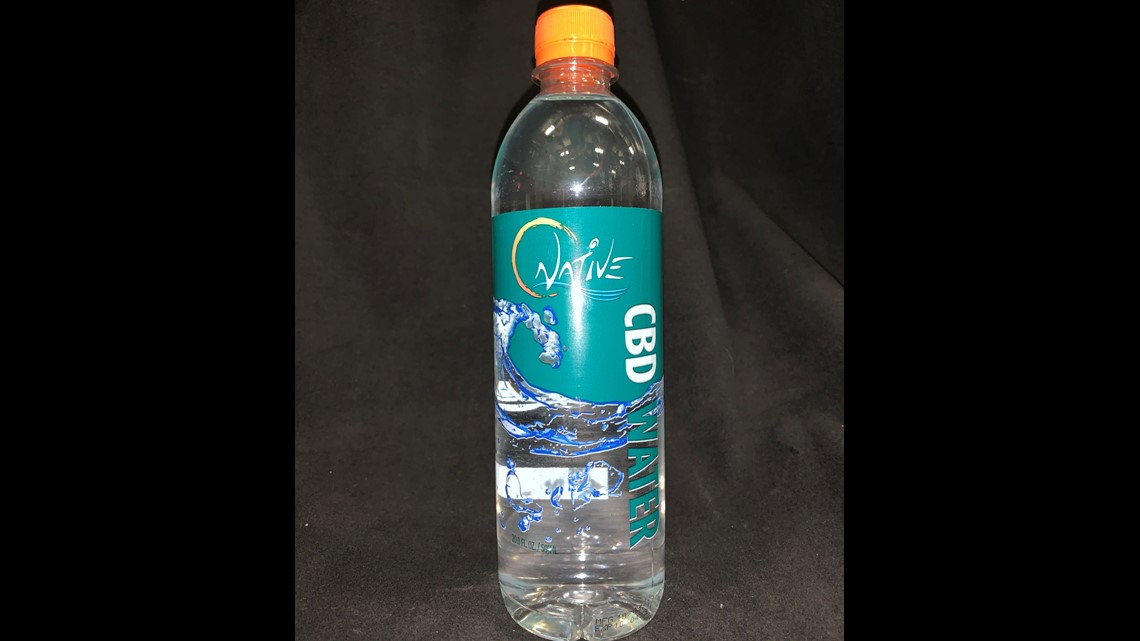 Natural Native CBD water
A spokeswoman from Natural Native told 13 Investigates she was very surprised the company's CBD water contained no detectable CBD during WTHR's testing.
"I just cannot believe the water would test like that," said Susan Wiggins. "I would have to challenge that, because I know how much we babysit the water and who our bottler is."
PSI Labs also tested Natural Native's mint-flavored liposomal CBD spray for WTHR.
The analysis showed that product contained slightly more CBD than the 175 mg listed on the label.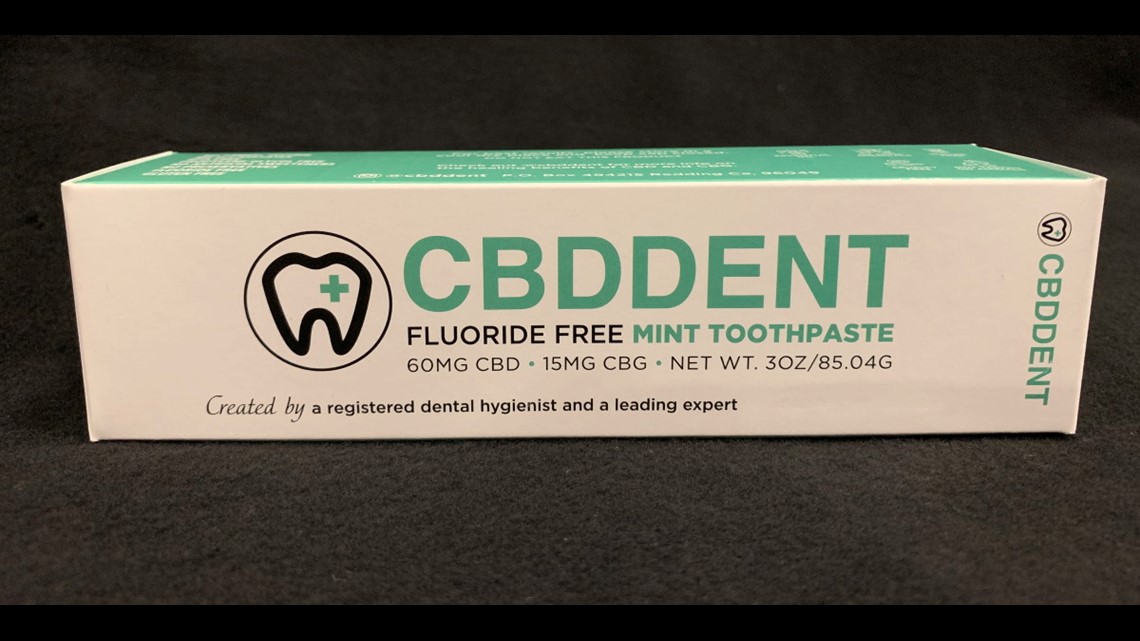 CBD Dent toothpaste
The owner of CBD Dent responded to WTHR when we informed her that our test results showed her company's toothpaste contained about 25% less CBD than indicated on the label.
"Our homogeneity has been consistent, but we are also working on some formula adjustments and that may be where the discrepancy lies," said Elise Blomquist
Blomquist added that her company is also working with its Indiana wholesaler to add a QR code to its packaging as required by state law.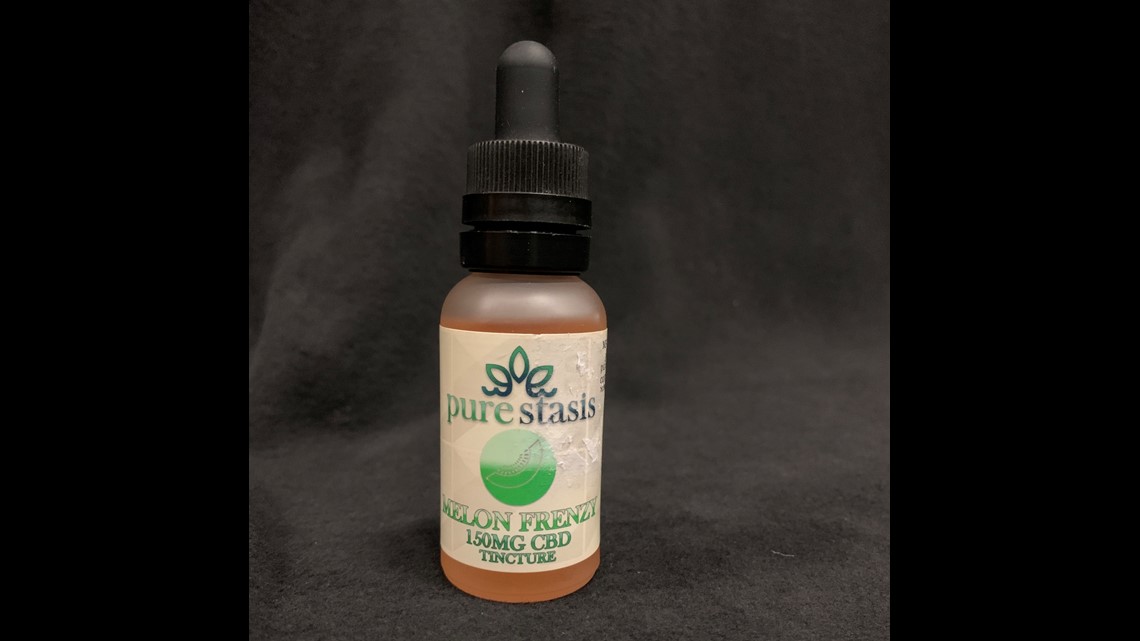 Pure Stasis CBD tincture
Pure Stasis informed 13 Investigates the timing of our purchase involving its melon frenzy CBD tincture was unfortunate.
"CBD degrades over time especially when exposed to light and/or heat. Improper displaying of products in windows exposing the product to direct sunlight at retail locations can expedite the CBD degradation process due to the UV rays," said Pure Stasis operations manager Noah Mavity.
Mavity suggested the passage of time explained our test results that showed the melon CBD oil had 83 mg of CBD instead of 150 mg.
"The product in question has an expiration date of 03/22/2020," he said. "Given that this product is almost 2 years old and at its expiration, there will definitely be a significant amount of degradation."

Verified CBD gummy bears
The CEO of Verified CBD was highly critical of the methods used to test his company's gummy bears, which had 395 mg of CBD – not 600 mg as the label stated – according to PSI Labs testing.
"The regular SOPs, cleaning standards and protocol are not acceptable or applicable to the particular item being tested or CBD in general," wrote company CEO Julius Urbanavičius.
He went on to say his own company's independent testing showed CBD levels in the batch of gummy bears purchased by WTHR exceeded labeled potency, and he claimed the testing performed for WTHR is not accurate when it comes to testing the types of gummies produced by Verified CBD. "Different sized gummy will also have a different surface area which will determine the amount of CBD a gummy will be able to take. It is important to note that our gummies are covered with CBD not infused," Urbanavičius said. He also argued that PSI Labs' processes would not fully dissolve his company's gummy bears, potentially skewing the test results.
PSI Labs said its testing process does fully dissolve gummy products, but acknowledged that the manufacturing process used by Verified may have impacted the reliability of that product's test results.
"If regulations, or lack thereof, allow for people to take a product, coat it in a drug and resell it such that it is not evenly distributed throughout, this is a larger issue with the regulations. But as a lab we assume that products are made from scratch with CBD infused throughout. That way a consumer could eat half of the gummy and expect half of the dose. In 'coated' edibles, this expectation is not true because all of the active ingredient is in a thin layer on the surface and not mixed evenly," said Spivak-Birndorf. "[Their] gummies could in fact contain different amounts of CBD than we found due to this this thin surface coat and our sampling. If we missed the area where the bulk of the dose landed then it could bias low. However, by that same process we could also get a result that would seem too high because of sampling an area right where the majority of the medicine was sitting."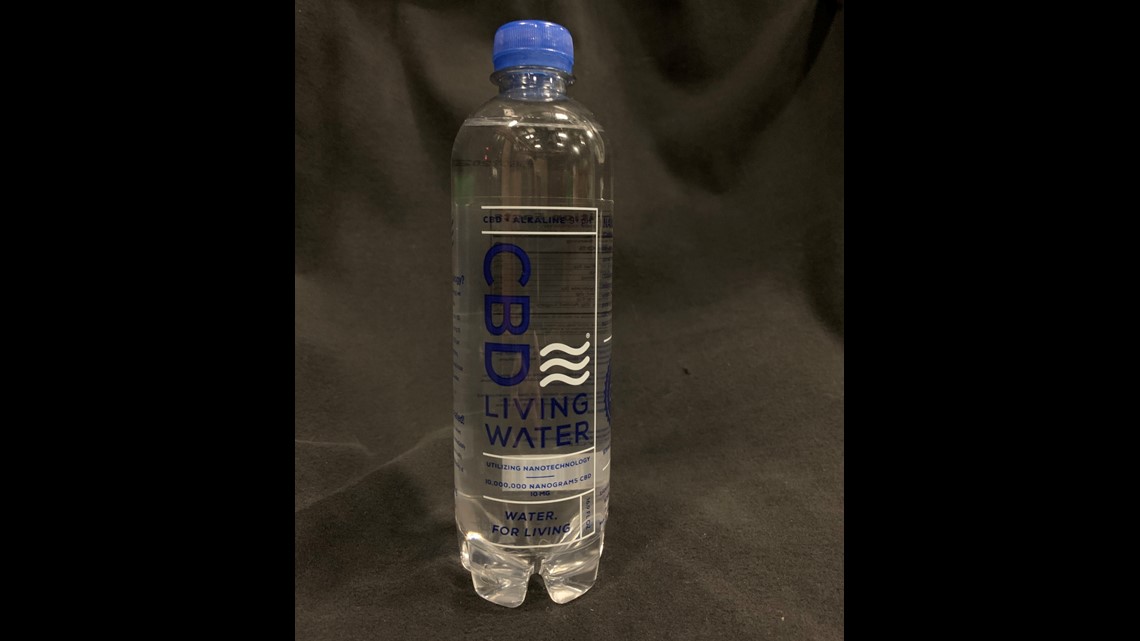 CBD Living Water: Sean McDonald, the chief operating officer for CBD Living Water told 13 Investigates the discrepancy between his company's test results (which show the product contains the 10 mg of CBD listed on the label) and WTHR's test results (which show no detectable CBD in the product) is due to confusion and an inability for some labs to accurately test his product.
He sent WTHR a statement containing the following information:
"We greatly appreciate your inquiry and giving us an opportunity to respond, as there has been some recent confusion in regard to testing CBD nanoparticles in our flagship CBD Living Water. As we expand more and more into the mass marketplace we have become aware that our input testing method is not understood in the market. Although this testing method is widely utilized within the dietary supplement industry, we felt it necessary to clear the air and keep our reputation intact.

In recent months we've gone back into our laboratory and have been working closely with our in-house scientists to create a new and improved nano formulation for CBD Living Water. This new formulation allows our water to be testable by third-party laboratories that can test for nanoparticles. This clears up any doubt about the level of CBD in CBD Living Water.

Over the years, we have worked with dozens of independent third-party testing labs, and we have become aware that not all laboratories use a protocol that can accurately test nanoparticles in a liquid. We've been working closely with three separate labs to confirm that we are getting accurate test results for our newest solution.

The CBD Living Water featuring our new nano solution is just now hitting the marketplace."
The company sent samples of its newly-formulated water for 13 Investigates to re-test. PSI Labs tested those samples this week and discovered the new formulation provided to WTHR contained more than 18 mg of CBD in each bottle of water — far more CBD than stated on the label. The 80% additional CBD falls well outside the 10 to 20% error margin considered acceptable within the industry.
The new formula left the water with a cloudier appearance than the original product, according to PSI Labs. CBD Living Water's public relations director, Britt LaHue, told WTHR the newer water has the same flavor and taste, and consumers will not be able to tell which formulation they are purchasing because the company is not making any changes to its packaging. "There is no way to tell from the label which is the new water," LaHue wrote.
"If it's not detectable by a lab and I can't extract it, how will your body be able to detect and extract it?"
Both versions of CBD Living Water — the original formulation and the "new nano solution" formulation — tested by WTHR had a QR code on the label that linked to the same certificate of analysis. PSI Labs says that should raise a red flag for consumers, suggesting the manufacturer is either not properly labeling its packaging or not being transparent about the actual amount of CBD in its products.
"I'd be very wary when you have two separate batches of a product that are clearly different but use the exact same lab report," explained Spivak-Birndorf. He said even the company's original CBD formulation should be detectable by a reputable lab. "Since our calibrations … that we use for potency go as low as 1 microgram CBD/mL, we would EASILY be able to detect the CBD if it was present in any batch of the water," Spivak-Birndorf said. "If it's not detectable by a lab and I can't extract it, how will your body be able to detect and extract it?"
The lab director at PSI Labs said even the company's original CBD formulation should be detectable by the lab. "Since our calibrations … that we use for potency go as low as 1 microgram CBD/mL, we would EASILY be able to detect the CBD if it was present," Spivak-Birndorf said.
How accurate is the testing?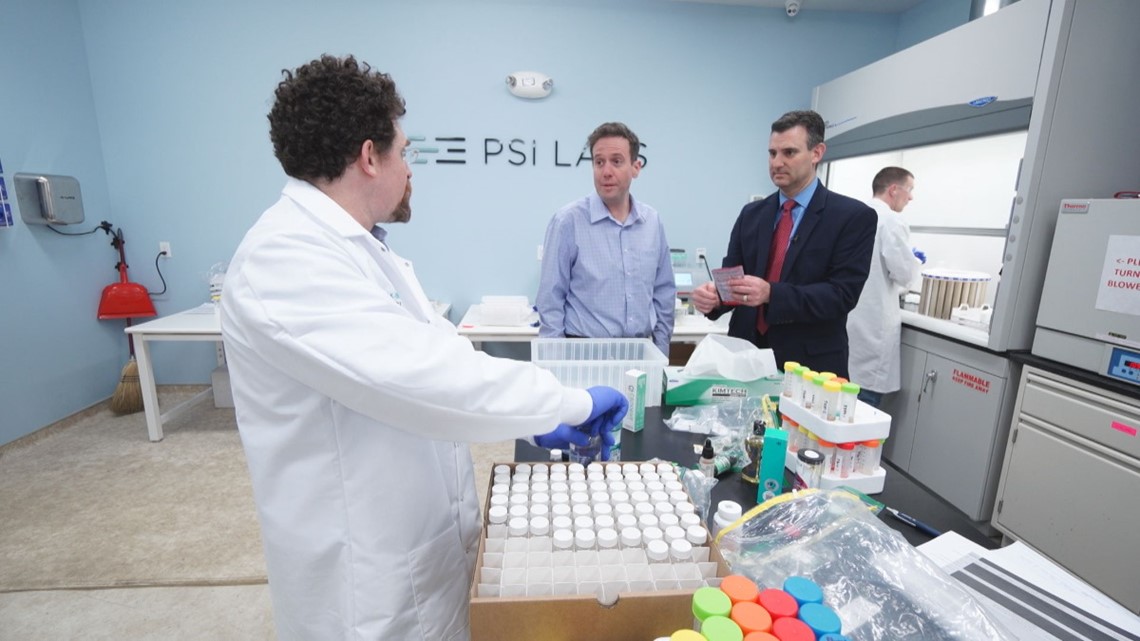 As some companies express surprise at WTHR's test results and question the testing methods used, PSI Labs says it is used to their skepticism.
"This is, of course, not surprising at all that people blame the labs. It is a very common reaction that happens all the time," Spivak-Birndorf said. "[W]e are an ISO 17025 accredited lab with validated methods for testing potency of cannabinoids in infused products, and we regularly check ourselves with blind proficiency testing, including the Emerald Test inter-laboratory comparison test, to ensure the accuracy of our testing process."
"There is a glaring lack of standardized testing protocols and federal regulation"
But while WTHR's investigation raises questions about the potency of many CBD products and the state's lack of enforcement to ensure proper labeling, it also highlights a growing problem within the industry: doubts surrounding the reliability of CBD testing.
"There is a glaring lack of standardized testing protocols and federal regulation," said Urbanavičius, CEO of Verified CBD, wrote in his response to WTHR. "This has been an ongoing issue for years. There are no standards or regulations for testing hemp/CBD. This leads to zero consistency from a lab to a lab as each lab applies its method."
Several of the CBD product manufacturers that responded to 13 Investigates said it would not be unusual to get four different test results if they sent a batch of product to four separate labs. Ben Rossman, the founder and co-owner of PSI Labs, said not all testing facilities are equal, creating confusion for producers and consumers trying to make informed choices about CBD.
"There's a lot of variations between labs. This industry is in its infancy, and it's tough to know who to trust," Rossman said, pointing out that many online test results for CBD products are highly suspect. "Some of them are true and accurate, and others you really don't know."
Until standardized testing protocols are implemented across the industry, CBD consumers will continue to face uncertainty.
"Really, it's going to take demand from consumers and effort from government bodies to help make sure this stuff is regulated and honest," Spivak-Birndorf said. "I'd say buyer beware."