IMPD withholding bodycam of officers shooting man parked in grandma's driveway
It remains unclear how the incident, which lasted only a matter of minutes, escalated to the man being shot.

It has been nearly a month since three IMPD officers shot a man who was sleeping in a rental car in his grandmother's driveway. Few details and no body camera footage have been released.
(EDITOR'S NOTE: The video in the player above is a Jan. 2 report on the shooting.)
We now know the names of the three Indianapolis officers who shot the man: 4-year veteran Lucas Riley, 3-year veteran Alexander Gregory and 5-year veteran Carl Chandler.
Multiple officers were wearing body cameras when the shooting occurred. None of that video has been made public. 13News has requested the footage. That request was denied.
13News reviewed major cases for which IMPD and other agencies across the state released bodycam footage over the last year and a half. That review found IMPD consistently released edited bodycam video months after the incident occurred, while other departments have released raw bodycam video within days and, in some cases, hours after the incident.
IMPD's account of man shot by officers on Oxford Street
:
It was early in the morning on Dec. 31, 2022, when three officers shot 24-year-old Anthony Maclin while he was sleeping in a car in his grandmother's driveway. The Marion County Prosecutor's Office told 13News the incident is still under investigation.
According to IMPD's Dec. 31 account of the incident, his grandmother Vicky Driver called police just after 4 a.m. to report a suspicious vehicle parked in the driveway of her home, near the intersection of North Oxford Street and East 36th Street.
Police later learned the vehicle was a rental and they said the man sleeping inside it with a gun on his lap was the woman's grandson. The man was later identified as Maclin and the grandmother as Driver.
IMPD said the officers shot Maclin after knocking on the car's window and announcing "Police, hands up." The family and the family's attorney disputed this claim, saying they watched the bodycam video and police didn't announce themselves.
PHOTOS: Police investigate after officers shoot, wound man
It remains unclear how the incident, which lasted only a matter of minutes, escalated to Maclin being shot.
Detectives claim they were able to confirm Maclin woke up before shots were fired, looked toward the officers and moved his arm toward them.
Police could not confirm that Maclin had the gun in his hand. The family said Maclin never had the gun in his hand.
IMPD also told 13News on Dec. 31, Maclin was not under arrest, not a suspect and that there was no indication he fired any shots.

It remains unknown how many shots were fired, only that all three officers discharged their weapons. The family says the officers fired more than three dozen shots and shared photos during a press conference on Feb. 6 of his bullet-riddled car.
The second and most recent public update shared by IMPD on this case was on Jan. 6. Since then, little has been publicly said about the shooting. IMPD has responded to 13News' information requests with limited details and no clarity on how the shooting escalated or how many shots were fired.
Seventeen days after Maclin was shot, police told 13News they didn't have an update on Maclin's condition, per department policy. He was initially reported to be stable in the hospital.
The family said on Feb. 6 that Maclin was hospitalized for 17 days and underwent six surgeries. Maclin's attorneys said he is now back at home recovering and will not be able to work for at least three months.

Access denied: Efforts to get bodycam in shooting of man in car
:
In a press release on New Year's Eve, IMPD said it would be releasing an edited version of the bodycam video, called a "critical incident video," which includes a summarization, in IMPD's own words, of what happened.
The family wants them to release the unedited version. They filed a tort claim with Indianapolis leaders and requested that the officers who shot Maclin are fired and charged and that the unedited bodycam video be made available.
Driver is on IMPD's Critical Incident Response Team, which comes into play in major incidents like officer-involved shootings and reviews critical incident videos before IMPD releases them to the public.
"I don't think I want to be on that board anymore because we just watch the videos, we don't say this or that. I don't think I could watch another video, knowing someone is going through what we're going through," she said.
Driver said the shooting of her grandson gave her new perspective on IMPD's process of having community members review edited bodycam video.
"We see edited videos. Maybe going forward, if you can see what is really being seen by the bodycam? It makes me wonder now, why is it edited? Why don't we see the raw, what really happened?" Driver said.
The denial email from the unit said: "In a major incident like this, we would refer you to the Public Affairs Office if you have not contacted them already."
On Jan. 16, 13News reached out to IMPD to ask when the critical incident video would be released. IMPD responded, "Releasing the body-worn camera footage will be released at some point. I do not have a timeline of when that will happen."
IMPD told 13News on Feb. 6 that it would be releasing a critical incident video sometime this week.


So-called 'critical incident videos' can take months to be released
:
Over the last year and a half, community members have waited months for IMPD to release edited bodycam video or elected to go to court — like in the case of Herman Whitfield III — to make the unedited version public.
IMPD's media guidelines state the department expects to release an edited compilation of bodycam video within eight weeks of an incident.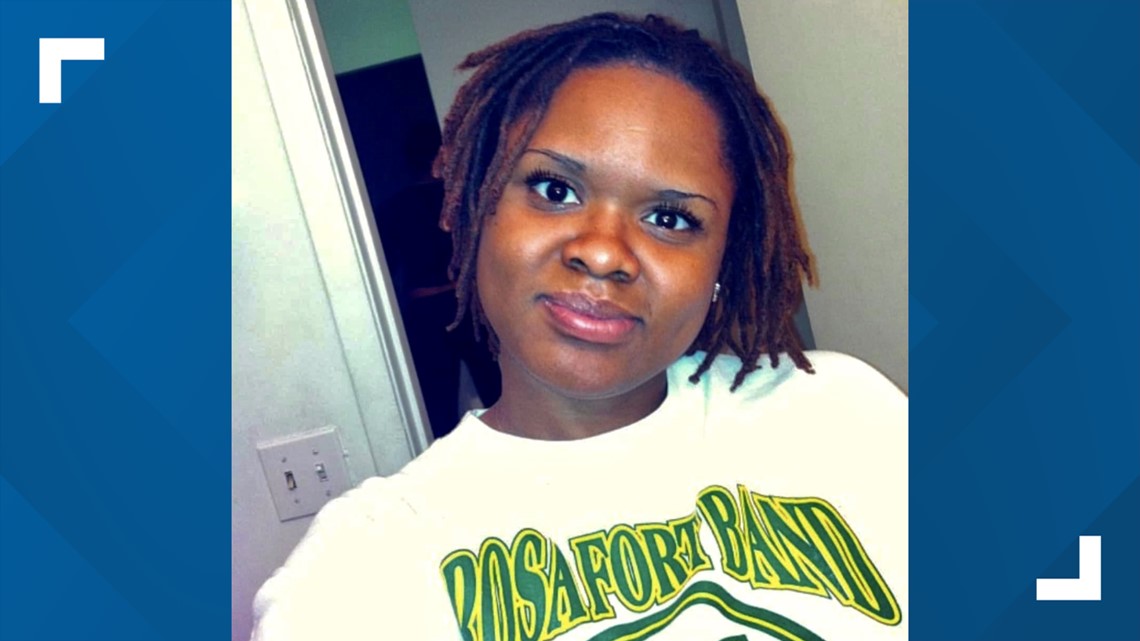 This was one of ten videos released in the last 18 months. Of the ten videos, two were released in less than a month. The other eight took longer.
The case involving Mitchell took the longest at three months and the quickest — which was of officers shooting an armed man in Aug. 2021 — was released in three weeks.
It was nearly 10 weeks before police released bodycam of officers shooting and killing a homicide suspect at an east side gas station in Aug. 2021.
When asked why the period of time in releasing critical incident videos varies, IMPD said a "number of factors" came into play. This includes, "the status of the investigation, the availability of information to release, the process of creating the video, the process of getting feedback on the video, the amount of content to be included, the schedules of those who need to review the video, additional changes based upon feedback from the community review group, and more."
Not all departments treat bodycam video the same
:
While IMPD has consistently waited months to release bodycam video, other Indiana departments have, at times, provided the video to the public or to media within days or even hours after the incident.
The Evansville Police Department made raw bodycam video available hours after officers shot a gunman who wounded a woman in a Walmart on Thursday, Jan. 19.
ISP and the sheriff's office released their raw videos from this incident within 24 hours after 13News asked for a copy of the video.
A case for transparency
:
IMPD Chief Randal Taylor promised transparency in 2021. His comments came after a video was released showing an officer using excessive force against a man that was handcuffed on Monument Circle.
"I promised this community and I promised our officers that I would be transparent in the good times and the bad times, and this is a bad time," Chief Taylor said at the time.
Police say they edit portions of the bodycam videos before releasing them and summarize the videos in their own words to provide context.
"The unedited bodycam video does not provide context regarding what occurred beyond what the bodycam video shows such as the nature of the call, the 911 call, other videos that may be available, the process involved with the investigation, the status of the investigation, what occurred after the video concluded, etc. The critical incident videos attempt to provide as much of that information as possible," IMPD said.
Taking the case of bodycam to court
:
At issue is the ability to see what was edited out of the critical incident video. It's an issue that led the family of Herman Whitfield III to take their case to court to obtain the full bodycam video of their son's death.
Whitfield died in April after his parents called 911 for help as they believed their son was having a mental health crisis. Police tased and restrained Whitfield before he died. His death was ruled a homicide by the coroner's office.
"Releasing the edited version is an attempt to strike a balance between transparency and understanding that there is still an active criminal investigation," IMPD said while explaining why it releases edited video and not a full version.
However, in this case, the edited video failed to show the time it took after Whitfield was handcuffed and became unresponsive to when paramedics began providing care.
In November 2022, Whitfield's family and lawyers asked a federal judge to release those bodycam videos in their entirety.
In mid-January, the Whitfield family won access to the videos and the city's request for a protective order to keep the videos out of the public eye was denied.
What we learned Whitfield family's release of bodycam video
:
Bodycam video gives unique insight into major incidents. In the Whitfields' case, the family said their video countered IMPD's version of events.
They also said their compilation of the video, unlike IMPD's version, showed Whitfield "vulnerable, unarmed, naked, undergoing a mental health crisis."
The video shows Whitfield retreating from officers multiple times.
"Cannot breathe. I can't breathe," Whitfield is heard saying after police tased and held him on the ground. He continues to yell "I can't breathe" multiple times while face down in the prone position as officers handcuffed him.
From the time Whitfield made his last sound, three minutes passed before paramedics arrived.
IMPD's version of bodycam video said it took paramedics three minutes to arrive. The Whitfield family's version was the first time we saw what happened in those minutes and could verify IMPD's timeline claims.
No officers appeared to check on the health of Whitfield after he became silent.
Paramedics started CPR five-and-a-half minutes after Whitfield made his last noise.
After an autopsy, the coroner ruled Whitfield's death a homicide caused by cardiopulmonary arrest in the setting of police subduing him with a prone restraint just after he was tased. The report lists morbid obesity and hypertensive cardiovascular disease as contributing conditions.
The six officers, who were in the home, remain on administrative leave. The prosecutor has not announced a decision on possible criminal charges. The prosecutor's office told 13News on Tuesday it was still investigating.
IMPD shared this statement in response to the Whitfields' release of their version of the police video:
"IMPD turned over the necessary materials to all of the parties involved in this lawsuit, and that includes officer body-worn-camera footage. Out of respect for the judicial process, we do not comment on pending litigation.
Right now, a separate administrative investigation is being conducted by IMPD Internal Affairs. The officers involved in this incident remain on administrative duty.
At the conclusion of the criminal investigation and any criminal proceedings, the civilian-majority Use of Force Review Board will review the criminal and administrative investigations and make a recommendation to the Chief of Police on whether the officer's actions were in compliance with department policies and training.
Based on a careful review of the facts and the Use of Force Board's feedback, Chief Taylor will consider discipline up to a recommendation of termination to the IMPD Civilian Police Merit Board."