FRANKFORT, Ind. (WTHR) — T.J. Shuck is like a lot of Hoosiers. He's behind on rent.
"I've been paying my landlord every week for the past year and a half, but not this month," said Shuck, a bartender and server at an Applebee's restaurant in Frankfort, Ind. "My hours were cut back from 35 or 40 hours a week to just working a day or two right now. I can pay the rent. It's just going to take me a second."
But his landlord says Shuck's time is up.
After missing two weeks of payments, REW Investments sent him a letter saying he'd be evicted if he didn't pay rent within two days. Then the company started sending him repeated text messages threatening eviction.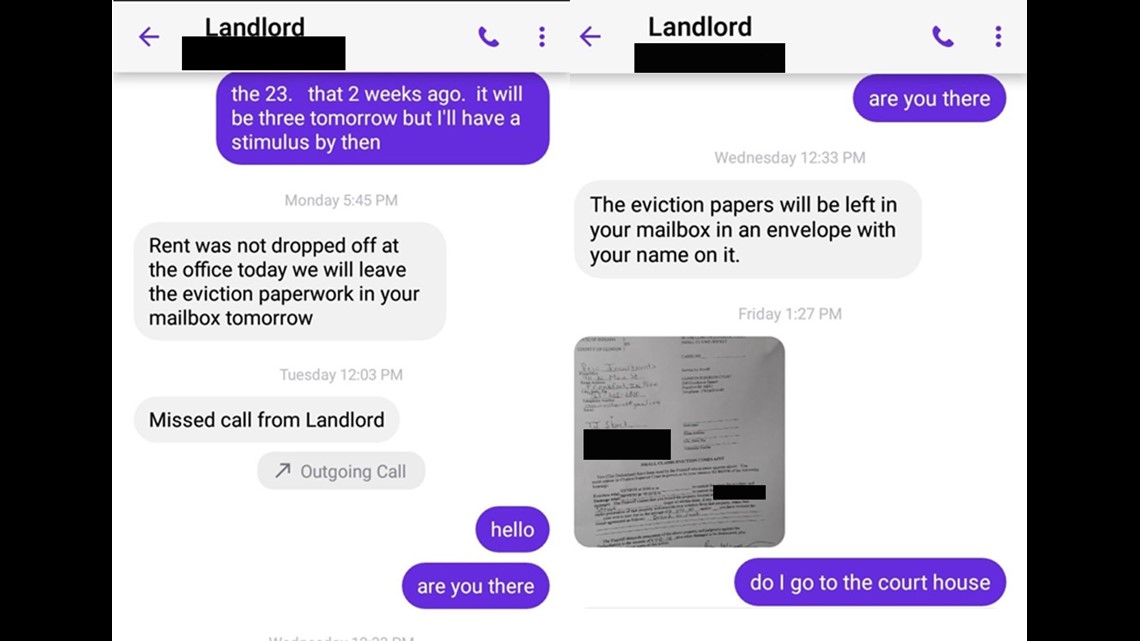 "Rent was not dropped off at the office today we will leave the eviction paperwork in your mailbox tomorrow [sic]," said a text the landlord sent on April 13.
"Almost every day of the week she told me the eviction papers would be in the mail in the morning," Shuck told 13News. "And the next morning, same thing. Wake up every day to it."
The eviction papers have not shown up in his mailbox. But Shuck said he recently received a text from his landlord with a photo. It shows what appears to be an official eviction complaint filed in Clinton County Superior Court with Shuck's name on it, ordering the Army veteran to appear in Small Claims court for an eviction hearing on May 18 at 9 a.m. The reason for the eviction is handwritten on the legal notice: "behind on rent" in the amount of $440.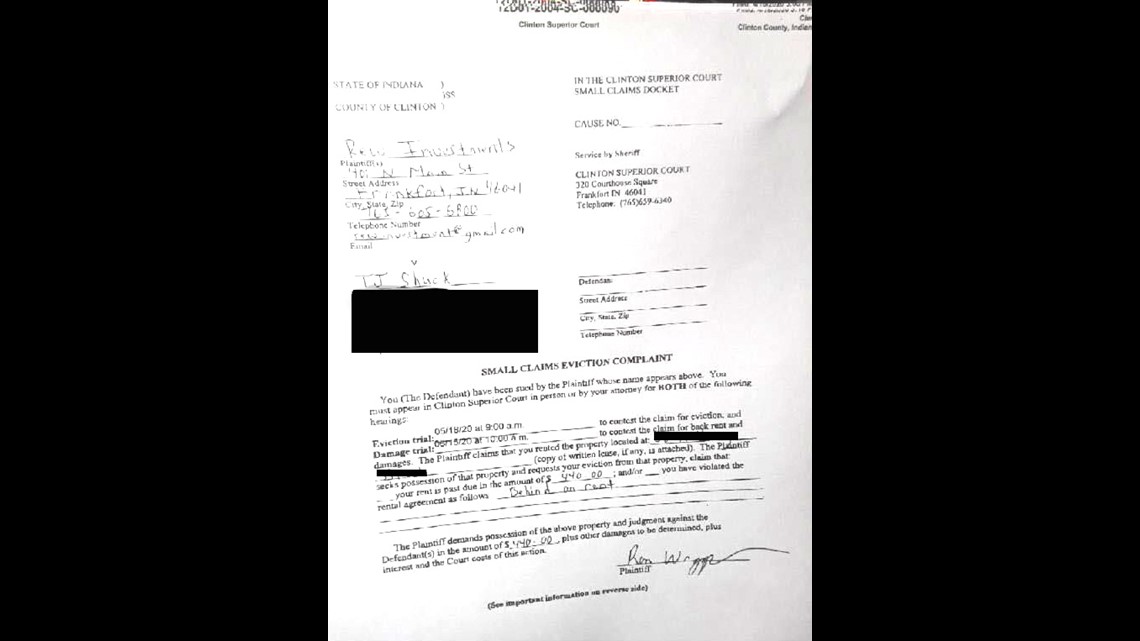 "I've got a wife and a one-year-old and three-year-old. I've got a job and I'm finally starting to get some hours back so I can pay rent," Shuck told 13News. "I asked for more time and she told me no. I just think it's not right."
Brandon Beeler, director of the Housing Law Center at Indiana Legal Services, says what is happening to Shuck and other Indiana tenants right now might be more than "not right." It may be illegal.
"Under the governor's moratorium as we understand it, that should not be happening," Beeler told 13 Investigates.
He is talking about a statewide order Gov. Eric Holcomb signed March 19 that creates a temporary prohibition on evictions and foreclosures. Due to the record number of Hoosiers out of work as a result of the COVID-19 pandemic, the order was intended to prevent tenants like Shuck from being forced out of their homes because of sudden layoffs.
"At this point, I would say a landlord cannot by law remove a tenant without a court order. The governor's order is extended through May 5, so up until May 5 there should be no initiating of an eviction, meaning no filing," Beeler explained. "Even when there is a filing, it's not an immediate thing. The courts will have to accept a filing, process it and set a court date because tenants have protected due process rights."

Residents who live in some government-subsidized housing have even greater protections during the pandemic. A 120-day federal moratorium against evictions involving government-subsidized rental units will not expire until July 25, according to Beeler.
Clinton County Sheriff Rich Kelly said he was disappointed to hear a landlord in his county had issued an apparent notice of eviction during a crisis and when so many people are struggling to pay their rent.
"They may have actually filed court papers, but no actual civil paperwork will be served by the sheriff's department until the governor lifts the order," Kelly told 13News. "If a company is sending out threatening letters or trying to enforce eviction notices, it can't be done because we are going to stand by why the governor and the courts have said. And to be honest, nobody should have to deal with that right now. It's not a good thing for families to be dealing with that. People just need to have some patience and some compassion right now."
13 Investigates contacted REW Investments by phone and also stopped by its downtown Frankfort office to ask questions about the eviction letter and court document sent to Shuck. The office door was locked and no one was inside Monday afternoon, and a company representative has not yet responded to 13News' request for comment.
Beeler acknowledged that the pandemic is also creating difficult situations for many landlords.
"Especially smaller landlords, to be fair, they're suffering a big financial impact from this, as well," he said. "The governor has made it clear tenants are obligated to still pay rent. They just can't be evicted while the order is in place."
[article_tokens:suggested_links]
Indiana Legal Services recommends that tenants facing the threat of eviction attempt to talk with their landlords to find a payment arrangement that is considered acceptable, and any agreement should be documented – even if only by e-mail or text. But because evictions are currently not permitted under the governor's statewide order, Beeler suggests tenants who are currently facing threats from their landlords should file a complaint with the state.
"Not knowing whether you're about to be kicked out on the street with your kids is really stressful."
"The first step we're advising folks to do is to contact the Attorney General's office," he said. "They have set up a special consumer complaint form online for any landlords who are trying to file evictions or even the threat of eviction. The AG's counsel has told us they want Hoosiers to file those complaints."
Shuck, who was unaware of the online complaint form before talking with 13News, said he plans to file a complaint quickly.
"I hope someone will step up and do something about this," he said. "Not knowing whether you're about to be kicked out on the street with your kids is really stressful. What we're going to do if that happens, I have no idea."
Indiana Legal Services provided the following resources to assist tenants during the COVID-19 crisis:
Indiana Legal Services website is being constantly updated with the latest news and legal resources for not only evictions, but also for foreclosures, consumer issues (fraud/scams), and benefits
Indiana Attorney General

If a landlord attempts to file or threaten a tenant with eviction during the Governor's moratorium, Hoosiers are encouraged to file a consumer complaint
Other COVID-19 resources can be found by clicking here.
Indianapolis Tenant Hotline (Marion County residents only)

This new tenant initiative provides legal information about tenant's rights, and makes referrals to legal aid, when appropriate: (317) 327-2228 (2ACT)
Fair Housing Center of Central Indiana

If tenants in Central Indiana believe they are being discriminated against based on protected class status (e.g., race, gender, etc.): www.fhcci.org

Indiana Housing and Community Development Authority (IHCDA)

This agency administers some federally subsidized properties throughout Indiana (including many properties covered under the CARES Act eviction moratorium)