INDIANAPOLIS (WTHR) — Dan Scharbrough closes his eyes and clenches his jaw, standing upright with the help of a therapist. After 30 seconds, as the pain becomes unbearable, he lets out a loud grunt before falling gently into his wheelchair waiting beneath him.
"Oh, God, that feels so good — so good to just stand up," he said, acknowledging how far he's come since suffering a spinal cord injury in February.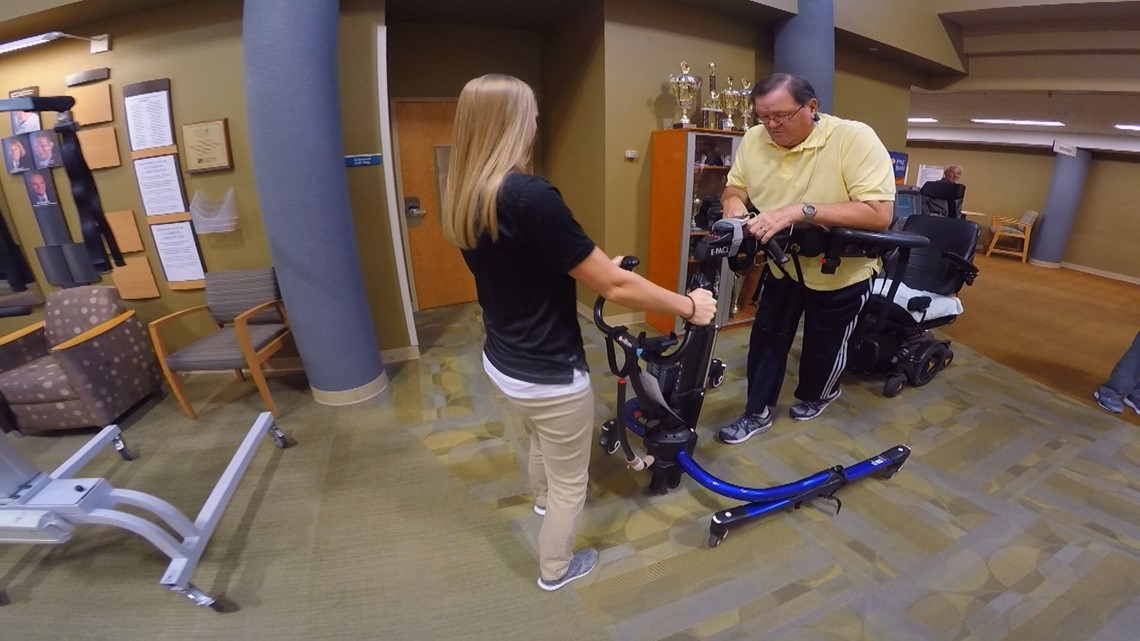 Scharbrough is determined to walk again, and his doctors have told him that might be possible. He says the biggest obstacle to get back on his feet is not his excruciating physical therapy sessions at the Rehabilitation Hospital of Indiana. The most daunting challenge is simply getting to those sessions.
"I've had to cancel or reschedule a bunch of appointments because I'm always running late," he told WTHR. "I hate running late. It drives me nuts — absolutely nuts. I hate it. But there's nothing I can do because I've got no other options."
Scharbrough and thousands of other disabled residents in Marion County rely on a special transit system to get where they need to go. 13 Investigates has discovered that system is often broken.
A two-month Eyewitness News investigation finds IndyGo's Open Door paratransit bus program is plagued by extremely long wait times and ride times that far exceed its own standards. As a result, many disabled riders in Indianapolis are trapped on a paratransit bus for hours, forced to miss critical appointments and services -- and the problem could get even worse.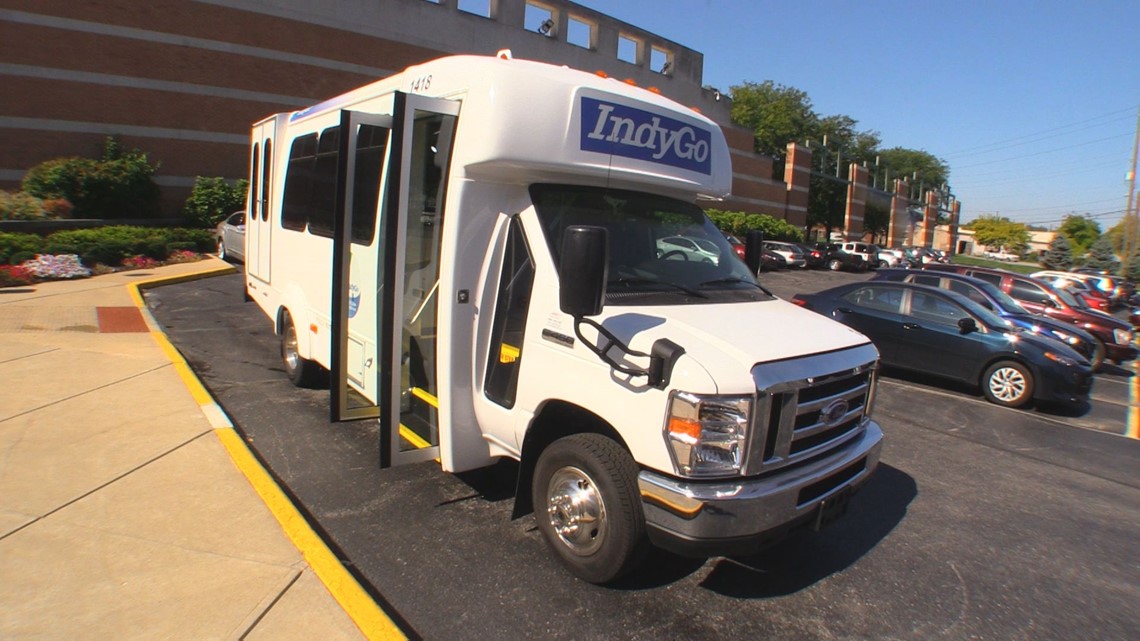 Thousands of disabled riders
For cities like Indianapolis, offering a bus system for disabled residents isn't an option; it's a requirement. Mandated by the Americans With Disabilities Act, IndyGo's Open Door paratransit program provides door-to-door bus service for riders who, due to their disability, cannot access the city's regular IndyGo bus system.
About 4,000 people in Marion County are currently registered to use Open Door. By law, IndyGo cannot refuse service to those riders once they have successfully completed the application process and paid their fare of $3.50 per ride. Those rides are usually shared, meaning Open Door patrons can expect multiple pick-ups and drop-offs for other passengers while traveling to their destination.
"These are complex systems that require a lot of resources," explained IndyGo Public Affairs Director Bryan Luellen. "We're trying to meet the demands of 1,100 people a day."
Because the paratransit bus system does not use a fixed route and changes daily based upon the number of riders and their locations, IndyGo tells its Open Door customers to expect each requested pick-up within a 30-minute window: up to five minutes before and up to 25 minutes after the reservation time. Any pick-up that falls within that time frame is considered on time, according to IndyGo.
But riders who spoke with 13 Investigates said Open Door buses rarely arrive within that 30-minute window, and IndyGo's own numbers show alarmingly low on-time rates that continue to decline.
Late every day
Dan Scharbrough's day starts very early. Outside his northside home, he sits in his wheelchair in the dark, waiting for an Open Door bus to take him to physical therapy. He called IndyGo to confirm the 6:15 a.m. reservation days earlier. By 6:55 a.m., he knows his bus is officially late, so Scharbrough calls the Open Door reservation center where his call waits on hold for a customer service agent.
"It's like this all the time. All the time," he tells WTHR, as the sky begins to lighten. "I've now been sitting out here for an hour, and who knows when the bus will come."
A few minutes later, the bus arrives and the driver lowers the wheelchair ramp so Scharbrough can board. At 7:16 a.m. – 61 minutes after his reserved pick-up time – the Open Door bus pulls out of Scharbrough's neighborhood and he begins his journey to his physical therapy appointment on the northwest side of Indianapolis.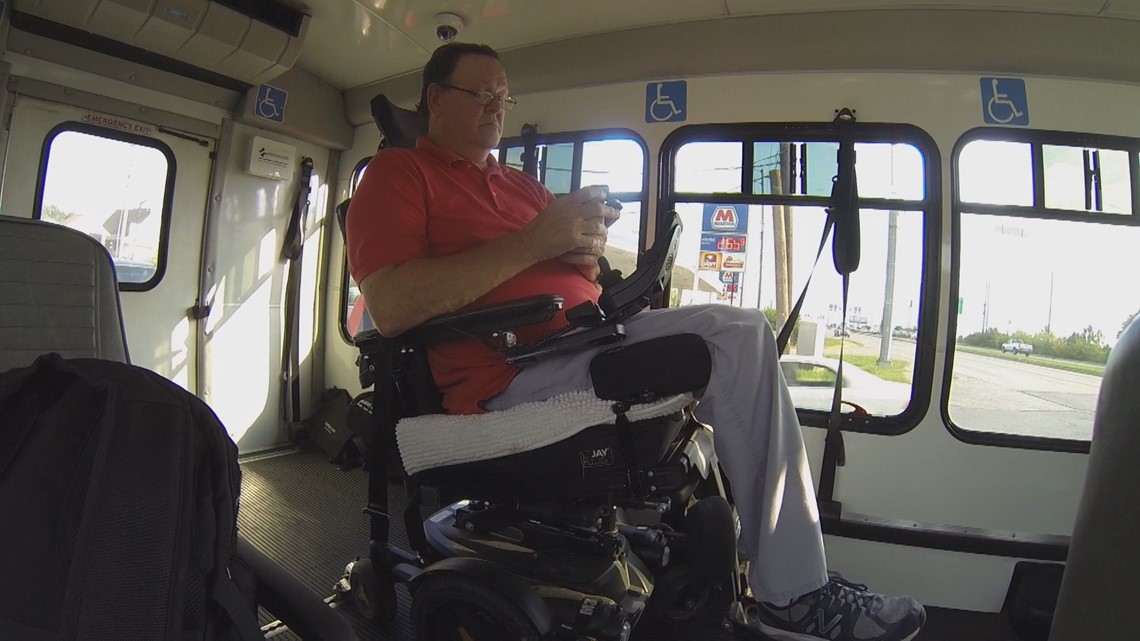 But the bus is traveling in the opposite direction, heading south and crawling through downtown traffic near the State Capitol before turning west past the zoo to pick up another rider. By now, the sun is shining brightly and Scharbrough is getting worried he might be late to his 8 a.m. appointment.
The paratransit bus picks up its second passenger at 8:02 a.m., and as it then winds further west and north along side streets, the driver reassures Scharbrough that his stop is next. By the time the bus arrives at the rehab hospital at 8:23 a.m., Scharbrough knows it's too late.
"Had to cancel because I only get a limited number of sessions and there's no point in getting just a few minutes of PT when I need a full appointment," he said. Allowing one hour and 45 minutes to get to his appointment (which is 11 miles from his home) was not enough.
Scharbrough doesn't rely on Open Door only to get to his physical therapy sessions. He also uses the bus service to travel get back and forth to work, and he said he is chronically late arriving at the office.
"Right now, I have a boss who's very understanding. He knows this is not my fault and it's out of my control, but one day that goodwill may wear out, and then I could lose my job," he said.
Getting a ride home at the end of the day tends to be the worst, according to Scharbrough, who has a standard 5:15 p.m. Open Door pick-up time to depart his office.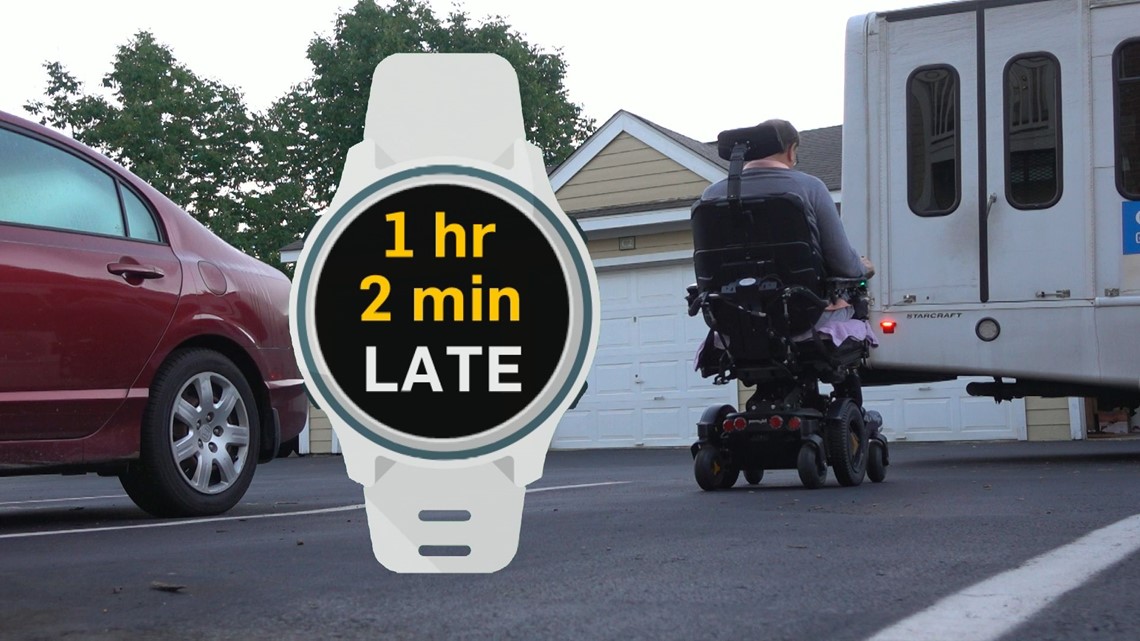 "It's an hour late every singe day," he told WTHR while waiting outside work one evening at 6:25 p.m. "I don't see how anybody gets anywhere they need to go." And even on days when the bus does arrive within its 30-minute on-time window, Scharbrough usually still does not get home before 7:15 p.m, because his bus ride can take two to three hours.
"They're making me constantly late to everything I do. Constantly late. It's not fair to any of us who have to ride it … and it's not just me," he said.
Six hour bus ride
Other Open Door riders confirmed they share the same experience, battling long wait times and ride times on a regular basis.
Tony Eckert has complained to IndyGo on multiple occasions after he missed medical appointments due to late Open Door buses.
"You try to plan out your day, but it's hard when they show up an hour or an hour and half late," said Eckert, who is recovering from several strokes. "I am a human being and I have a life outside of my house, but I can't depend on Open Door to do anything. It's just gotten to the point where people don't want to go out because they can't schedule anything."
On some days, Louis Zingale spends three or four hours on an Open Door bus trying to get home from school. Last week, the young man with autism left his educational program at 4:05 p.m. but did not arrive home until 7:10 p.m. His father said on another day, the paratransit bus ride took nearly six hours – including a dinner stop for the driver while Louis had to wait until 9:18 p.m. to eat, take his medications and use the bathroom.
Another Open Door rider, who asked not to be identified for fear of retribution, was hospitalized this summer after missing her dialysis treatment. Her paratransit bus showed up three hours late. She told 13 Investigates that her regularly scheduled Open Door bus frequently runs more than 60 or 90 minutes behind, meaning she's forced to shorten or cancel her dialysis treatments.
"The doctors are like 'You gotta get there on time,' and I say 'You know my transportation issue. If I could change it I would, but there's nothing I can do,'" said the rider, who has lost both of her legs due to diabetes. "I'm grateful for the Open Door service and that I have a way to get around, but there's got to be a better way. Dialysis, that's my life. If I don't go, I can get sick and die."
"We're not meeting expectations"
IndyGo agreed to meet with 13 Investigates to discuss WTHR's investigation, and transit leaders admitted they are dealing with a problem.
"I think we're not meeting expectations. That's for sure, and that's something we recognize every day," IndyGo chief operating officer Roscoe Brown told WTHR. "For one person to be impacted in terms of not getting picked up on time or being late for a dialysis treatment or being late for work is one too many … we don't want that to happen."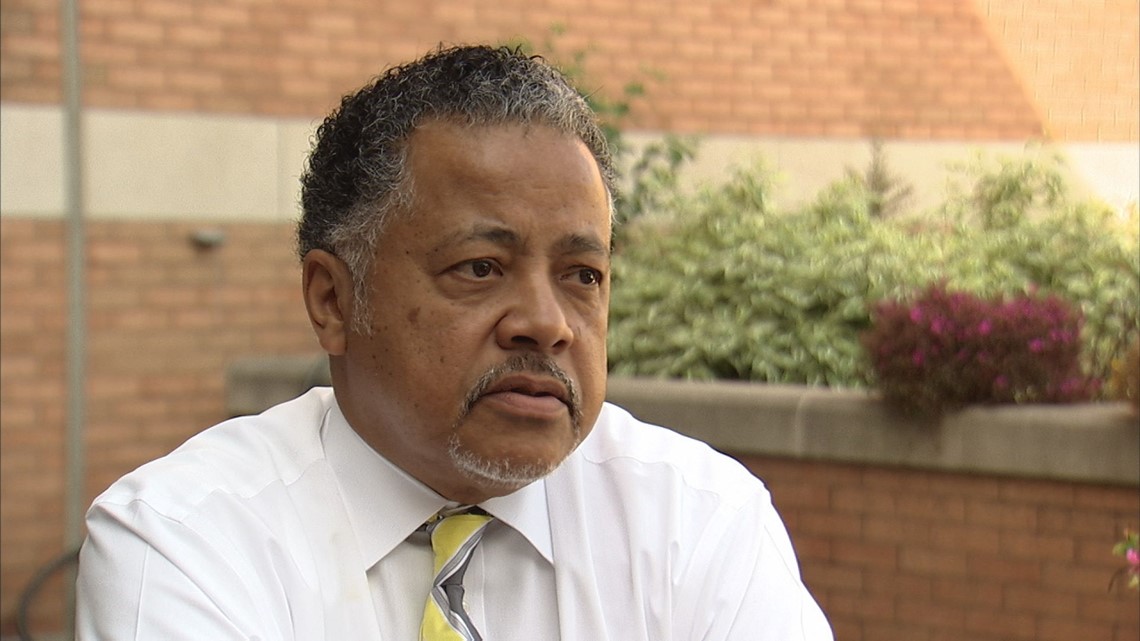 But Brown also said he believes IndyGo's Open Door system is serving its purpose.
"I think we do an impressive job with the balance of what we do," he said. "We obviously recognize the challenges [riders] are experiencing. We'd like to think of that as the exception rather than the norm."
But IndyGo's own statistics show it is not the exception.
On-time rates for the Open Door bus system are significantly lower than IndyGo's target of 95 percent.
This May, 79 percent of paratransit pick-ups were on time. The on-time rate dropped to 78 percent in June, dipped again to 76 percent in July, and plummeted to 65 percent in August. On several days, the on-time rate plunged to the low 50s.
Keep in mind, IndyGo considers a bus "on time" if it arrives within 25 minutes of its scheduled pick-up. That means on some days, one of every two rides arrived roughly a half hour (or, in some cases, much more) past its requested time. In August, when IndyGo provided 28,282 rides to disabled customers, nearly 10,000 of those Open Door rides were late, according to IndyGo's own definition.
IndyGo leaders told WTHR that it's goal for ride times is to get riders to their destination within two hours, and its policy manual states bus drivers "shall contact the dispatcher at the time that any customer's time on board the vehicle exceeds sixty-one (61) minutes," resulting in instructions from the dispatcher " to help expedite the completion of the customer's trip."
But it appears that is not happening, with many trips exceeding the two-hour standard with what appears to be little or no effort to expedite the arrival time.
Two weeks ago, for example, Cheri O'Day-Marcotte called police to help locate her autistic son, Casey, when Open Door did not bring him home after work. Casey has a daily 2:00 p.m. scheduled pick-up time with Open Door, but on September 14, his bus did not arrive to pick him up until 3:45 p.m. Several hours later, when Casey's mother called IndyGo to ask about her son's location, she was told he was "right around the corner." Another hour passed, and still no sign of Casey.
"When he wasn't home by 7:00, that's when I called back and I told them I had just called the police," O'Day-Marcotte recalled. "The operator told me 'Take it to my supervisor,' and she hung up on me."
Casey arrived home at 7:15 p.m. following a three and a half hour bus ride – more than five hours after his scheduled pick-up time.
IndyGo has received stacks of complaints from riders (and their families) frustrated by extended wait times and ride times.
Customer complaints received by Open Door
Caller stated that she has called to schedule two appointments recently so that she could get to her doctors appointments and the buses have not shown up.
Caller reported that the driver received another call and had taken the passenger over an hour to get to her destination when it was only 10 minutes away.
Caller stated that today is her seventh time being late to work because of Open Door.
Caller said that she was not picked up until 5:35 p.m., which is 2 and a half hours after her scheduled time.
Caller said that the bus never showed up for her, said that she is missing dialysis because of this.
Caller stated that the bus has been late to pick him up the last four times that he has had an appointment. Caller says that since the buses have been late he has had to take an Uber to get to his destinations and he does not have any money to keep having to do this.
Why is this happening?
Transit leaders said there are lots of contributing factors to explain the faltering system.
Demand for the city's Open Door bus service has spiked in recent years with a 14% increase in completed trips since 2013 . Last year, IndyGo provided nearly 300,000 rides to disabled Marion County residents, compared to about 261,000 rides five years earlier.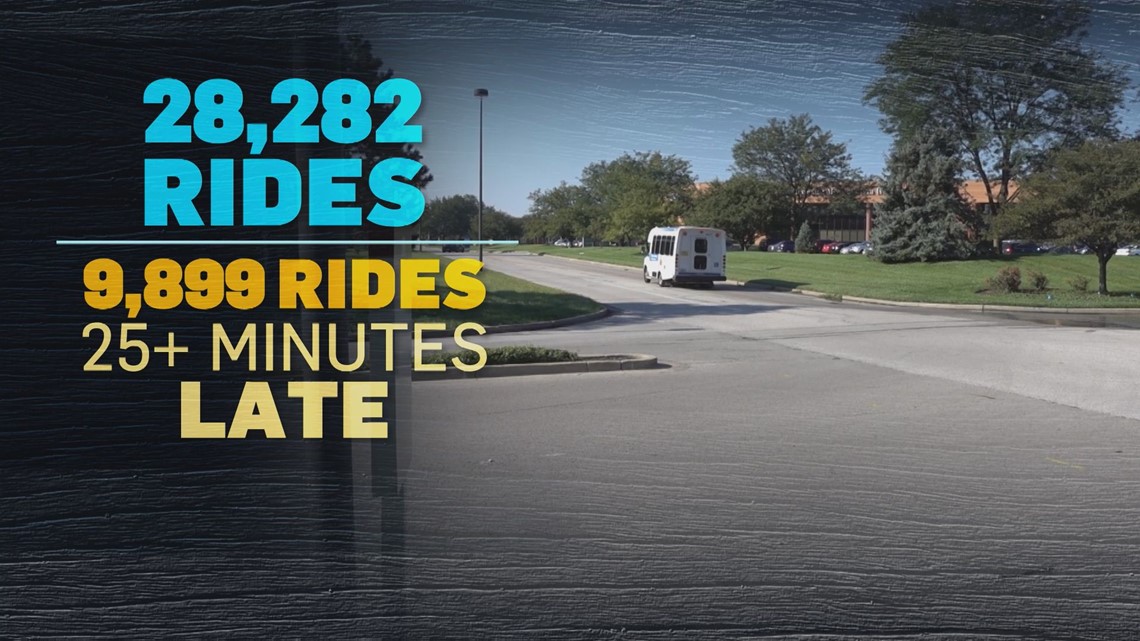 Federal law does not allow IndyGo to prioritize its Open Door service. Riders who need a paratransit bus to get to a dialysis treatment receive no higher priority than a disabled rider who reserves a ride to go play bingo.
At the same time, the county's 75 paratransit buses are getting older, and IndyGo has been dealing with high turnover among drivers, dispatchers and its customer service operators.
"Vehicles have been an issue, some of it's staffing and the demand is increasing," Brown said. "We're trying very hard to get that figured out now because we know the demand is only going to get higher," he added, referring to the growing number of Baby Boomers in Marion County who are increasingly relying on Open Door.
"We recognize that the demand that's out there is far beyond what we can currently meet with our existing resources," added Luellen, IndyGo's vice president of public affairs and communications. "This is a complex system that has lots of variables that all impact each other, and when there's one event like a traffic jam or a breakdown or an operator that doesn't show up … it has a ripple effect through the whole system."
Earlier this year, IndyGo hired a new contractor to manage the Open Door system. Transdev won a 5-year, $55 million contract to run Marion County's paratransit bus program, but has struggled since taking over April 1. Overall on-time rates have significantly declined under Transdev's short watch.
Asked if IndyGo is pleased with its new contractor, Brown replied: "If they were doing a good job, we wouldn't be having this conversation. They can do better and we can do better … We're still going through that transition process and we've still got a ways to go."
Changes coming
Late last month, after IndyGo leaders met with 13 Investigates to discuss problems with the Open Door system, Transdev officials traveled to Indianapolis for high-level talks focused on those problems.
IndyGo announced the following steps following its meeting with the contractor:
Transdev sent corporate management to conduct an operational review of the Open Door service in Indianapolis and to adjust route scheduling for regular Open Door riders to improve efficiency.
Open Door dispatchers and schedulers will receive additional training from Transdev
Transdev will be recruiting and hiring additional drivers.
During peak hours, IndyGo is now offering taxi vouchers to some riders along routes that are overloaded due to high demand. IndyGo said this is meant to "relieve pressure on the system" and reduce wait times. Additional taxi vouchers are being made available to riders who need to get to dialysis treatments.
IndyGo is trying to identify outside partners and technology that can help reduce travel and wait times when demand is particularly high. Uber and Lyft are among the companies IndyGo is exploring.
IndyGo recently purchased 15 new paratransit buses to replace old buses in the system. Those buses are currently being used throughout Marion County. An additional 15 buses will be replaced next year.
Scharbrough said he's been asking IndyGo for changes for months -- with few results. He and other riders are getting impatient.
"This service isn't free. We pay for it," he said. "Somebody's got to have the power to step in and say, 'Fix this. Fix it now' because it just isn't fair."
"I don't want to be a prisoner in my own home," Eckert added. "The people in Open Door should have to live one day being disabled like me to see what this is really like. I think that's when we'd see change right away."
In response to WTHR's investigation, Transdev communications director Scott Hagen provided the following statement:
"We sincerely sympathize with any passenger experiencing an unsatisfactory trip. At Transdev we strive to achieve the highest standard in paratransit service and care and are actively working to improve both on-time performance and trip length. With 15 new replacement vehicles incorporated into the fleet and the implementation of key operational refinements, Open Door paratransit service quality will continue to improve. Transdev appreciates the patience of IndyGo passengers as we work to rectify these issues." — Scott Hagen