INDIANAPOLIS (WTHR) – On any given Friday night or Saturday morning, every score made and every skill learned by young athletes is celebrated by teammates, parents, coaches and the guys in stripes at midfield.
But there's a growing problem poisoning youth sports: bad behavior by moms and dads causing fear on the field and a shortage of refs and umpires to call the game.
"Twice I got a parent threaten to pull a gun on me," said former IHSAA referee Bob White, who now coaches youth sports at the Boys & Girls Club.
"Is it dangerous out there?" we asked IHSAA referee Ted Lobdell.
"Absolutely. Absolutely," Lobdell responded.
"It just keeps on getting worse and I'm afraid...I'm afraid someone's gonna get killed," White added.
A growing problem among youth sports
In Indiana, the number of youth sports officials is shrinking.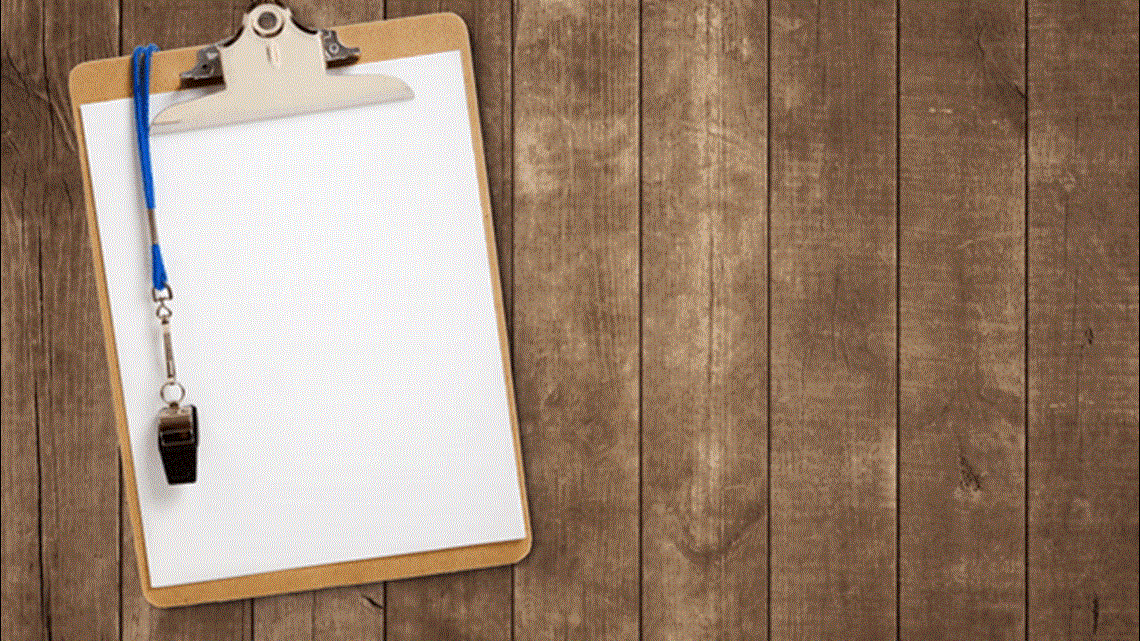 The IHSAA said right now, they have 81 fewer officials than they did in 2017 to 2018.
It's also more difficult getting younger officials to join their ranks.
The average age in Indiana is now 50.1.
Assistant IHSAA Commissioner Sandra Walter said the biggest impediment to recruitment and retention isn't the time, travel or pay.
"None of that ranks higher than the poor treatment they receive from typically our fans," Walter said.
That abuse from fans and parents in the stands is getting worse.
Even though ejections of players and coaches is down 12-16%, fan ejections are up 43%, mostly due to verbal or physical abuse toward officials.
You've probably seen it caught on camera. There are far too many examples on YouTube that show someone who doesn't like a call and then they get violent.
Just this summer, fists went flying at at a youth baseball game in Lakewood, Colorado.
The umpire got pummeled by parents, causing police to hand out 12 citations.
It's happening in central Indiana, too.
Youth sports officials share first-hand experiences
Ted Lobdell has officiated youth sports for 20 years.
He said he's been yelled at often by parents, cursed at, even followed to his car or the bathroom at a game.
"You can't even go to the restroom really sometimes without people coming into there and complaining to you about their nine-year-old son you know committing a foul. In a nine-year-old basketball game? Really," he said. "It's not just dads. Moms are vicious. They are vicious. When they come after you, they come after you with a passion. I've had women follow me to my car. 'Ma'am I don't even know who your son is! I don't know what number he was!'"
Lobdell also witnessed a violent physical attack during a first grade football game several years ago.
"One player tackled another player and the ball was fumbled and everybody just stood there. I didn't blow my whistle because it's a live ball. It's a fumble and one guy screamed across the field 'that's a dead ball!' Well the opposing coach, his player picked it up, went in for a touchdown. This gentleman proceeded to throw a chair at us on the field, come out, violently say he was going to kill us," Lobdell said. "He said he was going to his car to get his gun and then a sheriff's deputy walked across the field with his badge and said 'you're under arrest, sir'. And they got into an altercation. The sheriff's deputy had grabbed him and he bit the officer on the bicep. He bit him so hard he fell on the ground with him and continued to fight. It took five of us to restrain this man, five of us and the whole time he continued to fight."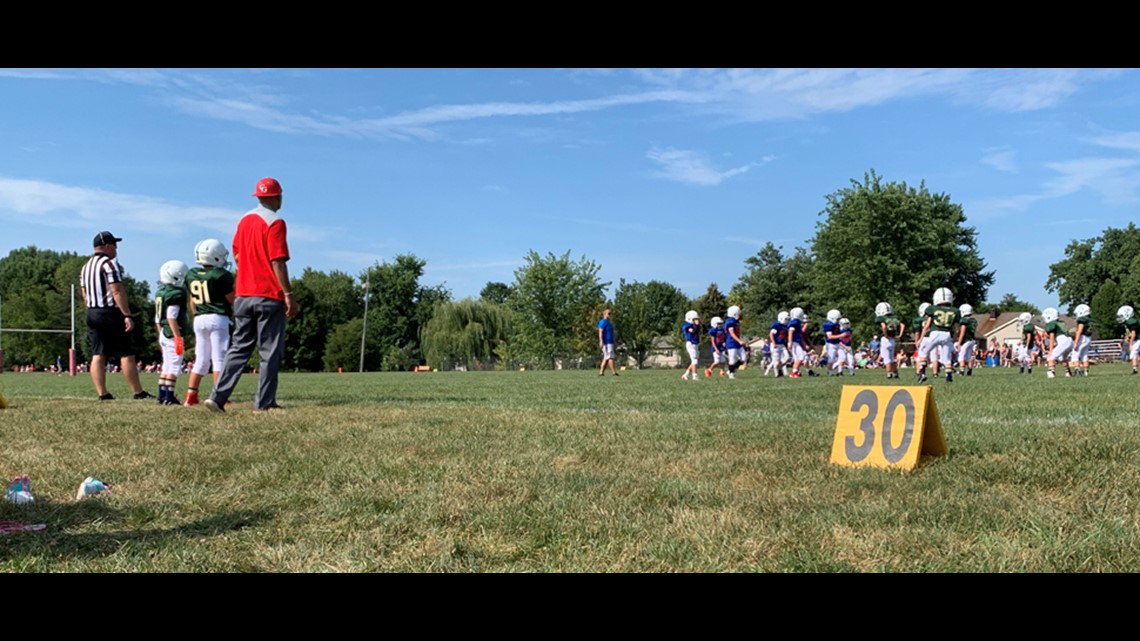 "All over a call?" Eyewitness News asked him.
"All over a call," Lobdell answered. "First grade. Over that. First grade football."
Bob White officiated for 25 years before a car accident sidelined him.
Once, it happened at a youth basketball game, after he called a technical foul.
"He head-butted me," White said. "He came at me again and I fell, hit my head on the floor and it messed up my optic nerve and I still have damage on my head, up above my eye. Someone's stupidity has left a scar on me and when I was down on the floor, he continued to kick me."
On a baseball field in Franklin Township, White said a dad charged and shoved him.
"He said, 'You guys blankety-blank', you can imagine what word he used. 'You guys cost us the game!' and then my partner stepped in and he told my partner he had a gun and he would use it," White explained.
This was all in front of 10-year-old children.
"When I used to coach, I always used to go '1,2,3, let's have fun!' And that's what it is, that's I think where we've lost perspective," White said. "Acting like a fool is not what our kids need to be taught. A lot of people don't realize that we love the kids. We love the game of basketball. We love the game of football. And when a parent confronts a referee, I don't believe they see us as a person or as a fan. They see us as the enemy."
"Your kids are watching. It's one of my favorite expressions to parents. Your kids are watching," added referee Ted Donnar.
What is being done to prevent fear on the field?
That's why the IHSAA has put the full court press on parents to do better.
After our report aired, the IHSAA put out another op-ed calling the attacks on officials an epidemic.
Rules at games also got more strict recently.
"If a fan is ejected, they are suspended," Walter explained. "They're suspended from the next home contest as well. Our officials, we've trained them that we're going to support them and if that fan's conduct is detrimental to the game? We're simply going to remove them."
IHSAA is also recruiting refs differently, to get more in the game, who already know how to deescalate danger.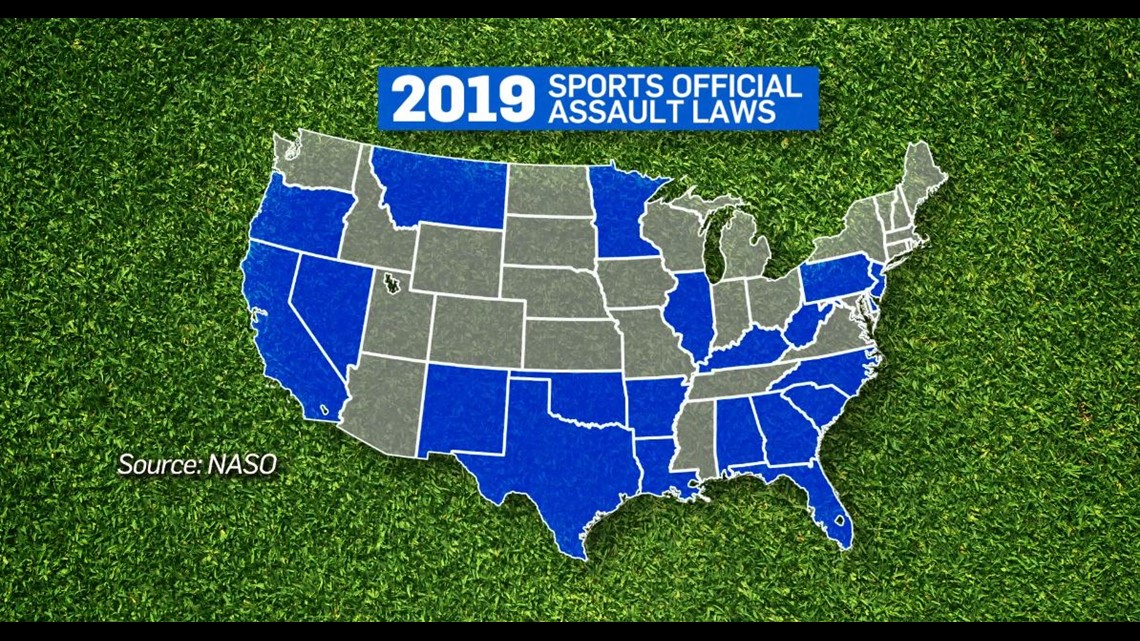 "Our recruitment efforts look toward our National Guard, toward our police officers, firemen, I mean that's a very good recruit," Walter said.
Some think even more should happen.
Lobdell and White advocate for stricter punishment for fans who get physical with officials.
"I believe it's time to seriously consider a law on the books to protect referees," White said. "You push a referee, you touch a referee? That's assault. That's assault. That's not, 'oh well he didn't mean to do that blah, blah, blah'."
Indiana is not one of them.
"There should be no second chances because until that rule is in writing and it's actually put into play and these people realize that they're not coming back to see their child? It's not gonna change," Lobdell said.
Most parents, of course, do the right thing.
They're at the games to cheer and support the kids, for the love of the game.
But officials hope in the heat of competition, fans realize the refs are not the enemy.
"The guy in the stripes is the easiest person to take it out on," White said, "and once you put your hands on a referee, that's violence. That is against the law!"