INDIANAPOLIS — Thursday's latest updates on the coronavirus pandemic.
Muncie Ironman triathlon canceled
The 2020 Ironman 70.3 Muncie Triathlon has been canceled due to coronairus.
Organizers of the July 11 race said they had been working with local authorities and health officials to continue with plans for the race, but recent mandates from the state and county forced the cancellation. Those who were registered for the event will receive an email with more information.
Spectators welcome at central Indiana horse racing venues July 4
Harrah's Hoosier Park Racing & Casino in Anderson and Indiana Grand Racing & Casino in Shelbyville will both be open to visitors July 4. Both locations will open at limited capacity to align with Stage 4.5 restrictions.
Guests at both locations will be required to wear face masks while inside, unless consuming food or drinks. Visitors are also encouraged to wear masks outside.
Sports book operations will remain closed until further notice.
ISDH posts new coronavirus cases in the state
The Indiana State Department of Health reported 453 new coronavirus cases in the state, totaling more than 46,000 cases. ISDH also reported an additional 13 people have died between June 27 and July 1. Deaths in the state have reached 2,469.
About 9.3 percent of all Hoosiers tested have tested positive for the virus.
Hogsett gives COVID-19 update
Indy Mayor Joe Hogsett is giving an update on the coronavirus crisis and its effect on Indianapolis.
Hogsett announced Marion County will adopt Stage 4.5 of Indiana's Back on Track plan beginning July 9.
Marion County residents will also be required to wear masks beginning July 9. This will be in effect if residents are indoors, outside of their homes. Masks will also be required to wear a face covering for outdoor activities where social distancing is not possible.
If residents are eating or alone in an office, masks will not be required. Children ages 2 and younger and those with some medical conditions will be exempt from the rule.
Dr. Virginia Caine with the Marion County Health Public Health Department outlined the requirements of the new order that will be put into place.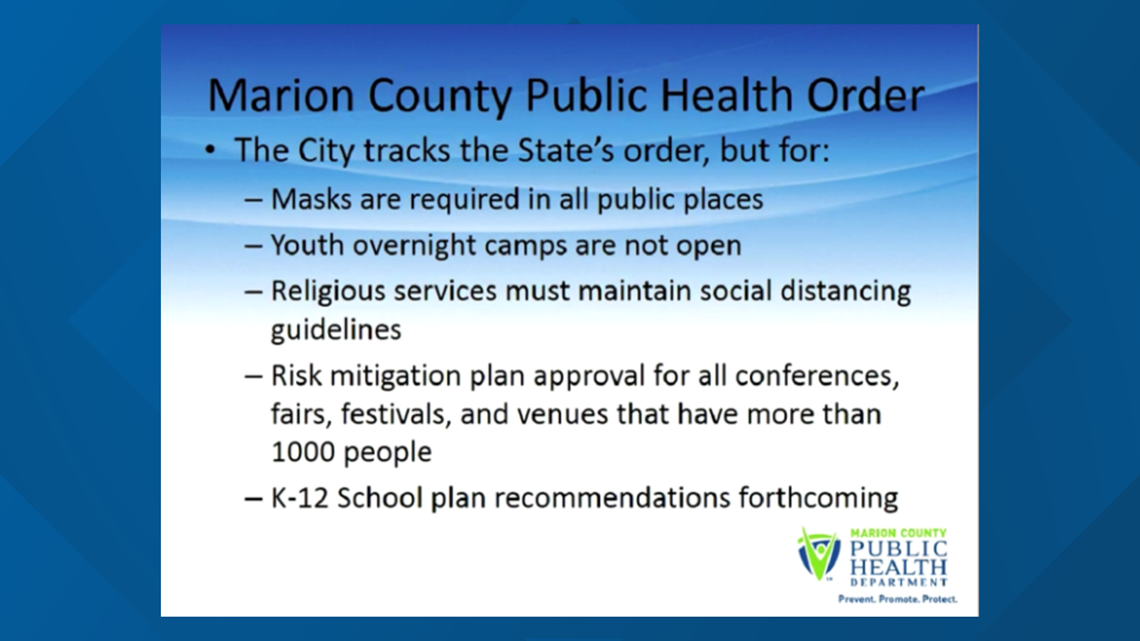 Hogsett also announced plans to extend the closures of Broad Ripple Avenue, Mass Ave. Georgia Street until July 19 to allow for more outdoor seating for restaurants in those areas.
Prom at the Palladium canceled
The Center for the Performing Arts had planned to give graduating seniors something to look forward to with many end-of-the-year activities canceled due to the COVID-19 outbreak. The center had planned to hold a prom for all central Indiana seniors, but that has now been canceled.
The two-night event, initially scheduled for Aug. 7-8, was canceled due to the continued spread of the pandemic and need for physical distancing, facial coverings and other safety measures.
Tickets had been scheduled to go on sale July 6.
US adds 4.8 million jobs as unemployment falls to 11.1%
U.S. employers added a substantial 4.8 million jobs in June, and the unemployment rate fell to 11.1%, as the job market improved for a second straight month yet still remained far short of regaining the colossal losses it suffered this spring.
The nation has now recovered roughly one-third of the 22 million jobs it lost to the pandemic recession. And with confirmed coronavirus cases spiking across the Sun Belt states, a range of evidence suggests that a job market recovery may be stalling. In those states and elsewhere, some restaurants, bars and other retailers that had re-opened are being forced to close again.
The re-closings are keeping layoffs elevated: The number of Americans who sought unemployment benefits barely fell last week to 1.47 million. Though that weekly figure has declined steadily since peaking in late March, it's still more than double the pre-pandemic peak set in 1982. And the total number of people receiving jobless aid remains at a sizable 19 million.
Mayor Hogsett to provide COVID-19 update in Marion County
Indianapolis Mayor Joe Hogsett and Marion County Public Health Department Director Dr. Virginia Caine will announce the next steps for COVID-19 restrictions and public health guidelines in Marion County.
The virtual press conference will begin Thursday, July 2 at 10:30 a.m.
On Wednesday, Gov. Eric Holcomb said Indiana will be taking a "cautious step forward" going into the July 4th weekend and will go into "Phase 4.5" instead of Phase 5 of the state's reopening plan from July 4 through July 17.
With Phase 4.5, the state will hold off on increasing capacity in some businesses including dining rooms, bars and entertainment venues.
This decision comes as a result of data that has shown an increase in hospitalizations due to COVID-19.
Under the revised plan, beginning July 4, fairs, festivals and other similar outdoor events may open. Pari-mutuel horse racing and county and state fair racing may begin with 50 percent spectator capacity. Youth overnight camps may open.
K-12 school operations may begin the 2020-21 academic year on July 1. Extra-curricular, co-curricular activities may resume July 6.
Outdoor visitation is required at assisted living facilities and nursing homes beginning July 4 and indoor visitation may begin. Hospital visitations with precautions are encouraged.
Latest US, world numbers
There have been 2.68 million confirmed cases of COVID-19 in the U.S. as of 3:30 a.m. ET Thursday, according to Johns Hopkins University. There have been more than 128,000 deaths and 729,000 people recovered.
Worldwide, there have been 10.69 million confirmed cases with more than 516,000 deaths and 5.48 million recovered.
For most people, the coronavirus causes mild or moderate symptoms. For some, especially older adults and people with existing health problems, it can cause more severe illness, including pneumonia and death.
US reaches 50,000 single-day COVID-19 cases for first time
The U.S. had more than 50,000 new cases of COVID-19 in a single day Wednesday, marking the first time America has reached that mark as it fights a surge in cases of the disease caused by the coronavirus. The new milestone was reached five days after the U.S. first crossed the 40,000 daily count.
A tally from Johns Hopkins University found approximately 50,700 new cases Wednesday. That number could change as more information comes in. On June 26, the U.S. passed 40,000 daily cases for the first time, soaring to 45,300, according to JHU.
As of early Thursday morning, the U.S. leads the world with nearly 2.7 million confirmed cases of COVID-19. More than 128,000 deaths in the U.S. have been blamed on the disease.
The surge has prompted more states and other jurisdictions to once again implement a new round of shutdowns to stop the spread. More regions are also implementing mandatory facemask use in indoor public places, although not all currently plan to strictly enforce the measure.