INDIANAPOLIS (WTHR) — It's another weekday morning for Laura Snider as she loads up her medical gear and hits the highway to see her patients.
But this nurse practitioner from McCordsville isn't heading to the doctor's office; she's driving to her patients, one home at a time.
Call it the return of the old-fashioned house call.
"I (used to be) in a traditional practice and then was exposed to a house call practice … and I started recognizing in my practice that there were people that should never leave home," Snider said.
Twelve years later, her practice, INHouse Primary Care, is up to six nurse practitioners and a thousand patients seen exclusively at home.
Snider is among a growing number of healthcare providers who offer direct primary care at home. As the U.S. population continues to age, more of the elderly and chronically sick are turning to home-based healthcare to avoid the struggle of leaving home to see the doctor.
Teresa Skelly of Greenfield moved her mom from an assisted living facility back home where she is visited regularly by Snider.
"This makes it so much better, it's like she's got one person that she sees," said Skelley, referring to her mother. "I don't have to try to get her in and out of the house."

According to the American Academy of Home Care Medicine, "House calls allow the physician to become better able to interact with the patient family and caregivers by evaluating patients in their natural environment and developing a more comprehensive sense of physical and psycho-social needs and possibilities."
One study published in the Journal of the American Geriatrics Society showed elderly patients saved more than $8,000 dollars each in Medicare costs by using a house-call program. They had 9 percent fewer hospitalizations, 10 percent fewer emergency room visits and they saw specialists about 23 percent less.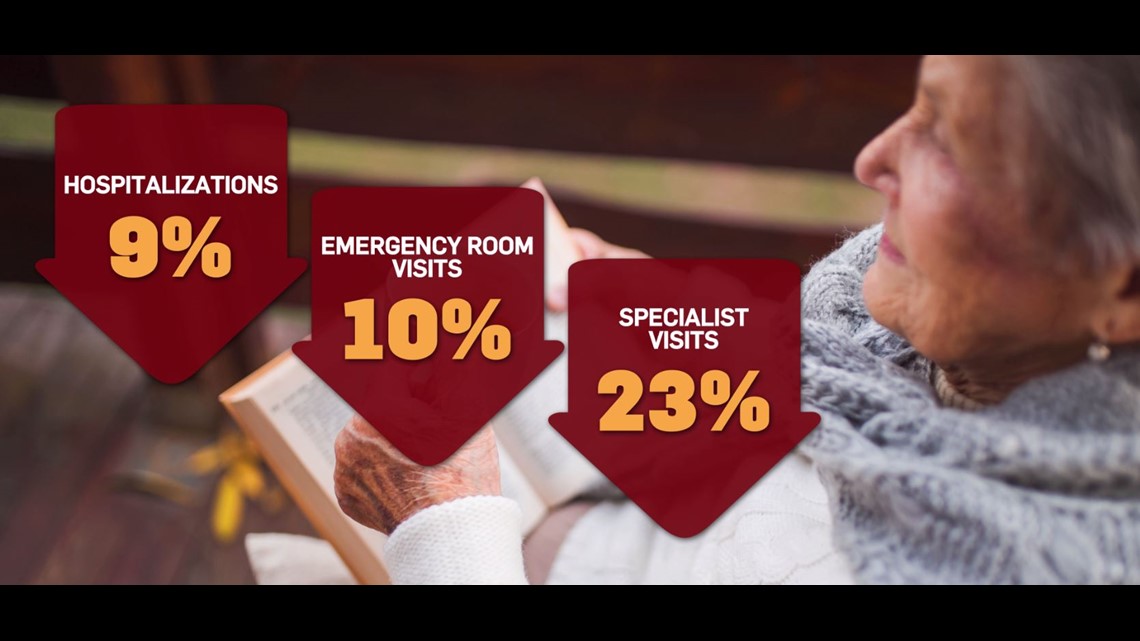 Skelley said her mom's urgent medical needs used to require a $900 trip by ambulance to the hospital. She says they're now catching problems before they become an emergency.
"Three times we've kept her out of the hospital," Skelley said. "I think this personalized service, especially for the elderly, is very important."
Direct Primary Care and Concierge practices
Hospitals and other traditional practices have long offered house calls for the homebound. But healthcare professionals say it's happening more along with an increase in direct primary care (DPC). In a DPC or concierge practice, patients pay monthly membership fees that often cover a menu of services, from home visits to lab tests and exams. Some do not use insurance while others do.
The American Association of Family Physicians says benefits of these kinds of practices can include more time with patients and decreased practice overhead.
That was the appeal for Dr. Joel Shumacher.
"I felt like there was a burden on my time," Shumacher said. "I was spending more time filling out forms and less time with patients."
The Marshall County physician opened his own Direct Primary Care practice several years ago.
"So we've cut out overhead. (Today) we have fewer patients and lower overhead."
Shumacher doesn't exclusively see patients at home. But he offers it as an option.
"It's convenient for them," Shumacher said. "And when I'm invited into a patient's home, I can learn a lot about a patient that I can't at the office."
He mentioned a visit he'd just made to a patient's home where he noticed the patient had mixed up some medication in their kitchen.
Since starting her practice, Laura Snider said a handful of competitors have popped up around her. She said the trend is growing in central Indiana and the job isn't for the faint of heart.

"This is a really hard job. It's probably the hardest job I've ever done. It includes working in the ER and the ICU as a nurse," Snider said.
While it can be challenging, Snider said it's certainly more rewarding.
"You get to follow your patients and see how you make a difference."