Indiana records 8 additional deaths, nearly 800 new cases
The Indiana State Department of Health announced Saturday that 793 additional Hoosiers have been diagnosed with COVID-19 through testing, and now 51,079 Indiana residents are known to have contracted the virus.
A total of 2,563 Hoosiers have died from COVID-19 according to state confirmations - an increase of eight from Friday. Deaths are reported based on when data are received by ISDH and occurred over multiple days. The eight most recently reported deaths occurred between Wednesday and Friday this week.
Indiana has nearly 36 percent of its intensive care beds and nearly 84 percent of ventilators available.
To date, 558,146 tests have been reported to ISDH, with a rate of 9.2 percent of tests coming back positve.
Marion County Fair opens today under COVID-19 guidelines
The 90th annual Marion County Fair opens Saturday with two nights of fireworks scheduled for Saturday July 11 and Sunday July 12.
The Queen and Princess Pageant will happen on opening night at 7 p.m.
"As our team continues to monitor local and state health guidelines on a daily basis, we are working closely and diligently with state and local partners to ensure the safety of the community here in Marion County and that remains our primary focus," said Paul Annee, Marion County Fairgrounds Public Information Officer.
Gates open 5 p.m. on weekdays and noon on weekends.
General Admission to the grounds at 7300 E. Troy Avenue is $5 per person; with children 5 and under admitted free.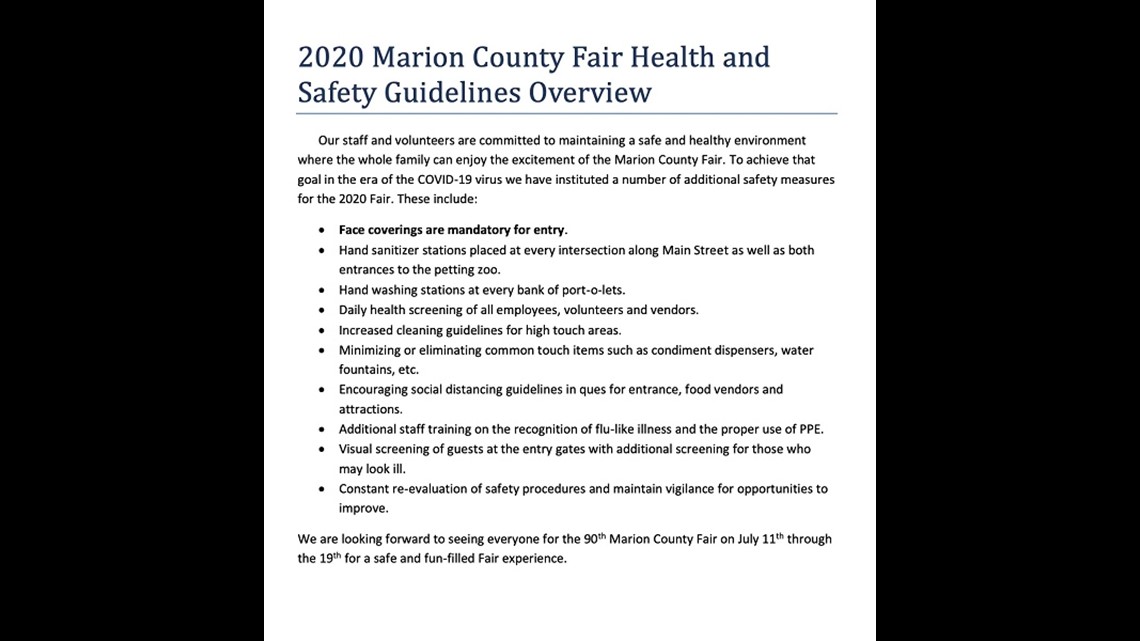 Children's Museum Opens today
The Indianapolis Children's Museum opened its doors to the public at 10 a.m. after closing for the pandemic.
Advance tickets are required for visitors, including members and donors.
According to the Marion County order, face masks are required for everybody over the age of two.
Hand sanitizer and wipes are available.
The playscape remains closed.
Sarah Jones of 13News was live on Facebook after the museum opened this morning.
Latest US, world numbers
There have been 3.18 million confirmed cases of COVID-19 in the U.S. as of 7 a.m. ET Saturday, according to Johns Hopkins University. There have been more than 134,000 deaths and 983,185 people recovered.
Worldwide, there have been 12.5 million confirmed cases with more than 560,500 deaths and nearly 6.9 million recoveries.
For most people, the coronavirus causes mild or moderate symptoms. For some, especially older adults and people with existing health problems, it can cause more severe illness, including pneumonia and death.
Virus cases up sharply in Africa, India as inequality stings
South Africa's confirmed coronavirus cases have doubled in two weeks to a quarter-million, and India has seen its biggest daily spike as its total passed 800,000.
Inequality concerns are growing as health workers seek better protection while some among the rich are hoarding equipment at home.
Shortages of testing materials and poor data collection in some countries mean true numbers are unknown.
US appeals to proceed with 1st federal execution in 17 years
The Justice Department plans to appeal a judge's ruling that would halt the first federal execution in nearly two decades. The halt was ordered after family members of the victims raised concerns they would be at high risk for the coronavirus if they had to travel to Terre Haute to attend. They actually oppose the execution and say they wanted to be present to counter any contention that it was happening on their behalf.
The Justice Department filed its notice to appeal to the 7th U.S. Circuit Court of Appeals on Friday. A federal judge had ordered that Daniel Lee's execution must not move forward as scheduled on Monday at the federal prison in Terre Haute.
Lee, of Yukon, Oklahoma, was convicted in Arkansas of the 1996 killings of a gun dealer, his daughter and her 8-year-old daughter.
Indy Eleven releases safety plan for fans attending games
Indianapolis will host its first professional sporting event in months.
The Indy Eleven open their season at Lucas Oil Stadium Saturday night.
For attendees, there are rules to follow. The first is that they'll need to wear a mask at all times except for when eating and drinking.
Fans will also have their temperature checked before they're allowed inside. Tickets must be recieved ahead of time with a limit of four tickets.
Indy Eleven has set times for fans to enter the stadium based on the last name of the preson who bought the ticket.
For more information, click here.