Moderna working on 1-dose COVID vaccine booster and flu shot
Moderna announced Thursday that it is working on a one-dose vaccine that would serve as a COVID-19 booster shot and also offer protection from the seasonal flu.
The company is calling the new vaccine under development mRNA-1073.
"Today we are announcing the first step in our novel respiratory vaccine program with the development of a single dose vaccine that combines a booster against COVID-19 and a booster against flu," Moderna CEO Stéphane Bancel said in a statement. "We believe our mRNA platform can solve the world's greatest health challenges, from diseases impacting millions, to ultra-rare diseases impacting dozens, to medicines personalized down to the individual level."
Federal officials are moving ahead with plans to begin administering booster shots of the mRNA COVID-19 vaccines to boost protection against the more transmissible delta variant of the virus.
Last month Biden announced plans to make them available beginning on Sept. 20, but only the Pfizer vaccine will likely have received regulatory approval for a third dose by that time. Federal regulators are seeking additional data from Moderna that will likely delay its booster approval until October.
State reports 5,240 new cases, 50 additional deaths and 6,714 more fully vaccinated
The Indiana State Department of Health reported 6,714 more Hoosiers are now fully vaccinated against COVID-19 as of Thursday morning. A total of 3,147,716 Indiana residents are now considered fully vaccinated.
ISDH also reported 5,240 new cases of COVID-19 among Indiana residents, along with 50 additional deaths that occurred between July 30 and Wednesday. Indiana has lost 14,308 people to the virus since March 2020.
US jobless claims reach a pandemic low as economy recovers
The number of Americans seeking unemployment benefits fell last week to 310,000, a pandemic low and a sign that the surge in COVID-19 cases caused by the delta variant has yet to lead to widespread layoffs.
Thursday's report from the Labor Department showed that jobless claims dropped from a revised total of 345,000 the week before. The number of applications has fallen steadily since topping 900,000 in early January, reflecting the steady reopening of the economy after the pandemic recession.
Last week, the government reported that hiring slowed dramatically in August, with employers adding just 235,000 jobs after having added roughly a million in both June and July. Hiring plummeted in industries that require face-to-face contact with the public, notably restaurants, hotels and retail. Still, some jobs were added in other areas, and the unemployment rate actually dropped to 5.2% from 5.4%.
Doobie Brothers concert at Ruoff Music Center postponed due to positive COVID-19 test
Saturday's The Doobie Brothers concert has been postponed due to COVID-19.
The band shared the announcement on its social media pages Wednesday afternoon and said "a member of the touring personnel has tested positive with COVID-19 despite health and safety precautions in place."
The rock band was scheduled to perform at Ruoff Music Center in Noblesville Saturday, Sept. 11. A rescheduled date has not yet been announced.
The Doobie Brothers said people should hold on to their tickets for the postponed shows because the tickets will be valid for the new date once they are announced.
This week's mobile vaccine clinics in central Indiana
Thursday, 9 a.m. to 1 p.m.:
Excel Center
117 N. Harrison St., Shelbyville

Excel Center
1023 W. Jackson St., Muncie
Friday, 9 a.m. to 1 p.m.:
Excel Center
4200 S. East St., Indianapolis
Saturday and Sunday, 10 a.m. to 5 p.m.:
Trinity Lutheran Church
8540 E. 16th St., Indianapolis
Biden to lay out plans to boost vaccine uptake
President Joe Biden is set to outline a six-pronged federal effort to boost COVID-19 vaccinations and curb the surging delta variant of the coronavirus that is killing thousands each week and jeopardizing the nation's economic recovery.
The White House says Biden's evening speech at 5 p.m. ET on Thursday will encourage vaccinations for those who haven't had a shot and promote new ways to protect those who are vaccinated. He'll also push efforts to safely keep schools open, as well as new ways to boost testing and promote mask requirements. And he'll emphasize steps to boost the economic recovery and moves to improve treatment for those with COVID-19.

White House press secretary Jen Psaki said Wednesday that Biden would encourage vaccine mandates for workforces and schools.
She says: "We know that increasing vaccinations will stop the spread of the pandemic, will get the pandemic under control, will return people to normal life. That's what our objective is. So we want to be specific about what we're trying to achieve."
Latest US, world numbers
There have been more than 40.45 million confirmed cases of COVID-19 in the United States as of 3:30 a.m. Thursday, according to Johns Hopkins University. There have been more than 652,600 deaths recorded in the U.S.
Worldwide, there have been more than 222.56 million confirmed coronavirus cases with more than 4.59 million deaths. More than 5.56 billion vaccine doses have been administered worldwide.
For most people, the coronavirus causes mild or moderate symptoms. For some, especially older adults and people with existing health problems, it can cause more severe illness like pneumonia, or death.
3 more countries added to CDC 'avoid travel' list due to COVID-19
Three countries have been added to a growing list of places the Centers for Disease Control and Prevention says Americans should avoid traveling to due to COVID-19, even as the disease also tests hospital and ICU capacities in the U.S.
On Tuesday, Jamaica, Brunei and Sri Lanka were all added to the CDC's Level 4 (Very High) risk level. In total, there are now more than 70 countries listed at that level, including Switzerland, the Bahamas, France and Greece. For those who must travel to these destinations, the CDC advises they first be fully vaccinated.
On the alerts for Jamaica, Brunei and Sri Lanka, the CDC warns travelers should still wear a mask and stay six feet apart from others if traveling there. The CDC adds that "even fully vaccinated travelers may be at risk for getting and spreading COVID-19 variants" — an issue the U.S., itself, is dealing with.
Macy's Thanksgiving Day Parade will return to streets of NYC
The City of New York and Macy's announced Wednesday the Macy's Thanksgiving Day Parade will return this year to the streets of the Big Apple for its 95th edition.
Following last year's made-for-television celebration, the parade through the streets of Manhattan will kick off the holiday season on Thursday, Nov. 25 at 9 a.m. ET.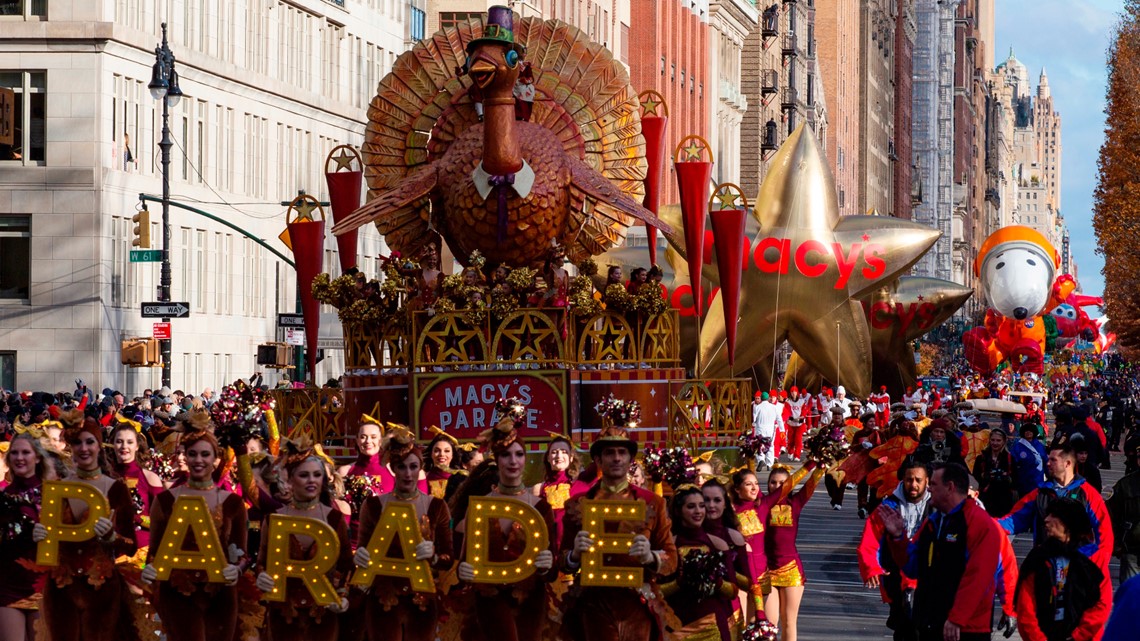 Macy's said the parade will entertain live crowds and a national television audience with giant helium balloons, floats, marching bands, performance groups, celebrities, clowns and Santa Claus.
The 95th annual Macy's Thanksgiving Day Parade will air nationwide on WTHR Channel 13 on Thanksgiving Day from 9 a.m. to noon ET.