INDIANAPOLIS — There are more than 6.7 million Americans over the age of 65 living with Alzheimer's disease, according to the latest data from the Alzheimer's Association.
Of the more than 6.7 million patients, more than 110,000 are Hoosiers.
Dr. Nicole Purcell is a practicing neurologist and senior director with the Alzheimer's Assocation. She said the number of Hoosiers living with Alzheimer's is expected to grow.
That's why Purcell says talking about any signs or symptoms is crucial, either with family, friends or medical professionals.
"We prefer that these individuals talk to their primary care physician," Purcell said, "so they can have an assessment, and they can get a diagnosis early."
On the other hand, Purcell admitted doctors and medical teams can also be hesitant to bring up conversations like memory loss.
"I think we need to change that," Purcell said.
Purcell said symptoms are often slow in onset and typically include memory loss, difficulty communicating, or troubling planning.

Currently, Alzheimer's is more common in women.
"It's something that we don't understand very well yet, but it does affect women more than it does men," Purcell said.
Doctors with the Alzheimer's Association also shared good news, especially when it comes to prevention. Purcell said about 40% of dementia can be prevented or at least reduced.
"What we know is that what's good for the heart is good for the brain," Purcell said.
She recommends the following tips to help prevent the disease:
Monitor vascular risk factors, like diabetes and blood pressure.
Kick all smoking habits.
Keep alcohol consumption to a minimum.
Remain physically, socially and mentally active.
Unfortunately, Alzheimer's Disease also heavily impacts families of those living with the disease.
The latest report shows more than 216,000 Hoosiers were caring for affected loved ones in 2022.
Purcell says that number is expected to grow.
"I think it's important to note that many of the caregivers are spouses of the affected individual," Purcell said. "They are generally the same age as the affected individual, so they may be experiencing difficulties with their health themselves."
Purcell said other at-home caregivers are often children of the affected person. That age range is often described as the "sandwich generation," because they are caring for their growing children and aging parents.
Experts at the Alzheimer's Association know caregiving is a difficult — and often a thankless job.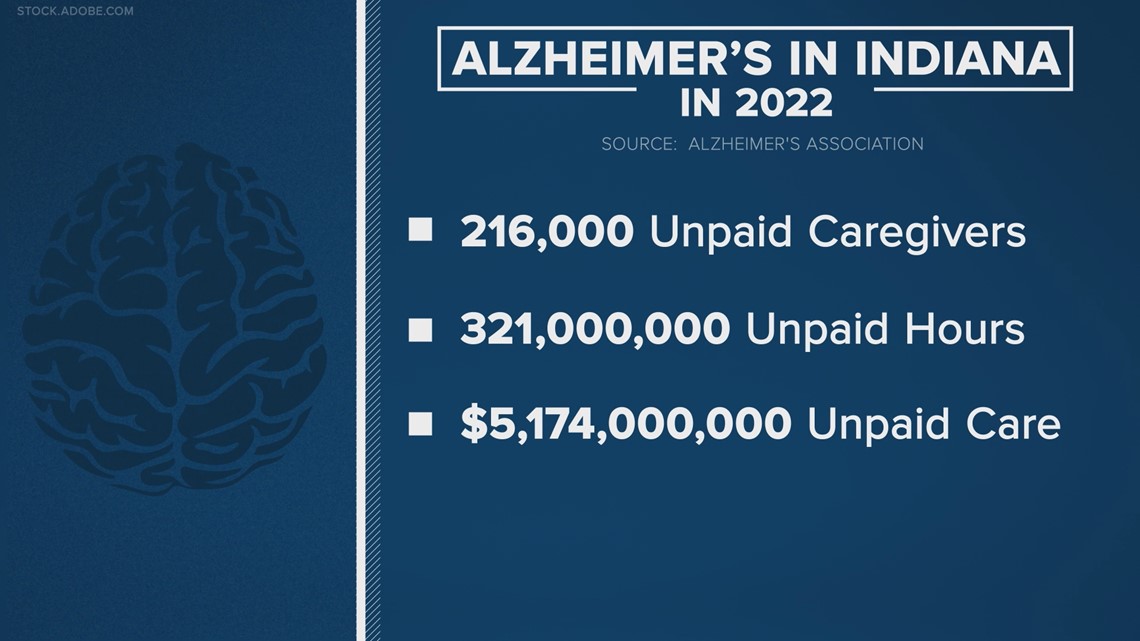 In 2022, unpaid Hoosier caregivers worked more than 321,000,000 unpaid hours, according to the latest report. That work totaled more than $5.1 billion in unpaid care.
Purcell wants Hoosier caregivers to know they are not alone.
In fact, the Alzheimer's Association has a free helpline available at 1-800-272-3900. Purcell said it is staffed with a trained team member 24/7 who is ready to provide assistance.
Additionally, the Alzheimer's Association predicts the health care workforce will need to increase 32% to meet the demands of Alzheimer's care by the end of the decade.
"We definitely have a shortage of health care providers currently, and that is only going to get worse," Purcell said.