FISHERS, Ind. — (WTHR) — After attending the Fishers Equity Awareness Demonstration in downtown Fishers, Halle Guiden decided to create a video that expressed her experience.
"I hope when people see my video, it just opens their eyes," Halle said. "There is good happening, like it's not all bad."
Halle is 15 and a rising sophomore at Hamilton Southeastern High School who believes she has unique insight.
"I identify as Black and White — I'm biracial. And I feel like since I'm Black and White, I can see both sides of things. When people look at me, they see the Black side of me, you know, because of my skin tone. People tend to say that I talk White."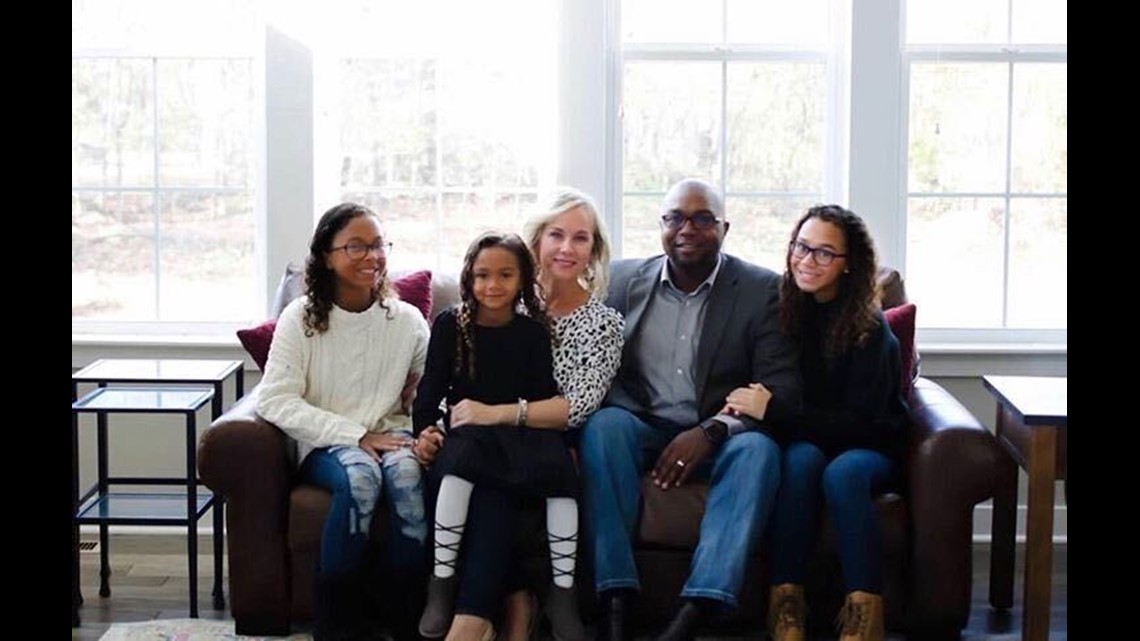 How can you talk like a color?
"How can you talk a color?' she asked. "And why does it matter? I talk how I talk. I can't just choose one day I'm gonna act White today or I'm gonna Black today; it's just being who I am," Halle said.
"We are all the same. Your uniform. Your skin color. Does not make you a criminal. It's time for a change."
To help create change, Halle provides a pathway to educate.
"You need to know about what is going on before you can do anything about it," Halle said.
She created a list of books to read and movies to watch.
"One of the movies that I personally like it's "The Hate U Give", and when I watch that, I get very emotional. It's a great movie, and it touches your heart," Halle said.
Her father, Michael Guiden, is proud she is expressing herself through the video and especially likes the call to action.
"You know, change your profile picture to a Black screen but you know without action, it doesn't mean anything," he said.
Halle is his oldest of three daughters. Michael and his wife, April, met at Ball State University and are celebrating 18 years of marriage this year.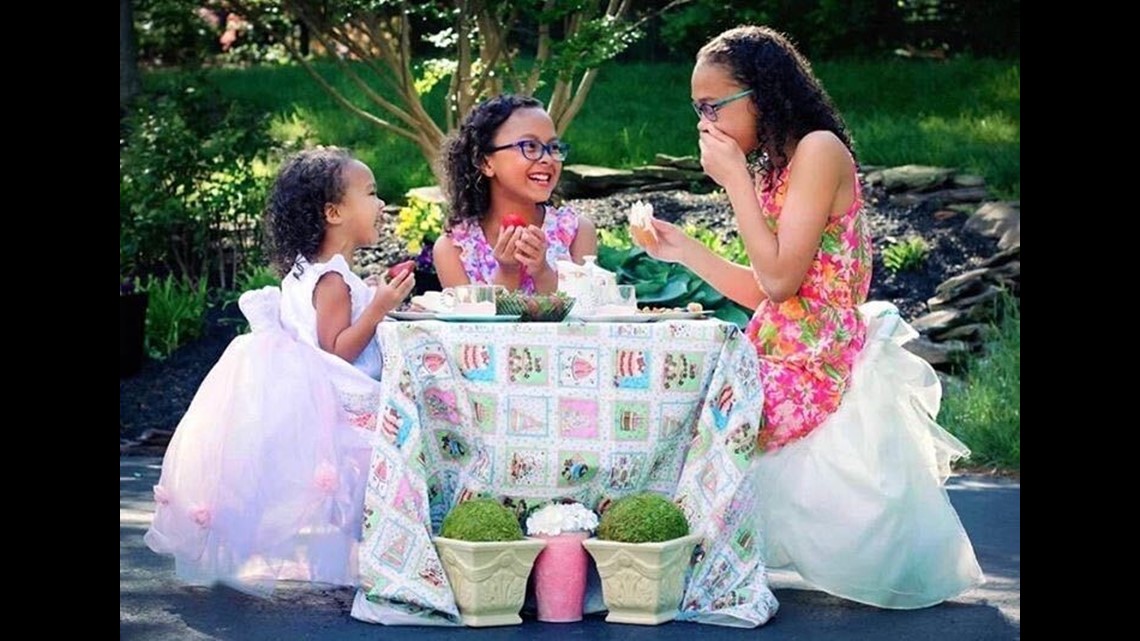 "We have raised our kids with pretty much out having any focus on race whatsoever," April said. "They're humans, just like we were an all White family or an all Black family or all Asian family or all ... Hispanic family. ... Our everyday life is not any different than any other family."
The family said they have found the Fishers community welcoming and say conversation is the key to understanding.
Because it doesn't affect you every day, that means it must not be a problem
"If you really want to learn about what it's like to live a day in our shoes, you know, ask the questions and have the dialogue. Don't go into it with preconceived notions and understand why this movement is what it is and why it's been like this for so many years until people realize how we got here, we're never going to be able to change," Michael said. "We've seen too many instances where because it doesn't affect you every day, that means it must not be a problem. So hoping that her video helps new people a couple more steps forward into really understanding that we're all the same. We all have the same common goal, as well as far as raising our families being successful. And just living life to its fullest."
The video is a first step of how Halle is adding to the conversation, and she hopes you'll join her.
"Everybody just use your voice and express how you feel. I feel like that's what we need now," Halle said.
Halle's suggested resources
"13th" on Netflix (prison system and slavery in America)
"The Death and Life of Marsha P. Johnson" (documentary about Black LGBT activist Marsha P. Johnson)
"The Hate U Give" (movie AND book by Angie Thomas story about being Black in America)
"Just Mercy" by Bryan Stevenson (movie and book about lawyer Bryan Stevenson representing Walter McMillian's murder charge to prove his innocence)
"Selma" (Civil Rights and Selma March)
"Freedom Writers Diary" (book and movie about children of color finding their voices in their English class)
"If Beale Street Could Talk" by James Baldwin (book and movie about Black love in Harlem)
"Fruitvale Station" (story of Oscar Grant, a man who was killed on New Year's Eve from police brutality)
"The Great Debaters" (true story of an HBCU that beat Harvard at a debate competition)
"When They See Us" on Netflix (Central Park Five)
"Dear White People" on Netflix (How it feels to be Black among White people in America)
"Unsolved" on Netflix (dramatized version of the Murder investigation of Biggie and Tupac)
"Who Killed Malcolm X," a docuseries on Netflix
"The Help" by Kathryn Stockett (book AND movie about the lives of maids in Jackson, Mississippi)
"Having Our Say" by the Delany Sisters (autobiography by Sadie and Bessie Delany telling their experiences in America)
"The New Jim Crow" by Michelle Alexander (understanding systemic racism)
"Evicted" by Matthew Desmond (poverty and profit in the american city)
"Between the World and Me" by Ta-Nehisis Coates (Being Black in America)
"The Children" by David Halberstam (Nashville sit-ins, Freedom Riders, Diane Nash, John Lewis)
"Your Silence Will Not Protect You" by Audre Lorde (Essays, speeches, and poems by Audre Lorde)
"Call Them by Their True Names" by Rebecca Solnit (Essays on racism, misogyny, climate change)
"Why I'm No Longer Talking to White People About Race" by Reni-Eddo Lodge
"Citizen: An American Lyric" by Claudia Rankine (Book-length poem about race in the US)
"The Miseducation of the Negro" by Carter Goodwin Woodson (A thesis book about how black children were being culturally conditioned instead of taught)
"Stand Up Straight And Sing" by Jessye Norman (Book about a Black opera singer)
"Electric Arches" by Evening L. Ewing (a book of Black girlhood through poetry and visual art)
"Black Girl Magic" by Mahogany L. Browne
"American Like Me: Reflections on Life Between Cultures" (not just about Black people but has written statements from many POC in America)
"They Can't Kill us All" by Wesley Lowery (Police brutality)
"How to be an Anti-Racist" by Dr. Ibram X Kendi
"Stamped: Racism, Antiracism, and You" by Jason Reynolds and Dr. Ibram X. Kendi
"White Fragility" by Robin Diangelo
"So You Want to Talk About Race" by Ijeoma Oluo
"Black Bodies & White Souls" by Mr. Bockenfeld
"The Case for Reparations" by Ta-Nehisis Coates
"Code Switch" by NPR (candid conversations about race)
"Pod Save the People" by Deray Mckesson
"1619" by The New York Times (The 1619 Project, when the first slaves were brought to America)
"Seeing White: Scene on America" (podcast on race in America)
The Ballot or the Bullet by Malcolm X
Police Brutality and Mon Violence by Malcolm X
Police Killings by Malcolm X
The Race Problem by Malcolm X
No Taxation without Representation by Malcolm X
Empowering picks
"Becoming" on Netflix (Michelle Obama's tour for her book Becoming)
"Homecoming" on Netflix (Beyoncé's ICONIC 2018 Coachella performance)
"Quincy" on Netflix (empowering movie about Black musical icon Quincy Jones)
"She's Gotta Have It" (a Spike Lee Joint about a liberated Black woman)
"Miles Davis: Birth of the Cool" on Netflix (movie AND album, movie is about the jazz icon himself)
"The Black Godfather" on Netflix (Documentary about Clarence Avant, a mentor in Black film, music, and TV)
"Chasing Trane" on Netflix (documentary about John Coltrane)
"Self Made" on Netflix (series about the story of Madame CJ Walker)
"Rhythm + Flow" on Netflix (a show focused on finding new & upcoming rappers. Not everyone is Black, they're celebrating a Black art form)
"#BlackAF" on Netflix (Black sitcom)
"Insecure"
"They've Gotta Have Us" on Netflix (A series about black cinema)
"She's Gotta Have It" on Netflix (Adaption of the Spike Lee Joint about an empowered, liberated Black woman)
"Marching Orders" on Netflix (about HBCU bands)
"Black-ish" (Black sitcom)
Playlist: Black History
Playlist: Change
"To Pimp A Butterfly" by Kendrick Lamar
"Lemonade" by Beyoncé
"We the People…." by A Tribe Called Quest
"Now" by Miguel
"Americans" by Janelle Monáe
"Long Way To Go" by Gwen Stefani and André 3000
"A Seat at the Table" by Solange
"XXX" by Kendrick Lamar ft. U2
"The Miseducation of Lauryn Hill"
"The Return of the Cool" by Nick Grant
"Fight The Power" by Public Enemy
"Strange Fruit" by Nina Simone
"If I Ruled The World" by Nas
"The Story of OJ" by Jay Z
"Y U Don't Love Me?" By Joey Bada$$
"Temptations" by Joey Bada$$
"Land of the Free" by Joey Bada$$
"Good Morning Amerikkka" by Joey Bada$$
"Say It Loud" by James Brown
"Mercy, Mercy, Mercy" by Cannonball Adderly
"This is America" by Childish Gambino
"Brown Skin Girl" by Beyoncé
"Hella Black" by Tobe Nwigwe
"BLACK EFFECT" by The Carter