INDIANAPOLIS (WTHR) - Butler University's Visiting Writers Series continued Tuesday evening with a visit from author Hanya Yanagihara. In this fascinating talk about writing, developing narratives and exploring contemporary ideas, Yanagihara brought a down-to-earth attitude and ever-ready sense of humor.
Tuesday's format veered from the usual in that it was a conversational format. Led by Ania Spyra, associate professor of English who manages the Visiting Writers Series, the discussion proved to be more engaging than the typical author reading. Globalization, post-colonialism, language, depictions of gay life, the quest for beauty - the conversation touched on all these themes and more.
Yanagihara is the author of The People in the Trees and A Little Life, two quite different books. The first novel (which she jokes no one has read) is loosely based on Dr. D. Carleton Gajdusek, a brilliant researcher who won a Nobel Prize but who was later convicted of sexually abusing one of his many adopted children. The second follows the lives of four men through trauma, relationships and careers - and has been hailed as "the great gay novel" despite it not having been penned by a gay man. (Yanagihara says she hadn't set out to do so, but calls it a "flattering interpretation" that gay male readers see something of their lives reflected in it.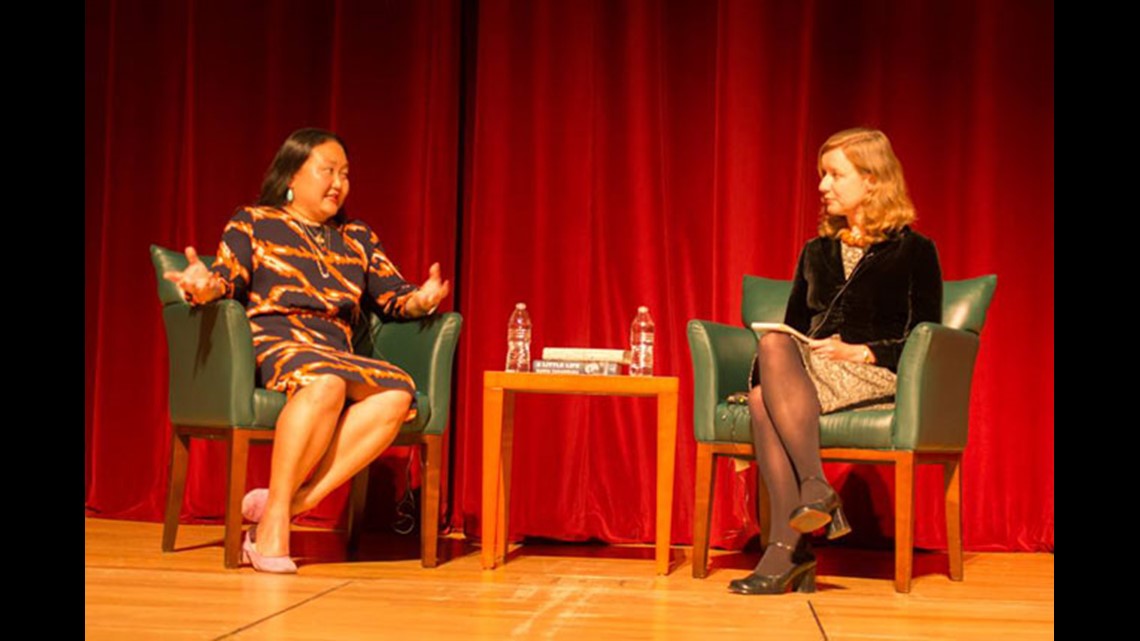 While those topics might seem disparate, Yanagihara says they are linked in their exploration of tribes: that is, we're all part of a tribe, whether it's family, school or work. In "A Little Life" - the title of which Yanagihara explained stems from the concept of how some lives are deemed more important than others based on the person's achievements - she follows the fortunes of four men. Yanagihara deliberately avoided introducing female characters to focus on crafting a world where one of her subjects grows up only dealing with men - and then must confront the consequences in adulthood.
Another theme that links the two works is how something hidden can build up and suddenly destroy a life. In The People in the Trees, it's the prions in the brain, lying in wait until one day, they're activated and dementia sets in. In A Little Life, it's trauma. "The mind can't control it. It can destroy you. Part of becoming an adult is realizing how little control you have," says Yanagihara.
Some reviews of Yanagihara - especially A Little Life - have zeroed in on the implausibility of the plot. But she handles these questions with good-natured aplomb, calling it an old-fashioned book in the sense that it demands the reader's involvement. If you can't surrender yourself to the story, it won't be satisfying. (Incidentally, she had some interesting comments on the state of American fiction - calling it polished, technically competent but remote and ironic.) The ultimate compliment for Yanagihara would be to hear that her work is "strange." It doesn't have to be perfect. "Let the failures live on the page," she says.
In The People in the Trees, which Yanagihara says is a study of the difference between a great man and a bad person (something perennially fascinating - she offers up Roman Polanski, Woody Allen and Nate Parker as modern examples), the doctor discovers a remote tribe on a Micronesian island who've stumbled upon eternal life (thanks to some magic turtles) - at the cost of losing their minds. In a culture that has no written language, losing the ability to speak is like losing one's identity. Yanagihara says the quest for eternal life is something that links humans to one another across centuries, cultures and continents - but there's a "lack of thinking through what that means." Living forever would be a terrible burden - and that can apply to other life goals that we might think we want but haven't really thought through.
Yanagihara's event at Butler was well attended, and allowed for several questions from the audience. One centered on creating an unlikable protagonist in The People in the Trees. "It's always fun on some level to write someone who's really vile," she said, joking that villains are more fun. But she's careful to use the word "evil" to describe them. Perhaps it's not surprising that she lists J.M. Coetzee as one of her many favorite living fiction writers. Coetzee's depiction of a murderous colonialist in "The Narrative of Jacobus Coetzee" brings to mind another novel where the reader (let's hope) won't be rooting for any hero. It's not that kind of fiction, but the effect can be liberating as it allows readers to explore lives that may be very different from their own.
As Yanagihara says, it's not the writer's job to be a parent. So the graphic scenes of abuse depicted in A Little Life are challenging the reader to engage. She asks her readers to be brave, turn the page "and enter a world."