INDIANAPOLIS (WTHR) — The Marion County Coroner's Office has identified the two men shot and killed on Sunday morning at an east side bar as 50-year-old James Ratcliffe and 24-year-old Deron Gray.
Indianapolis Metro Police officers are still looking for clues after the two men were shot and killed outside an east side bar early Sunday morning. At least three others were also shot in this incident, which happened near 14th Street and Sherman Drive.
The owner of the Sawmill Saloon was there when the fight started. She says it was all over a girl and started inside the building. When her security guard tried to take the fight outside, the shooting started.
"I'm just trying to come to a realization of what's going on right now and find acceptance," said Valerie Sweeney, who says she eats at the Sawmill Saloon on a pretty regular basis. "I don't accept any of this right now."
Sweeney still can't believe what happened outside the Sawmill Saloon early Sunday morning. She says it's a great spot to eat or drink during the day, but when the sun sets, a different crowd comes in.
"There's a lot of tears," said Sweeney. "Everybody's sad and I think the only people who can actually believe what happened are the people who were here and saw it."
What they saw was a fight that led to a shooting. Police said at least five people were shot, including two security guard. One man died on the scene and another person died at a hospital.
Two others were in critical condition, and a fifth was also hurt, but expected to be okay.
Loved ones have created GoFundMe pages for two of the victims — Ratcliffe, a security guard who died trying to break up the fights, and another security guard named Chris who is in critical condition at the hospital.
The owner said there were a few dozen people inside when it happened. Police talked with them, but say there's still a lot they don't know.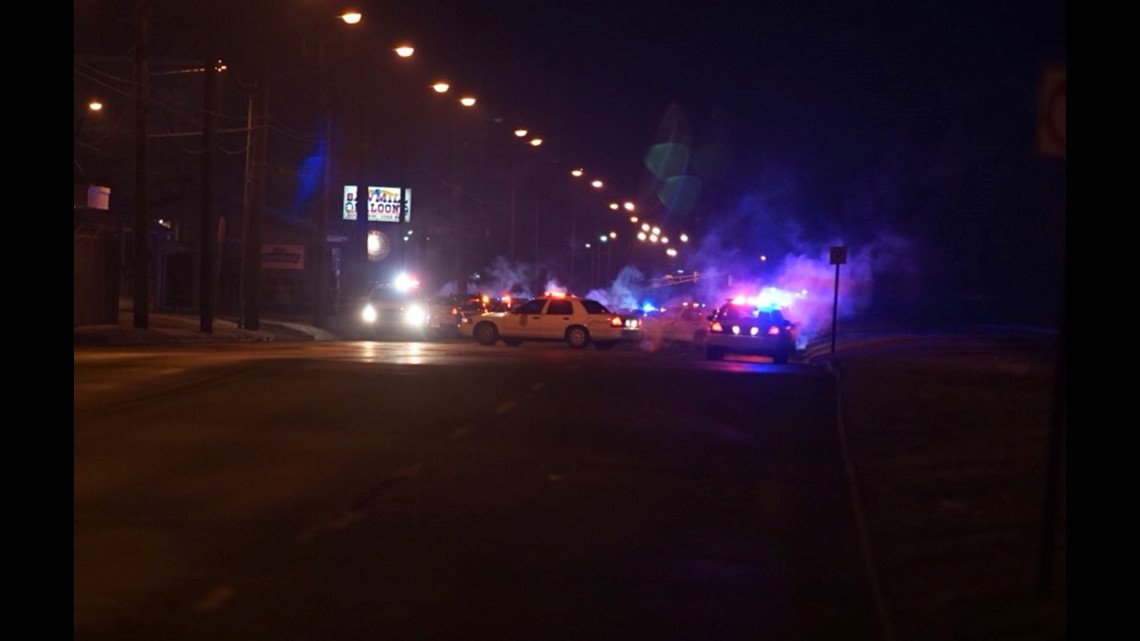 "It's still too early to tell who started shooting first," said IMPD officer Genae Cook. "There were multiple people shot so right now, detectives are still trying to put all the evidence together to see who started it."
Sweeney said one of her friends was shot and killed, which is something else she's still can't believe.
"I'm still waiting for somebody to pinch me and tell me that it's a dream or the hospital to call and say he's fine, he made it out of surgery," said Sweeney. "You just don't think it's going to be somebody that you know when something like this happens."
Anyone with information is asked to call Crime Stoppers at (317) 262-TIPS.
Indianapolis Metropolitan Police Department homicide detectives are investigating after two were killed, two people were critically injured, and another one injured in a shooting early Sunday morning outside the Sawmill Saloon on the east side.
Officers were called to the 1300 block of Sherman Drive around 2 a.m. Sunday for the report of shots fired and multiple people shot.
Multiple victims were found at the scene of the shooting. Indianapolis Emergency Medical Services responded and declared a man dead at the scene. Three other victims were transported to Eskenazi Hospital where one of the died shortly after arriving at the hospital, one is in critical condition and another one in stable condition. Another victim was transported by a friend to Community East Hospital and was transported to Methodist Hospital in critical condition.
Detectives say there was some kind of disturbance inside the bar before the shooting but they do not have any suspects at this time.
#Update IMPD confirms 5 shot, at least one dead following fight at bar. Possibly more injured, PD determining if other victims drove themselves to hospital. Detectives taking to dozens of witnesses at a chaotic scene. Updates as we get them.
This is a developing story and Eyewitness News will have more details as they become available.