The notice went to Mayor Joe Hogsett, IMPD Chief Randal Taylor, and IMPD officers Carl Chandler, Lucas Riley, and Alexander Gregory.
On Dec. 31, 2022, Maclin was sleeping in his car in his grandmother's driveway in the 3600 block of North Oxford Street.
Officers were called to check things out as his grandmother did not recognize the car. IMPD claimed Maclin was asleep when officers arrived and had a gun on his lap.
Maclin lives in Ohio, but said he was in his hometown of Indianapolis to pick up his car from a shop on the east side of the city. His attorney, Stephen Wagner, said Maclin was in a rental car and planned to surprise his grandmother, Vickie Driver, but arrived at her house around 3 a.m. and didn't want to go inside and wake her.
His grandmother said she noticed the car when she took her dog out and called police to investigate. She claims she even said it might be one of her grandchildren.
"I just was kind of scared that maybe somebody was doing something they didn't have any business doing and I didn't really want to go outside in the driveway, so I called 911," said Driver.
Maclin said he did have a handgun on his lap, but never grabbed it.
"As soon as I heard anything, I immediately woke up and looked to my right and left and immediately started getting shot," Maclin said. He said he was then ordered out of the car.
"When I woke up, my hands were at my sides and the gun was on my lap," Maclin said. "I had no idea what was happening."
Maclin said when he got out of the car he realized he had been shot and was having trouble breathing.
"I heard so many gunshots, so many gunshots," said Driver.
Driver quickly recognized the person in the car was her grandson.
"I just went out and said it could still be one of my kids. When that door opened, and I see Anthony and I said, 'Oh, what have I done?' Anthony, I'm so sorry," said Driver.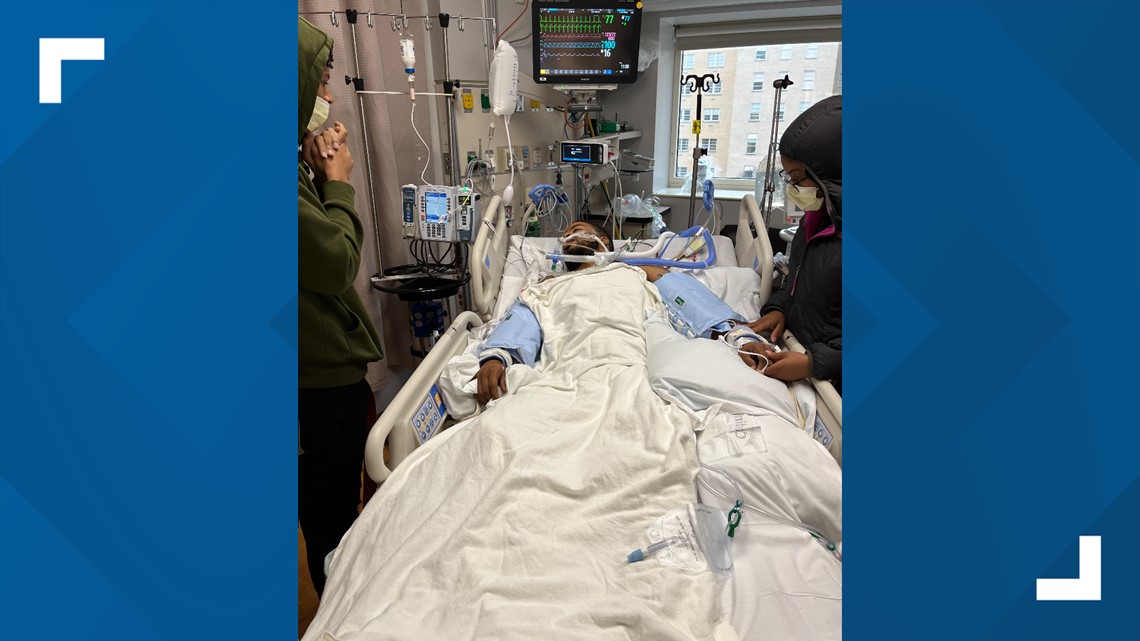 According to Maclin's attorneys, three IMPD officers fired at least 30 shots, hitting Maclin three times.
"Right shoulder, lower rib and this arm here and out," said Maclin. "I still have bullets that are still inside of me that sometimes I feel like causes pain with breathing. Especially the one in my ribcage."
He was hospitalized for 17 days and underwent six surgeries. Maclin's attorneys said he is now back at home recovering and will not be able to work for at least three months. He still uses a wheelchair.
"Anthony is not accused of committing any crime. He was not drunk or high on drugs. While Anthony had a firearm in the car—and a license to carry the firearm—he never reached for the gun," said attorney Stephen Wagner. "He never had the gun in his hand, and he certainly did not point the gun at officers. In the end, Anthony's only 'offense' was being a young Black man in a high-crime neighborhood. This 'shoot first and ask questions later' approach to policing is illegal and cannot be tolerated."
Maclin's attorneys further claim that IMPD told them the bodycam footage is "inconclusive" as to whether Maclin ever pointed his gun at officers. Attorneys claim the family has seen the footage and they say it is clear and shows Maclin without a gun in his hand. They claim officers never gave a command to drop the gun and only told him to "raise your hands" after they began firing.
"These three officers emptied their magazines firing into a car where there was no threat," Wagner said.
Wagner said Maclin never touched his gun and there was no threat to the officers. He said the officers were panicked after the shooting and seemed to admit they were aware they made a mistake.
Maclin's grandmother, Vickie Driver, said when Maclin got out, police handcuffed him. She said once officers noticed he was really bleeding, they began providing medical care. She said she spoke with him after the shooting and he said he would be OK, but he was starting to lose consciousness.
"It is only by the grace of God that Anthony is still here," Driver said.
PHOTOS: Police investigate after officers shoot, wound man
Driver is the president of the Oxford Neighborhood Association and is on IMPD's Critical Incident Response Team. She's often used as a resource by her neighbors.
As a community leader, Driver said she tells her neighbors that if they see something, they should call police.
"I tell them call the police. After this, I can never tell them that cause this shouldn't have happened," Driver said.
The Critical Incident Response Team comes into play in major incidents like officer-involved shootings and reviews so-called "critical incident videos" before IMPD releases them to the public. The videos include edited bodycam video and are narrated by IMPD.
"I don't think I want to be on that board anymore because we just watch the videos, we don't say this or that. I don't think I could watch another video, knowing someone is going through what we're going through," she said.
She said the shooting of her grandson gave her new perspective on IMPD's process of having community members review edited bodycam video.
"We see edited videos. Maybe going forward, if you can see what is really being seen by the bodycam? It makes me wonder now, why is it edited? Why don't we see the raw, what really happened?" Driver said.
The family said they have watched the full, unedited bodycam video of Maclin's shooting. They are calling for that unedited footage to be released immediately. They say the officers that fired shots at Maclin can be heard on video expressing regret after the incident.
"They put themselves and Anthony in an extremely dangerous position unnecessarily and they realized almost immediately what a horrible mistake they made, and they verbalized that on the video," said Wagner.
IMPD tells 13News it plans to release a "critical incident video" of the incident. Those usually include select portions of bodycam video. IMPD also said it would not comment on the tort notice "out of respect for the judicial process."
The department said the bodycam video will be released this week.
In addition to the tort notice, attorneys are requesting the following:
IMPD to immediately release the unedited officer bodycam footage of this incident
IMPD to terminate the employment of officers Chandler, Riley and Gregory
The Marion County prosecutor to criminally charge all three officers for their criminal actions