INDIANAPOLIS — Residents of a northeast side neighborhood are suing former Purdue basketball player A.J. Hammons, claiming his house hosted large, noisy parties that led to dangerous situations for people who live nearby.
The lawsuit claims that because of the large parties at Hammons' house residents are "forced to live in fear each day that themselves, their families, and their neighbors' lives are in danger.
The Harrison Run Homeowners' Association and four people who live there filed the suit Thursday in Marion County. Friday, the judge granted their request for a temporary restraining order to stop any large party at the home in the 9000 block of Fall Creek Road this weekend. Online posts had advertised a party scheduled for Sunday, May 28, the day of the Indianapolis 500.
The neighborhood filed the lawsuit just days after residents called police because people were firing guns and running loudly through their neighborhoods. Residents recorded video of some of the events early Sunday morning. One person was shot.

In the lawsuit, neighbors say Hammons or someone with whom he is working have held "extremely large" parties since 2019. The lawsuit claims, "These parties pose a serious risk to the very lives of the individual Plaintiffs and their families, as numerous parties at the Hammons Property have resulted in attendees discharging firearms on and around the Hammons Property and into the Harrison Run neighborhood."
The suit also says the gatherings are "out of control with noise" that can be heard by people who live in the Harrison Run neighborhood, across Fall Creek Road and more than 75 feet away.
The lawsuit claims Hammons' use of his residence is a nuisance and asks for a permanent injunction to stop the large gatherings.
The complaint against Hammons includes several pictures that the lawsuit says show damage from bullets. One picture shows a shattered shower door that the owner says was broken by a bullet last weekend. Several other photos show bullet holes that the suit claims came from bullets fired in the early morning hours of May 21. Additional images show windows that the plaintiffs say were also broken by gunfire.
Two couples submitted detailed reports about their experiences from that night. Both recounted how they moved their children to back bedrooms in an effort to protect them from gunfire.
One mother reported she was afraid her young son might have been shot in the stomach at one point.
A father recalled pulling his son out of bed as he heard gunshots near the house.
"I did not know whether he had been shot as I grabbed him out of bed. I have never been more scared in my life, and I will never, ever forget that feeling," he said.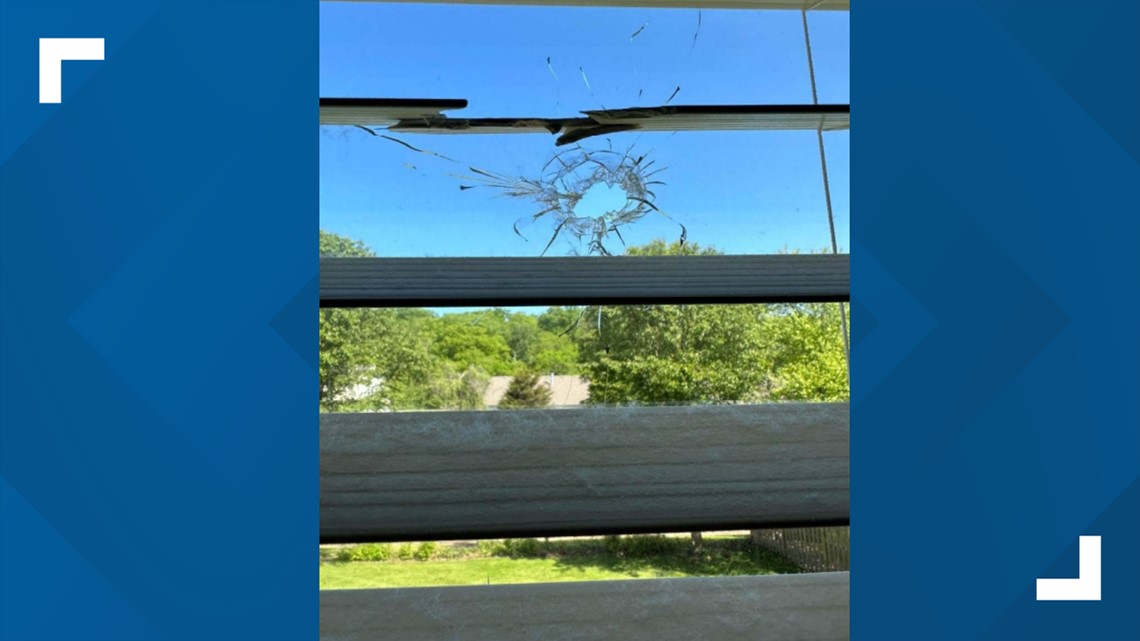 The couple recounted how they discovered a bullet traveled through an exterior wall and an interior door before it hit a corner, went through a stairwell and traveled through another wall, a bucket of cleaning supplies and another interior door before it hit a chair. The father said he ultimately found the bullet resting on the bedframe where his wife and their two young children were sheltering.
They later found where at least four other bullets hit their home.
Neighbors also recounted in the filing how partygoers ran through their yards and reached cars that were parked throughout the Harrison Run neighborhood.
"People from the party were still walking from the Fall Creek address and getting into cars they parked inside our neighborhood," one neighbor wrote.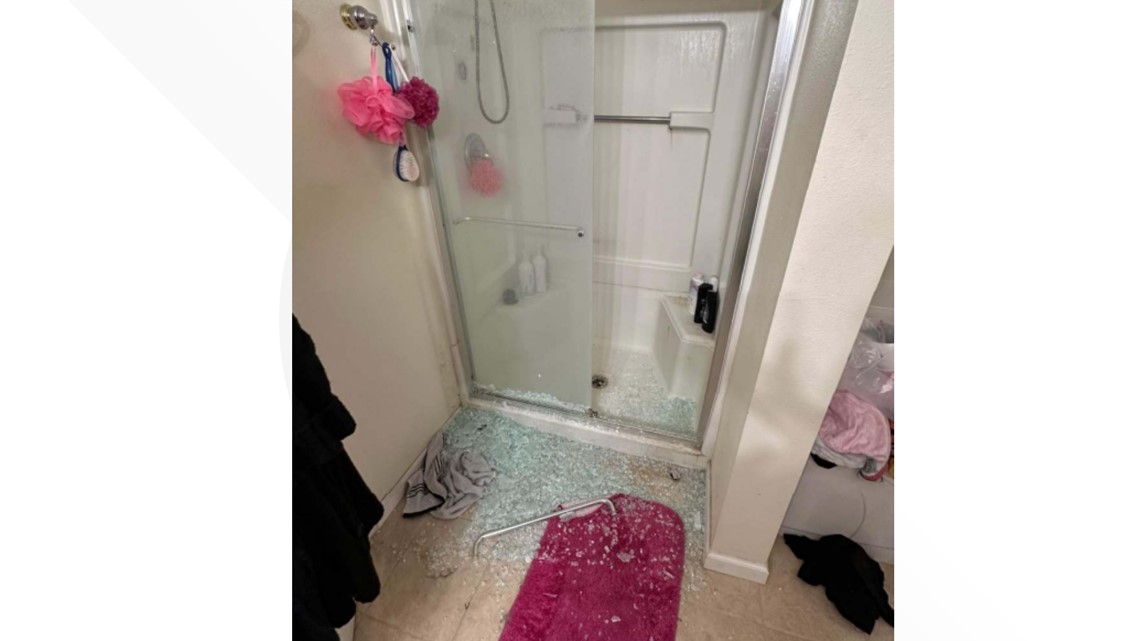 The May 20 incident was not the first time neighbors claim they experienced gun violence because of parties hosted at the home. Two families reported their mailboxes were shot during a party at the Hammons residence in 2019.
Residents say the heard gunfire from the residence during a party in late April 2023, according to the lawsuit.
"I took comfort in the fact that our home was the one place that my kids and my family were 100% safe. Now that has been taken away from me," one neighbor said in court documents.
Friday, the judge issued a temporary restraining order that would limit the ability to hold a large gathering at the Hammons' residence. It limits using any device that makes "unreasonable noise" between 10 p.m. and 7 a.m. or that can be heard anytime more than 75 feet from the sound source. The order also prohibits discharging a firearm across a public way or when entering or leaving the Hammons property. It also limits gatherings to "no more than 20 or more individuals."
The judge set a May 31 hearing to consider a preliminary injunction.
Neighbors asked for the orders because they had seen posts about a party scheduled to take play at the home on May 28. One flyer on social media advertised one of the parties as a "mansion pool party" with a DJ and a wet t-shirt contest. The balcony and poolside sections cost $500 to $650, according to a previous 13News report and the copy of an advertisement included in the lawsuit.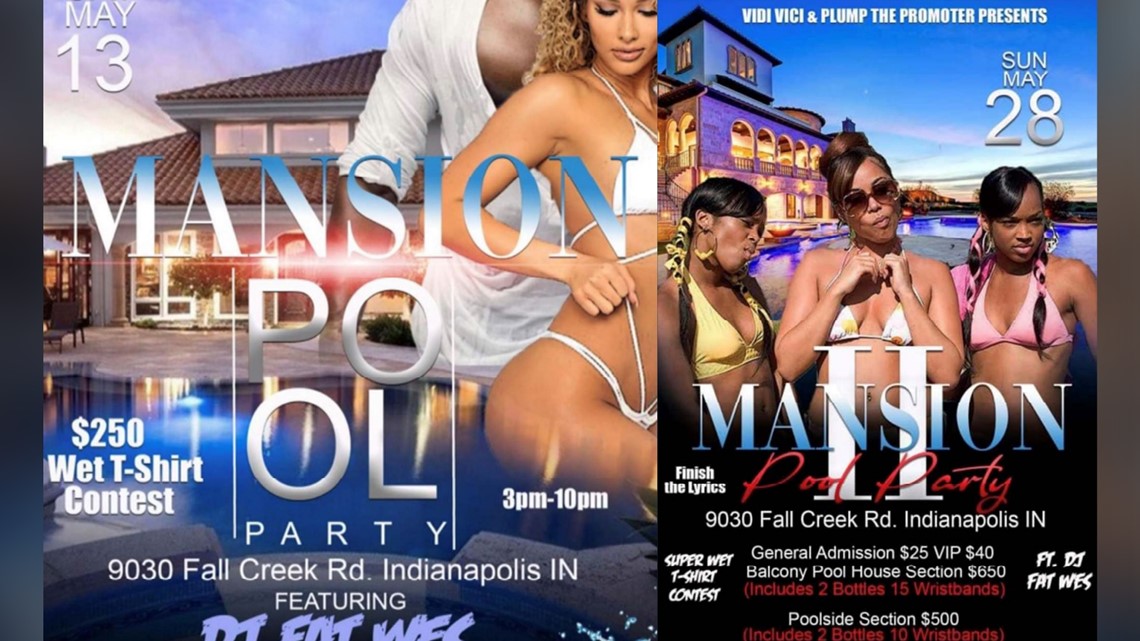 While some parties at the home are promoted, neighbors said many – including the one on May 20 – are not, and so they believed Hammons could host a party that day.
The request for the court to intervene noted that Hammons allegedly made comments that the promoted event was no longer happening. However, the homeowners' association says not all parties are promoted, including the one on May 20, so they wanted to ensure a large party could not happen on May 28.

Hammons does not yet have an attorney representing him in this lawsuit and has not yet provided a response to the court.
Upset neighbors met with city officials last Tuesday. Police reported they have made 21 runs to the house in the last year, 12 in just the last couple of weekends. Police told the crowd they planned to put mobile cameras and officers in the area over Memorial Day weekend.
IMPD's Nuisance and Abatement team reported that its representative spoke with Hammons and referred the case to the prosecutor to determine if he could be fined for any violations.
The property went into foreclosure in May 2022 and was scheduled to be sold in November, but Hammons filed for bankruptcy, which put that sale on hold.