INDIANAPOLIS (WTHR) — Police are investigating the killing of a brother and sister on the city's east side.
Family told Eyewitness News the victims are ​16-year-old Nicholas Nelson, and his 15-year-old sister Ashlynn.
Police are still searching for a suspect who was seen running from the area as police arrived. Police have released images of that person of interest in the case. Despite the blurry photos, police hope someone recognizes the man in the pictures or his clothing which includes a hooded sweatshirt with lettering on the front and some kind of artwork.
Homicide detectives are investigating and talking with neighbors.
The murders obviously left the family of the victims devastated and in shock. The parents of the children want justice for the crime, which happened after their mother left for work.
Jayme had just spoke to his 16-year-old son and had planned to pick him up the day he was killed to spend more time with him. The distraught father fought back tears as much as possible talking about the teens' death.
"They didn't deserve that," he said. "I would take a torture for them. That's how good they were. They were better than some adults, bro."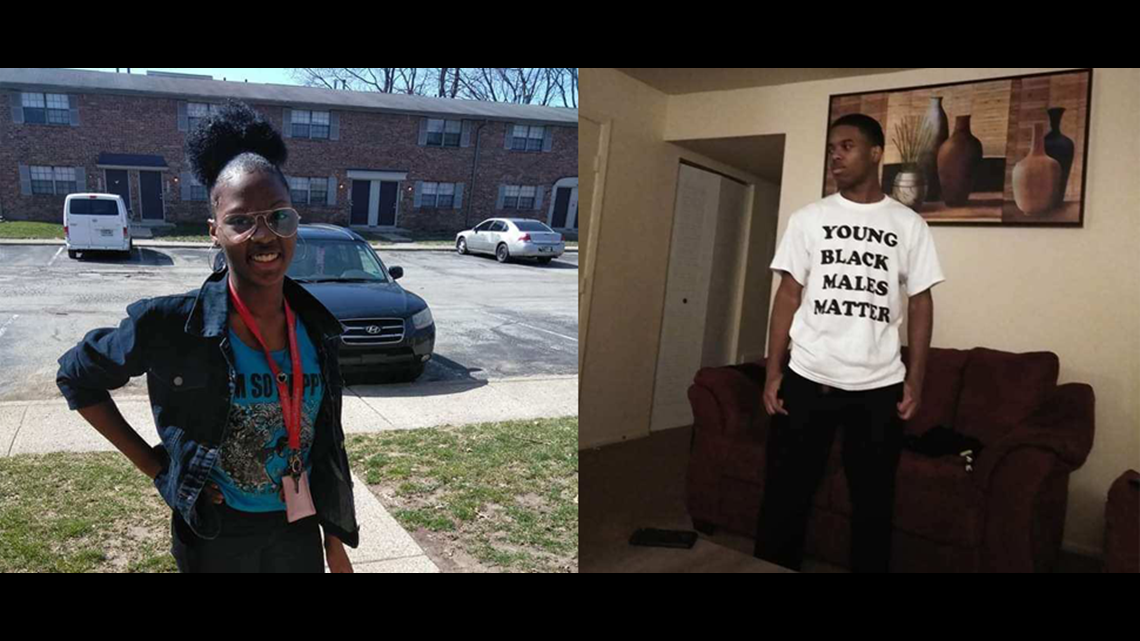 Both Nicholas and Ashlynn both recently enrolled at Lawrence North High School.
Nicholas' mother said he was a straight "A" student with his heart set on attending Purdue University. She stressed to Eyewitness News how she purposely kept them busy in school and out of the streets as much as possible so they would have success in education and a career. His father lovingly called him a bookworm, emphasizing how smart his teenage son was in school.
"I loved him to death. I loved him and his sister," said Jayme. "He spent his weekends or summers at the library instead of chasing girls and all."
Lawrence Township schools issued a statement about the homicide:
The MSD of Lawrence Township is saddened to share that the siblings killed in this morning's double homicide were both recently enrolled students at Lawrence North High School. We are working alongside the Indianapolis Metropolitan Police Department and stand ready to support the Lawrence North High School community in any way.
Family, friends and neighbors appeared to be in shock at the scene. The shooting surprised Ten Point Coalition members who were at the scene to support the family.
"We have developed a relationship with these kids. These are our kids and now two of them are gone," Sam Brown said.
The mother of the victims stayed on the scene as detectives continued their investigation. A close family friend eventually convinced her to leave the complex before the coroner arrived to remove their bodies from their apartment.
The loss of the teens is being felt by many who knew them, including the folks at Indy Urban Acres, where Nic spent last summer working in the non-profit's farm on the east side. Organizers say Nic helped grow food and deliver it to local food pantries.
Indy Urban Acres mourned both teens' Friday on their Facebook page, calling Nic "one of the sweetest, hardest working kids that has ever graced Indy Urban Acres...I can't understand how this can happen to a kid that did everything the right way."
The victims' mother told Eyewitness News she does plan to hold some kind of memorial and hopes whoever is responsible is caught and punished.
Anyone with information about the shooting can call Crime Stoppers anonymously at 317-262-TIPS. If your tip leads to an arrest, you will receive up to a $1,000 cash reward. All calls to the tip line are 100 percent confidential.