MORGAN COUNTY, Ind. — A man accused in a 2019 homicide in Morgan County is now standing trial.
Justin M. Blake is facing two charges of murder and a charge of robbery in the death of Alexander Dashiell Jackson, 23, of Indianapolis.
The prosecution began presenting evidence and witnesses to the jury Wednesday morning.
Blake and Britney Overton are both accused in the killing. Investigators believe the two were with Jackson in his rental car, shot him, left him in a ditch and took off in the car.
The husband and wife, who own the property on Mann Road in northern Morgan County — where Jackson's body was found — testified in court that they were awakened by the sound of about seven rapid gunshots at 4:30 a.m. on Sept. 9, 2019.
"Justin Blake knew the scene, knew the area, was familiar with the parties. And because of what happened that night - I won't go into details - they believe that Alex was perhaps the weak link," said Morgan County Prosecutor Steve Sonnega.

Within a couple days of hearing the shots, the property owners began to smell what they assumed was roadkill. Four days after hearing the shots, the wife discovered Jackson's body while walking her dogs.
Captain Dan Downing, Chief of Investigations for the Morgan County Sheriff's Office, testified about evidence found at the crime scene. Downing described how Jackson's decomposing body was found against a fence, down in a ditch, about 15 feet off Mann Road. Seven 9mm shell casings were found near the road. One spent bullet was recovered near a propane tank that contained Jackson's DNA. Drops of blood were found on a fence. Downing testified the evidence showed Jackson was shot and killed at that location and it was not a body just dumped there.

No ID, cellphone or any personal property was found with Jackson's body, besides his clothing and earrings. A front pocket on Jackson's jeans was pulled out. Downing believed Jackson may have been robbed.
An autopsy showed that a bullet went through Jackson's head, entering from the forehead. Jackson's body was not identified until fingerprints were sent to the FBI.
The prosecutor said Overton may testify against Blake before standing trial herself in May.
How Blake and Overton were identified as suspects
Police arrested Blake, along with Overton, after a 13-month investigation into a badly decomposed body found along North Mann Road in Mooresville.
Police released an image of a shirt similar to the one the victim was wearing and ultimately identified the body as Jackson. The sheriff's office said Jackson had been shot.
In court documents, Overton's sister said Britney was upset with Jackson for allegedly stealing money from her. During the investigation, one of the people police were talking to called Overton and she told them she didn't know anything but heard Jackson was dead.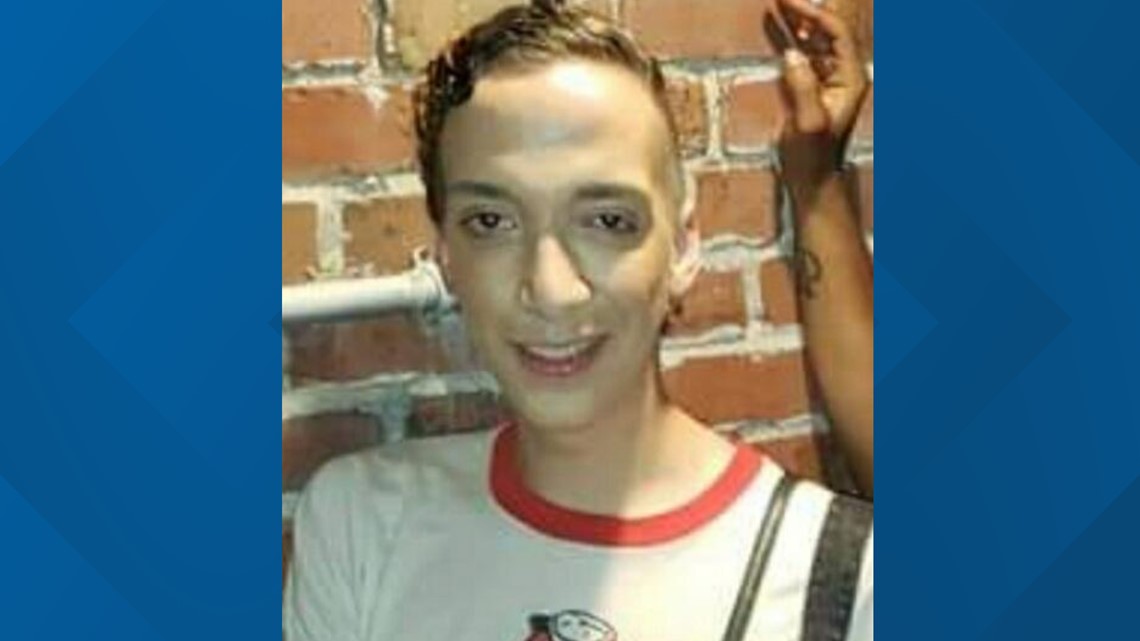 David Good, Jackson's father, who lives in Springfield, Illinois, spoke with 13News at the time of the arrests.
"Britney was a really, really close friend to Alex," Good said. "How do you do that to somebody that you were friends with? And I don't understand how you leave him out there for the animals. He had no flesh left on him."
In the court documents, Blake's grandmother told police that Blake told her he had killed a man. Blake allegedly said he thought the man was going to kill him, so he instead shot the man five times. He then showed his grandmother a news story about Jackson's body being found.
Court records also show Overton allegedly tried to get a gun just days before Jackson's murder and removed him as a Facebook friend just minutes after police believe Jackson was killed.
"Britney Overton has a plethora of Facebook records where she is out there looking for a gun ... talking about the victim in this case that actually robbed her of some money," said Blake's attorney Ryan Dillon said. "[She] has the motive. She's got the ability. She's got one means. She's got the connections."
Overton's DNA was also found on a key ring investigators found along with Jackson's DNA. Police checking her cellphone found that it connected with a tower a half-mile from the crime scene on the day police suspect Jackson was killed.

"He had so many dreams, so it's just not real that I am not going to be able to call him at 3 o'clock in the morning," Jackson's best friend, Ashton Manson, said at the time. "When I first realized that this was Alex, I just felt numb I just kind of sat there and was like 'Alex is dead. He is dead.'"
The prosecutor's office is charging Overton with one count of murder and one count of robbery. Her trial is scheduled for May 10.
"It just opens a lot of wounds back up," Good said. "You try to put it to the side. You're about to get over it. Now I have another long journey with all the court cases. You sit there and just stare off in space. You just see and you have flashbacks. This is an emotional roller coaster."
Overton's trial is scheduled for May 10.