INDIANAPOLIS — Police have a warning for drivers before getting into the car and heading out for that next trip: more road rage incidents are resulting in shootings than ever before.
According to Indiana State Police, the number of interstate shootings around central Indiana went from less than a handful a few years ago to 65 in 2021.
"So far this year, we're on pace to beat that," ISP Sgt. John Perrine said.
Troopers say most of the shootings are related to road rage — people who don't know each other who get so angry, they reach for a gun and fire at the other vehicle — all while driving 60 to 80 miles per hour.
"My family travels on those roads. I travel on those roads. Somebody who makes a mistake while driving shouldn't have to pay with a life sentence," Perrine said.
Those numbers are just a snapshot. They don't include how often it's happening on city streets.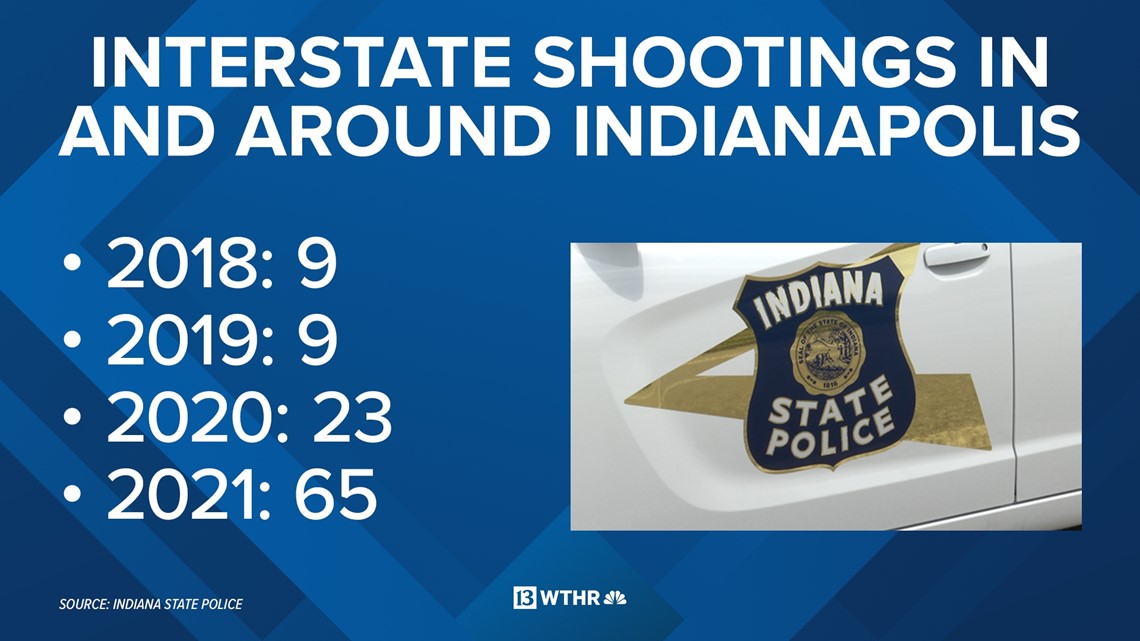 13News sat down with an Indianapolis woman whose daughter was killed in a road rage shooting — and she wasn't even driving.
"She was a passenger in the car," Melissa Brock said. "She was an innocent victim of gun violence. Her life was taken for no good reason."
The human cost
For Melissa Brock, driving anywhere these days can turn into a nightmare with the change of a traffic light.
"I'm the first there and it just takes me a second to move. People will start blowing their horns and yelling and screaming and flipping off and just acting crazy," she said.
Every honk of a horn is a painful reminder of the road rage that changed her life forever.
"Every night when I close my eyes, I see her laying on that steel table," Brock said. "I had to go in and identify her body."
Melissa's daughter, Brandy, was a 31-years-old mother of two. One afternoon, she was just a passenger in a friend's car, getting a ride home.
"The guy in the other car started getting in front of them slamming on the brakes, or getting beside them, trying to run them off the road."
Both drivers were angry with each other. Back and forth they went, until they stopped at a red light.
Brock said both men had guns — and fired them.
Brandy, in the passenger seat, was caught in the crossfire. Bullets from the driver behind them, Brock said, hit Brandy.
"(He) shot into the back of the car. The bullets went through the trunk, through the back seat … and exploded her heart," Brock said. "She was a passenger in the car. She wasn't driving. She didn't have a gun. She was just .. a victim of senseless gun violence."
It's not just in central Indiana, either.
In April, WNDU-TV in South Bend reported a northern Indiana man was arrested, accused of shooting at a vehicle driven by Indiana State Representative Jake Teshka. In court documents, police said Teshka was attempting to drive onto the highway when a speeding van passed on the left, then pulled up to Teshka's vehicle and fired several shots. WNDU reports Teshka's two young children were in the car with him but weren't hurt. Teshka reportedly suffered cuts to his head from flying glass.
An average of 44 people per month were shot last year, and either wounded or killed in road rage shootings across the country, according to the Gun Violence Archive. That's twice as many as four years ago.
"I just don't think people understand when someone's buried, it doesn't end there," Brock said. "It doesn't all go away. That one-second thought, 'OK, I'm mad, I'm going to shoot somebody.' That one-second action affects so many people in so many ways for the rest of their lives."
Investigators said the driver in Brandy's car reached out of the window and fired his gun at the driver behind them. That's when the other driver behind them reportedly stepped partially out of his car and fired back. Investigators say that was the bullet that struck Brandy Brock.
What to do if you're caught in a road rage incident
ISP Sgt. John Perrine said it's critical to remain calm behind the wheel of your car and drive courteously.
If you find yourself caught up in a road rage incident, call 911. Perrine said do not speed up. Instead, slow down and exit the highway as soon as possible.
If you're at an intersection, turn and go the other way. If you're being followed, a 911 dispatcher will tell you where to go.