INDIANAPOLIS — IMPD is investigating two overnight shootings that left one person dead and at least three wounded Sunday.
Woman dies in east side shooting
Just before 2 a.m., East District officers were called to the 2700 block of East Michigan Street, near the intersection of Rural Street, on a report of a person shot. Officers found a woman on the sidewalk who appeared to be shot.
Medics pronounced her dead at the scene.
The Marion County Coroner's Office identified the victim as 35-year-old Sabrina Travis.
IMPD homicide detectives responded to the scene to begin an investigation. On Oct. 5, police announced that 20-year-old Ronnie Smith had been arrested for his alleged involvement in the homicide.
Police said Smith was located "thanks to assistance from the community, real-time information from the Incident Analysis Center (license plate readers, public safety cameras, and other technology), and district officers' knowledge of their beats."
Smith was taken into custody without further incident and arrested for reckless homicide and criminal recklessness.
The Marion County Prosecutor's Office will make the final charging decision in the case.
Anyone with information on the incident can contact Detective Christopher Higgins at the IMPD Homicide Office at 317-327-3475 or e-mail him at Christopher.Higgins@indy.gov.
Anonymous tips can be left with Crime Stoppers of Central Indiana at 317-262-8477 or (TIPS).
3 injured in south side shooting
Just before 2:45 a.m., police were called to investigate a report of shots fired near Southport High School and discovered three people — two men and a woman — were shot at a house on Maynard Drive just across Shelby Street from the school.
Two of the victims were reported to be in critical condition when taken to the hospital. Police did not share a condition on the third shooting victim.
The case was assigned to aggravated assault detectives.
Check back for updates on these incidents as more information becomes available.
Sunday officer-involved shooting
And, later in the day, IMPD confirmed a man was killed in an officer-involved shooting on Holt Road on the city's west side. No officers were injured.
Officers were called to a domestic disturbance late Sunday morning in the 500 block of Holt Road near the intersection of Oliver Avenue, north of Interstate 70.
SWAT also responded and police reported shots were fired from inside the house, according to a police spokesperson.
The officer-involved shooting took place when police entered the house and successfully rescued a woman inside.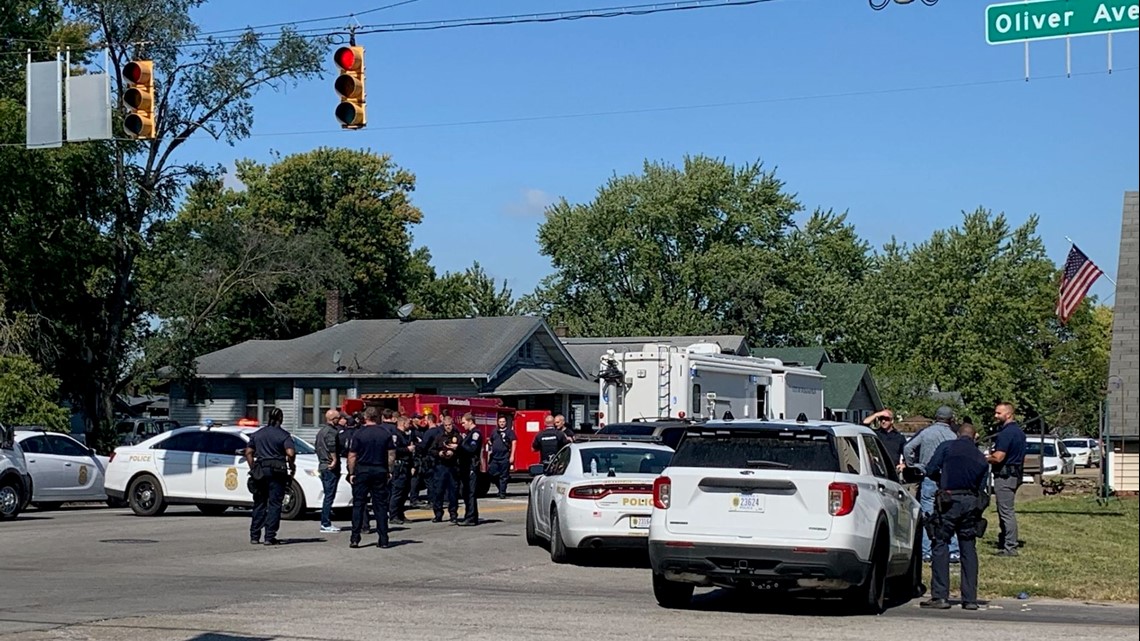 The man died at the scene. Authorities have not shared his name or that of the woman involved in the incident, or details of their relationship.