DELPHI, Ind. — Allen County Judge Frances C. Gull released 118 court documents Wednesday afternoon in connection to the Delphi murders case.
The documents are part of a motion from Richard Allen's attorneys, who want the judge to throw out evidence seized at Allen's house last October.
The court documents, which argue the search warrant was valid and warranted, share the latest information about how investigators believe Libby German and Abby Williams died, and why Allen was charged with their February 2017 murders.
One of those documents examined by 13News revealed prosecutors alleged Allen admitted to his wife over the phone that he killed Libby German and Abby Williams in 2017. He reportedly also confessed killing the girls to his mother.
That alleged confession phone call happened during a recorded call made to Allen's wife from inside Westville Correctional Facility on April 3.
"He admits several times within the phone call that he committed the offenses as charged. His wife ended the call abruptly," according to court documents.
Another document showed investigators believed a knife was used in the murders of German and Williams. An autopsy revealed the girls had been killed by a "sharp object," court documents revealed.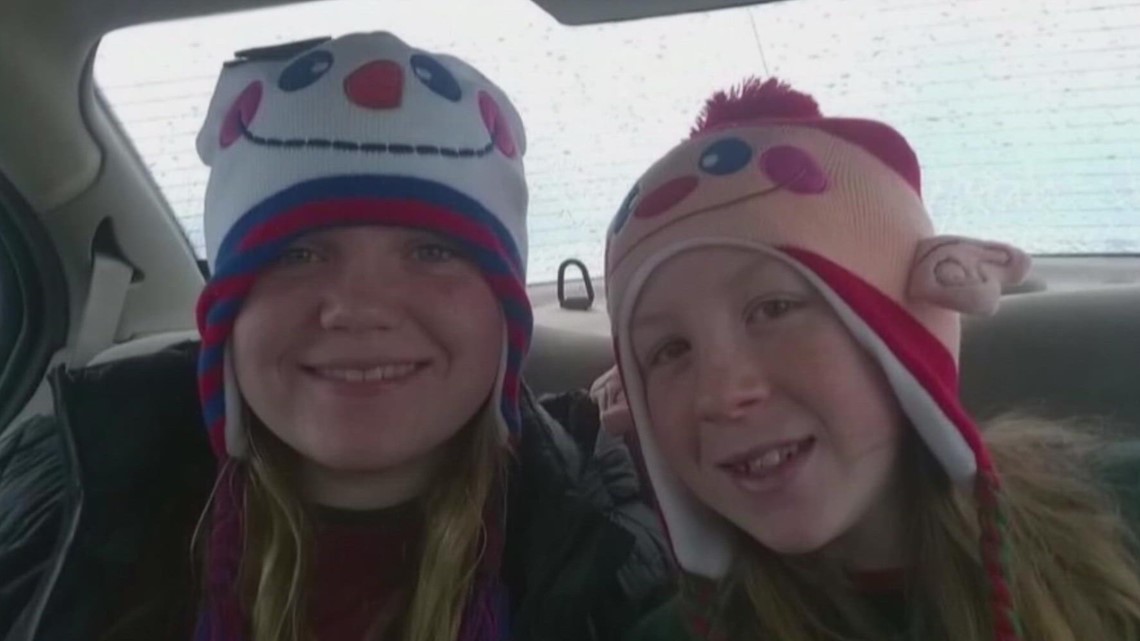 The bodies of German and Williams were found about 0.2 miles northeast of the Monon High Bridge in Carroll County, on the north side of Deer Creek, according to the documents.
German and Williams were reportedly dropped off across from Mears Farm at 1:49 p.m. by German's sister. At 2:13 p.m., a video taken from German's phone shows the girls encountered a male subject on the southeast portion of the Monon High Bridge, according to court documents.
That video reportedly showed Williams walking down the Monon High Bridge as a man in a dark jacket and jeans walking behind her. As he approaches, one of the girls can be heard saying "gun."
Near the end of the video, the man was reportedly seen and heard on video telling the girls, "Guys, down the hill." The girls could be seen proceeding down the hill, and the video reportedly ends.
A still photograph from the video and audio was then released to the public.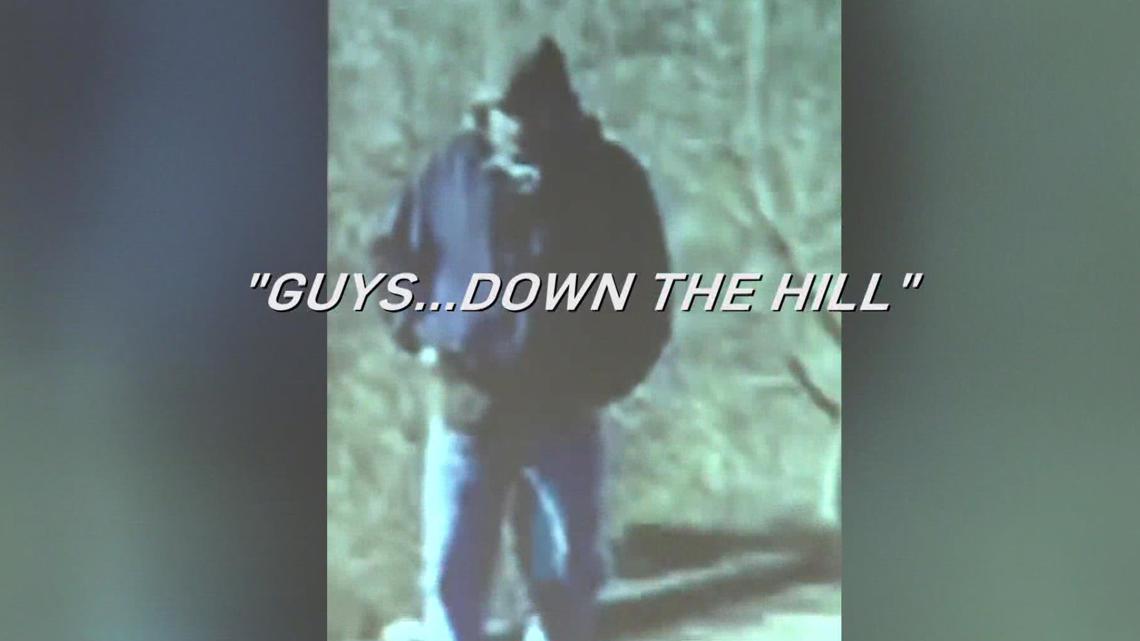 Their bodies were found on Feb. 14, and their clothes were also reportedly found in the Deer Creek, just south of where their bodies were found. The girls' clothes were found separate from their bodies, and some articles of clothing were missing from the scene, including underwear and a sock.
There was an unspent .40 caliber round less than 2 feet away from German's body, between the girls. That round also had extraction marks on it.
The documents also reiterated previously reported information on what led detectives to arrest Allen, including information given to them by witnesses on Feb. 13, the testing done on a Sig Sauer Model P226 that investigators said they confirmed cycled through a gun belonging to Allen, and why police believed Allen was in the woods with German and Williams after 2:13 p.m.
Police also reportedly seized nearly 15 hunting and utility knives — some foldable and some with sheaths — from Allen's home.
Investigators also took carpet samples and swabs from the seatbelts from Allen's Ford Focus they believe was seen near the trail that day.
Allen admitted in two different interviews that he was at the bridge the afternoon the girls were killed. He said he went out on the bridge to "watch the fish."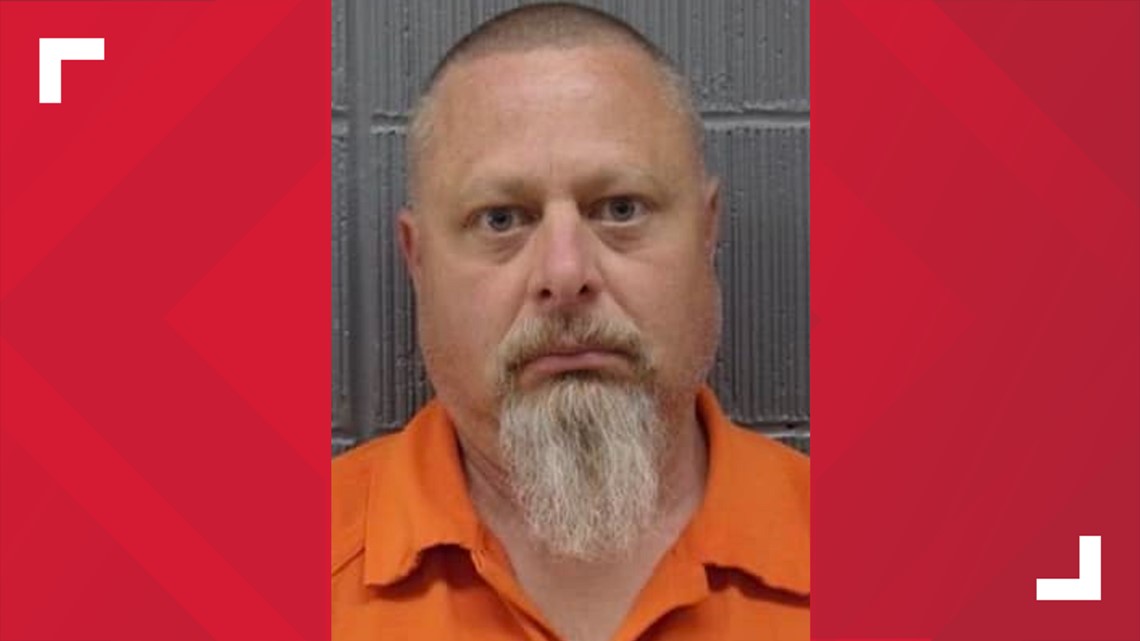 The newly released court documents also demonstrated how prosecutors believed Allen committed the kidnappings which resulted in the death of German and Williams, that he was the man in the video ordering the girls "down the hill," and that they believed they could hear the Sig Sauer Model P226 gun being cycled in audio taken from German's phone.
Investigators also believed German and Williams were removed from the bridge by Allen to the location where their murders occurred, according to the court documents.
Upon release of the documents, Libby's sister, Kelsi, tweeted, "Justice for Abigail Williams and Liberty German is what this is about at the end of the day. Don't let his name be heard more than theirs today or ever."
Charges were filed against Allen on Oct. 28, 2022, for two counts of murder.
When he first entered Westville Correctional Facility in November 2022, Allen was put on suicide watch because he made comments about harming himself. Allen was placed in a segregation unit for his protection.
Within that unit, prosecutors alleged his cell was equipped with a video recorder to record his activities. Court documents describe Allen as quiet, saying he read a lot of books, did crossword puzzles and exercised daily.
During that time, court documents released Wednesday say Allen was allowed to use a tablet in his cell to send text messages, make phone calls and listen to music.
Then, Allen allegedly made the April 3 call to his wife, allegedly confessing to the murders. Court documents allege he confessed no less than five times to the killings.
Shortly after, prosecutors say Allen's attorneys moved to transfer their client out of the Westville Correctional Facility. Investigators say Allen's behavior changed after the phone call, and he lost weight. His attorneys felt his mental state had declined so badly that he would not be able to assist in his own defense.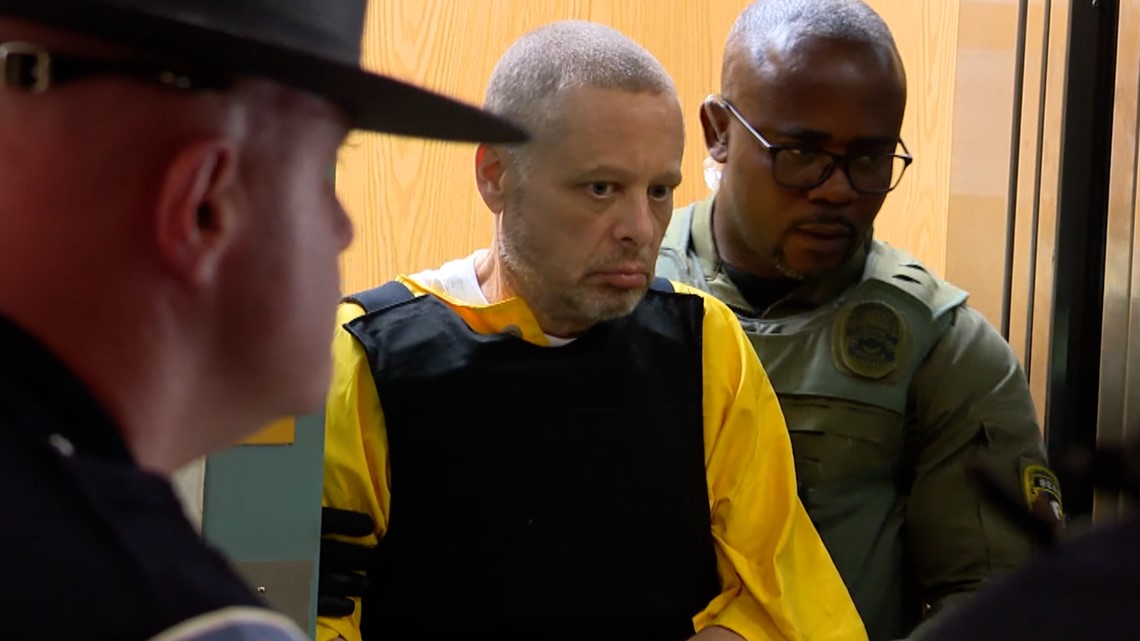 Court documents allege he began "wetting down paperwork he had gotten from his attorney and eating it."
The documents also show Allen allegedly went from making up to two phone calls day as of April 3, 2023, to not making any phone calls at all. Investigators also said after that day, Allen was refusing to eat and would go days on end refusing to sleep.
"To date, Richard M. Allen still has not made a phone call since April 3rd, 2023," the documents read.
The documents show that Allen broke the tablet he had been using for text messages and phone calls. According to the documents released Wednesday, in mid-April, two psychiatrists and a psychologist examined Allen to see if he needed to be involuntarily medicated.
The panel also discussed whether Allen needed to be moved to a facility with a psychiatric unit. Those doctors determined Allen didn't need medication, and he didn't need to be moved.
After that examination, court documents show Allen went back to how he was acting before that April 3 phone call with his wife. He began eating and sleeping again.
Allen's defense team has argued any confessions were due to his poor mental state sustained in conditions they compared to ones endured by prisoners of war while incarcerated.
In another document from June, Allen's defense team objects to a release of his mental health records while in prison.
Included in the documents released on Wednesday was a letter from a fellow inmate, who claimed to be in the same unit as Allen, who alleged Allen was being "abused and mistreated."
"There are corrupt officers and ranking officers calling Richard Allen a kid killer, teasing him that he has a visit from his family," the letter reads.
That inmate also alleged fellow inmates "threatened to kill Richard Allen" and told him to "kill himself."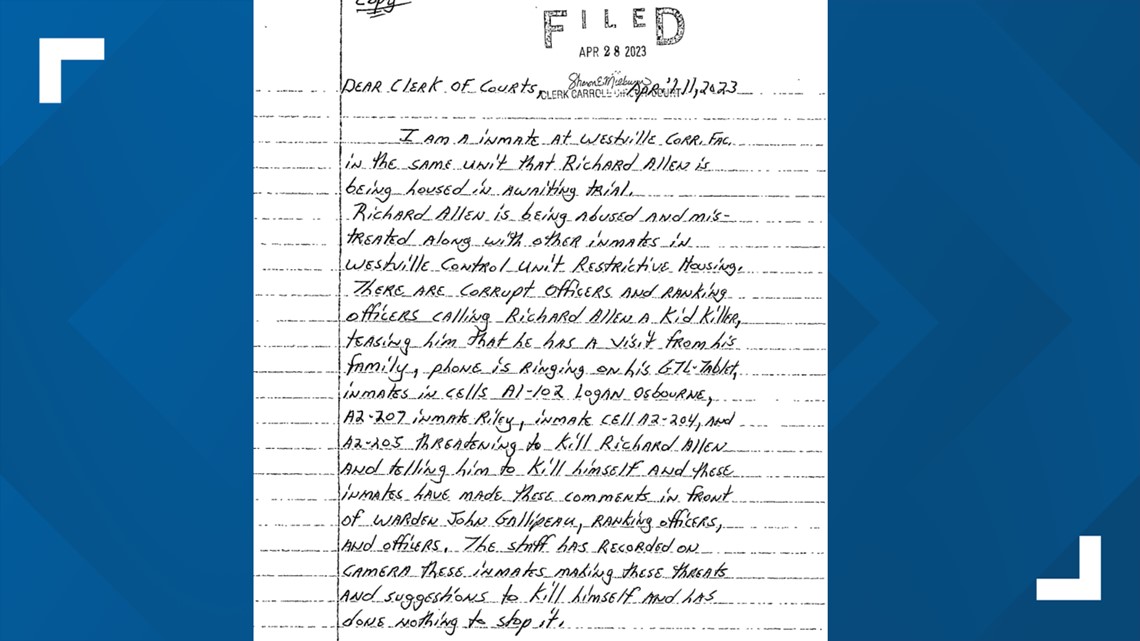 In a subpoena included in the court documents, Allen's lawyers requested to inspect, measure and survey his cell.
They also filed a motion to have him moved to a different facility. So far, that hasn't happened.