INDIANAPOLIS (WTHR) – Investigators believe they have identified those responsible for that massive drug overdose that occurred in and around the Wheeler Mission men's shelter in January.
Police have arrested four men on a variety of gun and drug charges.
While making the arrests, police seized nearly 10 pounds of synthetic marijuana, $5,000 in cash and handguns.
Antonio Lamb, Shamar Brown, Dominic Johnson and Chester Irons are suspected of preying on some of the city's most vulnerable people. Dozens of victims were taken to hospital emergency rooms.
"The homeless population was being targeted and victimized by a group of dealers from the near-east side," said IMPD Lt. Brian Churchill.
25 men overdosed in 24 hours in and around Wheeler Mission. Dozens were taken to hospital emergency rooms.
A security camera captured part of the chaos. A man outside the shelter is seen smoking what authorities suspect is the drug. Minutes later, he staggers then collapses to the pavement. He appears to be unconscious.
Inside the shelter, one man ran into a wall. Another bit a man in the neck as shelter workers tried to get help and maintain control.
"It did not give me nightmares but it did keep me up a few nights," admitted shelter director William Bumphus.
Within a day, IMPD had one man under arrest. Last week, officers moved in on the alleged ringleaders.
Investigators said the drug also known as "spice" was laced with an unknown chemical.
"That chemical is what was causing people to basically turn into zombies," Churchill said.
Many of the shelter's residents are addicted to drugs and suffer from mental illness. Their disability and social security payments arrive at the end of each month, making them easy prey for dealers.
"We just need to make sure that we are doing anything we can to protect people while they are here." Bumphus said.
The shelter is searching residents more toughly. It increased the number staff members watching over them.
"We did take this personally," said Churchill. "That's why (IMPD) had a homeless unit downtown." That special unit he said earned the trust, help and cooperation of a community too easily overlooked.
Although the arrests are a huge relief, Wheeler Mission administrator Steve Kerr is concerned.
"Sadly, there will always be other dealers to take these guys' place," Kerr said. "So it is a never-ending battle with us." A battle to help people struggling to help themselves.
Metro Police announced Thursday a trio of search warrants connected to overdoses at a downtown homeless shelter.
Detectives confiscated five handguns, nearly 10 pounds of synthetic marijuana and more than $5,000 in cash, several drug paraphernalia items and made four arrests while serving three search warrants last Thursday, February 22. Investigators say they were the direct result of the ongoing investigation into the Wheeler Mission overdoses from January 30.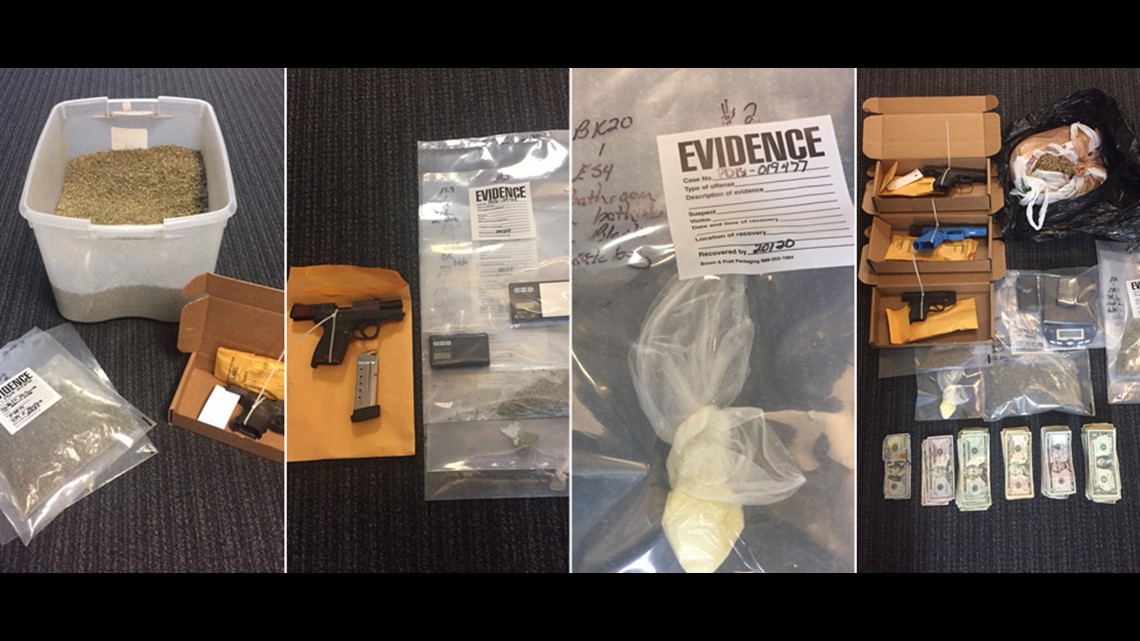 The related investigations began after several people began overdosing on synthetic marijuana known as spice or "Katie." Dealers were mixing the synthetic marijuana with a chemical to increase the levels of intoxication, according to police, but it also created a health concern. Detectives say they found drug houses that directly supplied lower-level drug dealers who targeted the homeless population.
​In the first raid at 2:45 p.m. last Thursday, narcotics detectives and county probation officers found a large plastic tub filled with roughly seven pounds of synthetic marijuana, a separate bag of the drug and a loaded handgun in the 500 block of N. Keystone Avenue. They arrested 26-year-old Antonio Lamb on charges of dealing a synthetic drug, possession of a synthetic drug, possession of marijuana and escape.
A few hours later, SWAT officers and detectives found three plastic bags of synthetic marijuana, two digital scales and a stolen .45 caliber loaded handgun in the 300 block of N. Gladstone Avenue. They arrested 39-year-old Shamar Brown and 32-year-old Dominic Johnson on outstanding warrants.
Then at 8:45 p.m., SWAT officers in the 600 block of N. Oxford Street found a duffle bag with large bags of synthetic marijuana, several more baggies of spice, three loaded handguns, several electronic scales, pills, an unknown chemical used to mix with the spice to make it stronger and more than $5,000 in cash. They arrested 26-year-old Chester Irons on charges of unlawful handgun possession, dealing of a synthetic drug and possession of a synthetic drug.
Anyone with information about these cases or any other drug problems in the city is asked to call Crime Stoppers of Central Indiana at (317) 262-TIPS (8477). Citizens can also download the mobile P3tips app for Apple or Android phones to submit a mobile tip, or go to www.CrimeTips.org to submit a web tip. You will remain anonymous and may be eligible for a cash reward of up to $1,000 if the information leads to a felony arrest. Only tips submitted directly and anonymously to Crime Stoppers are eligible for these cash rewards. Information given via Crime Stoppers is considered anonymous.