INDIANAPOLIS — Roughly six hours after identifying a "vehicle of interest" in a fatal hit-and-run of an 11-year-old boy on Saturday, IMPD said the truck was located by detectives.
Investigators said the crash happened on the south side of Indianapolis near the intersection of Wicker Road and South Tibbs Avenue on Dec. 11.
Officers were called to the area at around 4:30 p.m. on a report of an 11-year-old boy who was hit by a car while he was riding a small motorcycle.
Investigators believe the suspect was driving east on Wicker Road when they hit the boy. IMPD said the suspect drove away without stopping to provide information or help the 11-year-old, identified by his family as Kyson Beatty, who died at the scene.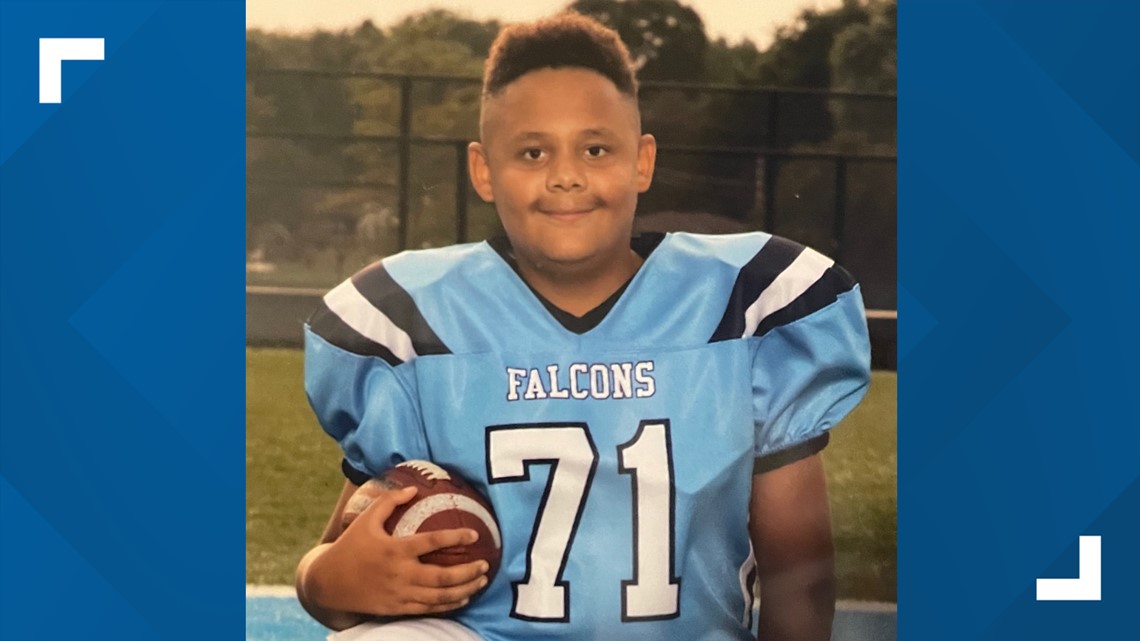 On Sunday evening, IMPD released images of a "vehicle of interest." Prior to the crash, the truck was seen with tires loaded on its trailer as it traveled west on Wicker Road from State Road 37. After the crash, it was seen traveling east while hauling the tires as well as a white Bobcat.
Perry Township Schools, where Beatty attended, sent a statement to 13News about his death:
"Perry Township Schools staff is heartbroken after learning of the tragic death of 6th grader Kyson Beatty. Kyson was a well-known, involved student. A void is felt throughout the district and in particular, Perry Meridian 6th Grade Academy, where he was a student. To support our students and staff during this difficult time, extra counselors will be available as well as additional grief resources. Our thoughts and prayers are with the Beatty family, friends and loved ones."
Late Sunday, IMPD said that detectives had located the vehicle thanks to assistance from the community. IMPD said detectives were continuing to investigate and there were no additional updates to share.
Beatty's family was at the crash scene Sunday where a small memorial including a stuffed bear and balloon was placed.
Mark Tarter, Beatty's grandfather, said he and his family are still in shock after losing Kyson.
"Just devastated by it. It's just something you never think you would have to experience in life," Tarter said.

Family members said Beatty was riding home to his house in the Southern Dunes neighborhood after leaving a friend's house in the Whispering Falls neighborhood when he was struck.
"He was coming from his friend's house over here. I guess he came out in the street here. The interpretation is the vehicle struck him. The person kept going. They didn't stop," Tarter said.
Tarter believes that if the driver had stopped and immediately called 911, that could have made all the difference and possibly saved Beatty's life.
"It's just tragic to think that anyone could leave a little boy like that there, injured and hurt, and leave the scene," Tarter said.
Tarter can't help but think about all the things Beatty hoped to accomplish, and now never will.
"Just such a great kid. He was such a happy-go-lucky kid. He loved sports to no end. I was just at a Pacers game last week with him. He was like, 'Papaw when I make it to the NBA are you going to come to watch me play?' I said, 'You bet I will,'" Tarter said.
IMPD accident investigators are asking anyone with information about this incident to call the IMPD Hit and Run Office at 317.327.6549 or Crime Stoppers of Central Indiana at 317.262.8477 or (TIPS).