INDIANAPOLIS — Families were celebrating birthday parties inside a far east side Chuck E. Cheese on Sunday when gunfire rang out as a man was killed in the parking lot.
The shooting happed around 5:30 p.m. in the 10000 block of East Washington Street, near Mitthoeffer Road. Police believe the victim walked out of the restaurant before being shot in the parking lot.
In the restaurant, full of children, chaos erupted.
"There was chaos. They were met with chaos. There were people trying to flee the facility. There were people trying to get in their cars and get away from the area as gunshots had been fired in the area," said IMPD Ofc. Samone Burris.
Glass was shattered by gunfire right where parents and their kids were eating. Witnesses described the frightening scene and said kids heard and saw it all.
"[I] ran to the door to open it so we could find safety and stuff and it was locked so we just started piling on top of each other," Jessie Humphries said.
"You know, you were just grabbing kids. It didn't necessarily have to be your kid. You just want to make sure all the kids were down," Shantel Dalton said.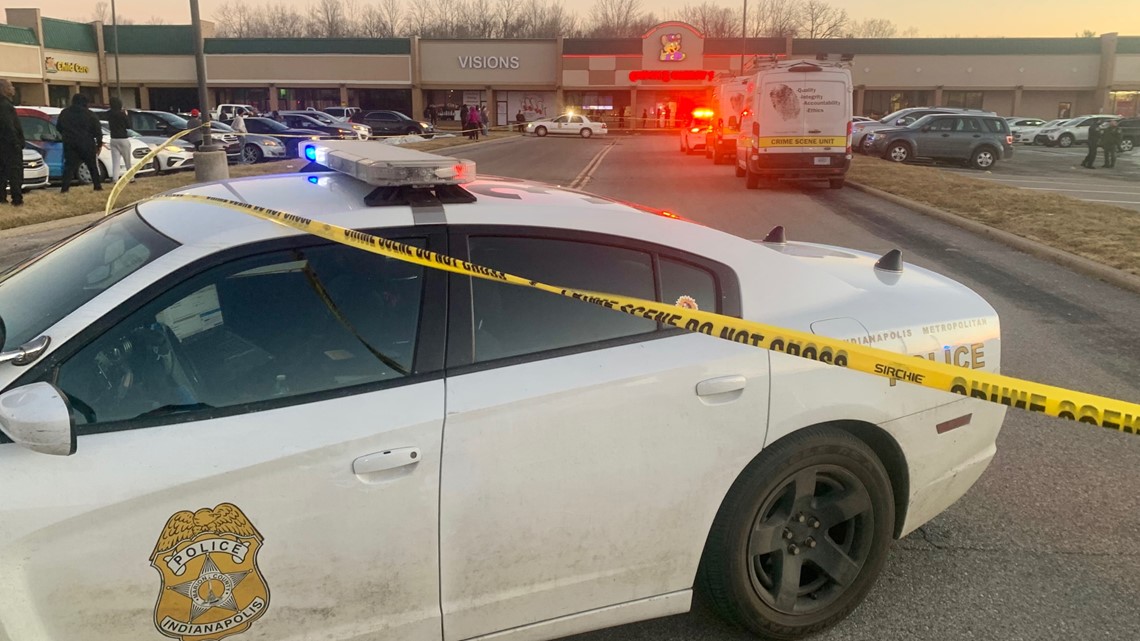 Dalton and her family were there for a 2-year-old's birthday party.
"We didn't even get to sing 'Happy Birthday' to the child and now all these children have been exposed to violence that is very unnecessary," Dalton said.
Another group full of children at Chuck E. Cheese Sunday was celebrating a birthday for twin 5-year-old girls. Their grandmother said the kids were right up near the front of the restaurant, seconds before the gunfire started.
She didn't want to talk on camera, but did want to share what her family went through:
"Just putting candles on the cake to sing when the shots were fired," she told 13News. "Huddled under tables. [I was] shoving my granddaughters to the floor and my 81-year-old mother. I'm laying on two of my girls who were hysterical asking, 'What's happening?'"
The far east side restaurant was quiet and closed Monday, in stark contrast to the chaos from the night before. It will remain closed until Tuesday.
Crews made repairs to windows that had been busted by bullets in the deadly shooting.
Terence Muncie's vintage toy shop, Grayskull Collectibles, took a bullet, too. It went in through the window just minutes after Muncie closed up and left for the night.
"This bullet came through here, hit this box, hit three toys and shattered and hit a big toy over here," Muncie said, showing 13News the damage. "But really, the worst thing about it is what the kids saw over there because there were kids inside that Chuck E. Cheese. I mean, toys can be replaced."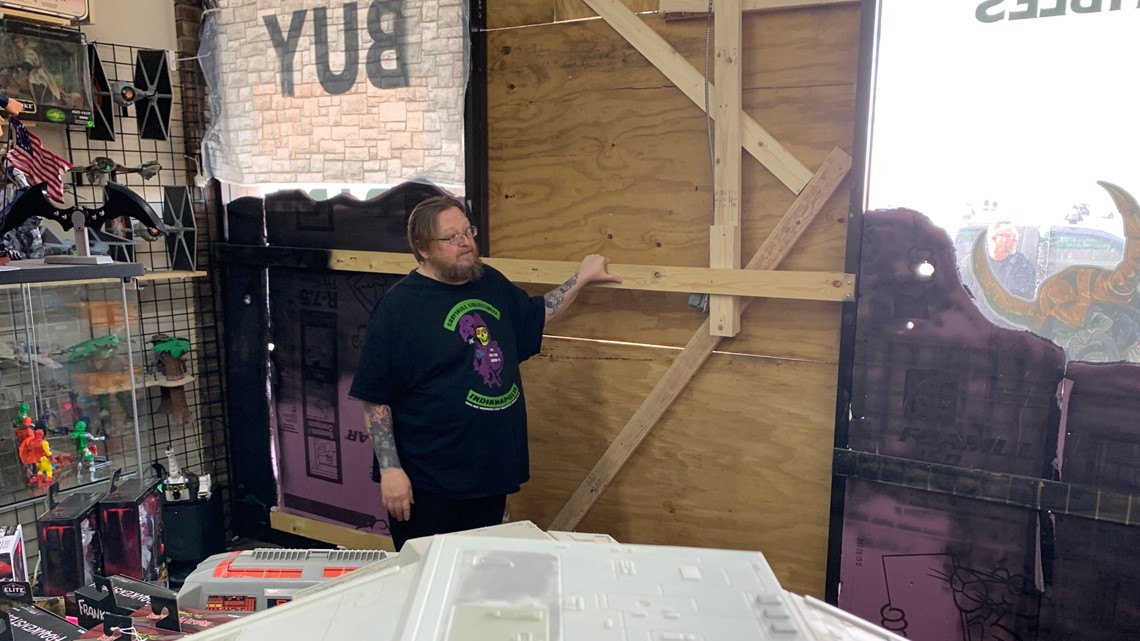 Metro Police on Monday did not have any additional suspect or vehicle descriptions to share from the investigation, just that they believe the suspect was possibly driving a white SUV.
They're still asking anyone with cellphone or surveillance video of the shooting to contact them, so they can find the killer.
On Monday, the coroner's office identified the victim as 34-year-old Anthony Tinnin.
Anyone with information can call the IMPD Homicide Office at 317-327-3475 or call Crime Stoppers at 317-262-TIPS to remain anonymous.