PENDLETON, Ind. (WTHR) - Her story is so rare, so extreme, Jill Mabrey feels compelled to share.
Mabrey is a nurse and a mother of three from Pendleton. After her milestone 40th birthday, she said she felt like she was falling apart.
She felt fatigued, exhausted and had a hard time breathing. She is petite and yet quickly gained 15 pounds.
"I'm a nurse and I even remember getting in the car after a long day at work and hearing about February being heart health month and thinking, 'I have those symptoms, but no, that is not me'," Mabrey said.
Her first doctor didn't suspect her heart, either. Mabrey was diagnosed with pneumonia and took antibiotics, but she didn't get better.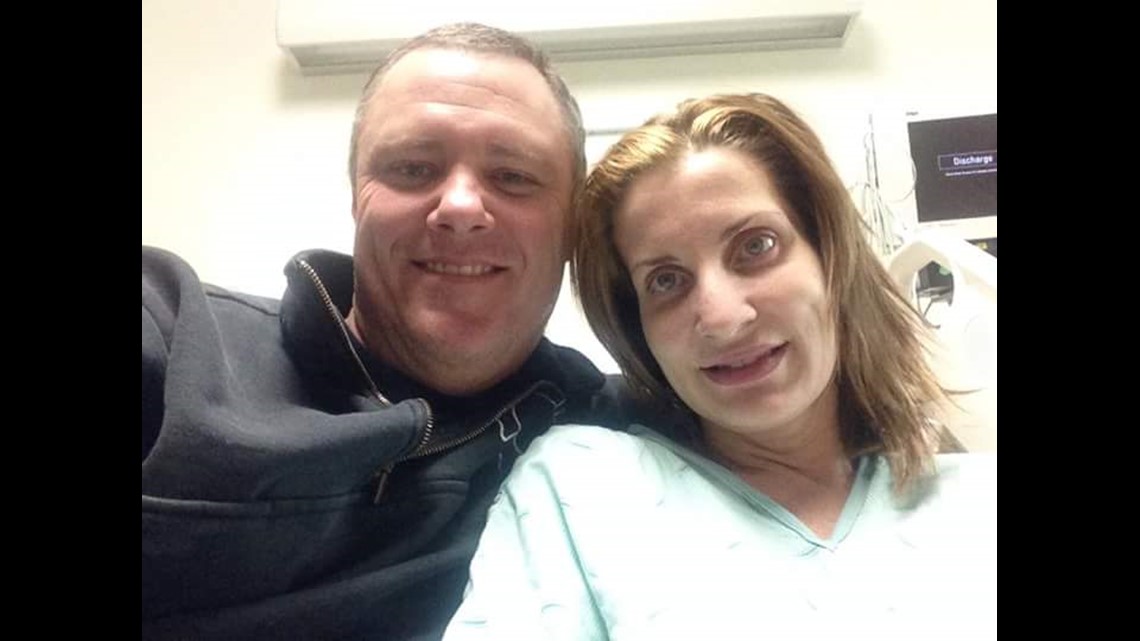 One day she realized she was so weak, she couldn't properly care for her toddler.
"My daughter was in a crib with her arms out for me to pick her up and I didn't have the energy to even get her out of the crib, I was just exhausted. Luckily my husband said, 'We are going to the hospital'," Mabrey said.
The emergency room doctors told Mabrey she was in heart failure and that her lungs were filled with fluid.
"Her heart function was very weak, less than 10 percent and so she was in serious trouble," St. Vincent Interventional Cardiologist Dr. Elaine Moen explained.
Jill's husband Brett remembers the shock.
"Within 24 hours, we are at The Heart Hospital talking to Dr. Moen about a heart transplant. Here we are 40 years old, no risk factors."
Jill was diagnosed with cardiomyopathy.
When the news broke, her family and friends in the town of Pendleton rallied. Street lights along Main Street were decorated with red ribbons. Friends sold t-shirts in support of "Jill's Journey." Her family traveled in from across the country to show support and pray.
But Jill continued to get worse.
Doctors discovered a blood clot in her heart. She had a stroke while at the hospital.
What happened next is what makes her story unique. After the stroke, Mabrey remembers being on the ground, unable to move her legs. Her speech was slurred.
"All the doctors and nurses were around me. I just gave it all to God. I thought, 'Take me. Save me. You know His will'."
It was a powerful moment.
"I remember a physician was right in front of me. He said, 'You have had a stroke. We are going to do surgery. We are going to go in and try to grab the blood clot.' He said, 'You just need to do one thing: You need to have the faith that you had in your room. That is all I need you to do'," recounts Jill.
When she woke up, a nurse was at her bedside.
"I said, 'Did I have the surgery?' She said, 'No,' and so what happened was right when they took me back and the doctor got ready to shave my head, I started talking!"
Brett was in the waiting room when the doctor come out with an update.
"He said, 'I've done this for a very long time and what I saw downstairs doesn't happen. Very clearly was a blood clot on the right side of her brain. We did another CT scan and it's gone. I don't know what you believe in, I don't know what your faith is,' but he said 'I'm pretty sure I saw God tonight, because that doesn't happen'."
Jill never had that surgery.
"Her heart function is back to normal and I would expect her to live a long life," Dr. Moen said.
The Mabrey's believe Jill was saved by prayer, her doctor's skill to share her faith and the warning of what can happen when you are too busy to recognize what your body is trying to tell you.
One way to check your heart health is a heart scan. St. Vincent is offering a $49 heart scan for people 40 years and older who haven't had a scan in the last five years and have at least one of the following risk factors:
Family history of heart disease
History of stroke
Other vascular disease
Smoking
Abnormal cholesterol levels
Diabetes
Obesity
High blood pressure
to see the locations available. If you qualify, register by calling the hotline on Monday, February 13 at 1-866-824-3251 or by
.