Weight-lifting is one of the ways Bennett Cross, 29, of Westfield stays fit. He remembers the moment when he pushed himself too hard.
"I was dead lifting. I was going for a personal record. I was wearing a belt to try and protect myself. As I was lifting up I felt kind of a tearing sensation. I set the weight down, took the belt off and right then I would just see the little bubble," Cross said.
That bubble was a hernia, a tear in his abdominal wall with a piece of tissue poking through it.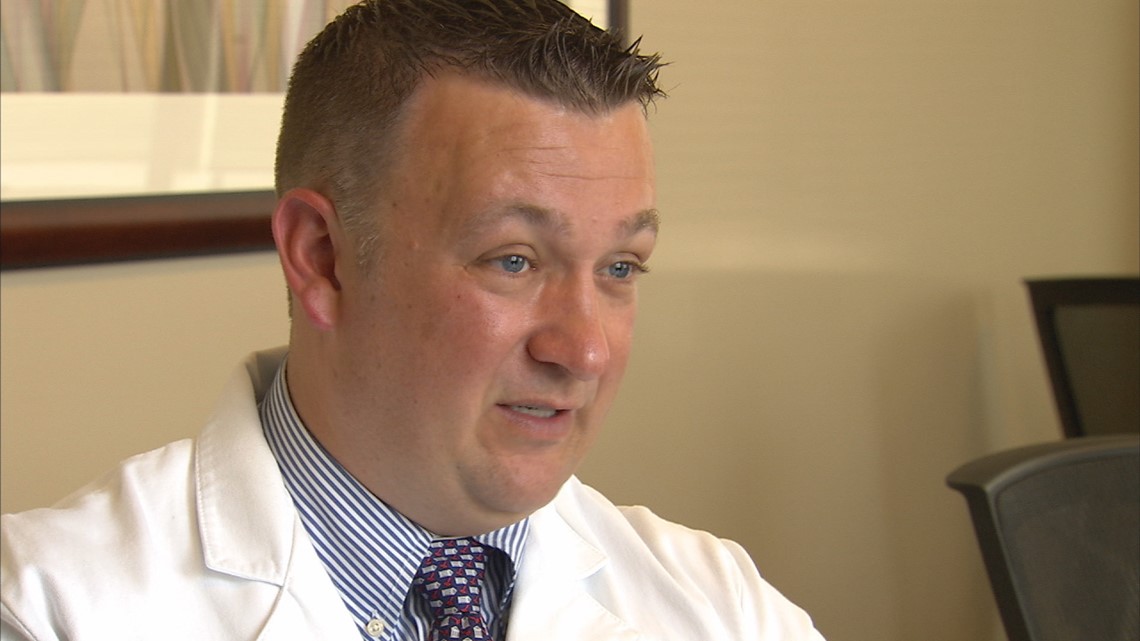 "It's a double edged sword. We want everybody to work out, but at the same time that is a key to generating hernias is some of the heavy working out and the core exercises that are being done out there," Dr. Paul Szotek said. He's a surgeon with St. Vincent who specializes in hernia repairs. "In today's day and age, one would think that we were getting screened early, but we are actually seeing them being put off more than anything."
Szotek says the natural progression is for a hernia to grow over time. That can lead to complications and fewer options for a fix.
"The consequences of waiting too long is they are more likely to get to a point of intestines get twisted in there and it becomes an emergency," Szotek said.
Szotek says there are several surgical fixes. Generally, the earlier a hernia is detected, the more treatment options you have.
"Years ago, it meant a week or two or three off work, a day or two in the hospital. But with the newer technologies, all of these surgeries are being done on the DaVinci robot. Most patients will go home the same day as an outpatient procedure and in five to ten days are back to relatively normal activity," Szotek said.
Bennett opted for a surgical repair with mesh and is now back in the gym and preaching prevention.
"Really focus on core development; really focus on your training. Don't always be doing heavy lifting, but look into going into yoga, pilates ... will really help you out," Cross said.
A word of warning, though: doctors say intense yoga or pilates after pregnancy can actually make you more vulnerable to a hernia.
If you are 18 or older and have a hernia you would like a doctor to examine, you may register for a free consult at St. Vincent through Check up 13. You must be an Indiana resident and call (1-866) 824-3251 between 8 a.m. and 7 p.m. Thursday, June 13. You can also register online through 11:59 p.m.