Johnson has run the race a few times before, but this is only his second time since he's been visually impaired.
"I have Leber's hereditary optic neuropathy" he explained. "I went to work at 6:30. I was sitting there eating my breakfast...I got ready to go to my job site and at 7:01 my sight was completely gone. It just disconnect like a TV."
Johnson knew he had the genetic disorder before losing his sight completely, but at 52, he found himself living a very new normal.
He admits it's been a tough journey with plenty of lows at times, but he's found light in his love for running.
"It gives me that freedom of just being in the outdoors, that freshness, that openness," he shared. "I'm not giving up."
He worked with Thomas for years, but their close friendship was one that neither of them saw coming.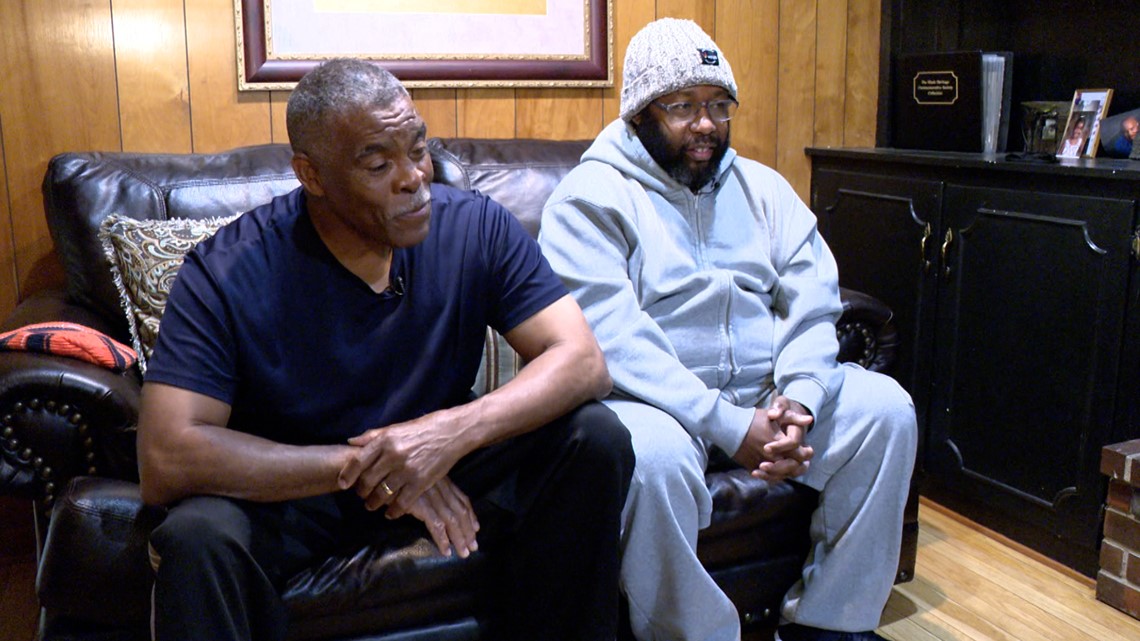 For the second year now, Johnson and Thomas will run the OneAmerica 500 Festival Mini-Marathon together – with Thomas as Johnson's guide.
"It gets fearful because you don't know what's in your way. But with him being my guide, the fear is not there because I know he's with me," Oscar said.
Thomas may serve as Johnson's eyes during the race, but he'll be the first to tell you it's Johnson that's been guiding him.
"I said, 'Hey look...first of the year, I want to get my body back,'" Thomas said. "I was sitting there at 315 pounds, literally just wasting away. So first of the year 2021, we started off in his garage."
Johnson certainly didn't go easy on him.
"Being the persuasive man that he knows how to push my buttons," said Thomas, sharing that at many times he wanted to give up. But his friend kept pushing him further, declaring a challenge that Thomas thought he would never be up for. "Oscar was like, 'We should run a mini-marathon.' And I was like, 'That's a hard no.'"
Well, that "hard no" eventually softened into a "yes" because the two not only ran but finished the Indy Mini in 2022 – crossing the finish line 13.1 hard-fought miles later.
"And I mean, I wore my medal for like two weeks straight just saying, 'Hey, this is one of the greatest things of my life,'" Thomas said.
It's a moment the pair looks forward to recreating this year.
"It's joy and happiness," Johnson said, sharing his favorite part about participating in the Mini-Marathon. "It gives me a chance to be around 30,000 people. You know...the excitement".
The excitement will be waiting for him at the starting line on Saturday.
While Johnson said it can be easy to focus on what he's lost – he likes to focus on what he's gained. He said he's learned that "going through the training and going through...life experience is you don't have to give up, you can still do the things that you want to do. You just have to do it a different way."