INDIANAPOLIS — If you've filled up your gas tank recently, you likely let out a sigh and not of relief.
To save money, ask yourself, "Do I stick to the same station, or fill up when it's time?"
If you stick to the same station, a loyalty program or membership might make the most sense. They can often save you between 5 and 10 cents a gallon.
Certain loyalty programs might only need a phone number or app, while others might require linking a bank account or signing up for credit card.
If you fill up when your tank is empty, compare gas prices on an app like GasBuddy. That shows you who is charging what. Then, use your credit card with the best rewards.
For example, if you have the Discover it card, it's 5% cash back on gas until the end of June.
Sara Rathner with Nerdwallet said there are also credit cards with customizable rewards.
"The Citi Custom Cash is one example where you get 5% on your top spending category," Rather said. "Some of these customizable cards, you can either pick the category every month, or every quarter, or it actually automatically analyzes your spending."
Rathner added it could also pay to go with paper.
"Am I saving more by paying cash? Or would I be better off using my cash back credit card?" Rathner said.
At Kroger, you can stack savings using your best credit card with their free loyalty program. Kroger loyalty points can be found on the bottom of your receipt and do expire. There are also alternating gas point promotions.
Another crowd favorite? Wholesale clubs.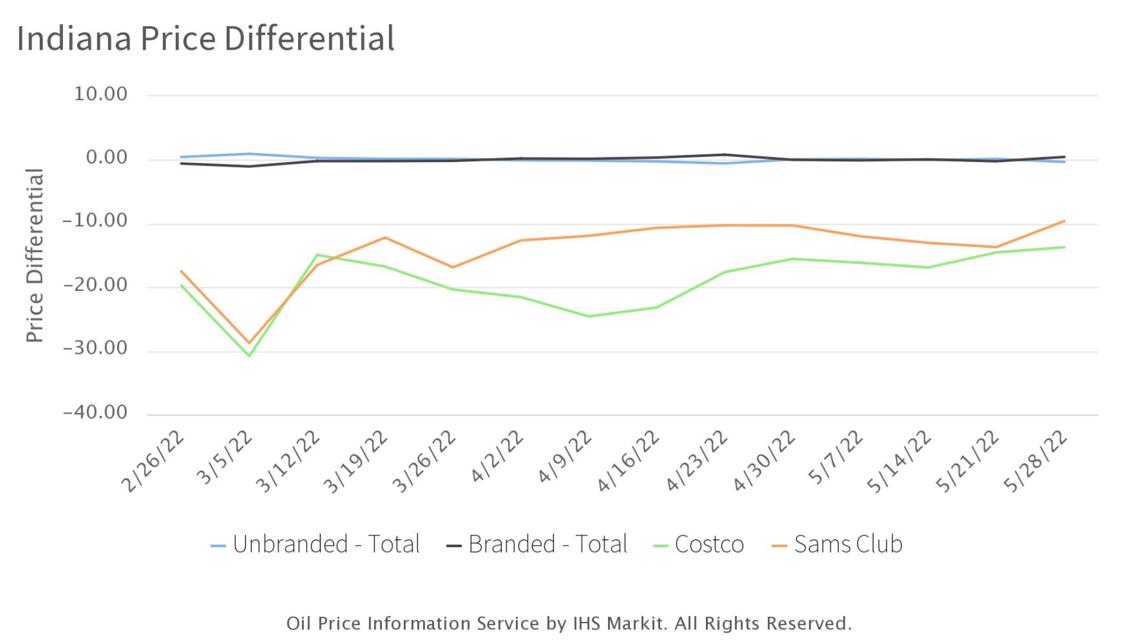 Since February of this year, data from OPIS shows gas prices at wholesale clubs are consistently cheaper than other branded and unbranded gas stations. An analyst said examples of branded stations would be Exxon, BP and Shell, while unbranded would be Wawa or Sheetz.
On Tuesday, the Costco on Michigan Road in Indianapolis was around 5 to 7 cents less than its neighbors for a gallon of regular gas.
If you use the Costco Anywhere card on top of that, it's another 4% back.
Finally, do your best to plan out weekly routes to reduce the number of trips you take, and talk carpooling with parents and coworkers.