SPEEDWAY, Ind. — Chevrolet's racing heritage is legendary, tracing roots back to co-founder Louis Chevrolet who drove in the Indy 500 four times, with a best seventh place finish in 1919. However, Chevrolet is only one auto brand competing in this year's Indianapolis 500 on May 29. The other is Honda, and its racing heritage is just as rich.
Racing is the foundation
After the 1923 Tokyo earthquake, founder Soichiro Honda worked for an auto repair shop owned by Yuzo Sakakibara, who was a racing enthusiast. Honda spent off-hours building a racing car with the shop's spare parts. It was powered by a leftover Curtis-Wright aircraft engine that delivered a then-astronomical 100 horsepower. The car was fast and won races.
Honda then created another racer to run on the counterclockwise tracks common in Japan at the time. He tilted the car's Ford engine to the left for improved cornering. That, and he added a supercharger, improved cooling, and formed valve seats from an alloy that better dissipated heat. The result was a fast car that didn't overheat.
Honda tested his new design at the 1936 All-Japan Speed Rally near Tokyo. Despite competitive speeds, a crash ended the race and left Honda with visible scars. He hung his goggles and founded Tokai Seiki Heavy Industry to manufacture piston rings. After World War II, he began producing motorbikes that would lead him back to the track and onto automaking.
"I made myself proud by launching a manufacturing business, but I soon realized I had started a very difficult job," Honda said.
The Honda Dream was an enchanting and popular little motorbike, but it was ludicrous for Honda to announce in 1954 that his team would compete at the demanding Isle of Man Tourist Trophy race. Foreshadowing the Civic 20 years later, he focused on lighter and more durable components. It took two years to develop a powerful enough engine, but it was a high-revving work of mechanical efficiency.
Honda raced at the Isle of Man in June 1959, placing sixth, seventh, and eighth, plus taking the manufacturer team prize in the 125cc category. In 1960, Honda placed fourth through sixth in the 250cc category and sixth through 10th in the 125cc category. Honda won the first five positions in both categories in 1961.
"Only by winning at the Isle of Man can we open the way to becoming a world enterprise and selling our products internationally," Honda said.
Hot bikes to fast autos
Flush with racing success, Honda announced in 1962 that his company would compete in Formula One. Honda only built two vehicles: the T-360 pickup with a 30-horsepower engine that went 63 mph and the S-500 sports car that reached 44 horsepower and 88 mph. Still, Honda had its first F1 engine drawings by 1963 and debuted the RA271 racecar at the 1964 German Grand Prix.
Despite engine issues, the car kept pace with Ferrari and Lotus. Wins came quickly as the redeveloped RA272 secured Honda's first F1 victory at the 1965 Mexican Grand Prix. The automaker won the 1967 Italian Grand Prix and took second place in the 1968 French Grand Prix.
Honda was too busy for racing during the 1970s and early 1980s as it introduced generations of the world-beating Civic and Accord but returned to Formula One during 1983.
In 1985, Honda won four out of 16 races. The following year, cars developed with Williams of Britain won nine races and the Constructor's Championship. Under contracts with Ayrton Senna and Alain Prost, Honda-powered McLarens won 15 of 16 races during 1988. A new V10 engine arrived for 1989 to score 11 wins. McLaren-Honda won the constructor's title in 1990 while Senna won the driver's title.

Honda took an F1 hiatus after 1992 but returned in 2000 as engine supplier for the BAR-Honda team. Its best season, 2004 with Jenson Button and Takuma Sato driving, delivered 11 podium finishes. Honda won the Hungarian Grand Prix in 2006, but after difficult 2007 and 2008 seasons, left Formula One to conserve cash during the financial crisis.
The Japanese automaker made another run at Formula One in 2015 as supplier of a hybrid powertrain for McLaren. Unsuccessful, the partnership ended after 2017. Deals with Toro Rosso in 2018 and Red Bull Racing in 2019 led to Honda-powered cars winning the Australian Grand Prix and Brazilian Grand Prix in 2020. Honda also won the Italian Grand Prix and Abu Dhabi Grand Prix, but left Formula One again to focus on advanced powertrains.
IndyCar is a natural fit
Given success in Formula One, it seemed natural for Honda to venture into IndyCar. It won its first race in 1995 and three manufacturers' titles by 2003. Honda won the banner Indianapolis 500 in 2004 and 2006 while scoring 28 wins from 49 races 2003-2005. It was the sole engine supplier for all series competitors 2006-2011. Since 2012, Honda cars have won the Indy 500 five times with drivers like Dario Franchitti, Ryan Hunter-Reay, Alexander Rossi and Takuma Sato.
Race teams using Honda engines this year are legendary: Andretti Autosport, Chip Ganassi Racing, Rahal Letterman, Meyer Shank Racing and Dale Coyne Racing. Drivers include Colton Herta, Simon Pagenaud, Marcus Ericsson, Scott Dixon, Alexander Rossi, Helio Castroneves, Graham Rahal and Takuma Sato.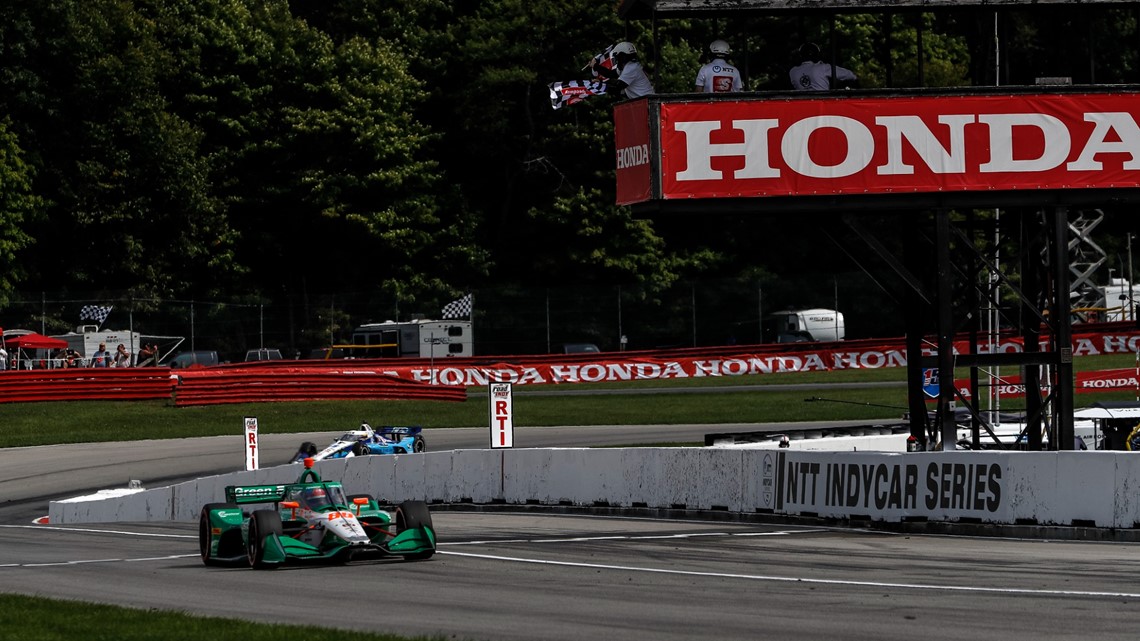 When this year's qualifications concluded last Sunday, Honda and Chip Ganassi Racing put two cars in the front row: Scott Dixon (pole) and Alex Palou. Marcus Ericsson, Tony Kanaan, Romain Grosjean and Takuma Sato will all start in the top 10 with Honda engines.
"I'm one of the lucky guys that gets to drive, but the amount of effort from everyone backs the ship; and through HPD and Honda, the speed that they bring; and all my teammates; it takes everyone," Dixon said.
To see how Honda performs this year, tune in this Sunday for the 106th Running of the Indianapolis 500. If the last century is any indication, it should be a very good day for Honda, its drivers and all their fans.