INDIANAPOLIS — I like traveling to California. I enjoy the warm weather, cool architectural vibe, surfing the waves, and of course, imbibing all of the latest electric cars. When I'm tired from a day in the sun, I grab dinner on a restaurant patio before cruising the Pacific Coast Highway with windows and sunroof open. If I lived there, I'd drive the 2023 Kia Niro EV. Even back home in Indiana, it would serve my active family well.
Kia actually makes three Niros: A 54-MPG hybrid, plug-in hybrid with 33 miles range, or full EV with 253 miles range I'm riding this week. They all look like the kind of car you'd attach a surfboard to its roof rails and drive to the beach, which means funky cool styling highlighted by vertical LED headlamps, zig-zag driving lamps, contrasting silver swath on the rear bodyside, and finlike taillamps that appear lifted from Cadillac. Only a port in its chic little nose betrays its powertrain.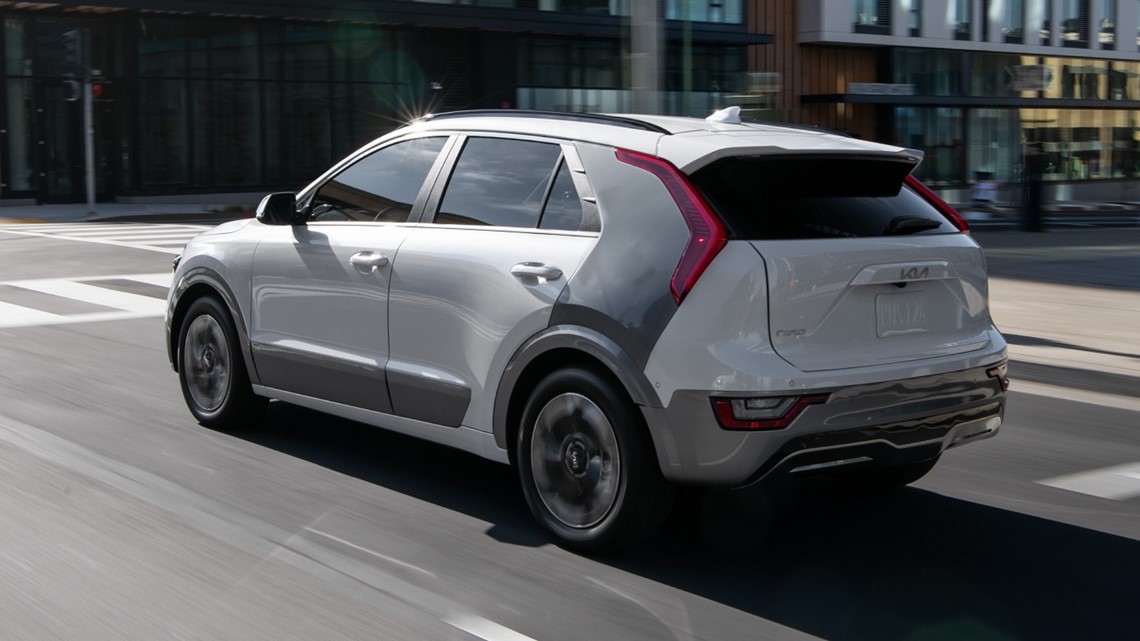 Reflecting the exterior, the cabin looks like an art gallery with a flush 20" dual panoramic infotainment display, ambient lighting, and rotary gear selector, I could easily wipe down and vacuum the interior after a day of saltwater and sand. Seats look like a combination of cloth and leather, but are actually 100% vegan for easy cleaning. Deep cubbies in the doors and console held my water and phone gear securely. I even recharged my laptop and pumped my daughter's bicycle tires with an on-board generator. Power open the hatch to toss in wetsuits or camping gear.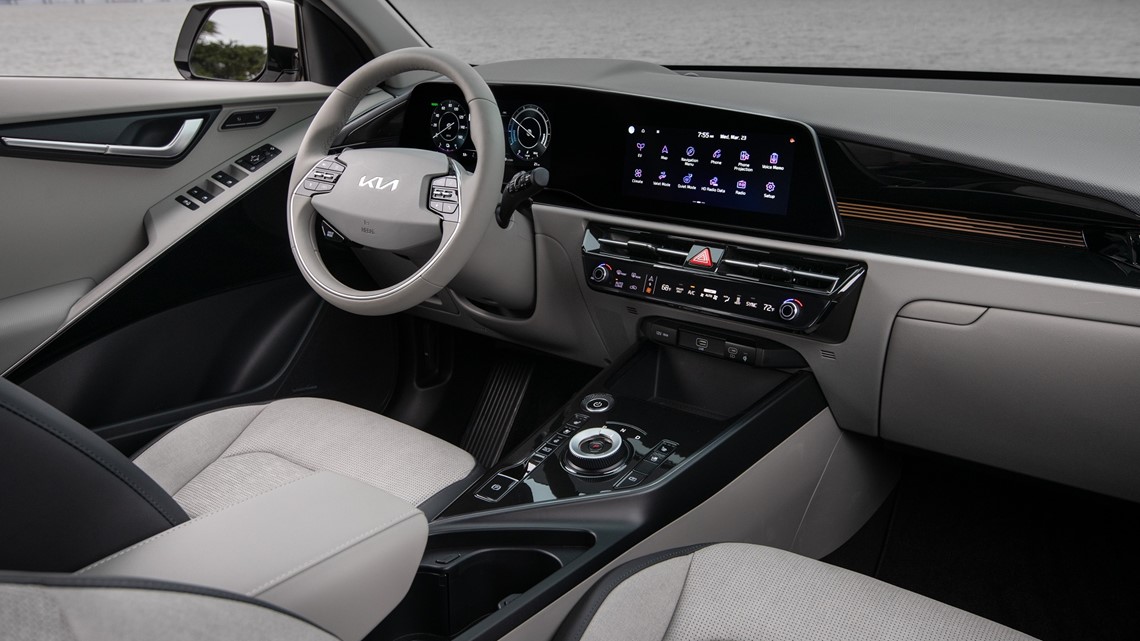 And, it's pretty luxurious for a compact crossover-ish EV. Dual-zone automatic climate control, heated and ventilated front seats, heated rear seats, and a heated steering wheel keep everybody temperate. Power open the sunroof and crank up deep Harman Kardon audio after connecting wirelessly charged devices via Apple CarPlay or Android Auto.
It's a little strange for the touch strip below the screens to toggle between audio and climate functions, using the same knobs for temperature, volume, and tuning, but it minimizes controls and isn't really an issue since most owners set climate and leave it. Adding convenience, you can use your phone as a digital key and your key fob to remote park in tight garages.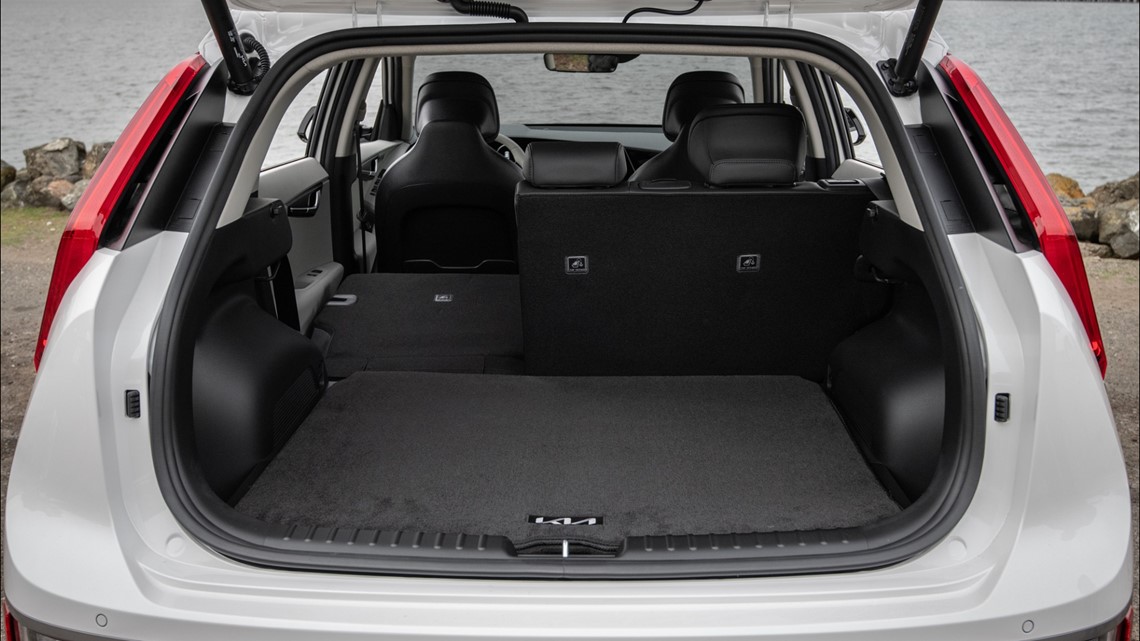 Kia does not play with safety. Our Niro EV Wave edition came with automatic emergency braking, adaptive cruise, blind spot warning, lane tracing steering, and rear cross path detection with auto brake. A rear seat monitor and Safe Exit Assist, which uses the blind spot system to keep passengers from stepping into traffic, excel. Speed, navigation and active safety systems project onto the head-up display to keep eyes ahead.
Moving onto the 405…or I70, there's plenty of zip in the Niro's powertrain. It's not the fastest EV I've driven, but it puts 201 horsepower and 188 lb.-ft. of torque to ground through the front wheels. All-wheel-drive is not available, nor does it need it with traction and stability control. Kia claims it runs 0-60 mph in 7.1 seconds, which seems right given the smooth acceleration I experienced jetting onto the freeway. I kept it in Eco mode to optimize range.
In California, distance between charging stations is negligible, but in the Midwest, it can be frightful. Fortunately, the car can be fast charged 10-80% in 45 minutes. That's considerably longer than the 18 minutes for the higher priced Kia EV6, but competitive. I gained about 60 miles range in four hours on a 240v home charger. I probably wouldn't drive Chicago to L.A., but I would venture round-trip from L.A. to San Diego for a surf competition. In everyday use, including an hour-long interstate run to see my parents, range wasn't much concern.
Driving the Niro EV is a joy with its quiet swift acceleration, comfy cruising, and every box checked for safety and infotainment. With its recent restyle, the Niro is quite handsome inside and out. It would look even better dripping salt water before a scrub down and a night on the town with a few friends.
It's also pretty affordable. Base hybrids start at $26,590, rising to $33,840 for a plug-in and $39,550 for the pure EV. Ours with every conceivable option comes to $47,765. At that price and with everything the Niro offers, it's should be cross-shopped against the Chevy Bolt, Ford Mustang Mach-E, Volvo XC40 Recharge, and Nissan Leaf.
Casey Williams is an Indianapolis-based automotive journalist and a long-time contributor to The Tribune. He can be reached at AutoCasey@aol.com and on YouTube @AutoCasey.
Likes
Ample range
Modern interior
Funky styling
Dislikes
Charging time
Small wheels
Bougie price (loaded)
2023 Kia Niro Wave EV
Five-passenger, FWD Hatchback
Powertrain: Li-Ion batteries/motors
Output: 201hp/188 lb.-ft.
Suspension f/r: Ind/Ind
Wheels f/r: 17"/17" alloy
Brakes f/r: regen disc/disc
Driving range: 253 miles
0-60 mph: 7.1s
Recharge (DC Fast, 80%): 45m
Economy (comb): 113-mpg-e
Assembly: Hwaseong, Korea
Base/as-tested price: $26,590/47,765