INDIANAPOLIS — Last week, my co-worker and I were having a rousing debate about what would be a good practical car for daily driving and wouldn't be completely boring. Both of us are fans of Corvettes and German steeds, but neither fit our salaries unless they're old or wear VW logos. Our discussion wandered to the Honda Civic Sport or Mazda3. Then, I suggested one more: The 2022 Nissan Sentra SR. It'll put a pep in your daily step.
Especially when tarted up in metallic white paint with its floating roof in contrasting black, the SR is a handsome little devil. It's the sporty Sentra with more aggressive facias, 18" wheels, thin LED lamps, and glowing puddle lamps beneath the side sills. Nissan's deep V-Motion grille and flared fender styling are as appealing on the Sentra as the larger Maxima. The lip spoiler and lower rear valance that echoes an actual diffuser will be the last flourishes others see as you move past.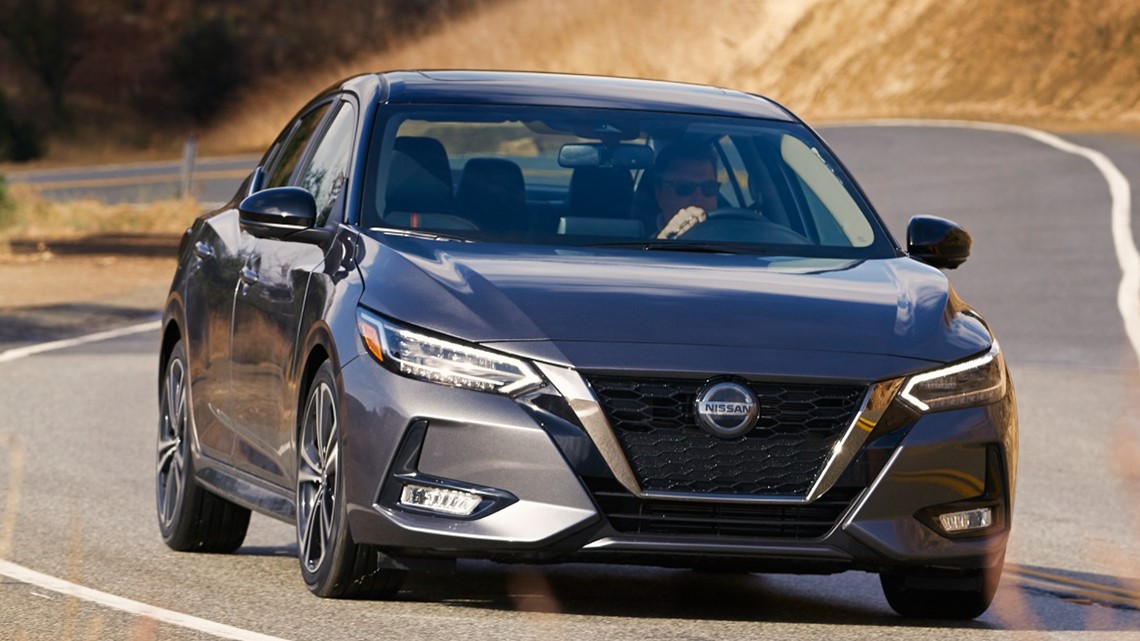 Moving back inside, accommodations are surprisingly plush. Unlike the smaller plastic-intensive Versa, the Sentra SR feels expensive with wrap-around heated sports seats, stitched dash coverings, aluminum-look round air vents, and heated leather-wrapped steering wheel. Orange seat stripes and plastic trim that hints at carbon fiber add interest. Crank up the dual-zone automatic climate control, power open the sunroof, and marinate in the Bose audio system. Connect devices with Apple CarPlay or Android Auto. It's pretty cozy.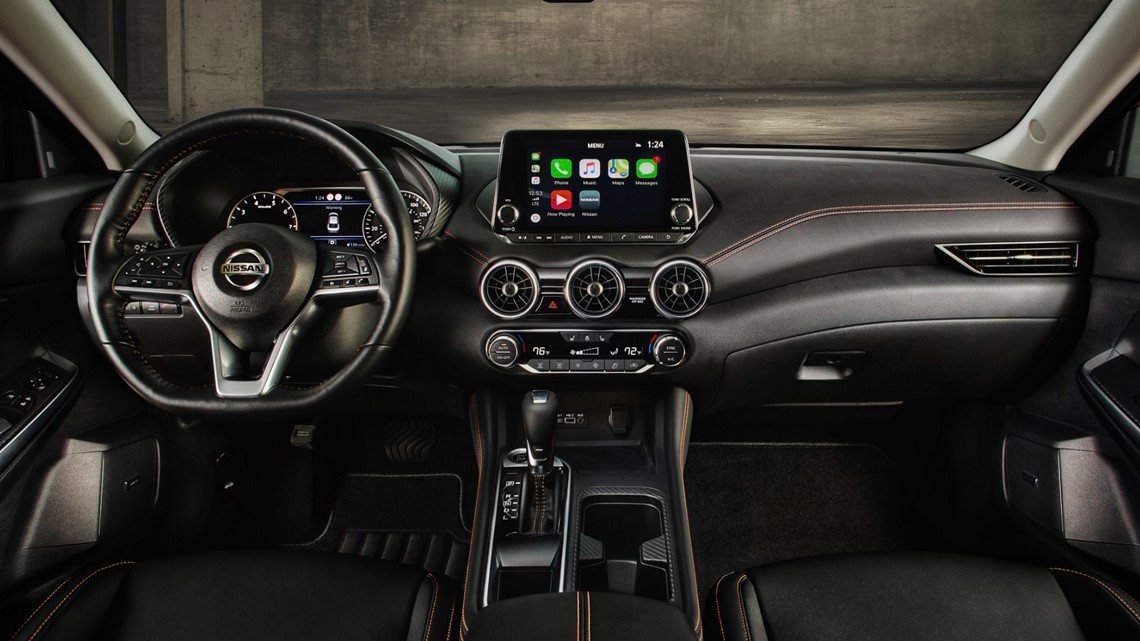 And safe. Volvo could have written the safety menu that includes automatic emergency braking, lane keep assist, blind spot warning, and rear cross path detection with auto brake. Adaptive cruise and forward collision warning add vigilance and convenience.
There's nothing fancy under the hood, but the 2.0-liter four-cylinder engine, connected to a spirited continuously variable automatic transmission, delivers a peppy 149 horsepower and 146 lb.-ft. of torque to the front wheels. Sure, a turbo would be welcome, as would all-wheel-drive, but it certainly doesn't embarrass itself while returning a lofty 28/37-MPG in exchange for its restraint. I'd like it with a click-click six-speed manual, but I'm good with the CVT for battling freeway traffic and runs to the patisserie.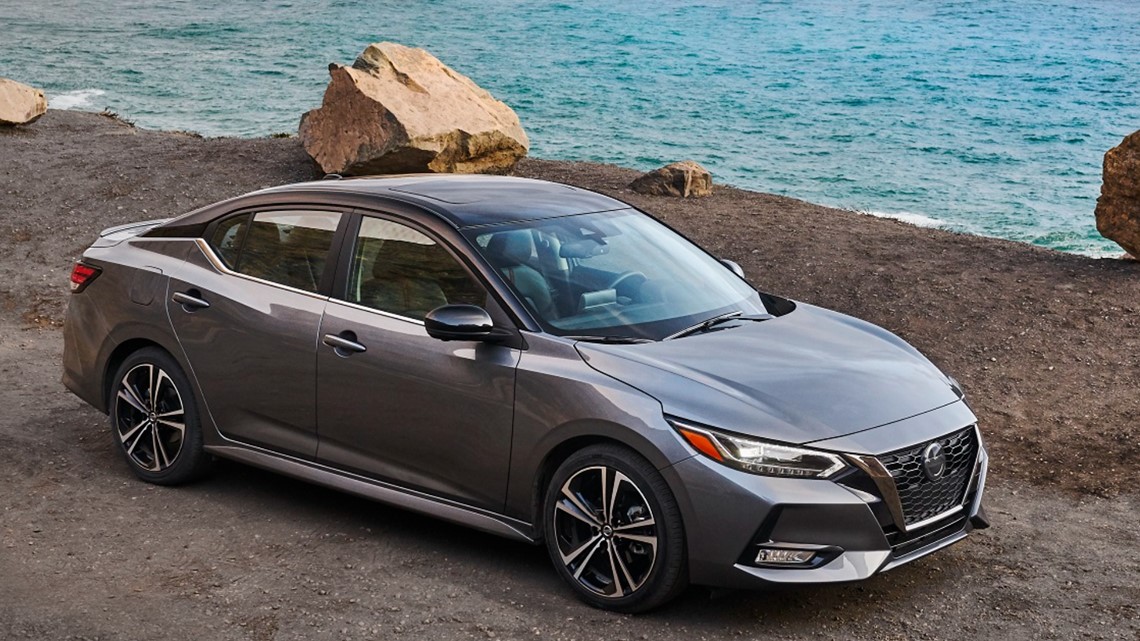 A tight four-wheel independent suspension, quick ratio steering, and low-profile tires are up for the croissant. For a front-drive sedan, the car is composed and balanced no matter how you try to get it off course. It feels more like Honda than the tipsy Sentras of recent memory. Beyond sound engineering, Nissan adds a cornering control system that brakes wheels as needed to vector the car through curves. On the open road, bumps and jiggles are absorbed with hushed thumps. Nothing squeaks, creaks, or rattles.
I could name a couple of compact German pretenders that are little better than the Sentra SR despite significantly higher price tags. The compact sedan is what it's supposed to be – a highly competent commuter car that looks good, is comfortably equipped and is fun to drive when curvy roads beckon. My co-worker doesn't want to admit it, but he'd love it.
At $27,615, our SR is a jump up from the Sentra's $19,810 base price, but wholly worth it. Beyond Honda and Mazda, also consider the Toyota Corolla XSE, Kia Forte GT, and Hyundai Elantra SEL.
2022 Nissan Sentra SR
Five-passenger, FWD Sedan
Powertrain: 2.0-liter I4, CVT
Output: 149hp/146 lb.-ft. torque
Suspension f/r: Ind/Ind
Wheels f/r: 18"/18" alloy
Brakes f/r: disc/disc
Must-have features: Style, Value
0-60 mph: Fast enough
Fuel economy: 28/37 mpg city/hwy
Assembly: Aguascalientes, Mexico
Base/As-tested price: $19,810/$27,615