INDIANAPOLIS — In the Jeep galaxy of stars, there are none brighter than the classic Grand Wagoneer that even today is as popular in The Hamptons as The Badlands. It's staggering how these archaic chromed-over bricks command near six-figures at auction, but they clearly resonate with collectors. Clearly, Jeep wanted in on that coin and re-establish itself as the brand that first did luxury SUVs in 1963. A new Grand Wagoneer for today's luxury buyer should fit the bill.
It employs a time-worn formula of taking a full-size truck platform (like the Ram), bolting on a big boxy body, stocking it with luxuries, and jacking its price skyward. The Cadillac Escalade, Lincoln Navigator, and Infiniti QX80 all come to mind. As egregiously trite as that sounds, the formula works pretty well as nothing hauls more stuff than a full-size truck-wagon. The Grand Wagoneer is special.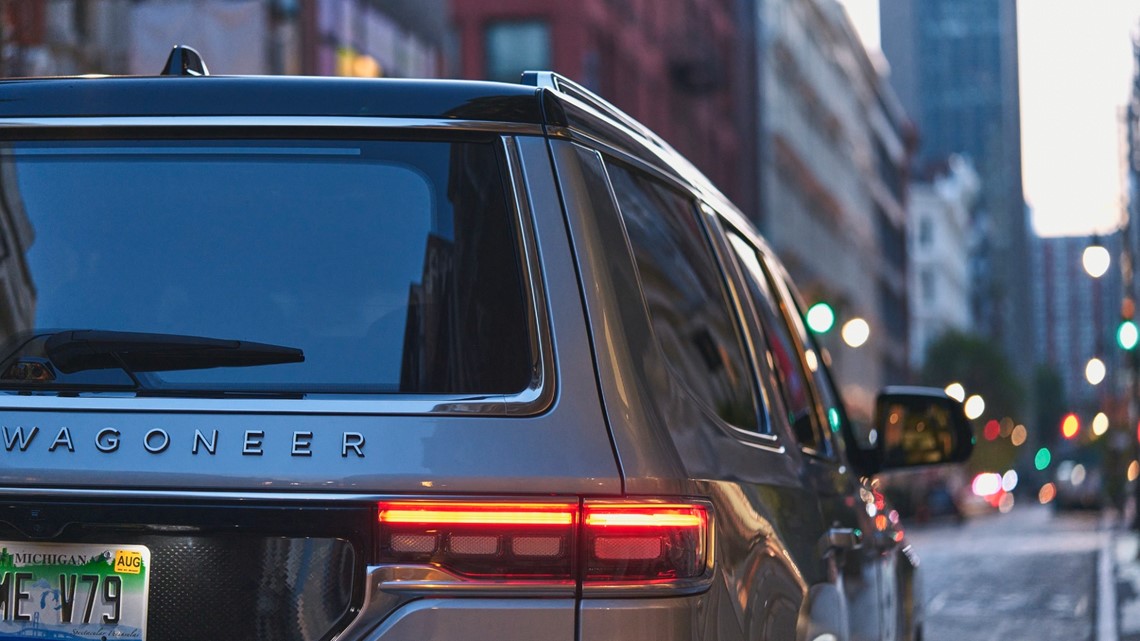 One thing for sure, it gets noticed. I'm not a big fan of the bunkered windows and prefer the more elegant styling of the smaller Grand Cherokee, but the big seven-slot grille, 22" wheels, and blacked-out trim lend a sinister vibe. There's no question who makes it from the icon grille to GRAND WAGONEER slapped across its wide hood and liftgate. Jeep is trying to separate Wagoneer as a separate brand, but nobody's fooled.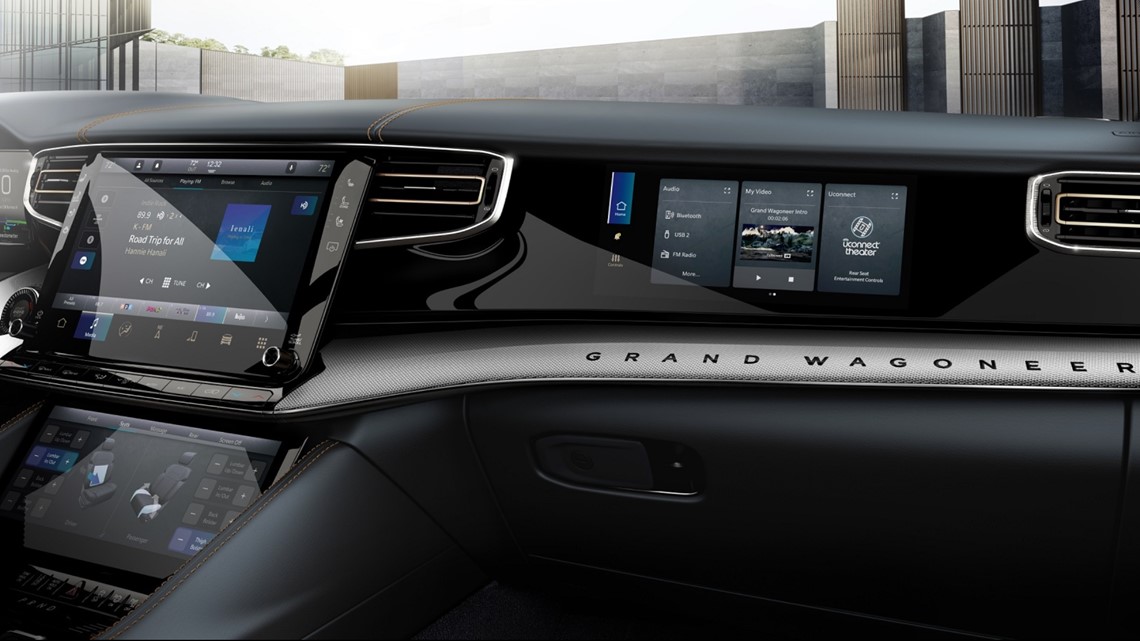 Get your luxury drenched with screens to the front of you, screens to the right of you, and even screens to the back of you. Chrysler Group's intuitive infotainment screen dominates the center dash, but is accompanied by a smaller one beneath for seat controls and one in the passenger dash for co-pilots. Rear passengers enjoy screens hung from seatbacks for watching Amazon Fire TV. Get deep theatre sound through the 19-speaker McIntosh audio system; connect devices through Apple CarPlay, Android Auto, Wi-Fi, and wireless charging.
There's ample craftsmanship to accompany the electronic wizardry. The dashboard combines a choice of woodgrain or metallic accents, French stitching, and plush coverings. Soft Palermo leather upholsters seemingly everything. Heated and ventilated front seats, heated rear captain's chairs, four-zone automatic climate control, and a dual pane sunroof add comforts – as do front massage seats that get in so many places they should offer a cigarette afterwards.

Safety is advanced. Adaptive cruise, lane keep assist, automatic emergency braking, and rear cross path detection are as expected, but we also tapped options for the night vision camera, rearview camera-mirror, and head-up display. It is difficult to imagine an option unchecked.
The engine for this rolling bunkhouse is a 6.4-liter V8 kicking out 471 horsepower and 455 lb.-ft. of torque – enough to scat down the road or pull 9,850 lbs. It clicks power to the all-wheel-drive system through an 8-speed automatic transmission that works quietly. Fuel economy is a horrendous 13/18-MPG, but nobody said luxury was cheap.
Beyond power, the Grand Wagoneer floats down the road on its air suspension that balances comfort and handling. Launch it off of a bridge and it will make its size known, but settles quickly. Raise it up to clear obstacles on the way to the weekend cabin. You never forget you're driving a very large automobile, but it handles its girth like a much tidier athlete. Jeep's Selec-Terrain system configures the powertrain for varying conditions.
Tapping into continued fondness for the Grand Wagoneer was a smart move for Jeep. It will not obsolete any of its main competitors from America or abroad, but will definitely keep their wheels to the fire. For a base price of $88,640, or $109,025 as-tested, it comes with the goods!
2022 Jeep Grand Wagoneer
Seven-passenger, 4WD SUV
Powertrain: 6.4-liter V8, 8-spd trans
Output: 471hp/455 lb.-ft. torque
Suspension f/r: Air Ind/Ind
Wheels f/r: 22"/22" alloy
Brakes f/r: disc/disc
Must-have features: Luxury, Power
Towing: 9,850 lbs
Fuel economy: 13/18 mpg city/hwy
Assembly: Warren, MI
Base/As-tested price: $88,640/$109,025