INDIANAPOLIS (WTHR) - One of Indy's hottest tickets is issued by Verge.
Verge is an event company which hosts a monthly party at trendy venues where tech entrepreneurs pitch their businesses before a panel of experts "Shark Tank"-style. Matt Hunckler is CEO and the entrepreneur who created Verge.
"We actually started this before Shark Tank was on television. We can fill up rooms in a couple of hours once we announce tickets are live," Hunckler said.
Hunckler built Verge based on his insight that every entrepreneur has an ask. They want capital, customers and top talent. Refining the pitch, he believes, is invaluable.
"Pitching is kind of the ultimate entrepreneurial skill. Verge is about catalyzing these entrepreneurs that already have traction. By the time they hit the Verge stage, these entrepreneurs have either found a customer, they've built a real product or they've got a little bit of momentum behind them. What we are trying to do is foster them to get them to the next level," he said.
TWIP: Travel With Interesting People
"TWIP is an online membership based social marketplace that connects people to experiences and travelers based on your 'travenality.' We are the LinkedIn and Netflix for travelers," Koenig told the panel.
The local tech experts volunteering as sharks questioned Koenig's customer recruitment and advised her to have a plan to keep clients engaged between trips.
"Practice makes perfect and you don't get to pitch in front of 200 people every single day, you just don't. It's great to get customer feedback," Koenig said afterward.
Verge headquartered in Indianapolis and growing
Hunckler says, based on growing attendance and corporate sponsorships, Indianapolis, is a prime place to grow Verge.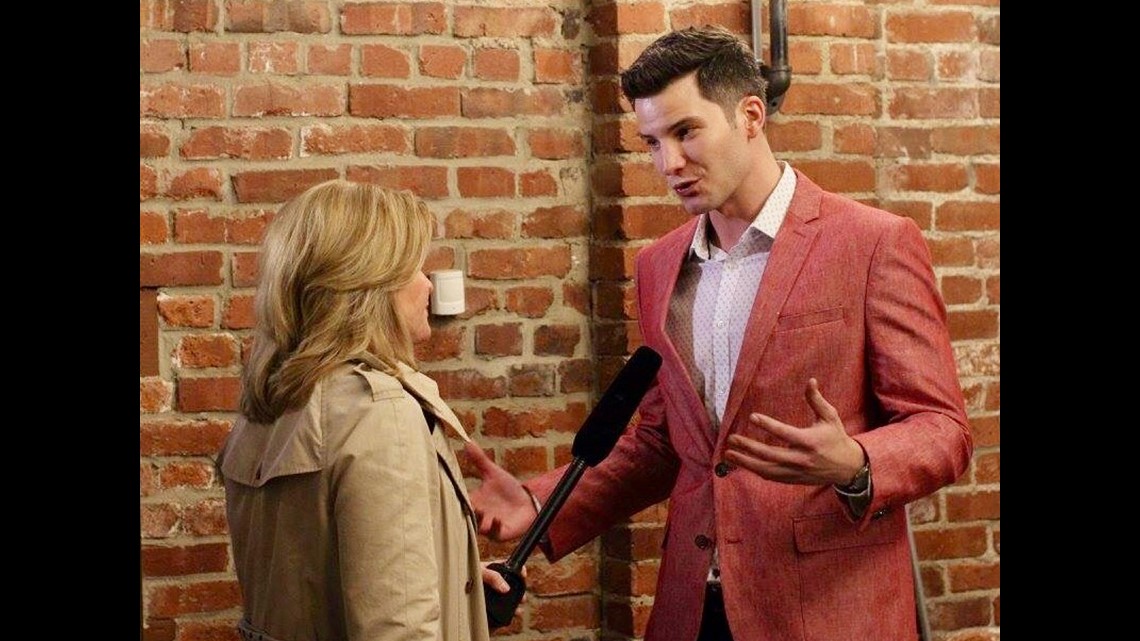 "I just graduated college about seven years ago and I just sold my first company, and decided to move to Indianapolis get involved in this tech ecosystem," Hunckler said.
Verge headquarters are in Indianapolis, but the company is expanding to ten cities and counting, including Midwest cities like Chicago, Cincinnati, Kansas City and Nashville.
"We're focused on helping connect tech entrepreneurs, investors, and top talent with the resources that they need to grow big technology companies outside of Silicon Valley," Hunckler said.
Ticket prices are $10-20, which includes admission, food from a local caterer and local beer from Upland Brewery. Aurora Wilson is a coder, who came to Verge to find a job.
"This is definitely the place to come if you're looking to meet more like-minded people who have had success in the past or who might be able to generate some ideas for your business," Wilson said.
Ben McCann has a home security business, Zingas Home Solutions, and attends to stay connected to Indy's tech crowd.
"There's a ton of people in this room and I think it's just an awesome way for the local people to connect to what we are doing here in Indy and it's impacting the world," McCann said.
The audience is global, thanks to the Verge live stream and post red carpet Q & A with Hunckler.
"The cool thing is a lot of the biggest tech companies in Indianapolis pitched on the Verge stage when it was just one person and a laptop and an idea," Hunckler said.
Verge is hosting two events Thursday night (June 22), one is in Kansas City, the other is in Bloomington.
If you would like to learn more about the next Verge Pitch Night, click here.