INDIANAPOLIS (WTHR) — When you think of Thanksgiving, you probably think of family, friends, turkey and pie! One 17-year-old culinary student is already in the kitchen preparing pies.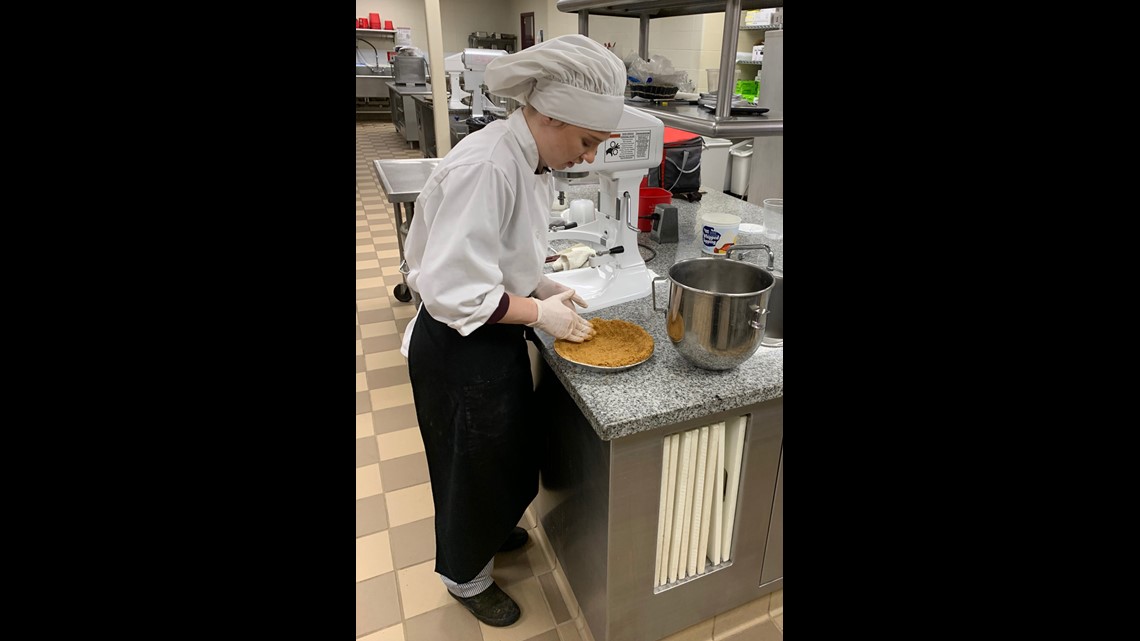 On the weekends, Caitlin Salla works as a line cook at Black Swan Brewpub in Plainfield. During the week, she's honing her cooking skills. In between all of that, she's baking and filling orders for pies.
"The day I walked into this kitchen, I was like 'oh my gosh,'" said Salla. "'I'm going to love this. This is going to be a lifesaver,' and it was!"
Salla zips around this kitchen five days a week. She comes to the Area 31 Career Center at Ben Davis and then heads to Plainfield High School.
"I hate math," said Salla.
But she loves to cook. She prefers making savory dishes. But back in March, for her peanut butter-loving uncle's birthday, she baked him a pie.
"They loved it, and they said 'you should sell these,'" said Salla. "And I was like, 'should I?'"
She posted on Instagram asking, if she should sell pies.
"Everyone's like 'yeah, you should,' and that's what happened," said Salla.
So far, she's made and sold more than 70 pies. She works out of her home kitchen and churns out pumpkin, pecan, apple and — of course — peanut butter pies, which comes with a graham cracker crust and a chocolate drizzle on top.
"It's the one everybody buys," said Salla. "I do it just to keep some extra money for college. I do want to go into culinary school. It may turn into something. It may not."
Salla hopes to get into the Culinary Institute of America, and she dreams of opening a restaurant one day.
"If I had all the money in the world, I would like to start a business partnering with a farm," said Salla.
But until then, she just wants to pursue this passion and see where it takes her.
"I love to cook," said Salla. "I love to make people happy with food."
Since it's so close to Thanksgiving, she's already maxed out on orders.
For future reference though, she's selling her peanut butter and pumpkin pies for $8 and her pecan pie is $12. She also makes cookies, which sell for $12 for 12.