INDIANAPOLIS — Students will not be able to return to school in Indianapolis until Aug. 5 at the earliest. Mayor Joe Hogsett said that guidance on how and when school can resume will be coming next week. The move comes after the city has seen an increase in the number of new COVID-19 cases.
School personnel will get training on symptoms to look for in identifying people who might be infected. Schools must also notify the Marion County Health Department within 24 hours if a student or staff member is positive for COVID-19. Contact tracing will then take place to identify all those potentially exposed.
Indianapolis is also issuing a series of new restrictions for people and businesses:
Bars and nightclubs that were not permitted to be open in Stage 1-3 of the State's reopening plan, must close. This goes into effect at midnight and they will not be allowed to reopen until the mayor lifts the order.
Bar seating in restaurants must also close.
Restaurants are limited to 50% indoor capacity.
Places of worship and funeral homes may provide indoor services at 50% capacity; outdoor services are permitted with no capacity limit but social distancing is required.
Gyms, fitness centers, yoga and dance studios, martial arts studios, and like facilities may remain open but must restrict capacity to 25%.
Shopping malls and other retail stores, including liquor stores and convenience stores, may remain open but must restrict capacity to 75%.
Assisted living communities and nursing homes remain closed to visitors, except that outdoor visitation opportunities may be resumed in accordance with ISDH guidelines.
Beginning Monday, July 27, social gatherings, such as wedding receptions, club meetings, or parties are limited to 50 people.
All other forms of gathering, meeting, or special or seasonal event must be limited to 250 people or fewer, unless MCPHD provides advance approval of a risk mitigation plan for a special or seasonal event that anticipates more than 250 attendees.
All this comes as the state is seeing a spike in cases. The city has had more than one hundred new positive cases each day since July 15 and the positivity rate in cases is now above 10 percent.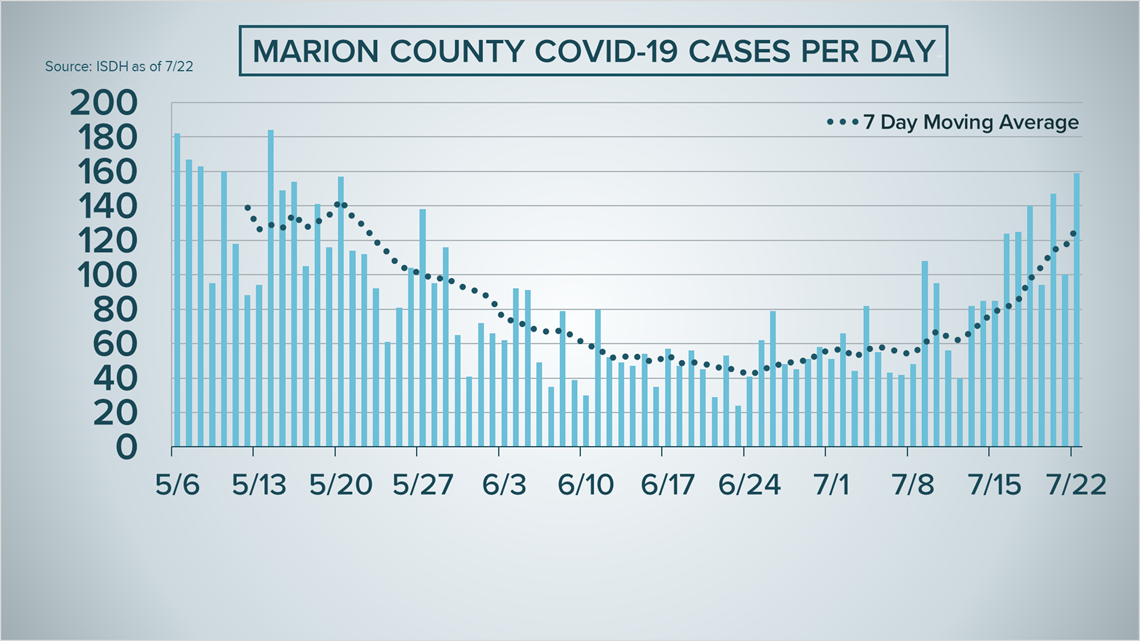 Dr. Deborah Birx, a leader of the White House Coronavirus Task Force, also reportedly identified Indianapolis as one of the cities needing to get outbreaks under control.
The Marion County Health Department has received at least 140 complaints about violations at restaurants and bars.
Until now, bars in Indianapolis were allowed to operate at 50 percent capacity, if they adhered to the following recommendations:
Use outdoor seating as much as possible.
Bar staff must perform proper hand washing hygiene after every operation at each table.
Continue to adhere to all food and safety code requirements.
Patrons or group parties must be spaced six feet apart.
Party size must be limited to 10 people or fewer at each table.
Air ventilation should be increased to maximum capacity, or at least six air changes per hour.
Marion County also issued a mask mandate, but customers at restaurants, bars, or other food establishments did not need to wear a mask when eating or drinking. So if a person at a bar had a drink in their hand, they technically didn't need to have a mask covering their face.
The owner of Rock Lobster in Broad Ripple said that issue led him to decide to shutdown.
"They'd take off their masks and go hang with friends in an unsocially distant environment, so it's practically impossible to enforce because you don't have to wear a mask if you have a drink in your hand so it became evident we were unable to control our circumstances," Rob Sabatini said.
Some other bar owners told 13News they were waiting to reopen until they could get a better handle on how to police patrons.