INDIANAPOLIS — City Market has long been a lunch destination for downtown workers, drawing hundreds each day. Several vendors say that's now down to a few dozen and that's worrisome.
"It's a historical landmark. It's been here since 1880," David Stockton said. "I have great-grandparents and great-great grandparents who were farmers and came to this market, so I have a reverence for it."
Stockton is the market's longest tenant. He opened Just Cookies 32 years ago. He's concerned about the market's future.
"We're going through the roughest stretch we've had in all that time," he said.
It started with the pandemic, followed by problems with drug dealers and people who are homeless camping out near the building (which led to increased patrols and hiring off-duty officers). Then came the road construction with East Market Street closed off to vehicular and pedestrian traffic between Delaware and Alabama streets, blocking the market's main entrance.
"If the pandemic was the first punch, the construction was the second," said Ross Hanna, who co-owns Twenty Two, a juice bar.
City Market relies on employees from the City-County Building and other downtown workers, many of whom are still working from home.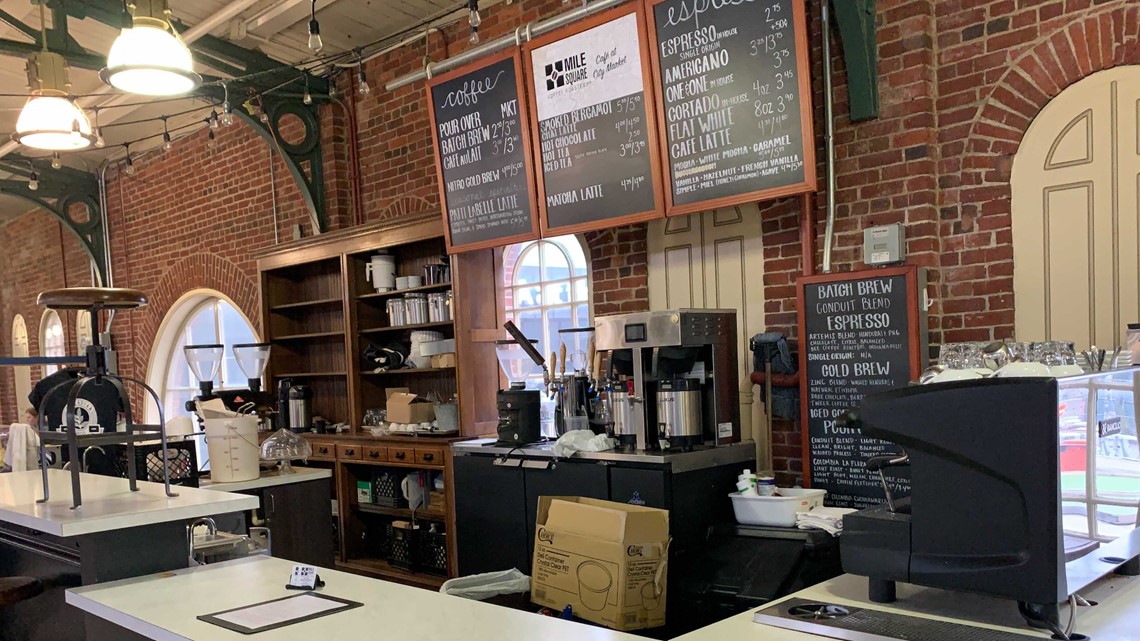 "It will be the bright new thing," Hanna said. "Everybody will know about it, because I have to believe they will have a lot of marketing behind that development."
There's also the 16 Tech Innovation District just northwest of downtown, where a new building includes what a website describes as "an artisan market with local food and drink vendors, retailers and entertainment." Circle City Sweets is moving there after nearly 11 years at City Market.
Owner Cindy Hawkins said, "We knew (many employees in) the City-County Building would be relocating to the Criminal Justice Center at some point, so a year-and-a-half ago, we started looking at other locations for our business."
City Market has 36 vendor spaces in the main building. 13News counted at least a dozen closed or soon to be closed.
"It breaks my heart it's struggling so hard," Hawkins said. "If I had a solution, I'd be a millionaire, I guess."
When asked if he was worried about others leaving, Hanna said, "Of course, it would be silly not to be."
While he's in the process of opening a second place in Fishers, Hanna said he hopes to hold on to his City Market location.
"Everything has taken a hit, but we've made, I believe, the necessary changes at the right time to keep this afloat," he said.
Michael Gomez, who owns Gomez BBQ, said his business is "probably down 80 percent most of the time." He, too, is opening a second location, one on East 10th Street, while counting on City Market's new leadership to help vendors survive the multiple challenges they now face.
"If someone told me this would happen, I don't know what past Michael would do, but we're going to find a way to make it work," Gomez said.
Keisha Gray became the new executive director of City Market in mid-November. She told 13News late Wednesday afternoon she and her staff are doing all they can to help.
Tenants received several months of rent relief through December. She hopes that will continue with the new stimulus package.
Gray said her biggest goal right now is letting people know "we are here and we are open and making sure customers can find us."
While the Market Street entrance is closed, the entrances off Alabama and Delaware streets are open. She said Wabash Street directly behind City Market is another access point, with pick-up an option as well.
Gray said the market has also bought heating elements for those more comfortable eating outside on milder days.
Stockton said while he's seen "a lot of vendors come and go and it's sad," he hopes to stick it out at least until his lease is up in a year-and-a-half.