INDIANAPOLIS (WTHR) — Barricades and social distancing signs went up along Mass Ave Thursday, despite last minute protests from two dozen business owners who say they were blindsided by the closure and given no chance to offer input.
The closure is meant to help Marion County restaurants hit hard by pandemic. They're able to open Friday but only for outdoor dining and at 50 percent of normal capacity.
Tuesday the mayor announced plans to close portions of five streets so restaurants could expand their outdoor seating into the right-of-way. The others include Broad Ripple Ave., Georgia Street, Illinois Street downtown and Monument Circle.
It's a move that thrills Craig Rogers, the general manager of Garden Table. Instead of the 12 seats or so he'd get on his patio (taking into account the six-foot social distancing rule), he guesses he'll now have 40 to 45.
"For us to be able to use this extra space will really get the numbers up which is great for us. We're really excited about it just to have people back in and dining out with us," Rogers said.
But not everyone on Mass Ave is happy about the street closure. Kristin Kohn, who owns Silver in the City, said, "I was completely taken by surprise."
Kohn opened her doors Thursday for the first time since March 16, making sure she followed all the health and safety protocols.
And yet she said, "tomorrow the street is closed to traffic. It's kind of a slap in the face. All of us are just sinking into a hole that's only getting deeper and closing the streets hits us when we're already down."
Kohn is among two dozen Mass Ave business owners who sent a letter to the mayor saying they had no input on the closing and it should be halted.
Bill Pritt, who owns 45 Degrees restaurant wrote that letter.
"It needs to be an open forum where we can be heard instead of told," he said.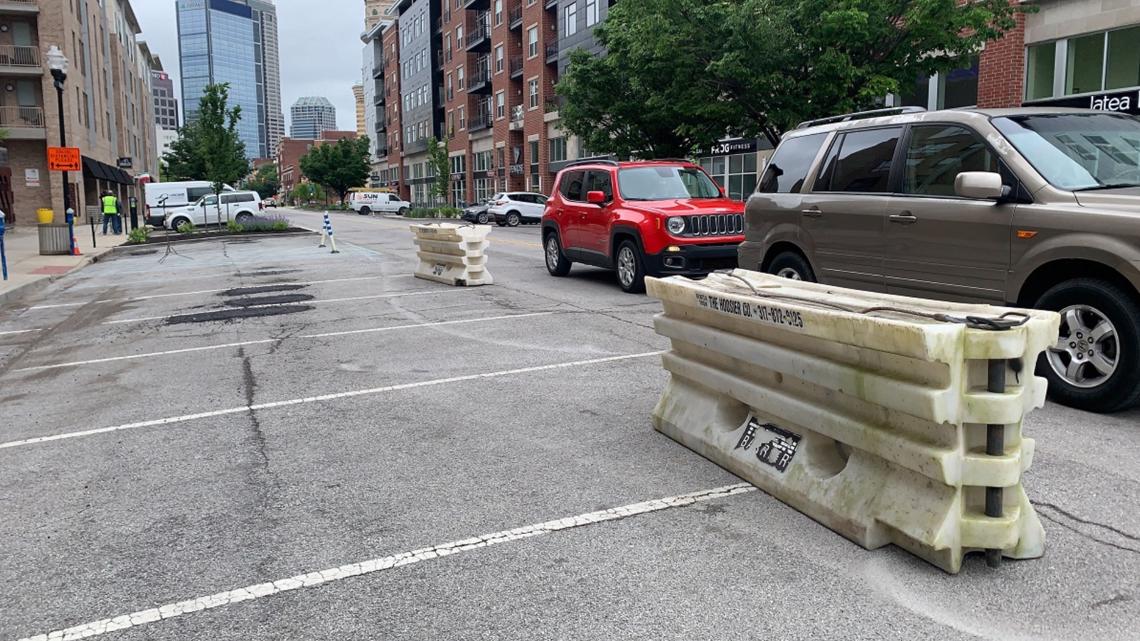 Pritt said while he planned to apply for a permit to expand his outdoor seating, there's no reason to close the entire street.
"I'm not opposed to expanding my footprint safely and effectively, but number one I'm not willing to do it at the expense of other people. This can be done without closing the road," he said.
DPW's Dan Parker said closing Mass Ave and the other four streets, was necessary to provide adequate social distancing, or a minimum of six feet between people.
Addressing other concerns, he said while Mass Ave will lose 384 metered parking spaces, there are "370 metered spaces within a two-minute walk."
He said the city has carved out parking spots at Mass Ave and New Jersey and Mass Ave and Alabama for carry-out and delivery.
Parker also said cross streets will remain open and delivery trucks will be able to use Mass Ave until 11 each morning. That will also go for trucks picking up trash and sweeping the street.
Pritt said no matter what, business owners should have been consulted.
"To arbitrarily close the road without consulting us for a week or beyond is just unfathomable," he said.
He, Kohn and others met with members of the mayor's staff late Thursday afternoon via Zoom.
"They listened to our concerns, said they'd monitor it and if (the expanded outdoor seating area) isn't needed, they'll end it early," Kohn said. Right now the closure is set to last until July 4.
While Pritt didn't rule out taking things further, he said, "I think all of this could have been solved if we were just allowed to offer feedback and have a discussion."
Wednesday evening, the mayor's office issued this statement after receiving the letter penned by Pritt:
From day one, our primary goal has been to balance public health with the well-being of local businesses. The creative approach we announced earlier this week is meant to prioritize the critical need for social distancing in our pedestrian heavy corridors while also increasing opportunities for businesses to expand their footprint.

In total, twenty Mass Ave merchants have reached out to the city to express an interest in utilizing outdoor space adjacent to their business and a dozen have completed the application process for outdoor amenities. Still, we remain committed to continuing conversations with stakeholders in all of the impacted areas in order to identify challenges and alleviate issues.