COLUMBUS, Ind. (WTHR) - Right across the street from the Bartholomew County Courthouse in Columbus, Special Dogs and More serves up fast food with a purpose.
"It's a nice place to work," said Jason Harris, who has worked at the restaurant since it opened in 2017. "You get to meet people. Sometimes you run into some of your friends here in Columbus."
Harris keeps the dining room clean. He is 38 years old and has attention deficit disorder and autism. Standing over the fryer, Landon McIntosh makes the fresh-cut ribbon fries. He has schizoaffective bipolar disorder.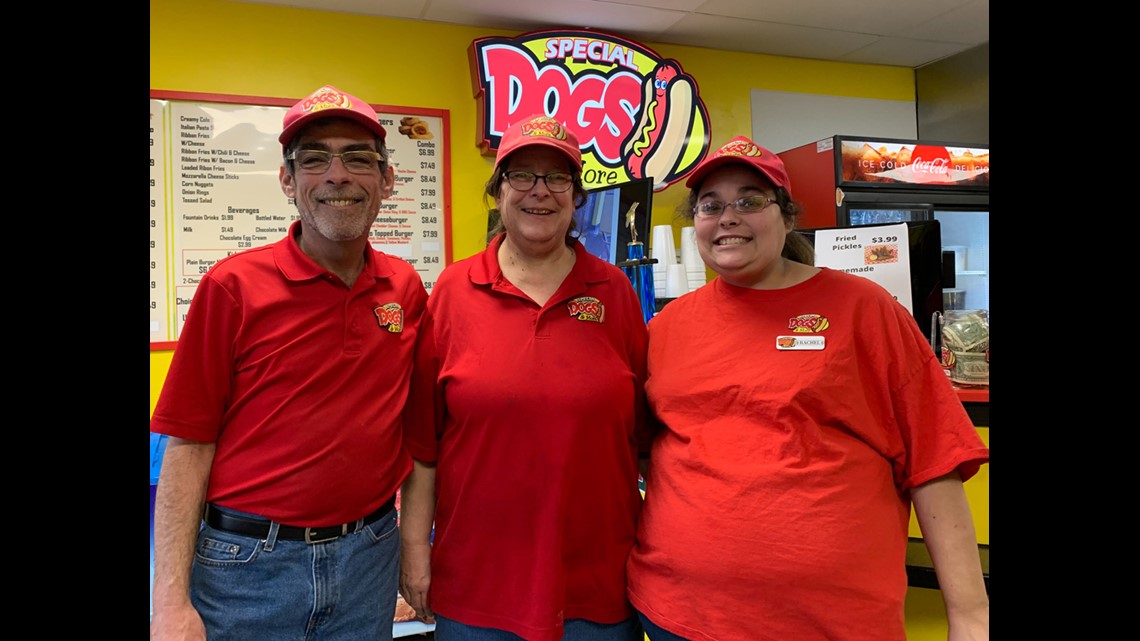 "It keeps me focused and keeps my mind quiet," said McIntosh, a 17-year-old Columbus East High School student working his first job for about six months. "I can actually do stuff that I enjoy."
All the employees at Special Dogs and More have special needs.
"They just need that opportunity and they need someone that will support them and give them that confidence in themselves," said co-owner Robin Lapidus.
"I really appreciate it and they're the nicest bosses you could ever ask for," said Harris.
"I couldn't be more appreciative than I am even now," said McIntosh. "It's a home for all of us."
Randy and Robin Lapidus opened the restaurant October 15, 2017 in the Fair Oaks Mall. They left the struggling mall and moved to their current downtown location about a year ago.
Their daughter Rachel suffered developmental disabilities after falling into a coma following a heart attack in 2011. Doctors told the family if she survived, Rachel might never walk or talk again. But after seven weeks at a rehabilitation hospital, she walked out and came home.
Rachel eventually wanted to work again. But about 75 percent of people with mental, developmental and intellectual disabilities are unemployed. Special Dogs and More is doing its part to change that in Columbus.
"We want them to have a place where they feel comfortable learning a job, learning some social skills, as well as learning life skills that they can take home with them," said Robin. "Our hope and dream is for them to learn here and get enough work experience here where they can move on in the community to bigger and better things."