INDIANAPOLIS (WTHR) – If you look in the mirror you likely notice some significant changes to your hair - it's longer or even grayer! So are you brave enough to trim it or color it on your own?
13News Anchor Andrea Morehead found that this could be your hair comeback of all time.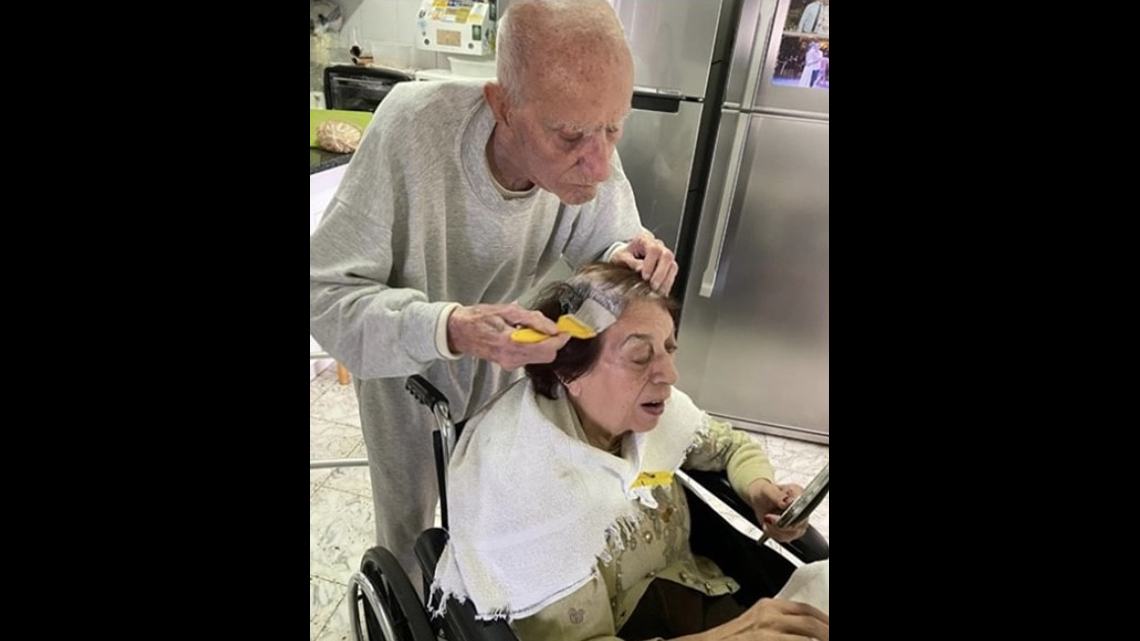 This 92-year-old man is coloring his wife's hair so she feels well groomed. Yes - you guessed it, this picture is going viral and so is this act of sharing hair care duties.
LaCretia Allen and her husband Angelo are "switching" and challenging other couples to do each other's "do." This chore is now a necessity because we can't go to our stylist or barber.
Bryan Lomax who owns Lomax Professional Barber & Beauty said, "It's been a struggle for everybody but the key is to adjust. With technology and being the way it is, we're just a phone call away. Ask your barber or stylist if you can Facetime and they can show you how to maintain and manage your hair."
Andrea's 12-year-old son Ean doesn't have a choice but to let his hair grow.
"If you make a mistake, it'll grow back. It's just hair. It will grow back. It's hair," Lomax said.
"I would be so afraid of cutting his head or something and basically not doing it right and giving him a shave and it would be lopsided," Andrea said.
"Yeah. That's what the guards are for. You would apply the guard to the clippers and you can't go wrong with the guard. Get a guard that's a comfortable length for you and just go all around the head with an even cut," Lomax said.
Some folks are opting to just let nature take its course.
Indianapolis City County Councilman Zach Adamson posted on Facebook that he's saving a lot of money on that hair gel.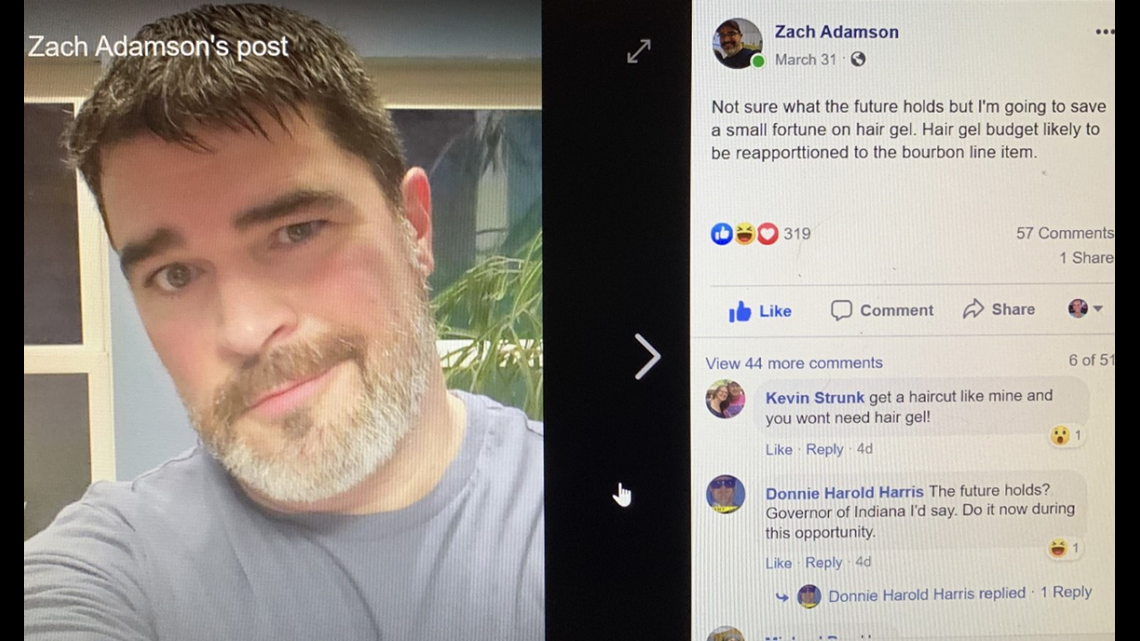 Andrea asks, "We're in spring now. Summer will be here soon, but people are deciding to do the full beard and they are just letting it grow gray. Is that kind of like the new trend you see now?"
"For some odd reason, women are loving the beard and they love the gray, that's kind of why I am embracing mine," Lomax said.
"I like it," Andrea said.
"Thank you, thank you. I got to make sure I maintain and manage it though."
And this seems to be the color of choice.
Brandy Hobbs had chemo, and she said that her hair came back gray. She's keeping it, and so is Andrea by letting her roots grow, saying she doesn't want to take a chance by coloring it herself.
"Would you recommend over the counter items and products to do it ourselves?" Hobbs asked.
"Again, you want to make sure that you're communicating with your stylist. Nobody knows you like your barber or stylist. With women, embrace it. A lot of women are wearing ponytails. A lot of women are getting braids and a lot of women are going natural," Lomax said.
If we don't color our hair, Kim Bruce with this Twitter meme, shows us how we could be on the cutting edge of the hottest new hair trend.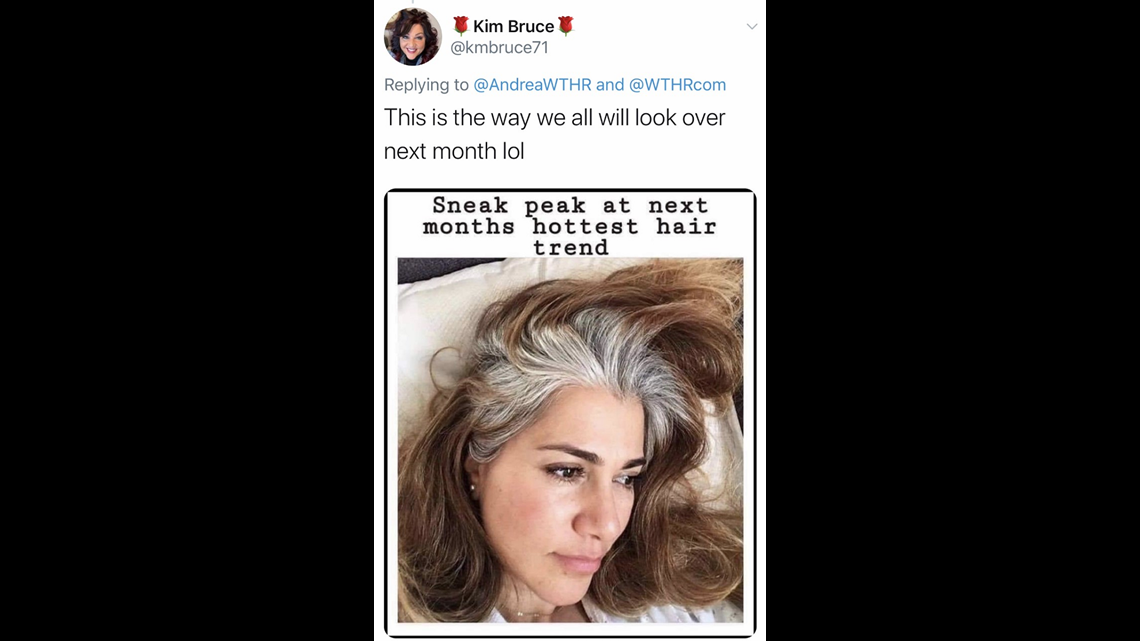 "When all else fails, wear a wig. Wigs are in. You can't go wrong with a wig!" Lomax said.
"I've been there. Wigs are in," Andrea said. She wore wigs for a short time when she was fighting breast cancer in 2018.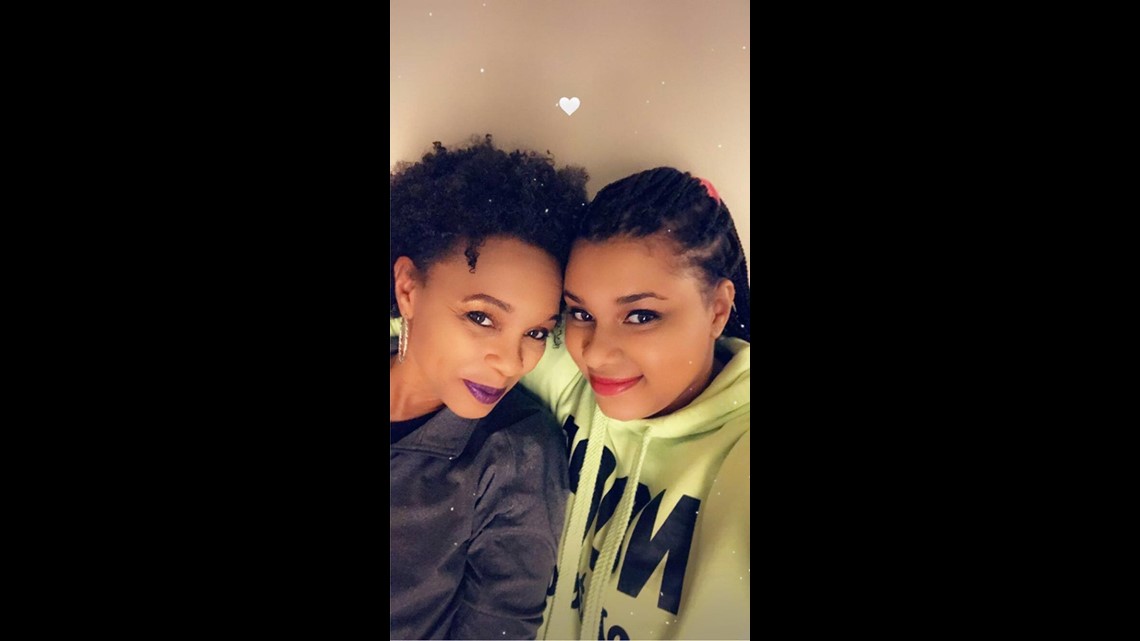 It's clear that all of us are in this together and bonding over our locks like mother Tymika Payne who braided her daughter's hair.
Jordyn is home from Jackson State University which has closed because of the pandemic. No matter the style, here's another safety tip for all of us.
"Make sure that you're sanitizing your equipment," Lomax said. "After you cut your hair make sure you clean the surface of your hairline with alcohol or shave gel or have a unisex antiseptic for all skin type - men, women, senior citizen, and children, that you can use. This is for minor razor cuts, burns, and irritation of the skin."
While the relationship with your stylist and barber has been cut off for a while, they're just as eager to have us come back to the chair.
"We got to stay optimistic. This too shall pass," Lomax said. "Eventually, we'll get to the point where we will be sitting in the barber and beauty shops again."
You may have noticed last week on the air that Andrea's hair was flat ironed. But after three days of doing it herself, she decided it was easier to stay natural and keep her curls.
If you have an interesting or inspirational story about how you're coping during this time, email Andrea.