INDIANAPOLIS — NOTE: The above video is of an artist discussing painting the mural on Indiana Avenue this past summer.
More than a dozen artists that worked on the "Black Lives Matter" street mural in downtown Indianapolis will take part in an event at The Children's Museum of Indianapolis. The event on Feb. 4 will showcase some of the artists' work as part of the museum's Black History Month celebration.
Portia Jackson will also be at the event sharing stories of the civil rights movement. It runs from 4-8 p.m. and admission is reduced to $6 per person.
The event is expected to sell out and tickets can be purchased in advanced by clicking here.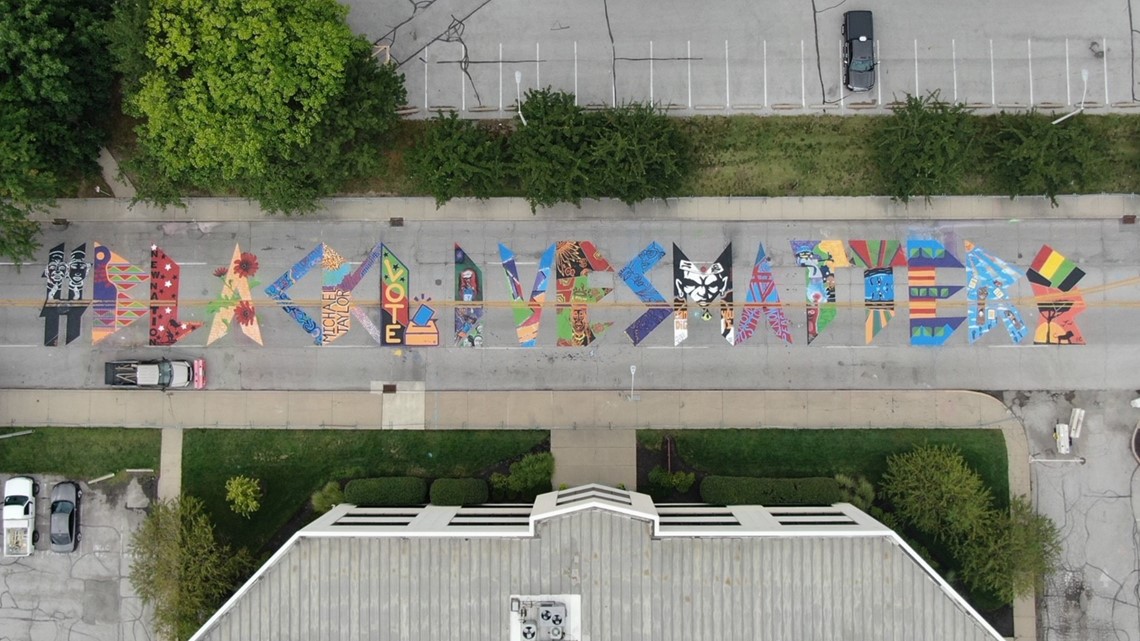 Here are some of the other events and programs happening at The Children's Museum of Indianapolis during Black History Month:
Public Event: Presidents Day – Monday, Feb 15, 10 a.m. – 3p.m., Free Admission

In-Person Programming connected to Black History Month:

Can You Vote? – Families will learn the history of how different groups of people in our country were excluded from voting, and what they had to overcome to be allowed to vote.
Political Pinbacks – Families will identify a cause they are passionate about and can create a button representing this cause while observing political imagery from collections.

Digital activity bundle (find on our website and Museum at Home on social media channels)

Video – Book Reading of Mae Among The Stars
Video – Book Reading of Come With Me
Blog Post Activities

Mood Music – Learn backgrounds of eight different artists from four styles of music. Listen to musical tracks to inspire different art pieces.
African American Inventor spotlight – Traffic Lights
Political Pinbacks – Digital adaption of activity from Presidents Day
The Making of a Leader – Brainstorm the qualities needed to be a good leader then create the ideal leader in your community.

Making WAVES – Social Justice in Action in the Power of Children exhibit area

Join us in using the power of our WORDS, ACTIONS, VOICES, and EDUCATION to take a stand for a social justice cause!

Gain a deeper understanding of how protest creates change
Discover how children and adults can protest nonviolently
Create a family protest sign
This program will occur in the Ruby Bridges' classroom in the Power of Children gallery. This experience has limited capacity and will be available on a first-come, first-serve basis. It will last approximately 20 minutes. Masks are required. Recommended for children 8 and older.

Up Close and Personal – Women Changing the World in the Barbie You Can Be Anything: The Experience exhibit

Join us to get up close and personal with some extremely inspirational female role models! These amazing women's stories are sure to inspire you to follow your dreams and empower you to be anything you want to be!

The Museum Store features many books and toys to celebrate Black History Month.