INDIANAPOLIS — From the 1960s to the early 2000s, Indianapolis gay bars provided a sanctuary of sorts for queer communities living in a state that still does not afford full civil rights protections for LGBTQ+ people.
Throughout the better part of those 40 years, some 30 to 40 queer bars and establishments functioned as safe spaces where people could find a reprieve from homophobic attitudes that permeated the whole of American society.
Hunter Vale is an amateur historian who began researching the history of Indianapolis gay bars more than two years ago, and found Indianapolis was unique in the amount of establishments created for the LGBTQ+ community.
"People are really shocked to hear this, but there were double the amount of gay bars in Indianapolis in the '70s, '80s and '90s. Today, there are about ten to 12," said Vale, who launched a digital project called Queer Circle City in 2020.
While similarly populated cities like Cincinnati and Columbus could boast just a handful of these spaces, Indianapolis had dozens during it's peak in the late 1980s.
Vale felt the robust history of Indy's gay bars needed to be made more accessible to the general public. In August 2020, he launched the digital project Queer Circle City. It is an online space committed to documenting the history of queer bars in Indianapolis.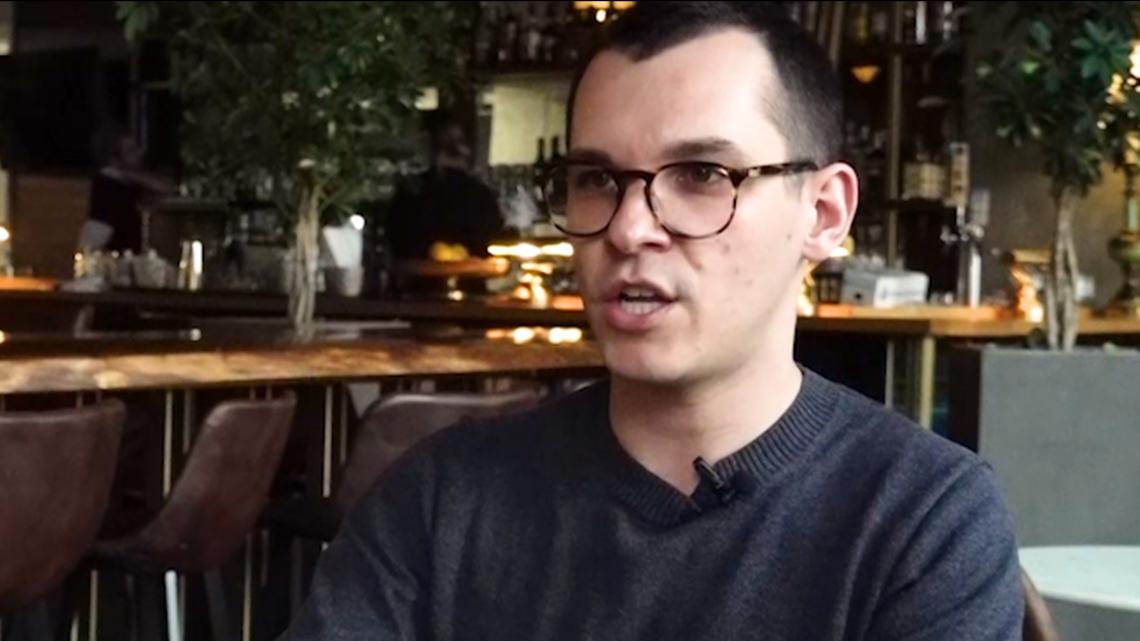 "The big reason why I'm doing this is the information is already out there. It just hasn't been widely shared," he said.
Poring through archived collections like the Chris Gonzalez Library and Archives or The Works Magazine, Vale pieces together the history of places like 501 Tavern, which was once Indy's only leather bar. There's Talbott Street, which was first established as a silent movie theater in the late 1920s and operated as a night club and staple of Indy drag culture from 2001 to 2016.
They all, Vale said, were all hubs of queer culture in Indianapolis.
"The more I dig, the more I find. And I think it's really incredible. Because we're not a New York, we're not in L.A. We're not in Chicago, even a Nashville, Tennessee. But Indianapolis, Indiana has some of the richest queer history I've seen nationwide. And that's incredible," said Vale.
Throughout his research, Vale has come to believe the plethora of bars available to queer folks throughout generations helped strengthen the broader LGBTQ+ community.
"I think, in general, they absolutely fostered community, and kind of allowed the tight-knit group of circles that formed during that time, kind of leading to today," said Vale.
Indianapolis gay bars were far from just well-trodden watering holes. They often leveraged their resources to give back to community during times of conflict. When the AIDS pandemic began devastating queer communities in the summer of 1981, queer establishments quickly began leveraging the power of community to provide reprieve.
"You think of The Bag Ladies, one of the first nationally recognized fundraisers for people living with HIV/AIDS, came from Indianapolis. It's incredible that one of the first national organizations of drag queens, going from bar to bar in Indianapolis, Indiana, to raise money for people living with AIDS, came right from home," Vale said.
As LGBTQ+ activists created a world where queerness became more accepted, and online dating platforms took the place of traditional meet-ups, the once thriving Indianapolis queer bar space has dwindled.
Some queer bars that were not razed to the ground still stand, but gave way to non-LGTBQ+ centered clientele. Many have forgotten their roots as queer spaces but, Vale found, that erasure was not necessarily done maliciously.
"I can't tell you how many times I've shared something and an owner of the establishment has been like, 'Oh my god, I had no idea. I wish I would have known,'" said Vale.
But, it is partly why the stories told on Queer Circle City are vital, and why he hopes the project will continue.
"There's even more that I want to research. There's even more that I know about. The further I dig, the more I find," said Vale.