Family alleges cemetery buried parents in the wrong graves
GREENWOOD, Ind. (WTHR) — Larry and Pauline Pinnick's children are mourning – not just because their beloved parents are no longer here, but because the deceased couple is not where they're supposed to be.
The Pinnicks say Forest Lawn Cemetery in Greenwood has made a series of mistakes in handling their parents' burials, resulting in Larry and Pauline being buried in the wrong graves with a misplaced headstone that does properly identify their final resting places. And they are furious the cemetery has not yet taken action to correct the problems.
"We paid them to do this properly and they screwed it up," said son Mike Pinnick. "Just fix mom and dad's graves. That's all we want. We want them in the right graves with the right headstones."
"I don't think that's too much to ask." added Kathy Dockery, one of the Pinnicks' four daughters. "What family wouldn't ask for that?"
Undiscovered for years
The problem at Forest Lawn Cemetery started back in 2006, after 77-year-old Larry Pinnick died of complications from diabetes. His wife and children thought he was buried in the plot they had selected, right next to an adjacent plot that had been reserved for Pauline.
In 2017, as Pauline was in her late 80s, the family went to the cemetery to finalize payments and pre-arrangements for their mother's funeral and burial plan. A cemetery worker accompanied them to the grave site and shared disturbing news.
"She told us 'We have a problem. Your dad is in the wrong grave. We'll have to look into that,'" Mike said. "We never heard anything back."
So when Pauline died of kidney failure earlier this year just weeks before her 90th birthday, the Pinnick children needed answers. And as their mother's funeral approached, they learned the cemetery had made another mistake: the headstone that marked the Pinnicks' graves was misplaced. The family was notified that Pauline's portion of the headstone was placed over a burial plot that belonged to someone else.
In January, Pauline's ashes were buried in an unmarked grave that should have been occupied by her husband – two plots away from the headstone that bears her name.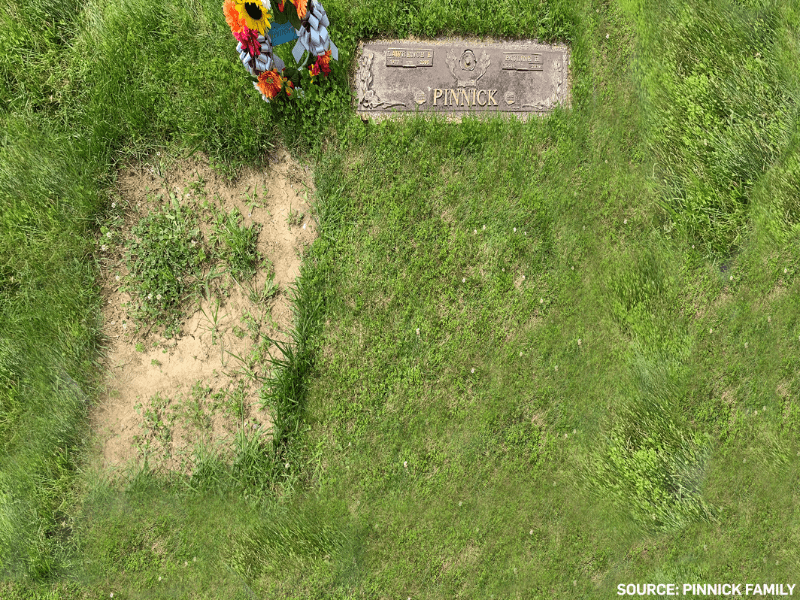 "I think that's terrible!" Mike told WTHR. "We come to visit our parents and their graves all the time. Down the road when we're all gone, it's going to be a problem. Our grandchildren aren't going to know where their great grandmother and great grandfather are buried because it's not marked properly."
"This really hurts me. This isn't right, and I want this fixed," added Dockery. "My mom was my best friend, and she deserves to have her name on her headstone where she's buried."
"We want the correct headstone over the correct grave. It's just that simple," agreed their sister, Patty Smith.
"Shame on them"
For months since their mother's funeral, the Pinnick children have been asking Forest Lawn Cemetery to make things right by moving their parents' headstone a few feet south to its proper location and by switching the removable name plates on the headstone.
Smith said in recent months, a Forest Lawn manager and the cemetery's corporate office both denied their request to make changes.
"Shame on them. Shame on this funeral home for making us have to do all this. All we're asking is that they do the right thing," Dockery told WTHR, standing alongside her parents' gravesites.
While at Forest Lawn, 13 Investigates planned to contact cemetery management to ask about the Pinnicks' concerns. But before we could do that, the cemetery contacted us.
When they heard about our TV camera at the Pinnick burial plots, two Forest Lawn managers came out to meet with us and the Pinnick family.
Sales manager Ray Jordan and cemetery administration manager Terry Krengle said they had no knowledge of the problems but promised to investigate.
Change of heart
Thursday afternoon, a spokesman for StoneMor Partners, the corporate owners of Forest Lawn Cemetery, sent WTHR the following statement regarding the Pinnick burial mixup:
"Forest Lawn's mission is to help families memorialize every life with dignity, including providing and maintaining a tranquil and beautiful place for memorialization. In this instance, we have fallen short of our standards. We will be contacting the family directly to discuss a resolution to their concerns as quickly as possible. We would like to reassure our families and the local community that we are committed to serving them and their loved ones."
The statement marks the first time the cemetery and its corporate headquarters have publicly acknowledged any responsibility for the errors. StoneMor told 13 Investigates it will be "reaching out to the Pinnick family shortly to address their concerns and reach a reasonable resolution." The company did not address why it has not done so previously, despite multiple attempts by the Pinnicks to find a resolution.
The Pinnick family said they have heard promises of discussions and resolutions before – only to be disappointed by no follow up. And they are frustrated that StoneMor and Forest Lawn recently said they would not make changes, changing their minds only after a TV reporter arrived to ask questions.
Nevertheless, the Pinnick children are hopeful this time might be different and that their parents' final resting place will be the one they envisioned.
"Maybe this time they'll go through with what they say to make things right," Smith said. "We've been lied to so many times and it's taken way too long, so until we hear from somebody, I won't believe it until I see it."