INDIANAPOLIS — The ALL IN Music & Arts Festival announced when each band and artist will perform during the two-day event at the Indiana State Fairgrounds this weekend.
Here's each day's lineup:
Saturday, Sept. 9
Tenacious D
Joe Russo's Almost Dead
Trombone Shorty & Orleans Avenue
Cory Wong
Andy Frasco & The U.N.
Eggy
Karina Rykman
The Beatles Dreamset
Sunday, Sept. 10
Trey Anastasio & Classic TAB
Umphrey's McGee including a Led Zeppelin Dreamset featuring Jason Bonham
Greensky Bluegrass
The Main Squeeze
Karl Denson's Tiny Universe
Neighbor
Quinn Sullivan
Hyryder
Single-day tickets are now on sale. For 24 hours — Tuesday, June 13 at 10 a.m. ET through Wednesday, June 14 at 10 a.m. ET — single-day tickets will be available for $99, with no additional fees.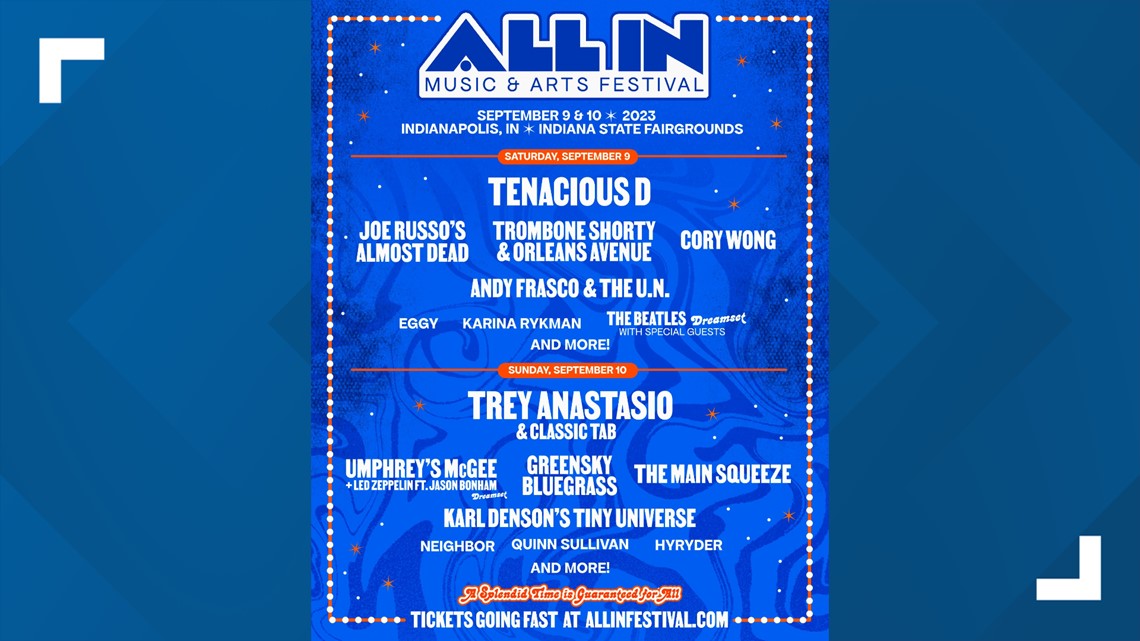 "We are creating a new experience, a true festival that celebrates artistry and musicianship in an optimal environment for both performers and fans with a level of comfort for all that is rarely seen at live events," said Paul Peck, co-founder of the ALL IN Music & Arts Festival. "Our goal is to create unparalleled connection, discovery and celebration with a world class cultural event right here in the Midwest."