INDIANAPOLIS — Remember the name Rhys Frake-Waterfield because he's the filmmaker creating horror movies out of childhood classics.
In January 2022, "Winnie-the-Pooh," the 1926 children's book from A.A. Milne, went into the public domain, which means it can legally be shared, performed, reused, repurposed or sampled without permission or cost.
Thus began the creation of "Winnie-the-Pooh: Blood and Honey."
"I think everyone loved Winnie-the-Pooh when they were younger, like 99% of people know about him," said Frake-Waterfield, who directed, wrote and co-produced the film. "I love horror, and I thought it'd be really cool to bring in that nostalgic element of when I was younger and introduce him into the horror world."
In "Winnie-the-Pooh: Blood and Honey," Christopher Robin leaves for college, abandoning Pooh, Piglet and friends in the 100 Acre Wood. Now fending for themselves, the anthropomorphic characters become feral and bloodthirsty killers.
Just because "Winnie-the-Pooh" is now in the public domain doesn't mean every reference and trope is fair game, though.
"We had to be really careful because the only version which is in the public domain at the moment is the 1926 book," Frake-Waterfield said. "Everything beyond then — like Pooh in the red shirt, the way he talks and says, 'Oh, bother,' and all of these other elements — they're kind of Disney's branding from it, and that's what they've built up as their interpretation, and we're not allowed to touch that because that's their copyright."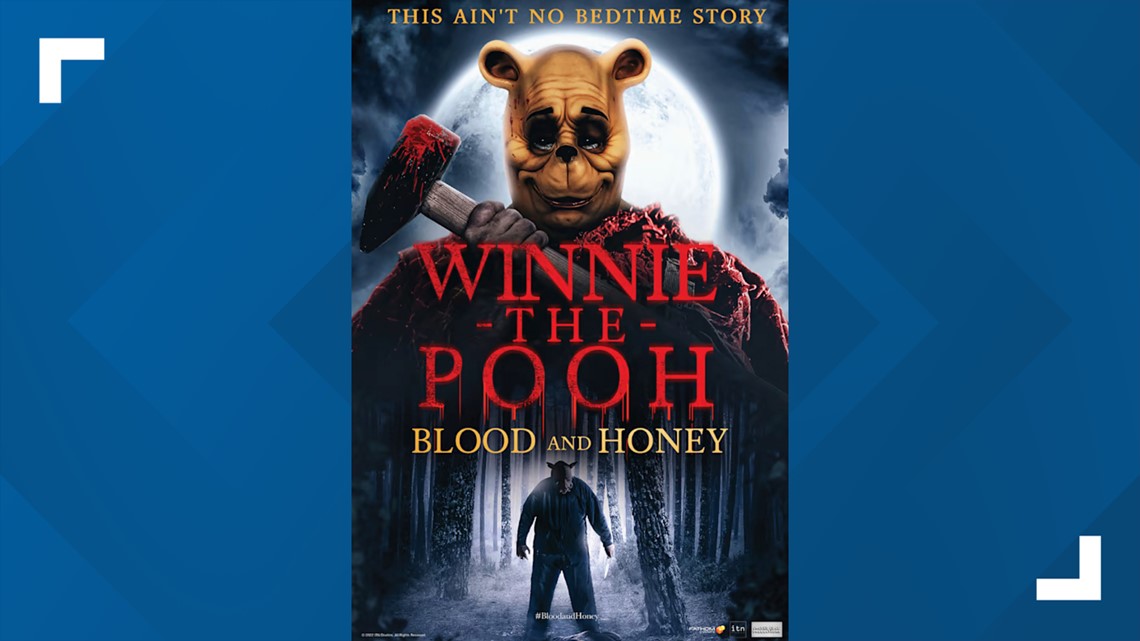 Initially planned for a one-day theatrical release on Feb. 15, Fathom Events extended the run in the United States through at least Feb. 23 — and there's already plans for a sequel.
"In the second one, there's going to be more friends coming, so we limited the first one to mostly Winnie-the-Pooh and Piglet, but more and more of the friends are coming, and they are going to bring in really cool dynamics," Frake-Waterfield said. "I'll tell you one of them, which is Owl; that hasn't actually been released, so this is the first time it's been out."
And Winnie-the-Pooh is just the start in Frake-Waterfield's aspirations of turning iconic children's characters into horror villains.
"'Bambi' is going to be coming as our immediate next one," Frake-Waterfield said. "I'm really going to try and see if someone will let me have access to or license me to do a horror adaptation of something like 'Teenage Mutant Ninja Turtles' or 'Teletubbies' because I think they could be amazing."
"Winnie-the-Pooh: Blood and Honey" is in theaters now, with a digital and DVD release date expected in late April, according to Frake-Waterfield.